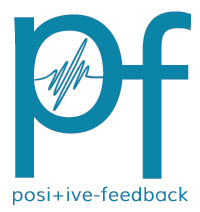 You are reading the older HTML site
Positive Feedback ISSUE 9

october/november 2003
Hi-Res reviews featuring our friends from Audiophile Audition, Part 1
Welcome to the readers of Positive Feedback Online!
I've taken on the responsibility of Music Editor here, and since my web publication Audiophile Audition shares with Positive Feedback Online an emphasis on SSfM (Surround Sound for Music) and especially on the DSD/SACD format, it seemed a natural to share some of my site's hi-res disc reviews with you here. Audiophile Audition has been reviewing more hi-res discs each month than any other publication web or print—39 in all genres in our October issue. Audiophile Audition also reviews nearly 100 standard CDs and video DVDs monthly, plus component reviews, audio news, and occasional features on soundtrack CDs, xrcds, vinyl and home theater. You can find past reviews using either our Archives Index or our handy site search engine.
This is a propitious time for hi-res SSfM - the SACD format no longer lacks for either software or hardware. More SACDs were sold in a recent two-month period than all the DVD-As sold since the format was introduced. There are plenty of SACD players to choose from—ranging from entry level to high end firms such as Linn, Meitner and Krell. High end manufacturers are competing to bring out the most successful universal player for both new formats. The embarrassing situation of all of Sony Music's discs being SACD-Only has finally been corrected with a new pressing plant in LA now online. Major pop artists such as The Rolling Stones are now issued on hybrid SACDs. Another interesting new trend has arisen from the rapid growth of music videos on DVD. Collectors often have to buy two separate discs of the same concert by their favorite performer—one a high-res (or even just CD) audio disc and the other a DVD with 5.1 soundtrack. The stills on a typical DVD-A are a poor substitute for seeing the performers in action on your screen—but then even with DTS DVDs you still don't benefit from the hi-res multichannel audio of the new formats. The answer is beginning to be provided by labels issuing a combo CD + DVD or DVD-A + DVD-V. Audiophile Audition has already begun reviewing these. The first across our desk was Sir Simon Rattle conducting Mahler's Fifth Symphony on both a DVD-V (plus a video interview) and on a separate DVD-A. Now the question is in what category do we put the review? John Sunier
Clair Marlo, Let It Go
Cisco Records 2033 Stereo Hybrid SACD

The Sheffield Lab record label produced a number of highly regarded audiophile vinyl recordings during a stretch from the mid-seventies to the eighties—including the first direct discs. This disc, released by Cisco, is one of the first Sheffields to surface in the SACD format. [F.I.M. is reissuing some of them in the xrcd format, which we reviewed last issue...Ed.] The original direct disc LPs were prized predominantly for their amazing sound quality, and among them were a number of undeniably classic performances (Harry James Big Band, the Erich Leinsdorf/LA Philharmonic sessions come to mind). Overall however, the performances tended to not always measure up to the sterling sound quality of the LPs, and I think that probably has a lot to do with why Sheffield remained more of a niche audiophile label and never quite crossed over to the mainstream. They are inactive at present.
This disc by Clair Marlo is a excellent case in point—sonically, I love this disc, and it may have the best, most analog-sounding of any SACD I own! The music just leaps out of the speakers with immediacy and tremendous dynamic range, tight, deep bass and silken mids and highs. Every aspect of the recorded presentation has tremendous visceral impact and palpable image presence, and the music emerges from a remarkably silent background—everything you could hope for in sound from a Sheffield recording.
But—and unfortunately, this is a really big but—the music (from 1989) itself is dated, and very much stuck in the eighties. And it's not even classically memorable eighties stuff (like Devo or Elvis Costello)—it's schmaltzy, syrupy stuff—most of these songs sound like they're either the main theme or the love song from a "brat pack" or similar eighties flick. This music just hasn't really held up well since it was initially released.
If you're a fan of Clair Marlo, there are three bonus tracks on the album, and you'll never find this disc in better sound. The rest of us will probably pass, but hope springs eternal that maybe Cisco will release some of those other, classic, more timeless Sheffield albums.
Tracks: Til They Take My Heart Away; Lonely Nights; Let It Go; It's Just the Motion; Without Me; A Major Technicality; Do You Love Me; All for the Feeling; I Believe (When I Fall in Love It Will Be Forever); Where You Are; Too Close; Meditation; Fallen Soldiers. Tom Gibbs
Alan Lomax, Popular Songbook
Rounder 82161-1863-6 Hybrid Stereo SACD
Pop artist Moby has been a perennial favorite of mine; his mega-selling hit Play combined a really effective mix of urban beats, vocals and original instrumentals, with thoughtfully-placed offbeat samples of old folk and blues tunes (not too dissimilar from his other albums). The end result offers one of the most listenable, danceable and cerebral pop music experiences to be had. Moby obviously loves the roots music he samples to create his own mix, and I've often thought about how he must scour obscure 78's listening for just the right track to complement his own creations. After listening to this new SACD of the recordings of Alan Lomax, I now have a pretty good idea of what he's been listening to.
Alan Lomax spent much of his seventy-plus year career recording and documenting the American folk song. Working under contract, he traveled the countryside and made recordings for the Library of Congress' Archive of American Folk Song; he also worked for various record labels such as Atlantic and Vanguard. The recordings collected here are a fairly representative cross-section of his work spanning the period from the thirties up to the late fifties, and cover just about every aspect of the American folksong tradition. The performers range from housewives and schoolchildren, fieldworkers, gospel choirs and prison chain gangs, and also include well-known artists of the day such as Woody Guthrie and Leadbelly.
If you're a lover or student of the roots of the American folk song, this disc is an indispensable tool, and offers this music in the finest sound these songs probably have ever had since they were originally committed to disc or tape. Sound quality varies greatly depending on the vintage of the recording, but obviously an exceptional effort was put into the restorations, giving most of these tracks a pristine, immediate sound they probably haven't enjoyed in many years. You won't hear nearly as much of the hiss, clicks and pops as you do on Moby's sampled versions.
Highlights here are plentiful. I really enjoyed Vera Ward Hall's hard-driving Trouble So Hard; the handclaps during Bessie Jones' Sometimes have tremendous impact, and other powerful, moving songs such as John Davis and the Georgia Sea Island Singers' Join the Band abound on this disc. Not only has Moby been listening here, but also groups as diverse as Led Zeppelin, the Beach Boys, Eric Clapton and the Grateful Dead have covered many of these songs. The accompanying booklet is a treasure chest of information not only documenting the origins of the songs and their performers, but also offering extensive information about cover versions and artists, along with a wealth of information about Alan Lomax as well.
One minor quibble—the disc and its packaging describe it as a multichannel hybrid SACD. It is in fact a Stereo hybrid SACD, and probably just as well, because of the vintage of most of the music precludes it from any kind of effective surround presentation. Highly recommended!
Tracks: Joe Lee's Rock; Do Re Mi; Jesus on the Mainline; Midnight Special; Stagolee; Trouble So Hard; Motherless Children; Sometimes; Black Betty; Take a Whiff on Me; Didn't Leave Nobody but the Baby; Goin' Down the Road Feelin' Bad; Rock Island Line; Join the Band; Sloop John B; Man Smart, Woman Smarter; Ugly Woman; the Gallows Pole; Rosie; Alborada de Vigo; the House of the Rising Sun; Irene Goodnight. Tom Gibbs
Donovan, Storyteller
Audio Fidelity AFZ 015 Hybrid Stereo SACD
Even though some of the recordings on this disc are thirty years old, the quality is surprisingly good. The harmonica, guitar, and vocals are clean and natural-sounding. Transient response is excellent and the liveliness contributes to the feeling that you could reach out and touch the performer—definitely realistic sound. It makes you wonder why so many recordings made this day are so poor. For those who aren't familiar with Donovan, he's a Bob Dylanesque singer/songwriter in the folk genre. Track 8 is a happening blues arrangement that reminds me of many of the early rock performers (like Clapton, The Beatles, The Rolling Stones, etc.) who were influenced by blues artists. Some of the bigger hit songs like Sunshine Superman and Mellow Yellow often make their way into various movie soundtracks and their popularity is really no big surprise.
This one should help bring back some fond memories or maybe even start some new ones. Songs included are: Catch The Wind; Colours; Universal Soldier; Josie; Sunny Goodge Street; Hey Gyp (Dig The Slowness); Turquoise; You're Gonna Need Somebody On Your Band; To Try For The Sun; To Sing For You; Sunshine Superman; Mellow Yellow; Hurdy Gurdy Man; Atlantis. Brian Bloom
Heart, Alive In Seattle
Epic E2H 90287 Hybrid Multi-channel/Stereo SACD
One of the best live rock albums I ever heard was an older Heart record, so I really got my hopes up on this 2-disc set. Unfortunately, I was let down. Harsh is a word I would easily apply to this record. I usually associate improved resolution with SACD, but lately I've been also hearing a lot of harsh sounding records. Maybe it is a limitation in the original recordings—I don't know. The mix has most of the sound up front with crowd noise and echo/reverb in the back. The presentation is also set farther back, so that you feel as if you are viewing the concert in the middle of the arena. Musically these discs contain a wonderful collection of Heart songs both past and present, and the performance is clearly not lacking. Some of the slower songs are played a little faster (as there is a tendency to do in a concert setting). With a few of the more intimate songs like Dog & Butterfly, the sound quality seemed to improve and I felt like holding up a lighter in celebration of the music.
The concert was recorded on August 8th, the last day of Heart's summer tour in 2002 at the Paramount Theater. Songs included are: Crazy On You; Sister Wild Rose; The Witch; Straight On; These Dreams; Mistral Wind; Alone; Dog & Butterfly; Mona Lisas and Mad Hatters; The Battle of Evermore; Heaven; Magic Man; Two Faces Of Eve; Love Alive; Break The Rock; Barracuda; Wild Child; Black Dog; Dreamboat Annie (Reprise). Brian Bloom
Livingston Taylor, Ink
Chesky SACD253 Hybrid Multi-channel/Stereo SACD
Oh, yeah. So this is what SACD is supposed to sound like. Fact is, when it comes to Chesky, most of their regular CDs sound better than a lot of the SACDs I review. This disc is one you want to use to show off your system and why you spent money on that player that plays those special discs. On this disc, there are some older favorites as re-interpreted by Liv, and some originals. The style is very much like James Taylor—quiet guitar along with distinctive vocals and simple background arrangements. The music is mellow and easy. Although the sound is multi-channel, it is not obnoxious in any way. Sense of space, instrument texture, palpability, ease (and throw in a bunch more audiophile terms), and overall quality is first rate.
Songs that you would think would not translate well to Taylor's style like Baker Street or Never Can Say Good-bye actually turn out very well. Demo disc extraordinaire or easy listening—you decide. In either case, this disc is a keeper. Songs included are: Isn't She Lovely; First Time Love; Hallelujah, I Love Her So; Fly Away; Our Turn to Dance; Must Be Doing Something Right; The Biggest Part of Me; Get Here; Baker Street; The More I see You; The End of the Innocence; Never Can Say Good-bye; Walkin' My Baby. Brian Bloom
Joe Satriani, Engines of Creation
Epic ES 67860 Stereo SACD
This disc is in stereo, but I can't think of music more suited to the surround medium. The first multi-channel review I ever did was a DVD-A disc of techno music that came from every direction. At the time, I remember thinking how cool it was. That could have been this disc. What you do get is a mix of electric and mechanical sounds with synthesizer-like guitar work. It sounds as if you are in a machine shop full of people working away. If there were a video, I'd expect to see an assembly line all sped up! On occasion, the album sounded a little like techno/house music with an electric guitar added. I was somewhat reminded of Jeff Beck's Guitar Shop. Track 4 is a melodic departure from the first three tracks. I think if more of the album were like this track, I would have had a much more positive reaction. Track 5 reverts to the frenetic sounds of the earlier tracks reminding me of frightened, squawking birds.
Overall, the second half of the album is sedate by comparison—for instance, track 10, Slow And Easy. Sound quality is like an 80s record. It could be the material, but it has a hash quality to the highs and sounds a tad congested and homogenous. Songs included are: Devil's Slide; Flavor Crystal; Borg Sex; Until We Say Goodbye; Attack; Champagne?; Clouds Race Across The Sky; The Power Cosmic 2000—Part I; The Power Cosmic 2000—Part II; Slow And Easy; Engines of Creation. Brian Bloom
Soul Vaccination, Tower of Power Live
Sony Legacy BS 69829 Stereo SACD
A little soul, a little funk, and a lotta good music are what you get on this disc. Recording quality is good, though not outstanding, but it more than gets you into the feel of the music. The vibe is upbeat and moving: like a big party. The horn section on "You Got To Funkifize" was swinging and made me move to the groove. When you put this disc on, make sure to hang a big sign above the door—"Toe tappin' and clappin' not only allowed, but encouraged!" What is hip? This album, that's what. I just wish it were a hybrid.
Songs included are: Soul With A Capital 'S'; I Like Your Style; Soul Vaccination; Down To The Night Club (Bump City); Willin' To Learn; Souled Out; Diggin' On James Brown; To Say The Least You're The Most; You Strike My Main Nerve; Can't You See (You Doin' Me Wrong); You Got To Funkifize; So Very Hard To Go; What Is Hip; You're Still A Young Man, So I Got To Groove. Brian Bloom
Phil Lesh & Friends, There and Back Again
Columbia CS 86406 - Multichannel/ Stereo SACD
This disc is reminiscent of the sounds of The Eagles, Jackson Browne, and the Allman Brothers. Instruments are placed in the front and back channels while main vocals are kept up front and harmony comes from the surrounds. The electric guitar sound gives the music a country music feel. Track 3 and some of the other songs are a bit more contemporary in style, but still lean towards country music. At times, it walks the line between rock and country much like bands of 70s. If you heard this group in a club you'd think, "Wow! This band is polished and really has some good material." After a few listens the music starts to grow on you, especially track 10—it has a really gritty down-home and dirty quality. The recording quality is quite good, and if the aforementioned type of music is your bag, then pick up a copy and get it spinning.
Songs included are: Celebration; Night Of A Thousand Stars; The Real Thing; Again And Again; No More Do I; Patchwork Quilt; Liberty; Midnight Train; Leave Me Out Of This; Welcome To The Underground; Rock-n-Roll Blues. Brian Bloom
Jerry Granelli, The V16 Project
Songlines SGL SA1544-2 Stereo /Multichannel SACD/CD
Jerry Granelli is a percussionist and composer, who was born in San Francisco and now teaches in Berlin. He has drummed with such people as Vince Guaraldi, Ralph Towner, and Gary Peacock. The V16 Project calls themselves an Electro-acoustic ensemble—made up of:
Jerry Granelli - electro-acoustic percussion
Anthony Cox - electric bass and acoustic bass
Christian Kogel - acoustic and electric guitar and sampler
David Tronzo - acoustic and electric guitar and sampler
Their music is based on three vehicles: spontaneous composition, pre composed pieces and sonic adventure. They say the heart of the band is risk, not knowing, curiosity, and now-ness. Five of the thirteen pieces are loosely composed before recording, by members of the group. The other eight pieces are spontaneous composition. I would call the music experimental or avant-garde jazz with a heavy beat. The music shows many influences, from Gregorian chant to minimalism. Some of the instruments are heavily mixed into the surround channels. I do feel that this is not too out of place because the music creates an atmosphere that is enhanced by the music coming from all around you. The sound picture is fairly well represented, but not up to audiophile quality. The surround option has much more emotional feeling but the stereo SACD has better individual sound and imaging. The standard CD layer sounds slow and bloated, and does not give a good representation of the music. This will not be everyone's type of music. If you like experimental jazz, it might be worth a listening. Clay Swartz
Michael Feinstein, With the Israel Philharmonic Orchestra
Concord Records SACD 1014 6 Stereo /Multichannel SACD/CD
This disc jumps right up to my list of best sounding SACDs. Michael Feinstein sings from the keyboard and is one of the leading cabaret-stylists of tunes from The Great American Songbook. His cohorts are Avishai Cohen on bass and Albie Berk on drums. The orchestration is tasteful and does not over-power the vocals. Alan Broadbent directs the orchestra. His backup musicians are well balanced with the music and do not over play the vocalist as in many recordings. You hardly know that they are there. Feinstein has an earnest-sounding voice that is capable of conveying feeling with serious attention to the lyrics. He also has good range, and the selection of songs is among the best.
The surround SACD is open and spacious and the surround is just ambience at a fairly low level. The stereo SACD sound has slightly better focus and dynamics. The CD track is of course not nearly as good. The image is very flat and his voice and instruments are too large. The orchestra is over blown and blatty. I really like this disc and it will probably get play time on my system, most likely in the stereo SACD mode.
The songs are: The Folks That Live On The Hill; The Best Is Yet To Come; Guess I'll Hang My Tears Out To Dry; By Myself; Spring Will Be A Little Late This Year; Stormy Weather; Laura; On A Clear Day; Love Is Here To Stay; How Deep Is The Ocean; Somewhere; I Won't Sent Roses. Clay Swartz
Iggy Pop, From The Front Row LIVE
Silverline 288173-9 DVD-A
Like most of the Silverline titles, this disc offers stills from Iggy Pop's concert(s) while the audio plays. Track 1 was recorded July 19, 1988 at Channel in Boston. As for the others… the second track gives a little more surround sound in that you hear noise from the crowd all around. In other tracks, these channels are part of the way the music is mixed as well. Quality of the sound is a little better than some of the other discs I've heard in this series of DVD-As. There aren't any surprises musically if you are familiar with Pop's work. It is melodic at times (within the limitations of his voice), and at times it sounds as if he is begging, and at others like he is pounding the beat into you. It's edgy and a somewhat acquired taste like Bowie, Lou Reed, and some of the other crossover alternative/punk rockers. Popular songs like China Girl, Lust For Life, and I Wanna Be Your Dog hold up well. The band is fairly tight, and Iggy's performance is as inspired as he can muster.
Songs included are: I Wanna Be Your Dog; Shades; Fire Girl; Lust For Life; Hide Away; Baby; It Can't Fall; Sister Midnight; Some Weird Sin; I Got A Right; Down On The Street; Five Foot One; Nightclubbing; Winners And Losers; China Girl; Blah; Blah, Blah; Real Wild Child; Gimme Danger. Brian Bloom
Neil Norman Presents Sci-Fi in Hi-Fi, Neil Norman & His Cosmic Orchestra
Audio Fidelity Stereo SACD AFZ 012
These are pop/symphonic versions of 20 themes from science-fiction movies and TV series, as arranged by Norman as well as by Les Baxter, Hall Daniels and Charles Faris. The group consists of guitars, synths, theremin, keyboards and drums plus a large orchestra. The basic group performs regularly at Star Trek and Godzilla conventions and were heard on many previous sci-fi-themed albums on the GNP/Crescendo label, where Norman is head of production. (At the Godzilla conventions in Japan—never imagined there was such a thing—the players are joined by The Mothra Sisters, and Norman has absolutely no idea what they are singing about.) A major sci-fi fan, Norman has produced for his label over 20 albums of music from the Star Trek series. This compilation SACD was remastered from previous albums by Steve Hoffman, who received on the jewel box a credit in larger type than Norman's (I can think of some other remastering engineers who would appreciate that happening to them...). Norman's folksy notes and background on each selection are interesting reading. The music is fun but don't mistake it for the normal full orchestral versions of these movie themes. The SACD layer is clearly richer-sounding and more transparent than the CD layer, and also sounds more enveloping and sci-fi-ish if you run it thru Pro Logic II.
Tracks: Universe; Star Trek Encounters; Star Wars; Space 1999 #2; The Thing; UFO; Superman; Alien; Battlestar Galactica; Journey to the 7th Galaxy; The Outer Limits; Godzilla; 2001: A Space Odyssey; The Adventures of Superman; The Presoner; Buckaroo Banzai; Airwolf; Mysterious Island; Blade Runner; Jurassic Park Lost World Medley. John Henry
Reviews reprinted with permission from Audiophile Audition October issue.