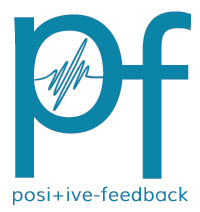 You are reading the older HTML site
Positive Feedback ISSUE 8

august/september 2003
Chopin, Ivan Moravec
by Tom Campbell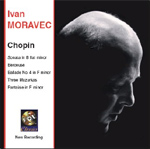 Prague-born pianist Ivan Moravec is a cult figure in an increasingly marginalized classical music market. That this supremely talented artist—who combines technique, intellectual rigor, and emotional expression as well as any living pianist—should toil in obscurity is one of those cruel injustices that can bring a tear to your eye if you think too much about it. Moravec has never sought the spotlight, and seems content to have a small but ardent following of connoisseurs who regard many of his recordings, dating back to 1960, as the best ever of works by Chopin, Debussy, Franck, and Mozart.
Reaching artistic maturity in Communist-controlled Czechoslovakia was not an outstanding career move. The Czech Republicheld onto its musical artists like Ebenezer Scrooge held onto coal, deliberately depriving them of a world audience and demanding extortionate fees from Western labels for the rights to record them. For most of his prime years, Moravec recorded only for the state-owned Supraphon and the tiny American independent label, Connoisseur Society. In the '80s, he made a handful or recordings for Dorian and Vox. Now in his seventies, he may have lost sheer digital dexterity but has gained in the depth and profundity of his interpretations, as this CD demonstrates.
These interpretations are marked above all by a poeticism that makes most other pianists sound pedestrian. Though his technique is equal to the task of Beethoven's and Chopin's most demanding works, Moravec is not a showy pianist. He plays most pieces a bit slower than usual, his temperature and temperament at the opposite end of the scale from, say, Martha Argerich. He excels at the dreamy and reflective. One of the hallmarks of a truly great pianist is the ability to play at slow tempos and not only maintain the interest of an audience, but mesmerize it. For me, Moravec is one of the two pianists who best embody this quality, the other being Sviatoslav Richter. Richter's extreme tempos did not always work—his bone-chilling live recording of Schubert's final sonata is extraordinary, but many of his Mozart sonatas are so painfully deliberate as to sound almost like a practical joke. Moravec pulls off the difficult trick of always serving the composer while maintaining his own distinctive style. He limits himself to a small and slowly developed repertoire, but bats pretty close to a thousand within it. The Chopin recordings, featuring full traversals of the Ballades, Scherzos, Preludes, and Nocturnes, are his most revered.
This disc, recorded in 2002 and just released on Vox Classics, reprises a couple of past performances but mostly consists of Chopin I don't believe he's recorded before, starting with the B-flat minor Sonata. True to form, Moravec's reading is thoughtful and highly poetic, and does a great job of finding the weight in a piece that can come off as having more drama than depth. This sonata can also often sound like three separate fantasias topped off with a prelude, but Moravec is able to take the four disparate movements and create a unified whole. Even the famous Funeral March sounds fresh, and dramatic without being melodramatic. In all, this is a performance to be placed alongside the great recordings of Pollini and Rubinstein.
The F-minor Ballade (Op. 52) on this disc has a lot to live up to, as Moravec's 1966 version of it is not only my favorite but one of my favorite piano recordings, period. Though this performance is faster by the better part of a minute, it actually sounds a little more deliberate. Moravec avoids the more extreme tempos of the earlier version and concerns himself above all with expressing every intersecting line of this beautiful work as clearly as possible. This desire to make each note heard with perfect clarity and equal weight seems to be the raison d'etre of every performance on this disc. The seventy-three year old cannot quite negotiate the massive climax of the F-minor as well as he did almost thirty years ago, but this is a performance to be treasured, from a true master. The two other major works, the Berceuse (Op. 57) and F-minor Fantaisie (Op. 49), are likewise exquisite, autumnal in conception, and profoundly communicated.
Ivan Moravec is a pianist's pianist, but he has another claim to fame that will be of interest to Positive Feedback readers: a large proportion of his recorded output has audiophile sound. The recordings that E. Alan Silver made of him for Connoisseur Society in the '60s are frequently cited as the finest of a piano ever made, and his early '80s recordings of the Scherzos for Dorian are not far behind. Now we have this, the most beautiful-sounding new piano recording I've heard in a long time. Most solo piano records these days provide a perspective that seems either way too close or way too far away—you're either in the back row of an empty hall or with your head inside the piano. Both of these perspectives exaggerate boomy resonance, and the digital process seems to exacerbate the already ugly, percussive tone of many younger pianists. Moravec's tone is always exceptionally warm, and few equal the beauty of his pedaling. The sound of this CD is just about ideal, doing justice to the pianist as I've heard him in person, with luminous tone, excellent soundstage depth, and wide dynamic response. The intimate acoustic, more like a drawing room than a concert hall, is appropriate to Chopin.
About the only negative thing I can say about this CD is that it may be hard to find. I live in Boston, and in the last year two major outlets for classical music, the downtown Tower Records and the Harvard Square HMV, have shut their doors. Even Amazon.com does not consistently stock titles from small classical labels like Vox, though it's a good place to look. Flicking through the meager selection of picked-over stock at the remaining Tower in Cambridge, I was fortunate to spot a single copy of this disc. I can only wish you luck, and assure you that the performances on this CD are worth the search.