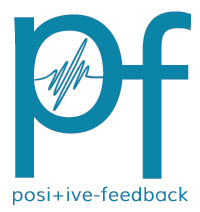 You are reading the older HTML site
Positive Feedback ISSUE 74
july/august 2014
The UFO-DSD Special Edition Has Landed
by Brian Moura
August 3, 2014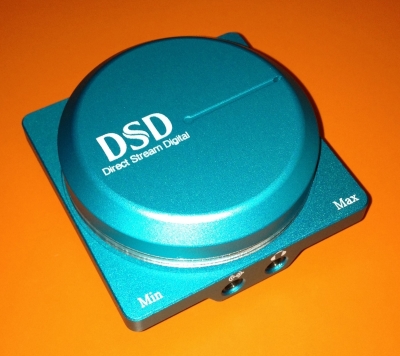 During The Show in Newport Beach in May, I was walking in the parking lot between the two hotels that host the event when I spotted Cookie Marenco from Blue Coast Records. Readers of Positive Feedback know that Cookie and her company are among the pioneers in releasing DSD downloads. Earlier this year, she was interviewed by the BBC about Blue Coast's work (See the story in the May/June 2014 issue of Positive Feedback Online).
Cookie stopped to chat and pulled a small device with a big DSD logo on it from her pocket that is called the UFO-DSD. It is designed to play both DSD and PCM music files with a desktop or laptop computer (Windows, Mac or Linux) as well as on an Android or IOS smartphone. She asked for an initial reaction and said that if there was enough interest at The Show, the UFO-DSD would soon be on sale at Blue Coast.
Apparently the reaction was positive at The Show as the UFO-DSD recently made its debut on the Blue Coast Records web site as a new, Special Edition DAC for sale. Blue Coast provided a UFO-DSD to Positive Feedback for review. Let's take a look at this interesting new product.

Specifications
The UFO-DSD is a small unit measuring roughly 2.5 inches by 2.5 inches that its manufacturer, HiSonus in Korea, touts as fitting in your hand or in your pocket. It comes with the USO-DSD and a USB cable in a small jewelry style box with the top of the unit showing through. HiSonus says that "Good sound is not necessarily proportional to the size and price of the DAC."
The model sold through Blue Coast Records is a Special Edition that HiSonus has made in what the company calls Blue Coast Blue. You can buy the UFO-DSD direct from HiSonus in other colors including Black, Deep Gold, Gold, Blue and Silver. HiSonus also offers two optional carrying cases in black or green leather for $50 each for UFO-DSD owners (See photo above).
The unit itself consists of three sections. The first is a large dial on the top of the unit with the words Min and Max on each end. This is a high quality volume control made by ALPS
The middle section of the UFO-DSD is a LED that lights up when the unit is plugged in to your computer or smartphone. As you play different music files, the LED changes to one of 7 colors based on the resolution of the music files being played.
The bottom of the unit has the Digital to Analog Converter (DAC) and Headphone Amp electronics. It also has three input jacks: a mini-USB input to connect to your computer or smart phone and a pair of 3.5 inch mini jacks for connection to desktop speakers or to headphones or inner ear monitors (IEMs).
Color: Special Edition, Blue Coast Blue

Music Files : Plays DSD at 2.8MHz and 5.6MHz, MP3, PCM up to 32-bit, 192kHz

Volume: ALPS professional analog audio potentiometer

Clock: High precision TCXO clock with re-clocking for ultra-low jitter

Power: USB Powered, no external power supply needed

Input: USB 2.0, Micro USB Type B Connection (cable provided)

Output: 3.5" Stereo Mini Headphone Jack (600 Ohm max.)

3.5" Stereo Mini Speaker Jack (1.3V RMS max)

Why a UFO?
When I learned the name of the product I had to ask—why is it called a UFO? Is it a "Unique Fidelity Object", perhaps?
It turns out that, no, the manufacturer named it for its UFO appearance. When the UFO-DSD is connected to your computer or smartphone, the middle layer LED lights up into one of 7 colors as shown on this table provided by HiSonus (note that HiSonus calls all DSD music files "Native DSD" even if they were not derived from DSD tapes):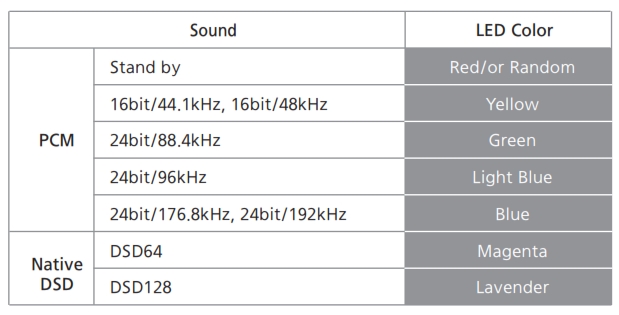 The combination of the round ALPS volume dial and the lit LED leads some people to say it looks like a UFO. Take a look at the photo of the UFO-DSD in action and see if you agree.
Test Set-Up
To test the UFO-DSD, I connected it to two computer systems—a Lenovo K450 Desktop PC and a Lenovo Yoga 2 Pro Laptop/Tablet Convertible PC. Both computers are running Windows 8.1 with Update 1 and have an Intel i7 CPU (see test set-up table below for more details). The Windows driver from HiSonus was downloaded and installed to enable music playback.
Blue Coast indicated that the UFO-DSD works with three Music Software programs: JRiver Media Center, Foobar and Audirvana. My tests were done with both JRiver and Foobar. For listening, I tested the player with three headphones (Oppo PM-1, HiFi Man HE-560, HiFi Man HE-6), a pair of desktop speakers (Audioengine 5+) and a pair of inner ear monitors (Cardas EM5813 Ear Speakers).
Computers
Lenovo K450 Desktop PC with Intel i7 CPU, 16GB RAM, 2TB Hard Drive Storage
Lenovo Yoga 2 Pro Laptop/Tablet with Intel i7 CPU, 8GB RAM, 256GB SSD Storage
Operating System
Windows 8.1 with Update 1 (64 bit)
Playback Software
JRiver Media Center 19.0.158
Foobar 1.32
Headphones & Inner Ear Monitors (IEMs)
Oppo PM-1 Planar Magnetic Headphones
Cardas EM 5813, Model 1 Ear Speakers
HiFi Man HE-560 Planar Magnetic Headphones
HiFi Man HE-6 Planar Magnetic Headphones
Desktop Speakers
Audioengine 5+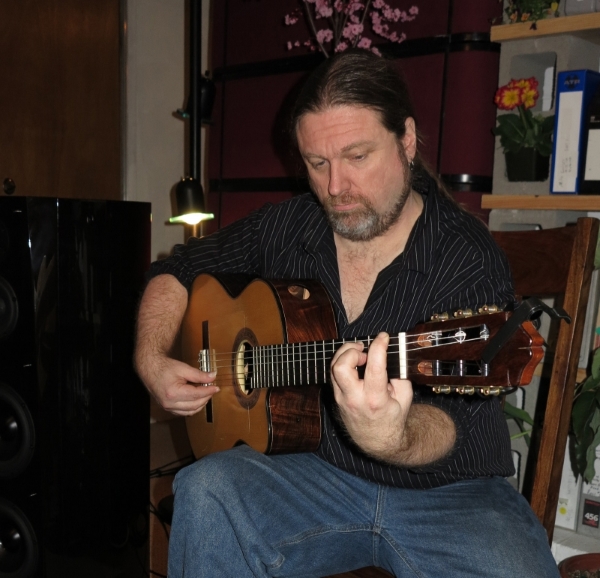 Evaluation and Listening
Blue Coast recommends 100 hours of burn-in time for optimum results on the UFO-DSD. I used a variety of DSD and PCM music from my collection to burn-in the unit over the Audioengine 5+ desktop speakers and Oppo PM-1 headphones during this period. I did some listening to the unit from time to time as it was burning in. I'd agree with Blue Coast that it does open up and gain detail once at the 100 hour mark.
One of the first things I noticed about the UFO-DSD is that the placement of the unit's DAC and amplifier electronics in the base of the unit has some real benefits. When the UFO-DSD is in operation the small amount of heat that it generates is present in the section of the UFO that sits on your table or flat surface, not in an area where the listener's hands are! Very clever. (Other DAC makers, take note.)
The large ALPS volume control responds very smoothly and quickly to the listener's volume preferences. I found myself reaching over without looking at the UFO-DSD and easily tweaking the volume as tracks and albums were playing. The quality of the ALPS volume control makes this a real pleasure.
In addition to some DSD and PCM copies of CDs and SACDs, I also pushed the envelope a bit by playing music downloads from Blue Coast Records, DSD File, eOnkyo Music, Native DSD, Super HiRez and HD Tracks. As is often the case, the music downloads provided the real highlights of the listening sessions with the UFO-DSD. (A list of the music highlights is shown below in case you'd like to sample and pick up a few of these albums).
Single Rate DSD (DSD64) listening was a treat. "Cali" by Quiles & Cloud from the album Special Event 24: The BBC Sessions from Blue Coast provided some well-defined vocals and guitar playing in a nice sound field. On Track 3 "Romance" by Flamenco Guitarist Jason McGuire's on the album Special Event 17, the guitar playing was nicely detailed and I could even hear the artist's breaths as he was playing with the UFO-DSD and the Oppo PM-1 headphones. The album I Could Write a Book features a pairing of Jazz Sax player Scott Hamilton and Jazz Pianist Andrea Bossa. It had excellent dynamic range with a very detailed, realistic and believable piano and sax sound from one Fone's "natural jazz recordings" recorded direct to DSD. Just excellent! "Blue & Sentimental" from the album of the same name by Ike Quebec from Analogue Productions offered some excellent detail with the sax and guitar, making a compelling case for going back to analog master tapes and transferring them to DSD. Overall, the UFO-DSD did a fine job with quality DSD64 music downloads.
Turning to Double Rate DSD (DSD128), Jazz Cinema Paradise by the Tokyo Cinema Jazz Trio is a newly recorded album of movie music recorded direct to DSD128 on a Pyramix system at King Records Japan. It has excellent detail on the piano and drums and that showed through very nicely with the UFO-DSD. DSD Showcase 3 from DSD File offered a chance to compare transfers of some excellent tracks from Opus 3 analog recordings to DSD64 and DSD128 using the same material. Some fine listening and material here. It was close but I'd say the DSD128 bests the DSD64 tracks on the same album.
Despite the large DSD logo on the top of the unit, the UFO-DSD plays PCM files up to 32-bit, 192kHz. To verify this, I played albums from my collection in PCM as well as two from HD Tracks – Eric Clapton's Unplugged remastered at 44.1kHz, 16-bit and the recently released Greatest Hits album by The Association remastered at 192kHz, 24-bit. Both albums showed good detail and stereo separation with the UFO-DSD.
Music Highlights with the UFO-DSD DAC
DSD64 Music – DSD Recordings
Quiles & Cloud – Special Event 24: The BBC Sessions at DSD64 (Blue Coast)
Scott Hamilton & Andrea Bossa – I Could Write a Book on Fone at DSD64 (Native DSD)
DSD64 Music – from Analog Tape
Jason McGuire – Special Event 17 at DSD64 (Blue Coast)
Ike Quebec – Blue & Sentimental on Analogue Productions at DSD64 (Super HiRez)
DSD128 Music – from Analog Tape & DSD Recordings
Tokyo Cinema Jazz Trio – Jazz Cinema Paradise on King at DSD128 (eOnkyo, DSD)
Various Artists - DSD Showcase 3 at DSD64 and DSD128 (DSD File, Analog to DSD)
PCM Music Files
Eric Clapton – Unplugged at 44.1 kHz, 16-bit FLAC on Reprise (HD Tracks Audiophile Pick)
The Association – Greatest Hits at 192 kHz- 24 bit FLAC on Warner Bros. (HD Tracks)
While testing the UFO-DSD DAC, I did try the unit with a variety of headphones including two Planar Magnetic Headphones from HiFi Man—the HE-560 and the HE-6. Both of these headphones sound very good when they have enough power to drive them. The low output from the UFO-DSD DAC made that difficult with the HE-560 (volume was consistently at the Max setting on this headphone) and it was essentially not usable with the HE-6. On the other hand, Oppo's PM-1 Planar Magnetic Headphones and the Cardas EM 5813 along with the Audioengine 5+ desktop speakers did very well with the UFO-DSD DAC. I'd chalk that up to the efficiency of their designs.
In theory this issue could be resolved by adding a separate headphone amp in the setup. But that would defeat the portability of the UFO-DSD DAC. With that in mind, I'd recommend using the UFO-DSD DAC with more efficient headphones for best results.
Summary
The UFO-DSD does a fine job of upgrading the audio playback quality of your computer or smartphone by taking the music on the device and running it through a Digital to Analog Converter (DAC) and a small Headphone Amp. As I noted earlier, it provides quality playback of both DSD music files up to Double Rate DSD (DSD128) as well as PCM music files from MP3 compressed all the way up to 32-bit, 192kHz.
I also found the UFO-DSD to be very handy and portable. It's one of the easiest ways to take DSD and PCM playback with you on the road or when traveling. Blue Coast and HiSonus deserve credit for breaking new ground in this arena by having a unique and one of the most portable DSD products on the market today.
For me, the combination of its clever design, small size, portability, sound quality and price (under $500) make the UFO-DSD a very interesting option to bring high resolution audio with you on the road or even in your home.
UFO-DSD DAC
$399 Special Edition in Blue Coast Blue from Blue Coast Music, $447 Standard Edition in Black, Deep Gold, Gold, Blue and Silver from HiSonus, $50 additional for Optional Black or Green Leather Carrying Case from HiSonus
Blue Coast Records
PO Box 874
Belmont, CA 94002
USA
650-595-8475
bluecoastrecords.com/
HiSonus
4F Yeoksun Bldg.
547 Sealleung-ro
Gangnam-gu, Seoul 135-917
Korea
82-70-7405-2175
www.hisonus.com/en/index.html
ask@hisonus.com
Links
Blue Coast Special Edition UFO DSD DAC (Blue Coast Blue)
bluecoastrecords.com
HiSonus UFO DSD DAC (Multiple Colors)
www.hisonus.com/en/index.html
Download Center – UFO DSD Manual and Drivers
www.livonsound.com/
River Media Center Manual for UFO DSD
bluecoastrecords.com