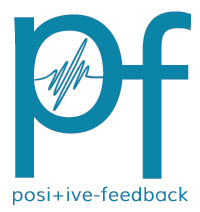 You are reading the older HTML site
Positive Feedback ISSUE 73
may/june 2014
TRIODE TRX-M300 Reference Edition
text and images by Wojciech Pacuła, translation by Andrzej Dziadowiec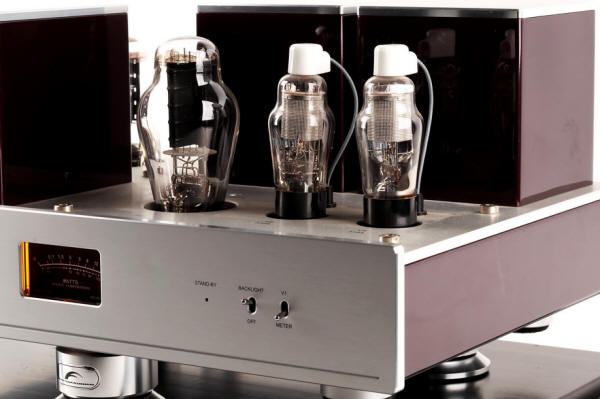 Triode appears in High Fidelity quite regularly, but not too often. For as long as I can remember, a review of one of its products has always featured in our "Japanese" issue. It may have to do with the fact that Triode had its Polish and European premiere in the May 2006 issue of High Fidelity. The component that was reviewed was a small and inexpensive 300B amplifier, a really unusual combination. The TRV-300SE amplifier, then still sold under the name TRI—changed to TRIODE a few years later—was the work of Mr. Junichi Yamazaki who founded the company in 1996 in Koshigaya-shi Saitama. In a mini-interview, he said that he regarded the output transformers to be the most important component in tube amplifier design. Looking at the evolution of his products over the years, mechanical design and the type of tubes used have become equally important.
I'll start with the latter. In his 2006 amplifier, Mr. Yamazaki used tubes from Okaya, a Japanese company completely unknown to me (even today), which bore the logo TRI. The output stage featured a single directly heated 300B triode, slightly smaller than usual, driven by 6SN7 dual triode. The circuit was very simple, with small output transformers. This allowed to keep the unit's price low while the amplifier was proudly labeled "Made in Japan" on the rear panel.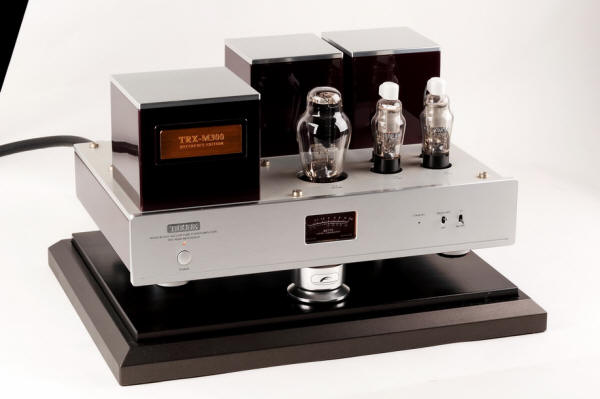 The TRX-M300 under review today belongs to a different generation of Triode products. It is an expensive piece of equipment and there was no need to cut corners with the design, in order to find the best compromise between the target budget and sound quality. Where the TRV-300SE was an entry level amplifier, extremely pleasant but definitely a budget product, the TRX-M300 is a true reference component. This is clearly marked on the large golden plates with the model name mounted to massive power transformer cans, which say: "REFERENCE EDITION".
The amplifier was not created in a vacuum. The point of reference in its development was the legendary American design, the Western Electric EC 91A. This is not the first such attempt, just to mention the outstanding amplifiers from Reimyo, Sophia Electric and others. The circuit is based on a single 300B output triode, here in the PSVANE WE300B version, a copy of the original Western Electric triode, which is driven by two 310A pentodes also used in the Reimyo PAT-777 amplifier mentioned above. Plate voltage rectification is handled by the 274B diode. The amplifier is massive and comes in two separate enclosures. The weight of each monoblock (22kg) and its dimensions (420 mm x D 340 mm x H 210 mm) speak for themselves. This was necessitated by the use of large in-house made transformers and the desire to maintain the lowest possible crosstalk. The amplifier has automatic bias, 10Hz – 50kHz (-2 dB) frequency response and the output power of 8 W.
Triode (TRI) products featured previously in High Fidelity
• REVIEW: Triode TRV-DAC1.0SE – D/A converter, see HERE
• REVIEW: Triode TRV-A300SER – integrated amplifier, see HERE
• REVIEW: Triode TRV-845SE – integrated amplifier, see HERE
• REVIEW: Triode TRX-1 + TRX P 6L – line preamplifier + power amplifier, see HERE
• REVIEW: TRI TRV-88SE – integrated amplifier, see HERE
• REVIEW: TRI TRV-CD4SE + TRV-35SE –CD player + integrated amplifier, see HERE
• REVIEW: TRI TRV-300SE – integrated amplifier, see HERE
Sound
Albums auditioned during this review
• Alison Moyet, The Minutes, Cooking Vinyl/Modest! COOKCD585, CD (2013); reviewed HERE.
• Chet Baker, It could happen to you, Riverside/Fantasy/Original Jazz Classic OJC20 303-2, Super Bit Mapping CD (1958/?).
• Clan of Xymox, Matters of Mind, Body and Soul, Trisol/Soul Food TRI 488 CD, CD (2014).
• Czesław Niemen, Spodchmurykapelusza, Pomaton/EMI PTROMO CD 435, SPCD (2001).
• Diary of Dreams, Elegies in Darkness, Accession Records A137, "Limited Edition" CD (2014).
• G.F. Haendel, Duetti da Camera, La Risonansa, Fabio Biondi, Glossa GCD 921516, CD (2014).
• Louis Armstrong, Louis Armstrong and His Friends, RCA Victor/BMG 63961 2, "Bluebird First Editions", CD (2002).
• Maria Peszek, Jezus Maria Peszek, Mystic Production MYSTCD 214, CD (2013).
• Marin Marais/Alcione, Suites des Airs à joüer, Le Concert Des Nations, Jordi Savall, Alia Vox Heritage AVSA9903, SACD/CD (2014).
• Paula Cole, Courage, Decca B0008292-02, CD (2007).
• Tadeusz Woźniak, Tadeusz Woźniak, Polskie Nagrania "MUZA"/Polskie Nagrania, PNCD 1289, CD (1974/2010).
• The Cure, Disintegration, Fiction Records 8393532, CD (1989).
• The Hilliard Ensemble, The Hilliard Sound. Renaissance Masterpieces, Erato 4632795, 3 x CD (1985, 1986/2014).
• The Pat Moran Quartet, While at Birdland, Bethlehem Records/Victor Entertainment VICJ-61470, "Bethlehem K2HD Mastering Series, No. 20", K2HD, CD (1957/2007).
• Wes Montgomery & Wynton Kelly Trio, Smokin' At The Half Note, Verve 2103476, "Verve Master Edition", CD (1965/2005).
• Yello, Touch, Polydor 27194851, FLAC 16/44.1 (2009).
Just like with the best audio components, by which I understand those that are involving and not merely the most expensive, the Triode amplifier "dictated" the music I was listening to. Of course, the auditions—like all tests in general—have their own methodology, carefully worked out by each reviewer. What's important is to ensure that the methodology is reasonable and to stick to it unwaveringly. In the end, it all comes down to comparing audio components to the reference system, which requires repeatability. Having said that, there is room for improvisation outside the regular, fixed parts of the review. After all, we are talking about products that affect our feelings and this requires our adapting to the situation. In such case as the TRX-M300, the element of "free" prevails over "mandatory". Actually, it is "free" by name only; as I said before, it is insisted on by the component itself.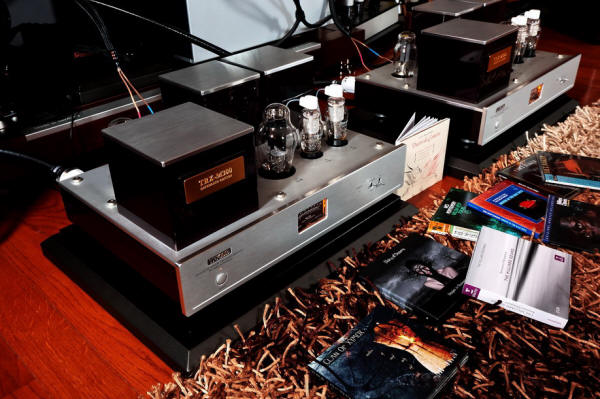 Triode creates its own clearly defined world, confined on each side but internally so rich as to be self-sufficient. Just like Japan itself. And while in July 1853 four black ships commanded by Commodore Matthew Perry, a U.S. naval officer, anchored at Edo Bay, ending the 200-year isolation of Nihon-koku, the country has since remained closed to a certain extent, mostly in terms of mentality. And absolutely self-sufficient, apart from natural resources. It might seem that Japan's peculiar fascination or obsession with the American pop culture and European art, including Chopin's music, tells a different story and reflects their openness. In fact, it's just another form of isolation as the interest is in the tangible and intangible objects of culture and not in the countries they originate from. This can also be "reversely" applied to the TRX-M300. It is a finished, beautiful and highly refined world.
The sound of Triode amplifiers can be best described as smooth. Silk or velvet smooth. Teflon is even smoother, but it is usually associated with something cold and impersonal. Here we are presented with something very, very personal and "human." In an objective analysis, taking into account individual sub-ranges, sonic aspects, etc., Mr. Yamazaki's amplifier exhibits significant deviations from neutrality (and from the reference amplifier). There can be no doubt about that. Its modest power output additionally narrows down the circle of matching speakers, to a large extent "dictating" the sound of such system—high sensitivity speakers sound different than those of the average sensitivity (for better and worse). But hey, it's like a wedding ring—you put in on with a big smile on your face. And if you take a proper care of what happens LATER, you will stand behind that decision with your whole self for the rest of your life.
That's why I feel uncomfortable writing about withdrawn top and bottom end. There is no deep bass or upper treble to speak about, no matter what source we use and what kind of speakers we listen on. We need neither the former nor the latter—as long as it is also OUR world. All albums sound warm and friendly. It makes no difference what kind of music we are talking about. I listened both to Clan of Xymox and Diary of Dreams, as well as to the refined vocal recordings of Handel's Duetti da Camera, and quite a few jazz albums. Even more than a few. The sound that was defined by the amplifier helped any good music. It brought out its inner pulse and emotional tension. The better the recording, the closer the presentation to the listener; the worse the recording, the further the presentation. But if the basic requirement—the quality of music—is met, we will be sitting down captivated by the sound. Being aware of the limitations of music material and dreaming about how it would sound in a better world, where producers and music labels know what they are doing, we will wait for the next track, next part of the record, and then another album.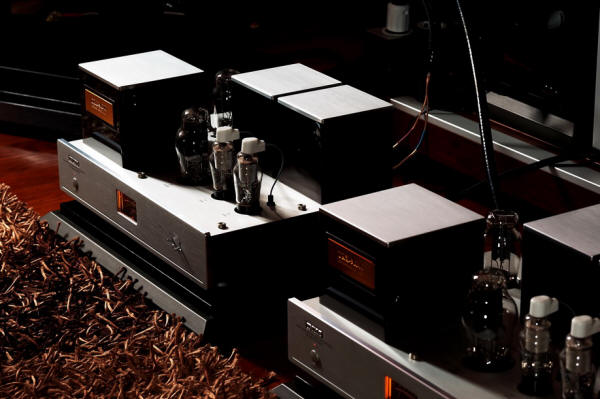 What stands out is a phenomenal resolution. It might seem nonsensical, if we already know about the limited frequency response, smoothness and low power output, and hence limited macro dynamics. Except that we are talking about a high-end component, with a sensitive designer behind it, a person whose world coincides with the world of those who have already grown out of the pursuit of hi-fi.
Listening to any kind of music on the Triode, we get everything we need. It pushes all the right buttons for us and does it in the correct order. The sound is warm but extremely differentiating. This means that it will never upset us with over-emphasized treble, glaring upper midrange or contoured (hardened) bass. If a recording shows any of these problems, the amplifier will let us know about them but will not overwhelm us.
This was true, for example, with the album Louis Armstrong and His Friends. Recorded in 1970, a year before Satchmo's death, it shows all the shortcomings of audio production from that period of time. It has flat dynamics and low resolution, and is too bright. Except that listening to Armstrong's voice—weak, old and lacking the depth known from his early recordings—we experience it the way this "farewell letter" deserves. It evokes emotions, reflection on life and the joy of the fact that someone like him was with us (or before us).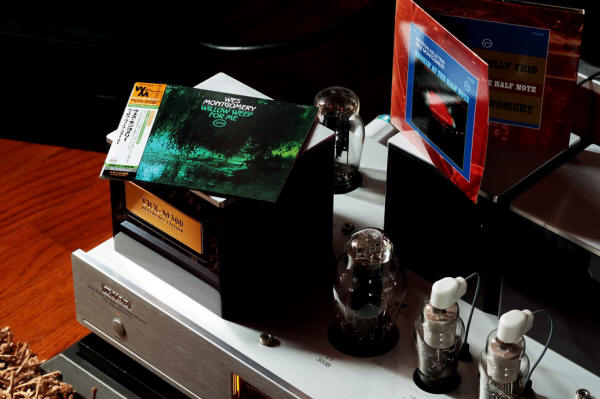 The Triode monoblocks showed no artificial warming of the sound. It was warm, thanks to its smoothness, but rather in the sense of the lack brightness. The recordings perfectly "shone through" that filter and every sonic aspect I have described earlier was absolutely clear. But there is no need for such an extreme example, because the certainty I am talking about also related to other, less explicit comparisons. Take, for example, Wes Montgomery's album Willow Weep For Me issued on SHM-CD by Universal Music Group (Japan) and compare it to the same recordings previously released as bonus tracks on Smokin' At The Half Note, in the Verve Master Edition series. The remaster prepared by Bob Irvin and Kip Smith, released in an ordinary European version easily beat the seemingly superior SHM-CD edition. The sound was more natural, more open and warmer. Which shows that the CD release format is but the final link in a long chain, where the quality of the recorded material and its further processing are much more important.
Along with warmth and resolution we also get a great three-dimensionality. These three aspects constitute the Japanese monoblocks under review and support each other. Three-dimensionality may be achieved in various ways, also in inexpensive audio components. This is usually done by withdrawing the top and bottom end and exposing the midrange. A lower resolution is helpful, too, as less information means that what is presented is reproduced more clearly. The Triode has an outstanding resolution, so there is nothing to worry about the amount of information. Its bass roll off probably helps with the output current capability but I would not pay too much attention to that. I think that the exceptional 3D spatial expanse is a direct extension of differentiation. As a result, we get a natural three-dimensionality of recordings, not its mere approximation.
This is why the vocals were so palpably close, both metaphorically and in terms of physical distance. The touching youthful voice of Chet Baker on his 1958 album It could happen to you was outstanding in its presence and density. It was truly three-dimensional and had a great texture. The smoothness of the sound did not hamper detail and soundstage layering.
This amplifier is particularly suited to those who listen to vocal music and small ensembles. Hence, I focused on jazz albums. Not because the amplifier is inherently "limited" and not capable of handling heavier music. It is more than capable and will sound great. I have already referred to dark wave climates along the lines of Clan of Xymox and Diary of Dreams, so let me add here some trip-hop from Portishead's debut Dummy and Mike Oldfield from his newest album Man On The Rock. And Miles Davis' In A Silent Way for good measure, an album far from the acoustic performances from the days of Kind of Blue. There was no deepest bass like I said and there will never be. But the overall presentation was so coherent that what I could not hear was hinted at and added to the sound by means of higher harmonics. There may have been no low end grunt but the presentation was most satisfactory. All the recordings sounded honest and great, and showed the characteristics I mentioned above. Of course, it was impossible to play it loud; 8 watts of output power, even from a tube amp, is still only 8 watts. But I did not need anything more.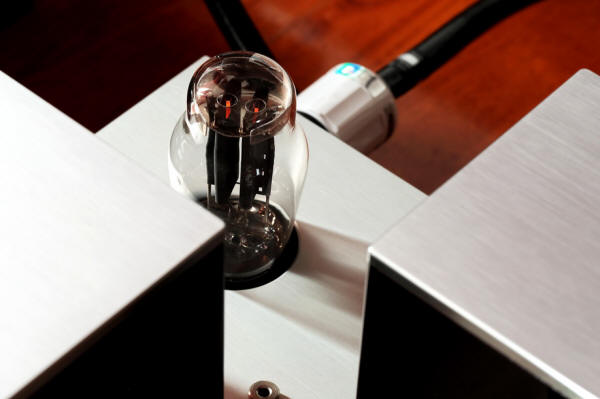 The only problem, at least with the Harbeths that are not an easy load to drive, was with classical recordings featuring a smaller ensembles and vocals, especially if it was just one or two vocalists. Although it may seem contrary to logic, rock albums could be played much louder than those mentioned above. This should come as no surprise to those who have experience with tube audio systems, though. Tubes distort very gently when driven into clipping. If they are fed low dynamics music material—and most rock and pop albums have very flat dynamics—then the playback dynamics will also be reduced and the overall perspective flattened, but it will not be tiresome and we will turn a deaf ear to distortion. However, just a short vocal excerpt from Duetti da Camera, for example, listened to at high volume was enough for clipping to be immediately audible. This problem concerns dynamics and results from the fact that we can immediately distinguish any kind of vocal distortion.
Conclusion
Therefore, the first choice must be to find a matching pair of speakers that will fit our favorite music, our habits and our listening room size. This much should be clear but it won't do any harm to repeat it. Spendors from the Classic series, sold in Poland by the same distributor as Triode's, Art Loudspeakers designs or the recently reviewed speakers from Trenner & Friedl (see HERE) should be your main trail. Harbeths too, of course, but rather smaller models than the M40.1 which require a more powerful amplifier.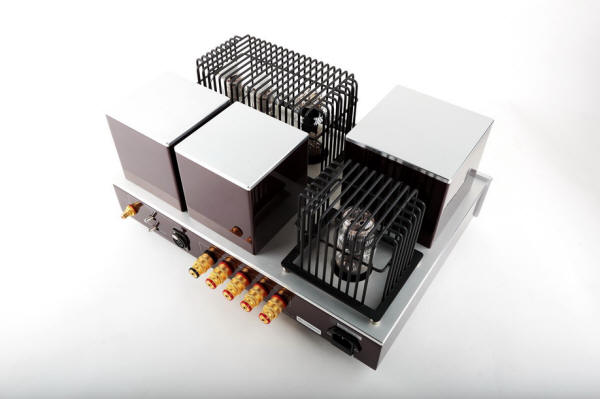 What we will get in return is a beautiful sound—warm, resolving, differentiating and consummate. No more looking for something else; no more tinkering. This is not a "neutral" sound and it actually shows significant deviations from neutrality. But it laughs it off, fulfilling Mr. Yamazaki's vision—complete, beautiful and worthy of respect.
The amplifier receives the RED Fingerprint award to express my personal appreciation for Triode and Mr. Junichi Yamazaki.
Design
I do not know if you remember the first review of a component from Triode (then Tri) in High Fidelity. The TRV-300SE amplifier had such distinctive looks that it could not be confused with any other product. The unit was surprisingly small, which was the first thing that caught the eye. We got used to the fact that tube amps are large or very large. The small size of the TRV-300SE was the result of its moderate power output (a single 300B) and clever use of the available space. Just after its dimensions, our attention riveted unusual color finish, with the side panels and transformers' cups coated with bright, carmine-red metallic paint. While Tri was not the only Japanese manufacturer to use finish colors other than black and white, it was definitely leading the pack. I really loved it. And yet it was not an expensive component. It was obvious that the enclosure was sourced from one of the large scale manufacturers of such products - and scale means savings. This time the savings did not add to Mr. Yamazaki's account but rather helped music lovers' accounts. The TRV-300SE was a very affordable amplifier.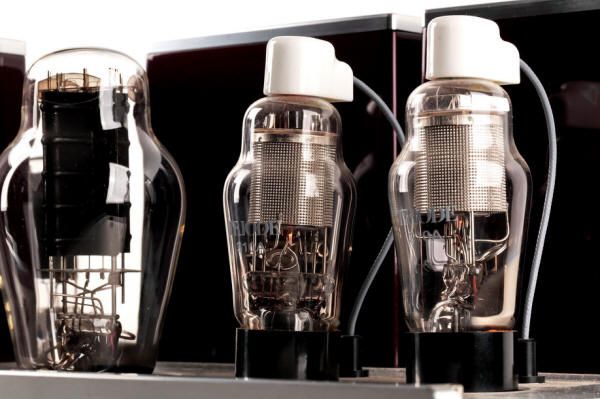 The TRX-M300 belongs to the third generation of Triode products. The monoblocks are huge and expensive. Also, the finish of the transformer cups and side panels is different and their color is much more subdued. What remained is the characteristic aluminum front panel. It now sports a power output and bias meter, a switch to turn off the meter backlight and another one to choose between the two modes of meter operation. The main power switch is mechanical and there is no option to switch on the unit remotely, for example by a trigger port.
The amplifier design is reminiscent of classic QUAD amplifiers, for example, QUAD II. Intensifier tubes placed in front of and next to a large can of transformer. Behind the tubes have two smaller cans—the output transformer and choke, part of the anode power lamps. In the back corner, hidden behind the cups, there is one lamp—rectifier PSVANE WE274B. As I said, in the output stage is working lamp 300B. There are no markings on it, and according to the manufacturer this is the PSVANE WE300B. It naturally operates in single-ended class A. The driver stage employs a rare 310A pentode, which we know from the Reimyo amplifier. Another 310A is used in the input. They have quite distinctive looks in that they sport top grid caps, ensuring low capacitance. The tubes are covered with protective "baskets" to comply with EU regulations. One covers the rectifier tube, and the other protects all other tubes. I took them off for the time of auditions.
The rear panel is quite tidy and features good quality, large and user friendly CMC 878 speaker terminals, with separate taps for 4, 6, 8 and 16 ohms. During the review, the Harbeth M40.1 speakers were connected to the 6 ohm terminals. The input signal can be connected either to solid gold-plated RCA or XLR connectors. The amplifier has an unbalanced topology, but the XLR input can sometimes be helpful. A small toggle switch is used to switch between the inputs. A similar switch is used to choose the "hot" XLR pin.
An interesting comparison of the amplifier design can be found in Dick Olsher's review in The Absolute Sound (Dick Olsher, "Legend Reborn", The Absolute Sound 2013, October 8, see HERE ). He suggests to look at Mr. Yamazaki's design as a contemporary version of the legendary Western Electric EC 91A amplifier from 1936. What spurred its creation was the development of the 300A triode in the same year. Hardly anyone could have predicted that its follower, the 300B directly heated triode introduced by Western Electric two years later, in 1938, would become the icon of high-end audio. Or that it would still be in production 80 years later, like amplifiers using it.
According to Dick Olsher, what lends credibility to the comparison to the EC 91 A is the fact that both designs use the same tube complement—a 274B rectifier, a pair of 310As and a single 300B. However, he also notes differences, just as important as similarities. The original Western Electric amplifier used an input transformer that, together with the cascade arrangement of the two pentodes, provided a huge total signal gain of 92dB (!). It hardly makes any sense today, with a typical source signal level of 2 V (CD standard), and would result in a significant noise increase. Hence, Mr. Yamazaki decided to dispense with the input transformer and to reduce the input stage gain for the reasonable input sensitivity of 0.8V. He addressed this by using local feedback from anode to grid of the first pentode stage and connecting the second pentode in a triode mode for further gain reduction. This way the monoblocks can be directly connected to a source with a variable output. One can also use a preamplifier.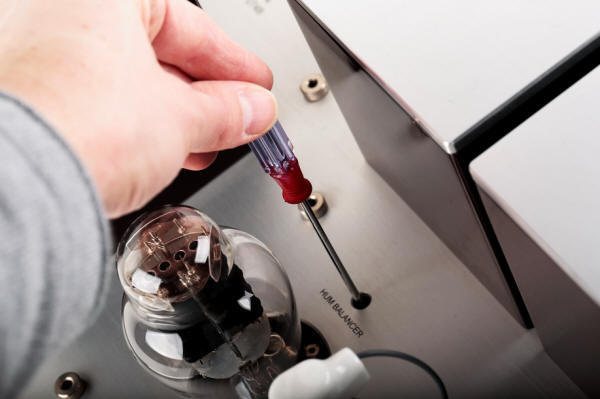 To further reduce noise and hum, the 300Bs use a DC power supply (5V). Similarly, the 310A filament voltage (10V) is rectified and actively regulated. All these efforts have borne fruit; only by putting the ear to the tweeter could I hear the faintest noise and no residual hum whatsoever.
The amplifier circuit is quite simple and most of the interior is taken by the power supply, as customary in good tube amps. Many Chinese manufacturers attempt to copy this style and build extremely simple components, but that is not the way to go. This type of minimalism as presented here is the result of a gradual reduction of the number of components over many years of testing. Amplifiers such as the Triode are not created in one instant, as finished designs, but are rather the final result of a lengthy development process. Each component less means hours upon hours of auditioning and testing, auditioning and testing… There are no shortcuts.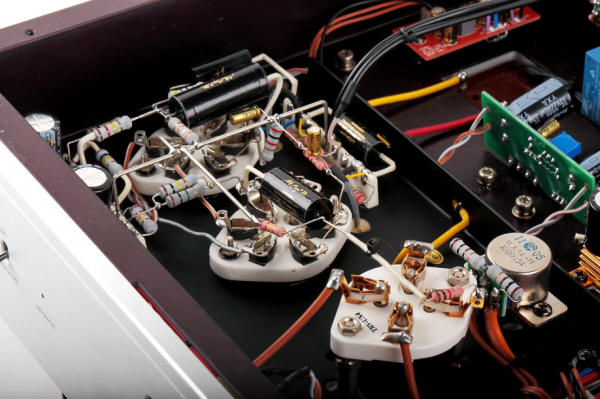 The signal from the input connectors is fed to the input selector to select the active input and, in the case of XLR, also the absolute phase polarity. Upon selecting the RCA input, the signal goes directly to the grid of the input pentode, coupled via a pretty MCap ZN Mundorf tinfoil capacitor. Another MCap is used as an interstage coupling capacitor. The electrolytic capacitors in the cathode circuit are Nichicons. One can also see Rubycon capacitors in other places. After selecting the XLR input, the signal is first routed to a small PCB with a buffer stage on a NE5534 op-amp, where it is desymmetrized. Hence, the preferred input should be the RCA.
The power supply looks great, with the 300B filament rectifier and an additional 310A filament voltage regulator on a small board. The 300B plate voltage is filtered by a massive Nippon Chemi-Con capacitor. A nice, clean design using quality components throughout. Note that the 300B sockets have gold-plated contacts and are manufactured by (or for) Triode as the TRV-U4X.
Technical Specification (according to the manufacturer)
Tube Complement: Output tube PSVANE WE300B x 1, Pre 310A x 1, Driver 310A x 1, Rectifier PSVANE WE274B x 1

Output Power: 8W at 8 ohms in class A

Frequency Response: 10Hz-50kHz (-2dB)

S/N ratio: 90dB

Total Harmonic Distortion: 0.1%

Input Sensitivity: 0.9V

Input Impedance: 100k ohm

Input Terminals: RCA unbalanced x 1, XLR balanced x 1 (No.2 hot or No.3 hot switchable)

Output Terminals: 4 ohms, 6 ohms, 8 ohms, 16 ohms

Power Consumption: 120W
Dimensions : W420mm x D340mm x H210mm

Weight: 22kg
Price: 49,900 PLN/pair (in Poland)
Triode Corporation
609-3 Fukuroyama Koshigaya-shi | Saitma-ken
Japan PO#343-0032
+81-48-940-3852
info@triode.co.jp
www.triode.co.jp
MADE IN JAPAN