KEN MICALLEF'S SYSTEM
LOUDSPEAKERS
DeVore Fidelity Nines, Snell J/iis.
ELECTRONICS
Shindo Allegro preamplifier and Shindo Haut Brion amplifier.
SOURCES
Digital Source: MacBook, Halide HD DAC, Meridian Explorer DAC, Western Digital T2 Mirror Drive (X4)
Analog Source: Kuzma Stabi/Stogi turntable/arm combo, Denon DL-103, Auditorium 23 Denon step-up transformer, TSD15 cartridge with Super Fine-line Stylus
CABLES
Auditorium A23 speaker cables, Shindo interconnects.
ACCESSORIES
Salamander rack, 2" Mapleshade platforms (8" x 15" x 2"), Powerline conditioning by JPS Labs Kaptovator, Shunyata Black Mamba and Anaconda Vx Powersnakes, Shunyata Hydra 4 [on loan]. 3" studio treatment foam damping/ceiling-wall treatment.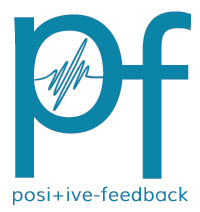 You are reading the older HTML site
Positive Feedback ISSUE 73
may/june 2014
sq products
SQ-25 Tube Preamplifier and SQ-30 6V6 Amplifier
as reviewed by Ken Micallef
The SQ Products SQ-25 Tube Preamplifier and SQ-30 6V6 Tube Power Amplifier reside in an increasingly competitive and desirable neighborhood. Priced at $1349 and $1789, respectively, the SQ amps aren't cheap, but they're far from the tens of $1000s that can easily be spent on high-end audio reproduction. If anything, this price range may constitute what I believe is the future of high-end audio.
Contrary to the naysayers, I believe the popularity of high-end audio is growing through such inroads as Beats headphones, computer audio and outboard DACs, and retro-stylish as it is, tube gear is finding its way to sound-valuing hipsters and home-listeners alike. More manufacturers are offering the glowing bottles than ever before. And if Stereophile's recent Munich High End show report is a good indicator ("over 450 exhibitors displaying 900 different brands," reported The Absolute Sound), the European high-end community is absolutely thriving. Here in New York City, audio stores in the stylish West and East Villages prominently feature tube amps in their storefront windows. Unfortunately, the "entry level" for quality tube components, unlike turntables, has yet to see a widespread, everyman's pricing scenario. Sure, there are more tube pre/power amplifiers available, but major audio companies still largely refrain from producing truly inexpensive tube gear. Here's hoping.
A quick Google-ing of tube-assisted preamps in the $1000 to $2000 range: Cary's Audio Electronics Constellation Preamplifier ($999), Peachtree Audio novaPre ($899), Consonance Cyber 50 Tube Preamp ($1595), and T-1 Tube Preamp ($1299.00). Tube-powered amplifiers in the same price range: PrimaLuna ProLogue Six ($1959/pair), the acclaimed Rogue Audio Atlas Magnum Power Amplifier ($1995), Audio by Van Alstine Ultravalve ($1999), and Cary's Audio Electronics Hercules Amplifier ($1299). Cary, Rogue, Almarro, Raysonic, Cayin, Line Magnetic, and now SQ Products are addressing the need for affordable (or less expensive) tube separates that won't bust the bank. We're a long way from the poorly-constructed, anemic-sounding Jolidas of yesteryear.
SQ Products is the brainchild of importer Stephen Monte, who, as major domo for his company, Quest for Sound, brings in dozens of audio lines from around the globe. Monte designed the SQ-25 Tube Preamplifier and SQ-30 6V6 Tube Power Amplifier with his popular SQ-84 V2 integrated amplifier in mind.
"We had great success with our SQ-84 V2 integrated amp," Monte stated via email, "and had many customers write and call asking for a power amp with more power with the same design as the SQ-84 V2. So we decided to make a stereo block using the same design as the SQ-84 V2 and same 6V6 tubes. I always loved the sweet, warm sound of a 6V6 tube. They're used in Marshall guitar amps as well as a lot of other guitar amps and they give beautiful body and warmth.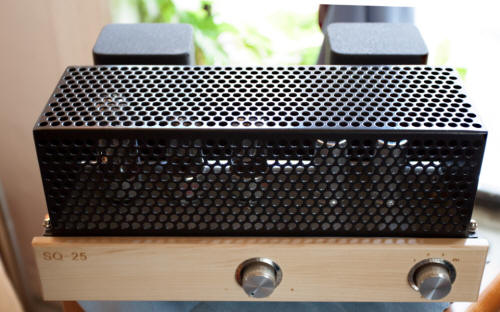 "As with the SQ-84 V2," Monte continued, "we use solid state rectification to provide a constant voltage. We generate in ultra-linear mode—30 WPC, and in triode mode -15 WPC. I always loved the VU meters on the old Marantz gear so I decided to put one on the SQ-30! Transformers are copper-wound for warmth and we use the highest grade of components that we can [use and still meet] our price point. The 6V6 tubes are military-grade Chinese tubes matched and tested before we install them. Our amps offer wonderful tube sound with body and superb midrange. We put the most we can in for your hard-earned dollar assembled here in the USA."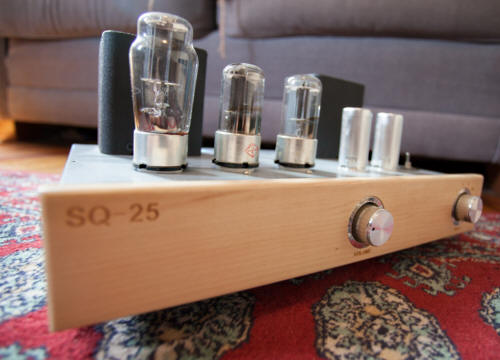 Description and setup: MM or MC?
Alternately operated by a cute, palm-sized remote that adjusts volume only, the SQ-25 preamp is cosmetically minimalist with a DIY look, appeal, and functionality. Its vacuum tube compliment is based around two 12AX7s, two 6SN7s, and a single 5Z4Px1 rectifier tube, all Chinese military-sourced (Hmm. That has an odd ring doesn't it?). A sleek 1/3 inch slab of pine (covered in six coats of stain and clear coat for both the pre and SQ-30 power amp) constitutes the preamp's front panel and holds two small metal knobs, one for volume, the other for choosing input. The SQ-25's casing is .003 milliliter steel, bent and powder-coated (ditto for the SQ-30). The SQ-25's power on/off switch is located on the bottom left-hand side of the unit. Round back are two RCA outputs, and four pairs of RCA inputs, including a MM/MC input. A top-mounted toggle switch enables easy MM/MC switching. Weighing a mere 15 pounds and measuring 13" (W) x 7 3/4" (H) x 10" (D), the SQ-25 is an easy load, literally speaking. An oblong-shaped, honeycomb-patterned tube cage caps off the SQ-25's handsome blockhead-ish appeal. The underside photo of the unit reveals printed circuit boards—it's hard to expect point-to-point wiring at this price, but everything is well situated and tidy, with clean joints and a smart layout.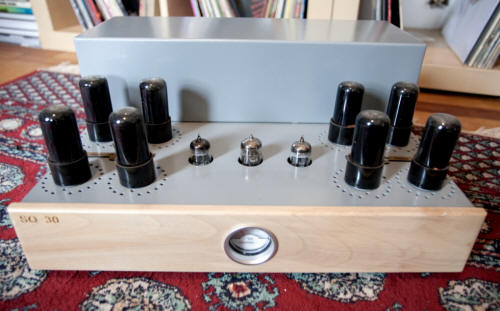 The SQ-30 6V6 Tube Power Amplifier is the mirror image of the SQ-25, perhaps bigger by half (and its trannies are covered). Designed around "our World famous Award Winning SQ-84 V2 integrated with that same beautiful lush sound but more power and a power amp!" proclaims the Quest for Sound website, the SQ-30 is moderately heavy at nearly 40 pounds (39.7). Eight 6V6 power tubes, two 12AU7s and a single 12AX7 tube, Chinese military-sourced (again), provide the SQ-30's tube compliment. The SQ-30's top-mounted toggle switch lets you choose between two listening scenarios: 30 WPC in Ultralinear mode or 15 WPC in Triode mode, which I generally preferred. A cute VU meter is mounted on the pine front panel, but it's not a toy; the meter bobbed sensitively back and forth, accurately depicting the changing power requirements necessary to drive the speakers. The back panel of the SQ-30 holds a pair of RCA outputs and three heavy-duty speaker connections per channel, including separate banana-accepting binding posts for 4- and 8-ohm loads. Nice! Both the pre and power amps come with well-detailed, easy-to-understand instruction manuals; stock power cords are included.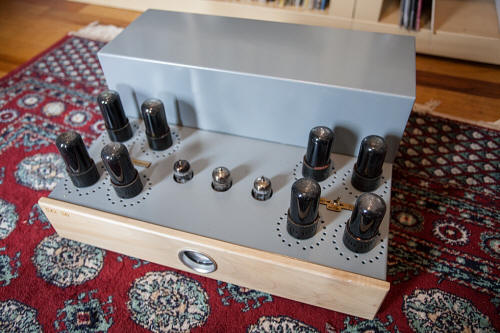 For this review I used the SQ amps in my smaller system, which consists of a Music Hall MMF 5.1 SE turntable, Music Hall Mooo Mat (which uniformly created an overall warmer presentation than Music Hall's Cork Mat), Denon DL-103 cart and a pair of late '80s Snell Type J/II speakers atop Snell dedicated stands. Stephen Monte also loaned me a Furman power strip as I'd already run out of wall sockets when the SQ amps arrived. Cabling was all Analysis Plus. Set up at a close listening range of four feet, and with the Snell's sensitivity rating of 90db, I listened to music at fairly loud levels with little demand on the amplifiers.
One nasty bugaboo that appeared was a noisy MM phono stage in the SQ-25. Depending on the time of day, the noise made by the phono stage was literally that of an AM radio. It was at its loudest first thing in the morning, then became quieter at night. Even stranger, the phono section picked up stations that didn't sound local! If I ran the stock Music Hall MM cart into the SQ-25's MC section, the AM radio effect ceased, and while that sounded okay, if rather peaky, I knew I wasn't hearing the cartridge in its correct environment. I replaced the Music Hall cart with a Denon DL-103 MC cart (though an Auditorium 23 step-up transformer), then into the SQ-25's MM mode (standard due to the 103's low output). While the sound was much better than using Music Hall cart, to varying degrees the AM radio effect remained. A replacement SQ-25 from Monte made no difference, as neither did moving the entire system to another room in my apartment. Oddly still, Monte said this was the exact preamp used at a recent show to perfect results. Ultimately, I put it down to AC line problems in my apartment. And most importantly, when playing music I couldn't hear the noise except in very quiet passages. And as the review progressed, I didn't hear the AM radio effect at all. In the same way that an original West 63rd Street Blue Note LP sounds incredible even with a few scratches—turning moot when music plays, soon I didn't notice the SQ's minor noise problem, testament to its musicality, the power of music, and perhaps the power of the mind. I heard beyond the problem.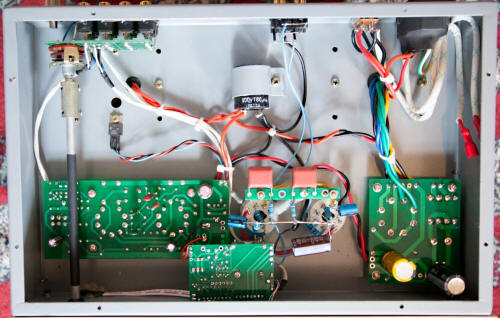 Listening: Vinyl in the Round
First up: "Bullitt" Music by Lalo Schifrin (Aleph Records). Reissued on vinyl for Record Store Day 2014 in a limited edition of 1000 copies, and performed by the WDR big band directed by Shifirin, this new soundtrack recording of the 1968 film score is a blast, with its suspenseful, fast-paced and eerie moods expressed by excellent musicianship and primo packaging. After Bullitt, Shifirin went on to compose the soundtrack to the original Mission Impossible series and many other films, establishing his reputation as the go-to composer for suspense with a singular flair for exotic hipness.
Considered an audiophile disc when it was originally released in 2000, Bullitt's transfer to LP is a worthy purchase. Very well recorded, the WDR Big Band is totally in-tune to Shifirin's directions, from rumbling low end electric and upright bass and slick Latin drumming to momentous brass ensemble shouts. Though a little forward-sounding through the SQ amps, the soundstage was extremely wide and sweetly spatial, bass notes reproduced with excellent texture, the bassist's fingers sliding on the strings very tactile-sounding and realistic. One of the best qualities of the SQ amps are their mammoth soundstaging ability. Bass drum notes were deep and tight, and strings sweeping and full. When the WDR Big Band hits full scale climaxes things got a little messy, the amps not quite able to reproduce every last scintilla of musical detail. And they sometimes muddled bass notes in complex passages. But the amps reproduced all important texture, instrumental tonal colors and pacing very well.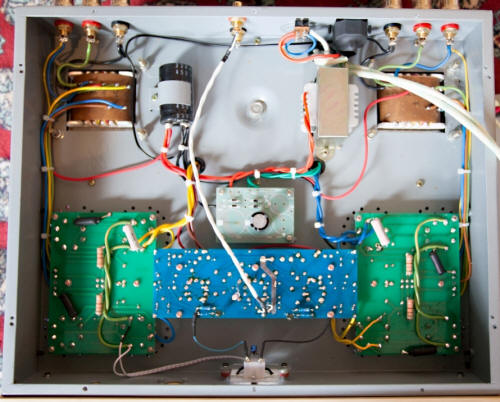 Switching to an original, "deep groove" copy of The 3 Sounds' Bottoms Up! LP on Blue Note, the overall sound was again, slightly forward, but very live sounding, rich and full. I felt I was missing nothing, from Gene Harris' electrifying cocktail-leaning piano to Bill Dowdy's stirring drumming. As collectors know, there is a rightness to these original '60s era Blue Notes that is impossible to deny. Rudy Van Gelder captured the soul, enthusiasm, and craftsmanship of these performances which helped make artists such as The 3 Sounds popular in their day, their Blue Note LPs outselling the group's later and rather pallid recordings once they signed to Verve Records. The lower register of Harris' piano sounded lush and weighty, while upper notes could become hard when attacked. The trio was as its best on a beautiful version of "Angel Eyes," brush strokes on snare drum reproduced with spot-on texture and pacing, and the full range of Harris' piano full of tone, color and vibrancy.
Blue Note's recent 75th Anniversary reissue campaign is doing an exceptional job in bringing some rare titles to market for less than $20 an LP. But even compared to a '70s era Blue Note reissue (black blue note on blue label background), the sound of these new Blue Note reissues is uniformly sad. Playing Larry Young's Unity, the SQ amps accurately portrayed the reissued disc's overall thin sound, small soundstage, lack of bass and generally one-dimensional presentation. The SQ amps don't editorialize or make bad recordings sound good. They're very transparent in that regard. Bullitt and Bottoms Up! sounded excellent: full bodied, weighty, texturally accurate and with pleasing tonality; equally so, Unity was unlistenable.
Donald Fagen's Sunken Condos is pressed on two clear vinyl LPs, Warner Bros. thankfully spreading the music over two LPs rather than squeezing it on a single disc. Recorded in various boutique studios around Manhattan, Sunken Condos lacks the expensive sheen of recent Steely Dan records, but more than makes up for it with an intimate, cozy sound that puts you right on Fagen's couch. Sounding very natural through the SQ amps—another consistent trait of the line—Sunken Condos sounded vivid and detailed. On "Good Stuff"—a sordid tale of a Chinatown heist gone bad -- female vocals sounded appropriately lush, sweet and well-defined. Bass and drums had excellent depth and smack!
On the other side of the pop music spectrum, Swedish vocalist Lykke Li's I Never Learn is an epic LP of sadness, misery and despair that is absolutely captivating. Singing like a banshee on one song and a sorrowful angel the next, I Never Learn places Li on an opera-worthy stage surrounded by a wall of strummed guitars, Mellotron, and booming drums drenched in a sea of reverb, swirling the listener deep in its spell. Doom-laden and doleful, I Never Learn presents an enormous soundstage with tribal drums and woozy chorus vocals. The SQs got everything right: the ruinous mood, stacked acoustic guitars, monotone vocals and hopeless message. Beautiful!
One of my favorite records for evaluating a system's ability to recreate dynamics and tonality is Karlheinz Stockhausen and Maurcio Kagel's 1959 recording on Time Record's "Series 2000" label. One of Stockhausen's two contributions is "Zyklus," performed by solo percussionist Christoph Caskel. Playing a large collection of percussion instruments including marimbaphone, guiro, Indian bells, high-hat, gong, tam-tam, four tom toms and two wooden African tree drums, Caskel performs like a trap-set drummer caught up in the mad glee of instant composition, so zippy and inspired are the results. The instruments jump out of the recording, which was recorded naturally and without reliance on effects. Often, percussion ensembles are recorded in churches or giant halls, as if it's better to hear the enormous echo and time-delayed reverb generated by these grandiose environments rather than the direct strike-on-skin of the drummers themselves! This Time "Series 2000" LP thankfully takes the opposite approach, placing the listener directly in front of the single percussionist, to where you can practically feel his excitement at performing this thrilling Stockhausen piece. My notes read: "Tone! Tactile! Timing!" Sorry about the alliteration, but it's easy to get excited when music sounds this good. The SQs reproduced Stockhausen with pleasing depth and excellent dynamics, from imperceptible press rolls and rubbed gong swells to stereo-panned marimbaphone rolls.
Comparison
But alas, the SQ-25 and SQ-30 are no giant killers. When I played the same LPs with the Shindo Allegro preamps and Shindo Haut Brion in line, I understood everything the SQs weren't doing well. The Shindos connected all the dots in the chart that equals music. Where the Shindos reproduced the full frequency of a given instrument from its lowest bass notes to its highest treble with a coherent fullness, texture and gorgeous color and natural dynamic range, the SQs by contrast, sounded mechanical, and much less colorful and more forward. The same could be said when listening to orchestral recordings such as Rachmaninoff's Piano Concerto No. 3 performed by Byron Janis with the London Symphony directed by Antal Dorati (Mercury Living Presence). While the SQs did a good job of recreating the tonality, dynamics, and breadth of the disc, the Shindos practically recreated a different recording. Through the Shindo amps each instrument in the London Symphony was beautifully rendered in its own space, and within the orchestra as a whole. The subtle, myriad, almost imperceptible shifts in dynamics achieved by an excellent orchestra were fully realized through the Shindos to a shocking, almost humbling degree. The Shindo amps revealed the true greatness and beauty of this classic performance.
Conclusion
Seriously comparing $22,000 dollars of amplification to barely $4k of same is less then unfair, it's irresponsible. I've heard expensive amplification sound horrible, thin, etched and unnatural. And I've heard less expensive tube gear from such companies as Almarro, Line Magnetic, and Blue Circle sound exceptional. But that's another story. Taken on their own merits and in their price range, the SQ-25 and SQ-30 were very enjoyable and recreated the essence of music with excellent texture, timing, color, and dynamics so well that I consistently got lost in the joy of music. And their ability to cast a wide, deep soundstage was exceptional. If anything, while the SQ amps were in house I listened to them more than my Shindo setup. The SQ amps are well-built and designed, and performed perfectly every time. (They also arrived very well packed in thick, foam-rubber dividers and double-walled boxes for each amp.) When I tube-rolled the SQ-25 preamp with two '50s era Sylvania 6SN7s, its color, tone and resolution improved dramatically. Now that I've heard what the bigger SQs can do, I can't wait to hear what their baby brother, the SQ-84 V2 integrated amp, sounds like in my smaller system. If you're in the $1000 to $2000 price range for tube separates, the SQ range of amplifiers deserves your serious consideration. Ken Micallef
SQ Products SQ-25 Tube Preamplifier
Retail: $1349
SQ Products SQ-30 6V6 Tube Power Amplifier
Retail: $1789
Quest for Sound
www.questforsound.com