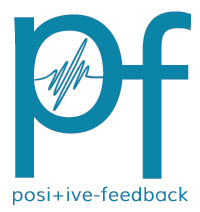 You are reading the older HTML site
Positive Feedback ISSUE 73
may/june 2014
Keith Jarrett and Charlie Haden, Last Dance ECM
by Jim Merod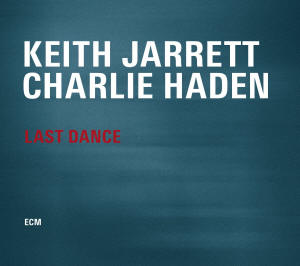 Rippin' It Up Calmly
Pianist Keith Jarrett's fame has a long ribbon attached that seems, the more it lengthens, to increasingly wrap his advocates in gauzy enchantment. Bassist Charlie Haden's original emergence into the jazz public's consciousness occurred as avant-garde alto saxophonist, Ornette Coleman, came on the scene. Coleman and tenor sax colossus John Coltrane made their mark simultaneously early in 1960. Coltrane's blockbuster album, Giant Steps, was hailed as an epoch-changing event. The degree of 'Trane's mastery of the horn was matched by the daring complexity of his compositions. The whole was received with veneration previously reserved for only Charlie Parker, Louis Armstrong and Art Tatum. John Coltrane became, in the seven years he had left on earth, the incarnation of what appeared to be nearly divine musical inspiration and artistic execution. His beatification only grew from that point forward.
The point of recalling these circumstances is to take stock of a still under-represented fact. Charlie Haden's contribution to the much more difficult acceptance of Coleman's oeuvre and off-kilter stylistic expressiveness was (and is, today) crucial. In the improbable summation of a vexed situation's unbroken nutshell, Charlie Haden's profoundly narrative bass playing brought explicable temporal frameworks as well as a direct-from-the-heart emotional immediacy to Coleman's wandering (at the edge of incoherent) blues-invoked forays that unrehearsed ears found to be "outside" not merely The Tradition but intuitive comprehension. Given Ornette Coleman's subsequent decades of unremitting lionization, such rejection and disregard seem odd in retrospect.
I believe the most enlightening way to hear Charlie Haden's unique musicality is live at a festival or onstage where you can see and more deeply experience his iconoclastic focus and lyric intensity. In 1988 I received a call from Billie Holiday's favorite pianist, Jimmy Rowles. He had a duo gig with Haden at a small jazz club in Venice, right next to Santa Monica. He wanted me to record it. Notwithstanding the near-Dickensian impossibility of finding that now long gone but beautifully eccentric venue, my trouble getting there was rewarded beyond measure. It was my first "on location" encounter with the majestic bassist. Rowles had been a favorite of mine for more than two decades, but setting up microphones to capture this sublime tandem was an exceptional joy by any standard. I'll never forget the unbroken chain of stories between the three sets, and afterward, that Rowles regaled us with. But the blessing of their interaction with one another resides with an elan; all its own in my memory.
Dance of the Infidels
Across many years since that moment, I've recorded Charlie Haden's truly spiritual yet folksy raconteurial sobriety several times with guitarist Peter Sprague and also with hall of fame pianist Tommy Flanagan, whose flawless touch added immensely to Coltrane's Giant Steps album. Here, with the marvelous partnership of Keith Jarrett in an ECM session from March 2007, we have what any adoring fan of each man hopes is not their "Last Dance."
The truth is that I hope that ECM has at least one more session from these masterful players on the shelf. Discerning jazz listeners will hear this album and put it into a steady audio re-visitation. Bud Powell's jaunty bop anthem, "Dance of the Infidels," punctuates a deeply reflective song list with a romp that momentarily breaks the meditative spell that suffuses the entire album. Perhaps my favorite tune here in a line up of classics is Victor Young and Peggy Lee's "Where Can I Go Without You." Yet, to single out any of these beguiling poetic explorations is dubious at best since seldomóand I mean by that almost neveródoes a meeting of such profoundly lyrical musicians take place on unobstructed terms of mutual regard and quiet introspection.
I've often been amused at the rating of albums that accompanies reviews in various journals. Such grading is extremely subjective. On one hand, it reinforces an incipient caste system of all things up for grabs in a commodity marketplace. It, thereby, reduces aesthetic value to the vagaries of taste as if the most permanent nature of any artistic creation does not (or will not) occur... e.g., the maturing of taste as an audience matures or comes to recognize the worth and meaning of previously alien expressive statements.
On the other hand, rating jazz albums essentially puts them against one another in a stupefying version of school yard elitism. The biggest thugs on the sandlot pick rump teams that (regardless of where you, dear pisan, were selected) are never expunged from identity's febrile history.
Try this: do you rank Oscar Peterson's classic trios ahead and beyond Ahmad Jamal's remarkable trio with Israel Crosby and Vernell Fornier? Or, more absurd, does it boost anything of value to pit Tete Montoliu against, say, Chris Anderson (who Charlie Haden recorded with); or, how about trombonist Steve Turre against Slide Hampton. The futility of the exercise should be evident. Let's try this relativizing equalizer: some days you want to listen to Earl Hines and on others Brad Mehldau. Coleman Hawkins knocks me out, but some days I'm dedicated to Lucky Thompson.
I think the great jazz heritage, which coincided at its inauguration with early recording technology, has been more than merely fortunate to have this most fleeting and improvisational of all art forms (dance poses close consideration here) preserved with studio and on location capture. Ultimately, the endless and continuously gestating nature of this music not only "deserves" to be kept available from its outset in the '20s. It demands to be preserved for future generations ongoing.
Postponing Oncoming Train Wreaks
Against the grain of my mini-diatribe, I'll pop my balloon and say, flat out, that any "highest" grade or rank you're in the mood to confer on Last Dance will be, in my antinomial perversity, thoroughly earned by two relaxed jazz compatriots: Keith Jarrett and Charlie Haden. Without uncertainty or impediments, here you have a seamless partnership with few rivals in any art or sport... perhaps Bill Russell and Bob Cousy; Fred Astaire and Ginger Rodgers; Whitey Ford and Yogi Berra; Tony Bennett and Ralph Sharon; Joe Montana and Dwight Clark; or, to salute a twosome never to be forgotten, Vince Guaraldi and Bola Sete.
Viva, those with poise, those who truly listen !