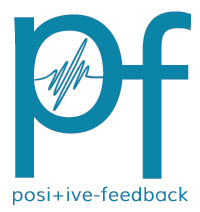 You are reading the older HTML site
Positive Feedback ISSUE 73
may/june 2014
Impressions: The exaSound e28 82fs Femto Clock DSD/PCM DAC – Excellence at the Highest Resolution (stereo review)
by David W. Robinson
[Photographs by Robinson, except where indicated]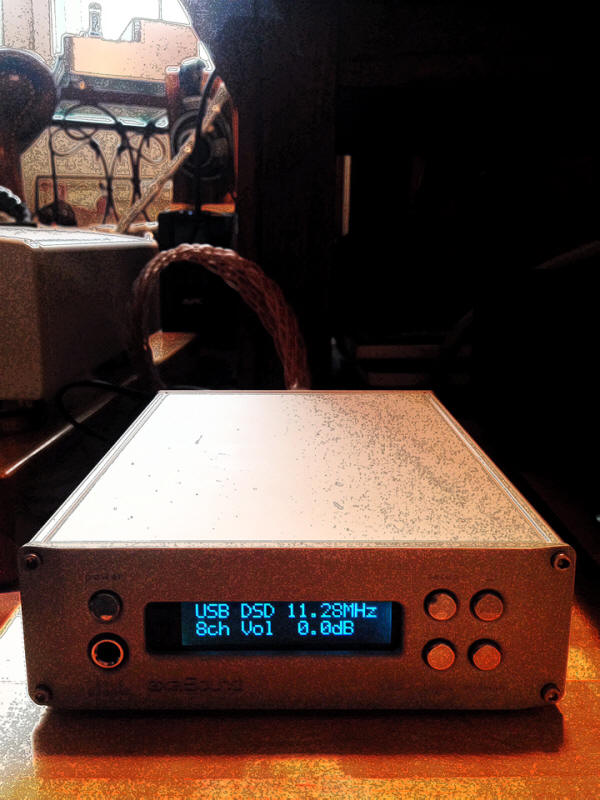 The exaSound e28 8-channel Quad DSD (256fs)-capable DAC…exceptional power and grace in action
One of the most exciting developments in fine audio over the past two years has been the emergence of DSD as a—and I would say, the—viable ultimate reference format for the future. We've seen DSD-over-PCM (DoP) created as an open standard, with support from dozens of DSD DAC designers and manufacturers. ASIO drivers for DSD are now commonplace, with sampling rates all the way out to the rarified Quad DSD (256fs, or DSD256) available. Playback software exists for PCs, Macs, and Linux boxes, with solutions from JRiver, ChannelD, Foobar, and others easily available. 2014, the "year of high-resolution audio" (HRA), means that CEA and companies like Sony are supporting a big push for high-rez PCM and DSD/Double DSD (64fs and 128fs, respectively).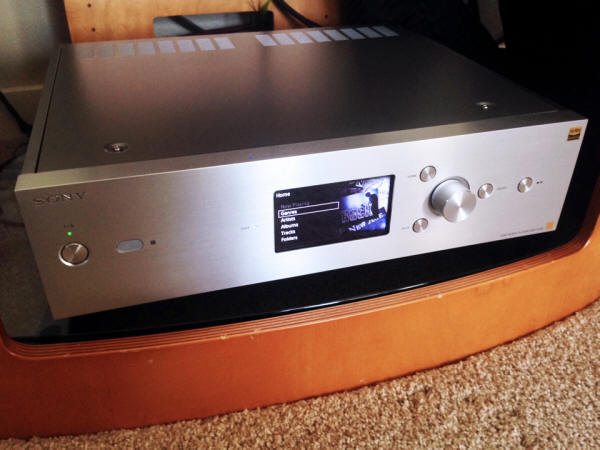 The Future Cometh: Sony's high-resolution audio (HRA) Double DSD (128fs)-capable digital music server, the HAP-Z1ES… really great DSD in an appliance. HRA is on the up-swing.
New components like the Sony HAP-Z1ES music server, capable of delivering up to Double DSD, are furthering awareness of high-resolution digital download formats. We are certainly much further along than we were two or three years ago, before DSD was fully unchained from the SACD optical specification.
The results of this new "golden age" in DSD audio has been the proliferation of DACs that are pushing the envelope of what can be done with that format. One of the most advanced examples of DSD is the product line of George Klissarov and company at exaSound Audio Design. Not content with providing only Single or Double DSD options, exaSound has opted to include the extraordinary Quad DSD (256fs) capability in the e28. To my knowledge, apart from the Merging Technology Horus ADDA, or the upcoming Merging Technology HAPI ADDA, both pro-range products, the exaSound is unique among current DSD-capable DACs in supplying the DSD256 option.
Overview
This isn't the first time that I've review exaSound. My very favorable impressions of the e20 stereo DAC appeared in PF Issue 67, May/June of 2013. It received a Brutus Award in 2013, as did the basic configuration (no Femto Clock) of the e28 8-channel model (see my 2013 Brutus Awards in Issue 71, January/February 2014. This review sweeps up my notes about the e28, and adds some additional listening comments about the new 82fs Femto Clock version of the e28 that arrived just recently.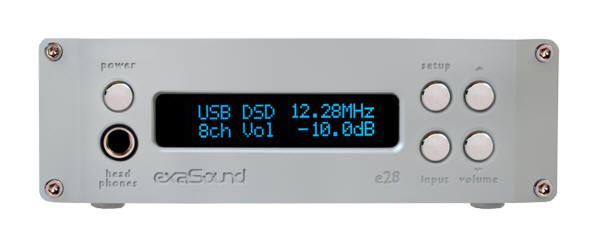 Front view of the exaSound e28 (photograph courtesy of exaSound)
The e28 has the same general look (an attractive aluminum finish), form factor, and control interface as the e20 stereo model. The chassis is compact 6.2" wide x 2.2" high x 9.25" deep, and tips the balance beam at a very portable 2.4 pounds (1.1 kilos). The front has main power to the upper left, and a ¼" (6.35mm) stereo jack on the lower left. In the center is an attractive blue LED display. It shows the current input, the data type, the clock rate, the number of channels in operation, and the volume, in decibels. To the right of the display are four buttons: Setup, Input selector, and Volume Up and Down.
The Setup option allows for the configuration and synchronization of an infrared remote control, period. (Very simple, and now supplemented with an option to use JRiver's JRemote app to remotely control playback.) The standard remote is an Apple-style unit, although for more flexibility there is an option to program other remotes that use the Sony or NEC infrared protocols. All other computer-based volume functions are handled by the exaSound G3 Control Panel interface in Windows 7.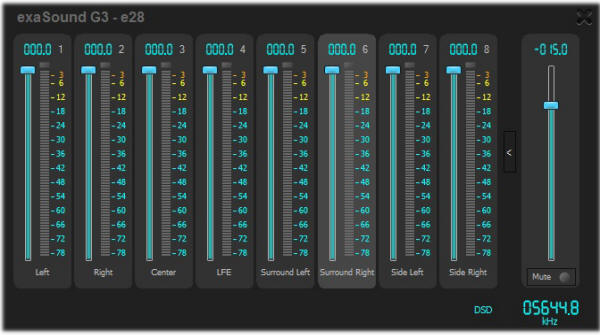 The exaSound G3 interface for the e28 Femto Clock DAC. This shows the e28 handling a Double DSD (128fs, or 5.6448 mHz) music file… in this case, an exceptional sampler recording from Jan-Eric Persson at Opus3 Records.
The G3 handles volume control operations across up to eight channels, muting, and the master volume. It also shows the data type and clock rate. The exaSound ASIO driver links all feeds out to Quad DSD (256fs) and PCM out to 384kHz, again up to 8 channels to whatever music software you're using. In my case, this was my reference standard, JRiver's Media Center 19, latest public release version. This is your main control interface for your music on your PC. If you have wireless on your notebook, know how to set up an ad hoc network, and an iPad or iPhone, exaSound has a solution that will allow you to synchronize volume remotely via a plug-in in Media Center 19, using the JRemote app. Check the exaSound download section on their Web site for that one. We've been using the JRemote app with Media Center with our Playback Systems MPS-5/USB-X for a long time now at PFO River City…very spiffy!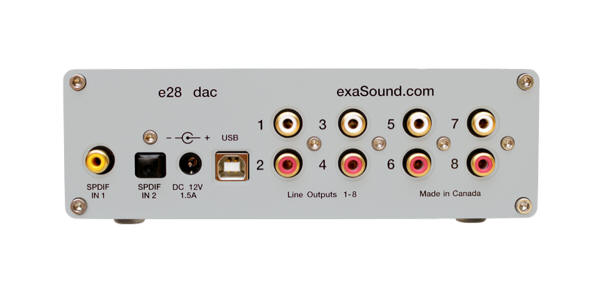 Rear view of the e28 RCA output DSD DAC (image courtesy of exaSound)
On the back of the e28, there are a collection of I/O ports. Digital inputs include USB 2.0 (the preferred input for maximum resolution and flexibility, supporting DSD to 256fs, DXD, and PCM to 384kHz), S/PDIF coax (PCM to 192kHz/24-bit), and S/PDIF optical (Toslink) PCM to 96kHz/24-bit. Outputs on the RCA out model are up to eight channels of unbalanced audio.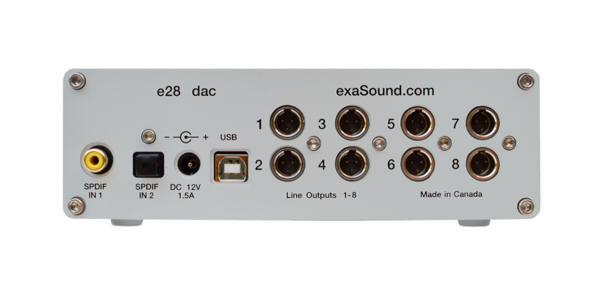 Rear view of the e28 mini-XLR output DSD DAC (image courtesy of exaSound)
There is also a balanced version of the e28. As you can see from the photograph above, it accommodates XLR connections by going with mini-XLR ports…the only way that such a compact DAC could have eight balanced outputs. The surround amp side of the cables (not supplied by exaSound) would then be standard XLR connectors in most cases. The prices vary according to which of the three e28 models you choose; see the end of this article for that information.
Power is supplied by a separate adapter with a 12 volt lead. There is no option for IEC power connection on exaSound DACs.
Specifications
exaSound specifies the e28 as follows:
D/A Converter IC-ESS Technology ES9018S Sabre32 Reference DAC

PCM Sampling Rates: Asynchronous USB ASIO: 44.1kHz, 48kHz, 88.2kHz, 96kHz, 176.4kHz, 192kHz, 352.8kHz, 384kHz

DSD Sampling Rates: Asynchronous USB ASIO-DSD 64 Fs: 2.8224 MHz, 3.072MHz, DSD 128 Fs 5.6448MHz, 6.144MHz, DSD 256 Fs: 11.2896MHz, 12.288MHz

Sampling Rates: SPDIF Coaxial IN 1-PCM 44.1kHz, 48kHz, 88.2kHz, 96kHz, 176.4kHz, 192kHz

Sampling Rates: SDIF Optical IN 2-PCM 44.1kHz, 48kHz, 88.2kHz, 96kHz

Total Harmonic Distortion + Noise: 0.000359% @ 1KHz, 0dBFS

Intermodulation Distortion: 124 db / 0.0000605% % @ 19KHz + 20KHz 0 dBFS
2nd order IMD

Signal-to-Noise Ratio: 125 dB, A-weighted, 2 Vrms

DAC Master Clock Jitter: 0.13 psec rms

Frequency Response: 0 Hz - 20kHz (-0.15dB)

Phase-Non-inverting

Channel Separation: 134 dB @ 1KHz for adjacent channels, 123 @ 1KHz between channel groups

Digital Inputs: USB 2.0, SPDIF Coaxial, SPDIF TOSLINK (optical)

Number of channels: 2 to 8 channels PCM, DSD

Operating System Requirement: Windows 8 x86, Windows 8 x64, Windows 7 or Windows XP x86 [Note that Windows XP support has been officially discontinued by Microsoft as of April, 2014.] Mac OS X Lion, OS X Mountain Lion, OS X Mavericks. ASIO Compatible Player is required for all Windows platforms. OS X Mavericks is required for DSD256.

Digital Volume Control Steps: 0.5dB

Volume Matching between Channels: Better than 0.1dB

Line Output: Unbalanced (RCA) or Balanced (Mini -XLR), gold-plated contacts

Line Output Level: 4 Vrms (balanced), 2 Vrms (unbalanced)

Line Output Impedance: 200 ohms

Line Output Offset: < 5mV

Headphone Amp Current Output: 200 mA peak

Headphone Amp Output Impedance: 1 Ohm, 20Hz-20kHz

Headphone Amp Output: 0-4V

Headphone Amp THD+N: 0.00077% , 1Vrms into 60ohms

Headphone Jack: 1/4" TRS SE

Power Jack Diameter: Internal: 2.2mm x External: 5.5mm

Power Consumption: <15 W
Listening Impressions
This review concentrates on the stereo capabilities of the e28 and e28 82fs Femto Clock. I hope to have a later update for you that will address the e28's surround capabilities, after we shift the e28 Femto Clock to the second input set of our surround room. I listened to the base e28 for months, and have had the new Femto Model here for several weeks now. As usual, I've found that putting 40-50 hours of real use on a DAC is essential to have a sense of what it can do, and 100-200 hours seems to improve that initial response, slowly. After about 400 hours, you're generally there with most (but not all) DACs.
The digital cable in our reference system is the brilliant PranaWire Photon USB Cable, a Brutus Award winner in 2013. It has become my trusty-rusty tool for all of the DSD DACs that we review here. It has my highest recommendation. I used both the ModWright KWI 200 and the MBL C51 integrated amplifiers in turn, each taking the unbalanced analog output of the e28 (channels 1 and 2 for stereo) and feeding the Evolution MMMicro One speakers in desktop mode, with Wave Kinetics isolation feet. Additionally, I did extended listening with headphones, using the ALO Studio Six reference headphone amp with the Audeze LCD-3 headphones, and the brand-new Oppo Digital HA-1 headphone amp with PM-1 'phones. If there's something to be heard, these configurations were going to show it to me, without a doubt.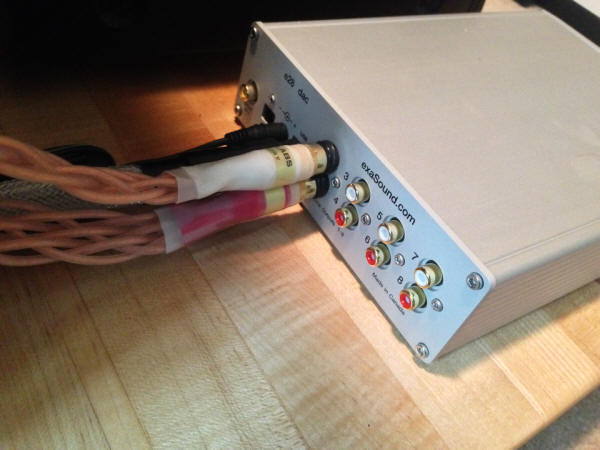 I'm pleased to say that all data stream switching was seamless with the exaSound e28 on all feeds from JRiver's Media Center 19 on our HP Pavilion i7-equipped notebook with 8 GB of RAM. Shifting from DSD to PCM (for example, jumping to HDTrack's excellent 88.2kHz file of Daft Punk's addictive Random Access Memories which, via the e28 Femto Clock sounded surprisingly good) and vice versa, or jumping from one clock rate to another, is not always entirely smooth on every DSD DAC that I've listened to… sometimes a DAC will give you a bit of a pop or tic as it jumps from one data type to another… but the e28 shifts gears easily, and without bothersome grumpy sounds. Excellent.
Both the baseline model and the 82fs Femto Clock versions of the e28 demonstrate the sonic signature of exaSound to my ears. For Single DSD playback, there is an ease, a natural development and bloom and decay of the music tonally, excellent detail, and, as usual with DSD (64fs) and SACD, an extraordinary depth of soundstaging. But that's not enough: The sonic presentation with the exaSound is unique among the DSD DACs that I've listened to.
How so? Good question.
I've been meditating about it. Other DSD DACs, for example, the Mytek Stereo 192-DSD DAC, will major on dynamics, punch, and a strong, lively feel to the music. With the e28, there's a silky presentation of the music; it's dynamic, but is not "punch-you-in-face audio." The audio presentation has a natural bloom, avoiding a "Technicolor" kind of overly dynamic feeling. And yet it does not have a sense of being polite… the e28 can definitely rock and roll!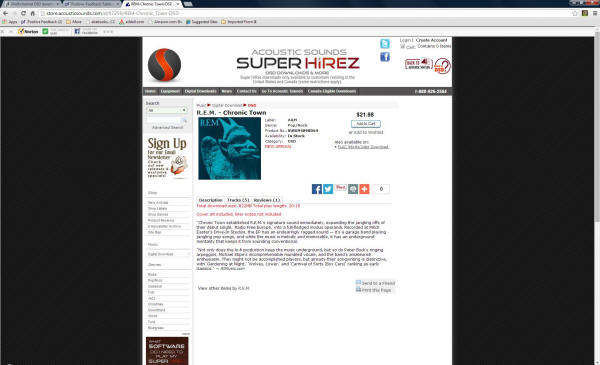 Details are definite, but not overly drawn, which can lead to your music tending towards an etched, glaring sound. Transparency…that critical ability of an audio component to stay as far out of the way of the audio signal as possible…is really notable with exaSound's e28 DAC. I've been listening to a number of my Single DSD downloads from Chad Kassem's SuperHirez.com site; in fact, I just finished downloading the brand-new EP DSD download of R.E.M.'s early record Chronic Town. On the e28 and the Oppo HA-1 and PM-1 tandem, this is just damned beautiful stuff… raw, and emotionally edgy (a great thing) without being sonically edgy (a grate thing). R.E.M. sounds better than ever in DSD on the e28… an analog-tape type of experience, and not at all a CD one. It's night and day, to my ears…and my ears have done some traveling, children.
I've noticed this with alternative and underground recordings that were done to analog tape, and then on to DSD/SACD (check out the Sony SACD of Alice in Chains), or on that really rare beastie, alternative that was done directly to DSD (e.g., the über-rare SACD of Spitball's Pop Condition… and yes, we have this SACD here in our reference library)… that the traditional edgy, wall-of-sound, flat and glare-ridden CD tripe that we're normally served up doesn't have to be. Alice in Chains on SACD is AinC transformed… rounder, richer, with greater dimensionality and roundness, and no glassiness. This is especially so with the Spitball… the natural ease permeating the power of a European alternative techno-pop group (the group was Dutch), in multi-channel DSD, no less, is an exemplar for what could be. Just like the work that Gus Skinas does over at the Super Audio Center, or Steve Vidaic is launching at Immersive Records, or David Elias at his site, we learn that genres of recorded music don't have to sound like the stereotypes that we have of them.
A brief digression on Double DSD…
The advantage of Double DSD becomes immediately apparent on the e28, although, in fairness, I must say that this is generally true of DSD DACs. But the e28 produces Double DSD playback that is so elegant and tonally true across all types of Double DSD files that I have on hand here that I have to tip my hat to exaSound: This is true reference-quality sound. I particularly love the Opus3 Records Double DSD albums (check out http://www.dsdfile.com) that I have on hand… any title there would demonstrate what I'm talking about. While most of our DSD recordings are done at the industry-standard Single DSD rate of 64fs, so that they complied with the requirements for SACD optical discs, I have a number of sample Double DSD files from friends in the industry. Most all of these are "unobtainium"… yes, I know, frustrating for you… but they do show what we could be getting with transfers from analog at 128fs, or recordings done in native Double DSD. Frankly, you would be quite amazed at the extraordinary levels of resolution and musicality that 128fs will produce from our master tapes…take that to the bank.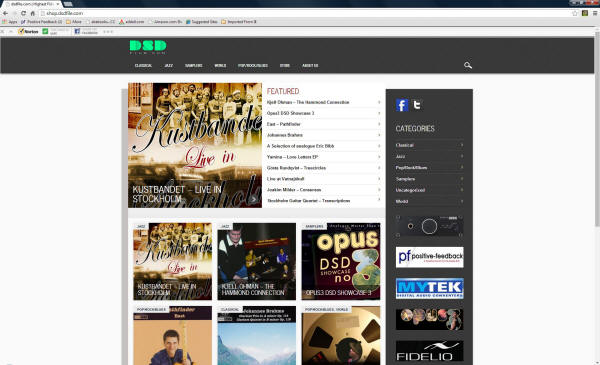 The main advantage is that Double DSD allows the use of gentler noise-shaping and filtering than Single DSD, which results in an even more open sound, with very noticeable gains in soundstaging and imaging, in particular. Having done a number of Single DSD vs. Double DSD listening comparisons (and even Double DSD vs. Quad DSD A/B's), I would say that we'll find DSD's sweet spot… the place of maximum sound quality vs. file size…at the Double DSD level. I therefore encourage all labels that are doing future transfers from analog master tape to produce both Single and Double DSD versions of their tapes, as Opus3 Records is already doing, with a reasonable price bump for the additional quality of Double DSD.
Double DSD on the e28 sounds glorious, just glorious, sports fans. Try the Opus3 on an e28… see if you don't agree.
"But wait… there's more!"
We're not done yet. The e28 has a couple of other capabilities that set it apart from many other DSD DACs at the current time.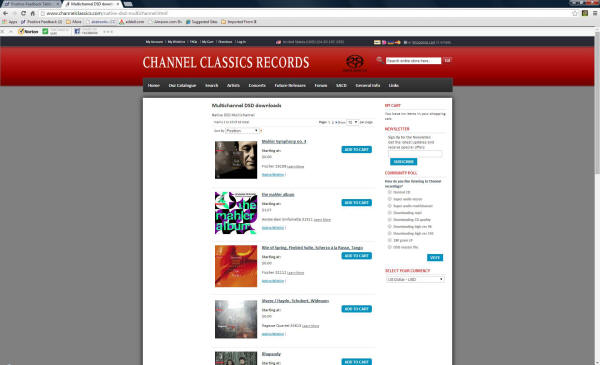 One is the fact that it is a multi-channel DSD DAC with eight outputs, capable of handling out to 7.1 DSD surround files… or anything from 3-8 channels. There are DSD multi-channel downloads already available, for example, from Channel Classics, which demonstrate the virtues of native DSD multi-channel recordings in 5.1 Single DSD format. High Definition Tape Transfers has begun to flirt with some preliminary multi-channel download files. David Elias has started to release downloads of his really fine recordings in multi-channel DSD, as well (see http://www.davidelias.com).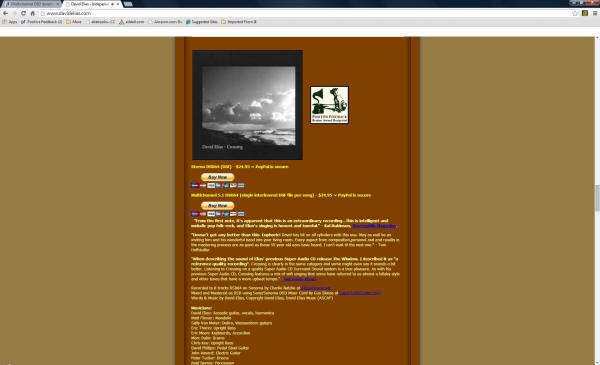 I know that both Opus3 Records and Superhirez.com are interested in providing multi-channel DSD downloads in the future… a very promising development for those who love surround sound without the compromises that PCM audio introduces.
I'll update this review later this year with my listening impressions of the e28 in multichannel mode. This will require a shift of the unit downstairs into our surround room… a completely different setting.
The second element that sets the e28 apart is its ability to provide 2-8 channels of sound all the way out to Quad DSD (256fs). The only other Quad DSD DAC that I've had a chance to work with is the exceptional Merging Technologies Horus ADDA. Now I can tell you that Quad DSD reference files are rarer than hen's teeth. That being the case, I made sure to do some stereo transfers in Quad DSD while I had both the wonderful UHA Phase11S tape deck and the Horus ADDA and Pyramix 8.1 (apparently upgraded to version 9.0 just recently) workstation here. Using some "Analog Master" 15ips half-track tapes that I had on hand from Opus3 Records, I was able to produce some exceptional Quad DSD sample files. The e28 handles these 256fs samples without a problem.
The quality of Quad DSD files via the exaSound e28 is… well, in my experience, it's the pinnacle of audio reproduction. I've never heard anything better than Quad DSD. Period. End of discussion. (I'm sitting here listening to a sample Quad DSD via the e28 to the Oppo HA-1 headphone amp and the Oppo PM-1 headphones… reviews to follow… and thinking, delicious! Oh my Lord, delicious! I really do wish that my readers could have their ears listening to what I'm hearing now!)
Now, whether the additional file size required for Quad DSD (in the neighborhood of about 6 GB per 30 minute tape) is going to be viewed as worth the additional bandwidth/storage capacity required is an open question. As I said earlier, I suspect that we'll find that the sweet spot will be at Double DSD. We'll see.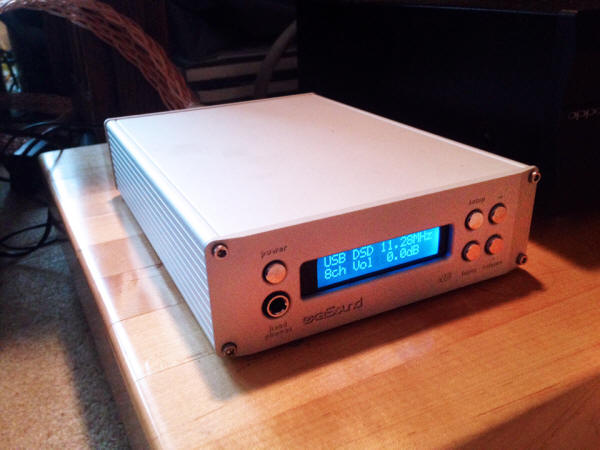 Conclusion(s)
Well, by now it should be clear that I'm extremely enthusiastic about the exaSound e28 DSD DAC. The e28 and downloadable DSD, in both Single and Double DSD, make it possible for music lovers and audiophiles to explore this exciting new set of audio possibilities. The fact that the e28 also gives you multi-channel DSD, and supports DSD flawlessly all the way out to Quad DSD, really makes it stand out. And the new 82fs Femto Clock pushes the e28 to a new level of precision and jitter rejection that helps to set a world standard. PCM file playback is likewise excellent, helping PCM audio to sound much better than it might otherwise do. When I can spend time listening to PCM files… well, that's not just me being desperate. It's a real compliment!
There's a round rightness to the reproduction of music that makes listening for hours a real pleasure. Tons of listening…day after day, week after week… confirmed my initial sense that the e28 is a unique and extremely serious contender in the world of DSD-capable DACs. It never caused fatigue in either DSD or PCM modes, had my toe tapping, and put a smile on my face every day. And at the price point of USD $3649, this brings state-of-the-art performance into the range of a much larger group of audiophiles than ever before.
If you're in the market for amazing performance, compact footprint, and flawless performance, then you must give the e28 extremely serious consideration, ASAP.
Color me sold, amigos.
You will be, too….
e28 DAC
Retail: $3299
e28 FC DAC, 82fs Femto Clock with RCA connectors
Retail: $3649
e28 FX DAC, 82fs Femto Clock with Mini XLRs
Retail: $3849
exaSound Audio Design
3219 Yonge Street, Suite 354
Toronto, Ontario
Canada M4N 3S1
CustomerService@exasound.com
www.exasound.com