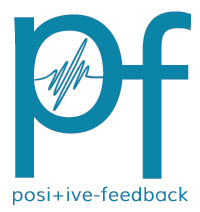 You are reading the older HTML site
Positive Feedback ISSUE 73
may/june 2014
Elf Power
by Annie Merkley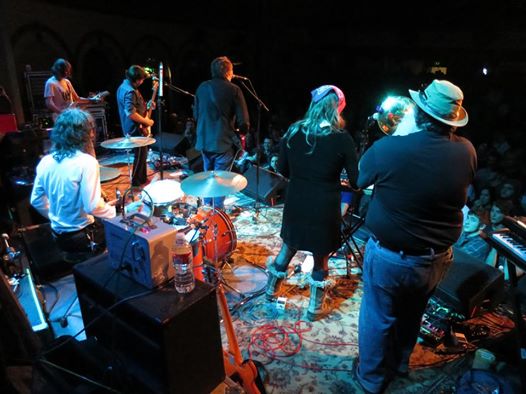 Are you living your dream life? As a drummer for Athens, GA band Elf Power, Peter Alvanos is living his dream. He's fresh off the road from a North American tour opening up for Neutral Milk Hotel. NMH has garnered a huge cult following from their '98 album In the Aeroplane Over the Sea (Blender, Magnet, and Spin amongst others, name the album as one of the top albums of the '90s, hailed as a beloved underground masterpiece). When a highly anticipated reunion tour was scheduled, NMH asked their long-time comrades Elf Power to join them on the bill. With Elf Power's brand of psychedelic, driving rock, it made for a utopic indie music pairing.
This was no tour of dive bars playing for five people gawking awkwardly at the stage, sipping on PBR tall boys. Alvanos experienced an extravagant jaunt of gorgeous venues that many musicians fantasize gracing the stages of. Packed houses and beautiful backstage spreads welcomed Elf Power from The Grand Old Opry, to the Brooklyn Academy of Music to the Fox Theater in Oakland—being a drummer Alvanos arguably had the best seat in the house every night.
Alvanos moved to Athens, GA in 2001. He was attracted to the progressive southern college town that embraces music and art at its core. He said that Athens had the same quality as NYC where, "I could be myself and nobody gave me any shit for it… I wasn't the weird one." He'd left NYC where he was burnt out working in the film industry, "I was helping other people live their dreams and I decided it was time for me to start to living my dreams."

Upon his arrival in Athens, he instantly became a staple in the community playing drums or guitar for a slew of the towns' championed acts like, The Modfathers, Casper and the Cookies, King of Prussia, Octa P.A. and The Sunshine Fix. Performing with The Sunshine Fix, a solo project of The Olivia Tremor Control's Bill Doss, was when Alvanos became a part of the magnanimous and beguiling Elephant 6 collective—which he said opened a lot of doors for him. He has also accompanied such internationally renowned musicians as Nikki Sudden of the Swell Maps and Jim White. He started playing with Elf Power on New Years Eve in 2011.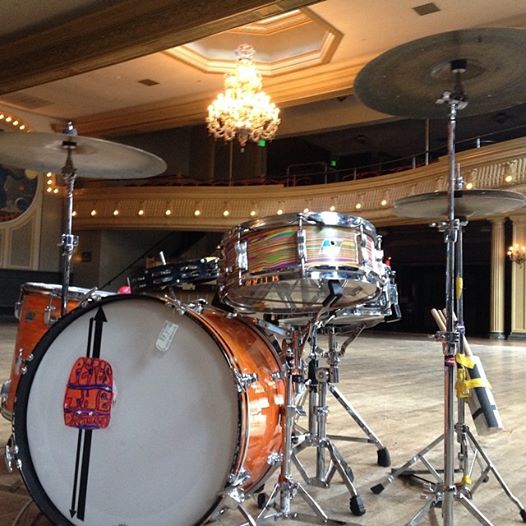 When asked what drums he took on tour Alvanos energetically responded, "I took my babies. I have a late 60s early 70s Ludwig Mod Orange. I've had them from the very beginning and I was hesitant to take them with me because they are very valuable and they hold a lot of sentimental value. But, I decided that this tour that Neutral Milk Hotel asked us to perform, I knew that it would be like a once in a life time dream to play these beautiful theaters, these historic landmarks." He continued, "So this kit I'd had since the beginning, I know what they sound like. It's part of me. It sounds silly but they are an extension of who I am and it only felt right to take those with me."

The best crowd that Alvanos recalls was in Vancouver at The Vogue Theater, "The kids went crazy for us, when I walked out on stage I looked behind me to see if Jeff (Mangum, star of NMH) was walking by… I was like is this for us? They were fanatic and really thirsting for some rock."
Playing Webster Hall in NYC claimed a special place in Alvanos' heart. It was a rock club that he'd frequented while living in NYC back when it was named The Ritz where he made lifelong friends and extraordinary memories. "I saw some very influential shows that were the shows that made me decide that I wanted to be a musician for the rest of my life. When we played in New York, I hadn't realized that Webster Hall was where The Ritz existed… I never thought that I would play that stage," he said.
Over the years Alvanos has been prolifically recording and performing with his solo project, Fabulous Bird (www.fabbird.com). The talented and creative mastermind plays guitar and damn near every instrument he can get his hands on. This guy has truly dedicated his life to music in the most admirable way.
Check out Elf Power @ www.elfpower.com. To purchase their 2013 record Sunlight on the Moon amongst many more go to www.orangetwin.com.