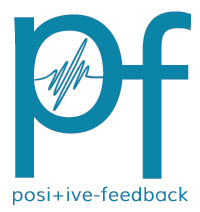 You are reading the older HTML site
Positive Feedback ISSUE 73
may/june 2014
The Future Is Here - Audio Still Rules
by Karl Lozier
Blu-ray recordings may be video, audio or most commonly video plus audio. If the video is a distraction turn it off though I would suggest watching the video at least once; at times it can be interesting or entertaining. Naxos is again following up with more high definition (Blu-ray) audio only releases. For many listeners that will be a distinct improvement in audio quality if the HDMI digital output signal is used instead of the analog. That one cable carries everything including stereo or multi-channel audio in addition to the very high quality Blu-ray video signal. Greater clarity and a smoother treble will be noticed with many if not most home audio systems. So far this seems to be consistently true. Easier connection needing only one cable is appreciated by all. Sometimes new-fangled things are even easier to use while offering better quality, at least in the audio musical field.
An easy way to get into the beauty and audio and video qualities of Blu-ray releases is by getting a truly good player (a good start is important with many things in this old world). In this issue I will continue to use the moderately priced Oppo BDP-95 player for all the Blu-ray reviews, an over performing universal player; other players may be used for SACD recordings. Next item needed would be a very decent AV receiver such as by Onkyo, Integra, Denon and others that have multiple HDMI cable inputs and good digital or digital to analog connections and jump right in. Your newer television sets will have the correct and simple HDMI connections for simplified setup. The AV receiver will let you add surround sound easily. Remember that quality is more important than quantity in the long run. If possible, try to get an AV receiver that has an official manufacturers' list price of $1200 or even a bit more, particularly if you like to listen at fairly loud levels at times and with multichannel connected. If you like "an in the theater" atmosphere or feeling, multichannel will be necessary now or later. In Issue 60, I went into some detail about why I have now chosen the Nola loudspeakers, namely the Boxers (for right and left front channels) and the specifically designed Announcer model for the very important center channel to use for the all important front trio in these and continuing reviews. Yes, you may have heard that all three would ideally be the same. That is not necessarily true; here both models are, the same, in that each uses the same drivers/cones in a different designed cabinet for an even slightly better sounding center channel. As many have found out, center channels can be of extreme importance to many listeners; that is where singers live as do news reporters. In this very competitive price range, models are offered by Paradigm, PSB, Definitive Technology and others. As before, a right and left pair of Nola Thunder Bolt II subwoofers complement the front channels for even deeper and more palpable bass range desired by some listeners.
Notice the generally favorable brief revues I write each issue? There are logical reasons for that to happen. Changes such as digital and HDMI connections have made pretty darn good audio to be easier for the manufacturers to give us and easier for us to put to use. Same is true for the video portion that we pretty well take for granted here. As you purchase and use some of my suggested performances you may notice that relatively unknown sources and performers are often doing a superb job and why not! Unlike many of the big professional outfits and famous performers they can and possibly do practice for many months on end, repeating the same music or performances. That can be the way for an individual, or group, chorus or orchestra to be discovered by being on these well done Blu-ray recordings! Pay attention, watch and listen to the possible stars of the near future in the comfort of your own listening and viewing room.
I am starting Vol. No. 73 with the ever popular pictures—Mussorgsky—at an exhibition; they are real paintings.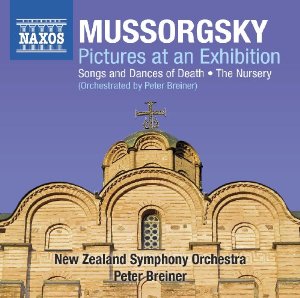 Pictures at an Exhibition (orch. Peter Breiner). Orchestra: New Zealand Symphony. Conductor: Peter Briener. Naxos NBD0036
Modest Mussorgsky's famous audible Pictures at an Exhibition are probably still his best known and most loved compositions. Many listeners do not know or remember that they were originally a set of piano pieces that translate his friend, Victor Harlmann's painting artistry into musical artistry that may live on almost forever it seems. The most famous translations have been by the famous composer Maurice Ravel. Here we find conductor Peter Breiner's efforts and you may ask why. Of course I do not really know why though the world is operating nowadays my bet is really for prestige or money or both. Eventually we will find out. Briefly a change in orchestration would be simply a change of which instrument or group of instruments is playing a certain note or passage. It would then not sound exactly as it did when Ravel chose the instruments to play that passage. Simple perhaps but maybe not. The question still needs answering as to why change. It should not be arbitrary. I am very familiar with Ravel's orchestration of Pictures at an Exhibition and it does sound different and it is different. I do not yet know if I personally think this new orchestration by conductor Briener sounds better or just different. Do remember that the passages named "Promenade' are the linking passages as if you or anyone else is walking from one picture to another in exhibited exhibition. The walking is being played not an image of any picture. The mentioned fact that more than a hundred musicians are used in the named Great Late section changes nothing. Will any other conductor use Breiner's orchestration remains to be heard or not.
The added and relatively seldom heard Mussorgsky compositions Songs and Dances of Death and The Nursery are also changed by Briener, orchestrations though will ultimately not be as severely noticed as with the Pictures at an Exhibition. Sound quality overall is just fine and yes, the New Zealand Orchestra can hold its own with most any other.
Ballet: by Mats EK. Music by: Tchaikovsky. Orchestra: Roy Swedish C Major. "Juliet and Romeo". Blue Disc: 715704
Next up is "turning the tables" on Romeo and Juliet. Mats EK turns Tchaikovsky's famous and beloved ballet music into "Juliet and Romeo" in every way. Is it successful in some way or aspect? Or should it have been eliminated?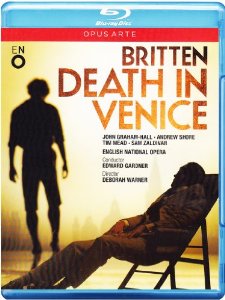 Benjamin Britten. Death in Venice. Orchestra: English National Opera. Conductor: Edward Guardner. Opus Arte OABD7140
The very well-known and famous story by Thomas Mann is obviously the basis for this now well-known opera in two acts by Benjamin Britten. It is his final opera and it is not featuring his favorite male singer, Peter Pears, who I think passed away before this opera was finished. Even the story by Mann has been controversial for a long time. Much of the story may simply be the reminiscing of an old man having trouble letting go of the past and dreaming about the here and now. The action here takes place in 1911. In 1971 a rather famous movie, "Death in Venice" with Dirk Bogarde made up to resemble Gustav Mahler was a classic. The music in the film was all music by Mahler and featured the artist's continuous search for beauty as the artist is as Thomas Mann has created. A true classic. I am now going to do something rare for me as I cannot improve much on the printed synopsis taking place in 1911.
Scene 1 (Munich) ACT 1. The celebrated author Gustov van Aschenbach Aschenbach struggles with his incapacity to write. By the entrance to a cemetery he encounters a Traveler and is filled with a longing for the sun and the south.
Scene 2. (On the Boat to Venice) Aschenbach is shocked by the behavior and appearance of an Elderly Fop and some rowdy youths.
Overture Venice.
Scene 3. (The journey to the Lido) Aschenbach is rowed by an Old Gondolier who insists, despite Aschenbach's protests on taking his passenger direct to the hotel on the Lido. On arrival at the hotel the Old Gondolier disappears without waiting for payment.
Scene 4. (The first evening at the hotel) Aschenbach is greeted by the Hotel Manager and shown to his room. Watching the hotel guests assemble for dinner, Aschenbach catches first sight of a Polish boy and his family. He is struck by the boy's appearance and muses on the nature of beauty and its implications for the artist.
Scene 5. (On the beach) Aschenbach is anxious that the sultry weather might force him to leave. He buys some strawberries and observes a group of children playing on the beach. His first impressions of the Polish boy-Tadzio-are confirmed.
Scene 6. (The failed departure) Aschenbach crosses the lagoon to visit the city fearing the effect of the sirouo on his health and troubled by beggars and street vendors, he resolves to end his stay. He departs for the railway station but a mix-up with his baggage which has been misdirected sees him return to the hotel.
Scene 7. (The Games of Apollo) On the beach Aschenbach watches Tadzio and his friends competing in a sequence of games Aschenbach's thoughts turn to Ancient Greece and as the Voice of Apollo is heard and the children's game become myths and the beach Socratic Greece, the writers muse is released. Tadzio is victorious in the games but Aschenbach is unable to congratulate him.
ACT 2 – Scene 8. (The Hotel's Barber's shop) Aschenbach learns that a mysterious sickness in the city is causing many guests to leave.
Scene 9. (The Pursuit) Aschenbach becomes obsessed with the desire, on the one to know the truth about the sickness and on the other, to keep knowledge of it from Tadzio and his family. He follows them into St. Mark's Square.
Scene 10 & 11. (Entertaining the hotel guests) (The strolling Players entertaining the hotel guests) Aschenbach learns that Venice is in the grip of cholera. Aschenbach is advised to leave without delay.
Scene 12. (The Lady of the Pearls) Aschenbach decides to warn Tadzio's mother but when he sees her he fails to speak. He recognizes that this last failure reveals the depths to which his obsession with Tadzio has brought him.
Scene 13. (The Dream) As he sleeps Aschenbach dreams the two sides of his personality—the Apollonian (by which he has hitherto been ruled and the Dionysian—struggle for ascendancy. When Dionysus claims him Aschenbach suddenly awakes and is resigned to his fate.
Scene 14. (The empty beach) Watching from afar (Tadzio and his friends playing on the beach) Aschenbach reiterates his decision to abandon himself to his passion.
Scene 15. (The Hotel Barber's shop) Aschenbach makes a second visit to the Hotel Barber whom he allows to make him look younger.
Scene 16. (The last visit to Venice) Aschenbach continues his pursuit of Tadzio across the city. The boy sees him but does not betray him. Exhausted and confused Aschenbach rests for a moment. He buys some strawberries but they are musty and overripe. He recalls what he once learned about passion and beauty from reading Socrates.
Scene 17 (The departure) All the guests are leaving the hotel including the Polish family. Aschenbach goes to the beach to watch Tadzio for the last time.
Premiere of this production by English National Opera was 24 May 2007 London Coliseum. What do you think the author was trying to do with this story?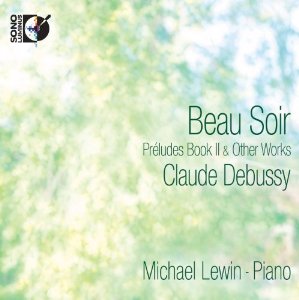 Claude Debussy: Preludes Book 11 and Other Works, Beau Soir. Piano: Michael Lewin. Sono Luminus DSL92175
For a change, composer Claude Debussy's very interesting keyboard can bring a relaxing musical interlude. Relatively few people know and appreciate the outstanding piano compositions by Debussy. The Preludes for example are often called miniature masterpieces by respected musical critics. Debussy waited until later in his career before he composed much of music for solo piano. Many composers stared writing early in their careers for solo piano so would be further along writing for solo piano. Enjoy these fine solutions.