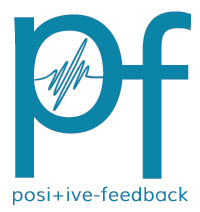 You are reading the older HTML site
Positive Feedback ISSUE 73
may/june 2014
AXPONA: It's A Party for Speaker People! - Audio Expo North America 2014: A Humorous Look at the Midwest's Finest Audio Show.
by Gary L. Beard
Dateline: Westin O'Hare, Rosemont, Illinois, April 25-27th, 2014
As my AXPONA Sunday wound to a close, I popped into a few rooms that I hadn't yet seen or wanted to revisit. As was the case last year, I didn't make it to every room and I didn't return to a few that I really wanted to hear again. But for me, my second major audio show was as much about the people as the gear. I have ramped up my writing in the past year, and felt it high time I get to know some of the industry folks; dealers, manufacturers, and yes, even other audio writers. So I introduced myself to as many people as I could. In a telling, yet darkly funny moment, I introduced myself to one very nice industry insider only to have him ask me if I'd written… well, anything. Why yes, in fact I have. I guess I am just not bombastic enough for anyone to remember. I'll work on that in the coming months... I did meet many great folks as well as renewing acquaintances from years past. Everyone was very pleasant and there were far too many to try and name for fear of leaving someone out. Suffice to say, it was good to meet you all and you have my sincerest thanks for taking time out of your busy day to talk audio and life with me.
To all those with whom I made acquaintance, an FYI: I repeated your names three times out loud and tried my best to be memorable in a good way… Perhaps you'll remember me next year? Doubtful of course… I do not exude an unforgettable persona in a building full of such extraordinary personalities. Ah well, sometimes anonymity can be a blessing. (But it won't get you a table at the French Laundry, because I've tried and failed...twice.)
In 2013, I was finally able to pen my first "world premier". It was an article on the new Rogue Pharaoh Integrated. Yes, I thought it was a very good piece of gear, so naturally, when I found out it was living on the 12th floor with DALI Loudspeakers, I visited the room early on Friday. During a brief return visit Sunday, Rogue's Nick Fitzsimmons told me a funny little AXPONA anecdote. To paraphrase and embellish, it seems he had been loitering in one of the corridors, when he observed what appeared to be a mother/daughter strolling arm in arm and giggling haughtily at some inside joke. As they past, Nick overheard the bubbly young girl saying, "...it's like a party for speaker people!"
(That is just so damn funny, I had to use it. Thanks Nick!)
And ya know what? She's right, it is a party!
Déjà Vu ALL Over Again
Last year's AXPONA was my first "real" audio show. I was a bit overwhelmed and missed some rooms I wanted to see and there was a Saturday fire alarm that called out Chicago's Finest and emptied the building for a time. 2014 saw me make it to almost every room, but I was still a bit overwhelmed. And yes, there was another Saturday fire alarm that once again called out Chicago's Finest and stopped the show for a half-hour or so. I never heard what really happened. But being that I had just been joking with someone about last year's "alarming" event, it was rather surreal when it happened for the second time. Was it real, or was it Memorex?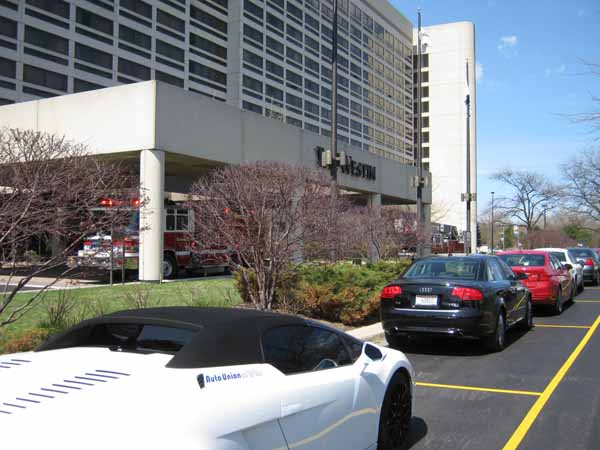 The Westin O'Hare is a very nice hotel and was certainly an excellent venue (The white Lambo in the foreground is NOT included in the nightly rate). There were rooms of all sizes and shapes as well as gear of nearly every type to check out. While some manufacturers were notably absent this year, there were, I think, some that were not in attendance last year. The new venue was reasonably easy to get around, although it would have been nice to have a continuous flow to the floors, rather than the 4th floor to 12th floor stretch. I'm sure there was good reason for that; the availability of large conference rooms perhaps, but walking the stairs when the elevators were busy was quite a workout! I will be interested to hear/read the comments of other attendee's, but I certainly applaud Steve Davis and JD Events for putting on a professional show. I believe AXPONA is slated to return to once again in 2015. Good for me... It is only 4 hours away!
The Good, the Bad, and the Segue:
There were a lot of rooms getting good sound, but there were a number that were obviously struggling too. Who knows why... new venue, cubic hotel rooms, gear not performing up to par... I'm sure it runs the gamut (that would be range, not audio manufacturer). It's got to be tough to come in to an unfamiliar locale and get these thoroughbreds of audio to perform like they are on their home turf, so a technical fall can't be called on gear just because it sound like Sheet when set up in a hotel room and warmed up for 30 minutes. I made a return visit to a few of the rooms that I thought sounded less than stellar on Friday only to find them sounding much better to good on Sunday. I didn't have this experience in 2013 since was only in town for the weekend. It is really interesting to hear how each room evolves over the course of three days.
In my roaming of the halls and audio haunts, I found several rooms that I really enjoyed, but none that I felt were hands down the best. But because I know some will want to know which rooms I thought were the best, I am giving out some very important awards this year... My own! gb's BEST OF AXPONA AWARDS 2014:
THE BEST REQUESTED MUSIC AWARD goes to the Blue Smoke Entertainment room, but it was a soft pitch. No one was in the room at the time and I asked Ron Lapporte to play something that I suspected would not make it onto anyone's playlist at the show; The Doobie Brothers "China Grove". Yeah, it didn't sound all that great in an "audiophile" way, but I sure as heck enjoyed it through those beautiful TAD stand mounts, TAD amps, Blue Smoke computer front end and MSB Diamond DAC stack. Fun stuff fo' sho'!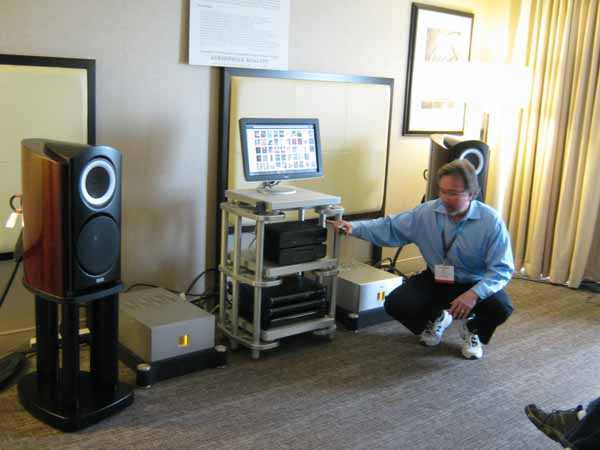 Room 1214 - Blue Smoke Entertainment/TAD/MSB: A blurry Ron Lapporte describing the Blue Smoke Back Box II computer and new 384/24 Digital Output USB Converter.
THE COOLEST MUSIC I'VE NEVER HEARD AWARD goes to George Vatchnadze's Kyomi Audio room. The Flamenco piece they were playing my first time in was astounding with startling dynamics and fantastic transparency. In fact, the music was so "in the room" that I think George was actually making the hand clapping and foot tapping sounds himself! And that that last sentence is absolutely not true. [Sidebar: It could well be that the music I heard in this room was Positive Feedback's own Myles Astor's bargain bin find Flamenco Fever.]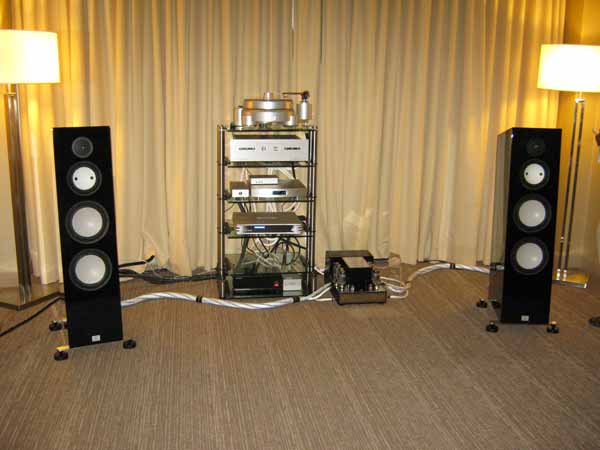 Room 315 - Kyomi Audio (more to follow)
Omni-Directional? Nope, I was staying at the Marriott...
The definition of tired is trying to open the electronic lock on your hotel room with the remote lock key fob from your car. I realized it immediately, but yep, I did that after a very long and excellent day two. Following a nice deep dish Giordano's pizza and a Stella, I spent part of Saturday evening in an afterhours Master Tape extravaganza hosted by United Home Audio. For their considerable efforts, I bestow my much coveted THE MOST FUN YOU CAN HAVE AT AN AUDIO SHOW AWARD for the relaxed vibe and incredible music. The MBL Radialstrahler 116F speakers and Corona series electronics sounded great of course, but the real stars of the evening were the incredible recordings; master tapes played back on one of UHA's signature TASCAM reel to reel decks.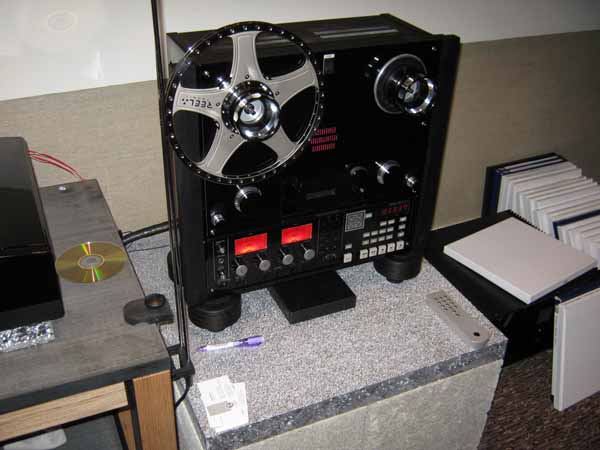 The evening featured many types of music, but there was more than a fair measure of my first love, Rock n' Roll, and it ended a perfectly draining day two for me with an amazing recording of Santana's Abraxas... A truly terrific way to get out of the Five Minute Funk of room hopping...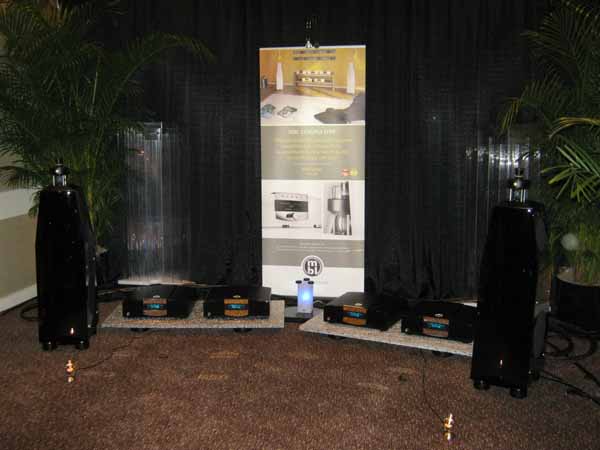 Banks Room Lower Level: MBL North America and United Home Audio.
My thanks to Greg Beron of United Home Audio and Jeremy Bryan of MBL for an entertaining evening! Oh yeah, you guys can bring that gear to my house anytime... Really. Call me, I'll be waiting…
(I know they'll call... I think they like me... I wonder if they like Chicago deep dish pizza?)
Party on Speaker People! The Rooms of AXPONA
(Crappy unedited pictures by g.beard)
I found many of the rooms to be quite enjoyable, but I didn't care for the music in a lot of the rooms. But hey, that's just me. I'm just being honest. Digital playback was everywhere of course, but there were a lot of rooms playing vinyl too. And it was not lost on me how many times I saw/heard the new auditory darling of the day, the Sony HAP Z1ES high resolution audio player. It was quite impressive. (Ok, I admit it, I really like HAPZ thingy... I want one!)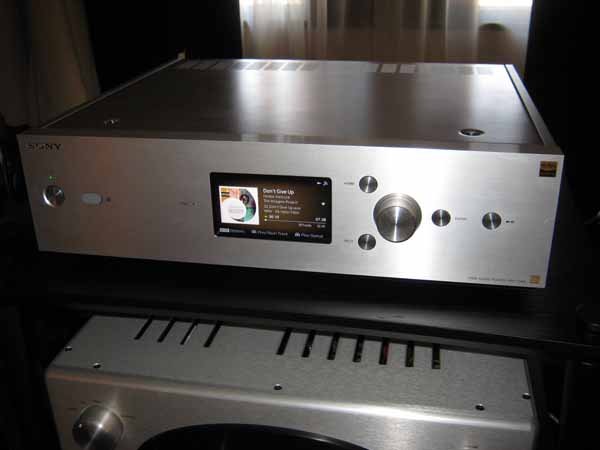 Room 1250: Sony HAP Z1ES High Resolution Audio Player (Rogue Hera II underneath).
Noting Hell
There was so much to see and hear that I'd have been a lost cause if I didn't take notes to help me recall what I saw and heard. I am not a quick study when it comes to why a room sounds good or bad, but I can form an opinion whether I like a room in the time it takes to throw a buck fifty in an I294 toll basket…
Room 1246 - Holm Audio: Hegel, PSB, Nordost, Manley Labs and Rega. A nice relaxed sound that won't break the trust fund budget. Nordost was doing a comparo demo of a stock USB cable vs. Nordost Blue Heaven and their newest Hiemdall 2 USB cable.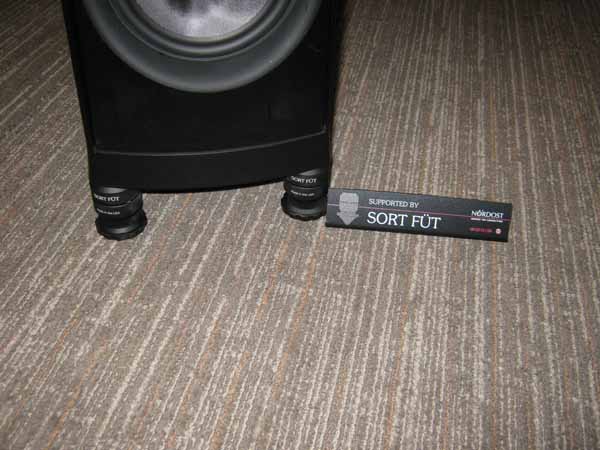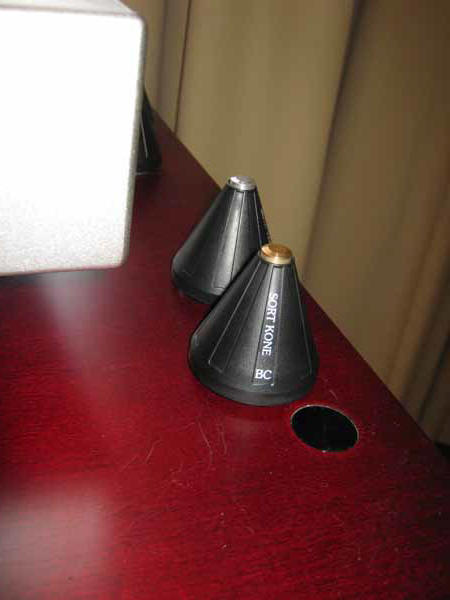 This was my first room of the show, so naturally I was still paying attention to details like Nordost's new line of mechanical resonance control devices; Sort Kone and Sort Fut (Sorry, I don't know how to put the little semi-colon over the U). But since I am not a detail guy, I don't remember the price. They must have been very inexpensive... or free... or not.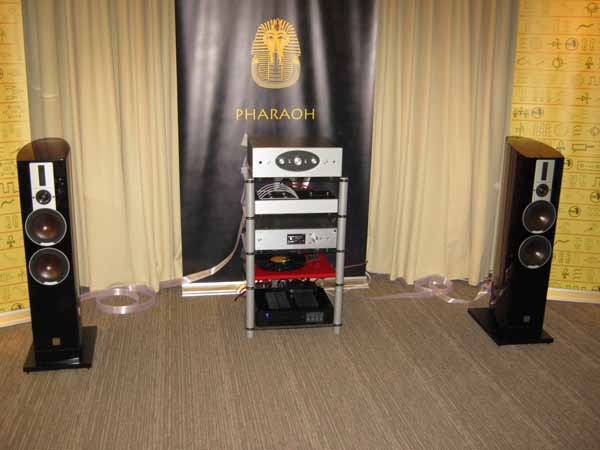 Room 1252 - Holm Audio: Rogue Audio/Dali/Sony/Nordost. This room was playing digital files through the ubiquitous Sony HAP Z1ES audio player. The Pharaoh Integrated drove the DALI Epicon 6's with aplomb. Punchy, dynamic and alive, I really liked this room. Lou Reed's "Walk on the Wild Side" was, well... wild!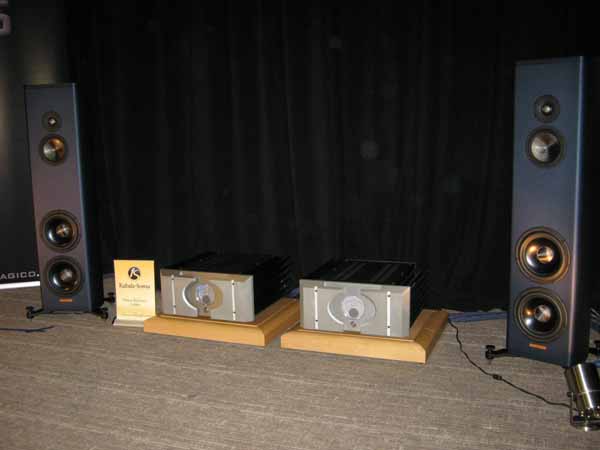 Room 1234 - Quintessence Audio: PASS Labs/Magico. The big Pass Labs XA100.5 mono blocks driving the Magico S3! In my humble opinion, this was one of the best rooms of the show. I want. Yes, I do.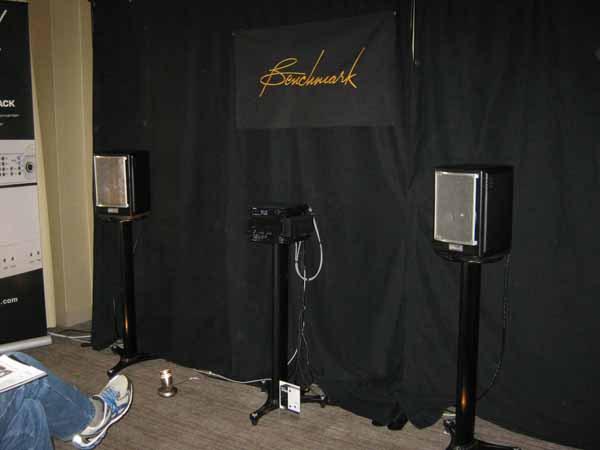 Room 1220 - Benchmark Media Systems: The new Benchmark SMS1 (Studio Electric) bookshelf speakers fed power from the (also new) stereo ABH2 amplifiers ($2995). Front end is one of the fine Benchmark DACs… sounded good for sure. Running footwear not included.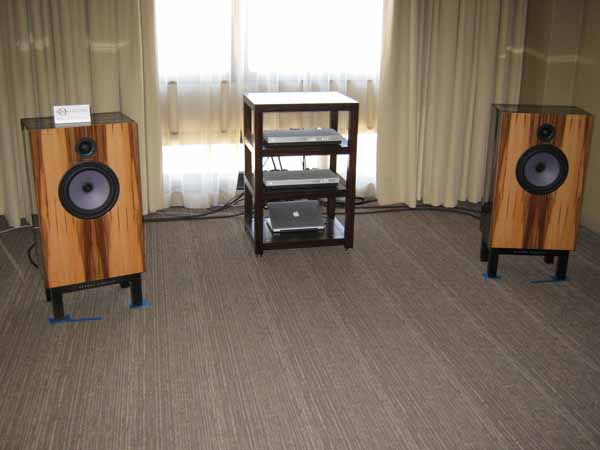 Room 1215 - DeVore Fidelity: Man, I love these O96 'tans! They are more beautiful in the wild than in any photograph and they sounded amazing with Resolution Audio electronics. After corresponding on and off for several years, I am glad I finally got to meet John DeVore.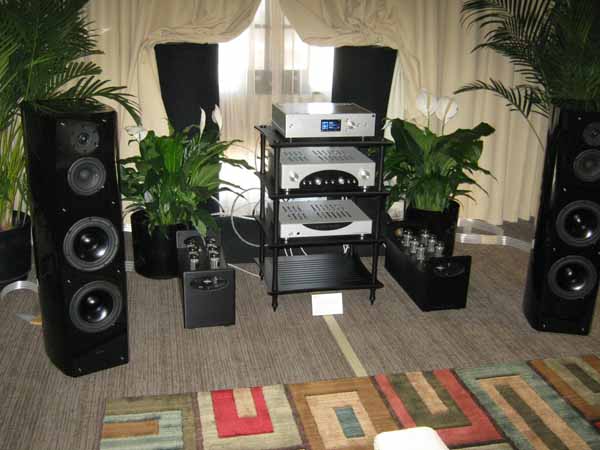 Room 1250 - Sony/Rogue Audio: Sony SS-AR1 speakers, Rogue Audio Hera II preamp, Apollo Dark mono block amplifiers, and oh yeah, a Sony HAP Z1ES providing the tunes...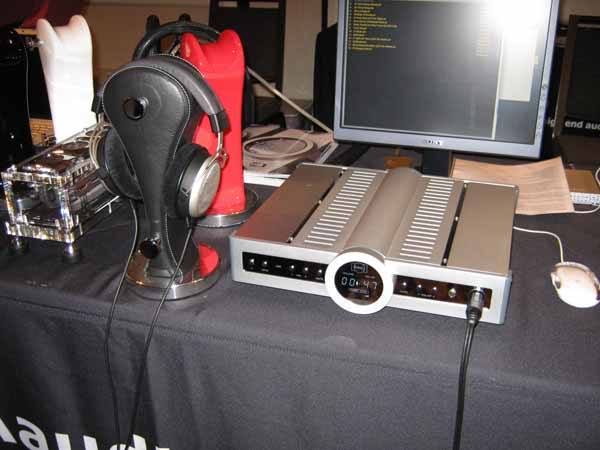 In the Audiophile Marketplace: Lots of cool gear from True Audiophile. German audio manufacturer B.M.C. Audio's PureDAC was feeding high-end headphones - Beyerdynamic T-1's perhaps? I forgot to listen. I was distracted and intrigued by the look of BMC while Gary Alpern, Director of True Audiophile, kept repeating in a mantra like voice, "You need a PureDAC, you need a PureDAC ..." Perhaps I do? Only time will tell… Thanks Gary, nice to see you too!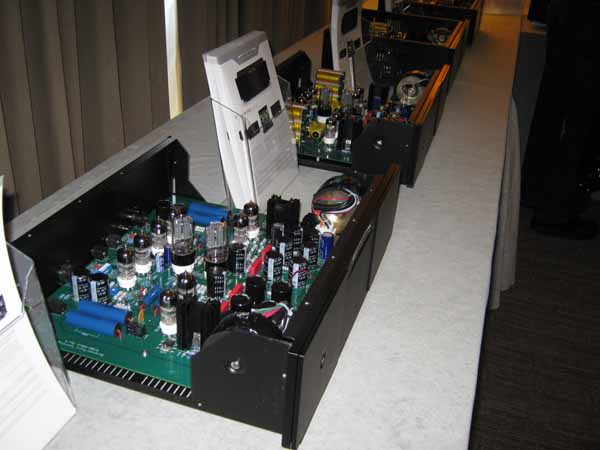 BAT PRE ZONE!
3rd Floor Rosemont 3: Balanced Audio Technology Preamps in the… yep… BAT ROOM!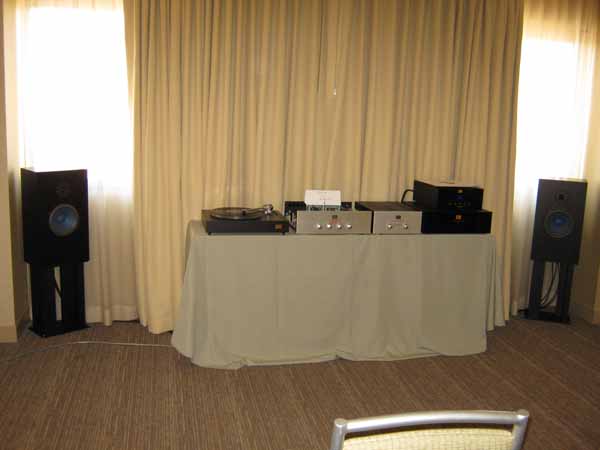 Room 346 - Audio Note UK: David Cope was showing a modestly priced Audio Note vinyl playback system featuring the OTO Integrated amp and the entry-level AN-J loudspeakers ($16K total, if I remember correctly). AN always has a musical sound.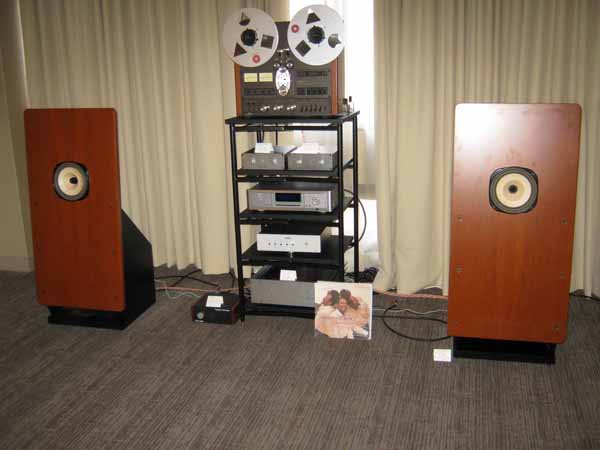 MORE TAPEHEADS!
Room 324 - Lowther America: Lowther OB's, The Tape Project and First Watt. Nice sound from the First Watt F7 prototype amplifier!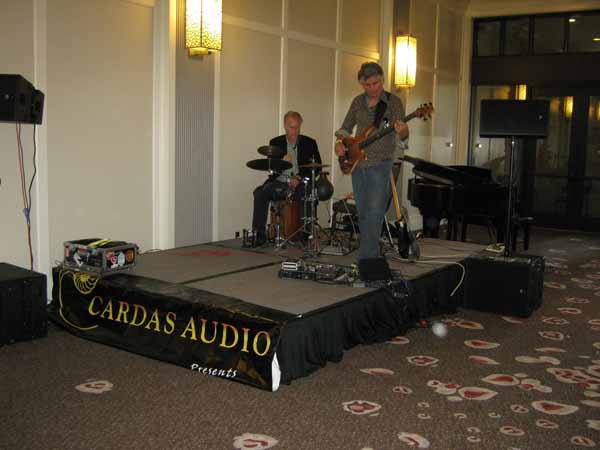 Dean Peer's room sounded very much like live music should. Perhaps just a smidge bass heavy...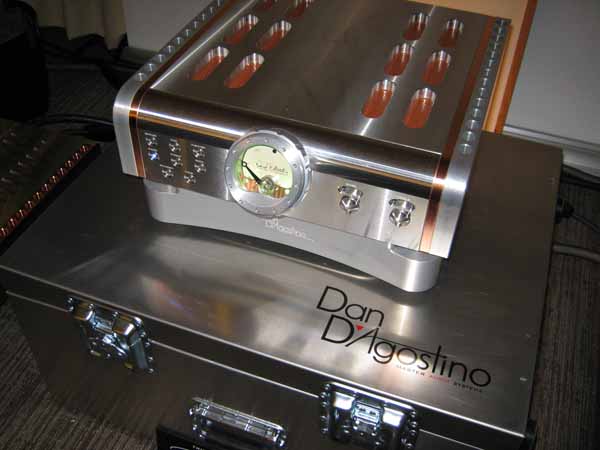 Room 1208 - Paragon Sight and Sound: Wilson Loudspeakers & Dan D'Agostino Master Audio Systems electronics. Mr. D'A's gear is flat out freakin' beautiful… good sound too.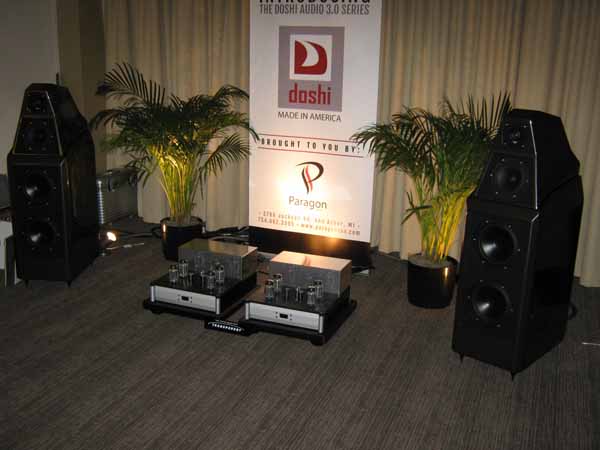 Room 1206 - Paragon Sight and Sound: Doshi electronics and Wilson loudspeakers. I really enjoyed my time in this room. I would have liked to listen more, but I didn't get there until late on Sunday.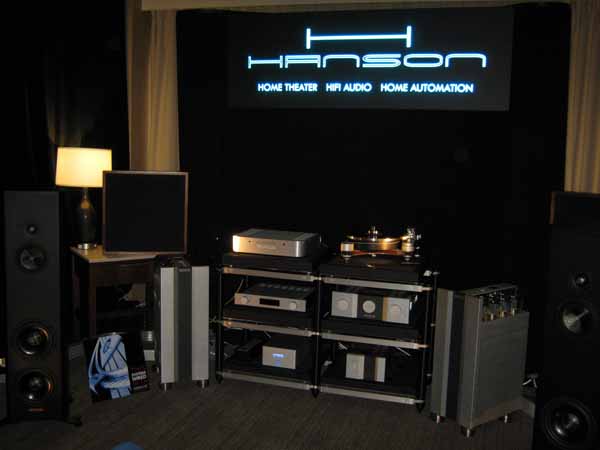 Room 1204 - Hanson Audio/Video: Bad pic of beautiful gear. Plinius CD player with Ethernet capability teamed with the Octave Jubilee series preamp and 6550 based tube amplifiers and Magico S3 loudspeakers. I would love to hear this gear set up in a proper room. I'll be it would be spectacular.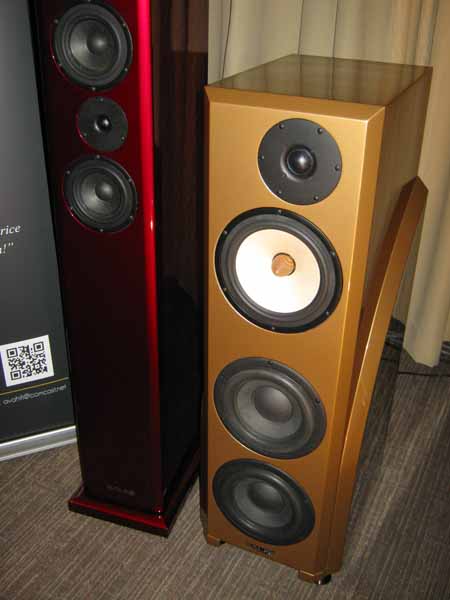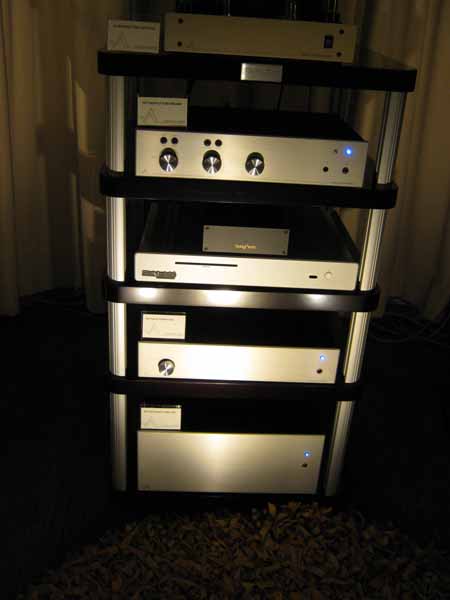 Room 1248 - Audio by Van Alstine/Salk Loudspeakers: The new Salk Exotica 3's sounded very good driven by AVA hybrid power. It was nice to meet Jim Salk and Frank Van Alstine.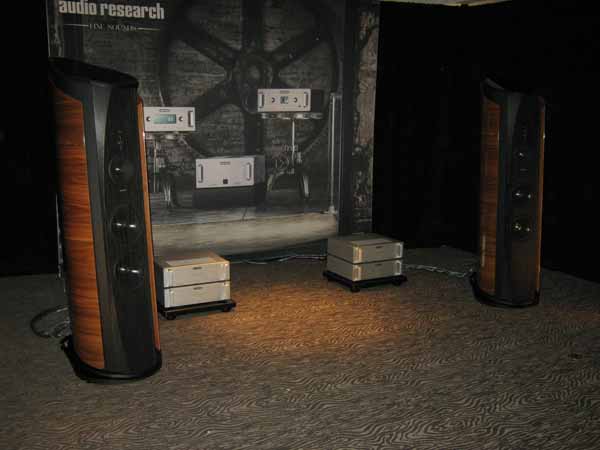 Another Quintessence Audio room: Acoustic Research amps and a massive pair of Sonus Faber loudspeakers. This was a really good room. Really, really, really good and certainly a top pick for Best of Show. And yes, you guys can send this system to my house anytime. I'll even take off work to help!
Room 430 - Modwright Electronics and Dadaleus Loudspeakers: A little bit of bass overload in the room, but the speakers sounded very good to these ears. Dan Wright's new phono stage proves yet again that vinyl still rules over digital. (Although Sunday his new DAC sounded damn good playing Lucinda Williams...) Thanks Mr. Hinkley and Mr. Wright.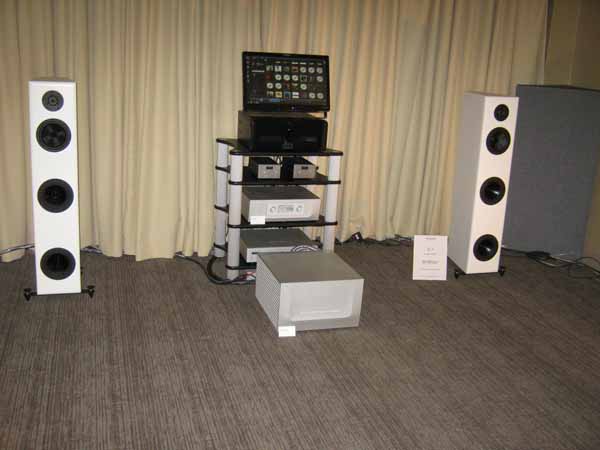 Room 426 - Constellation/Your Final Sound/Endeavor Audio: The $6,995 Endeavor speakers sounded quite good driven by the YFS front end with the incredible Constellation gear doing the heavy lifting.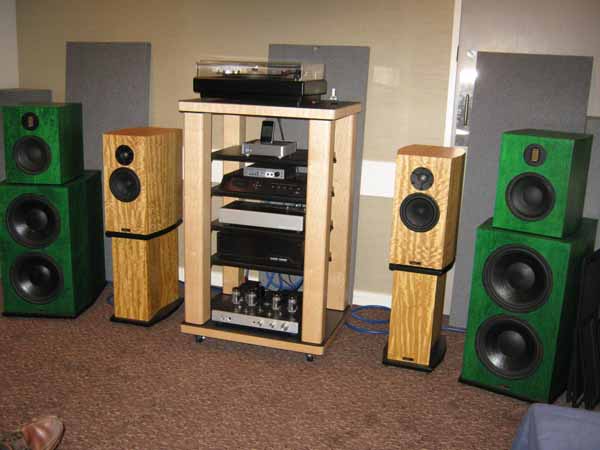 Who says there is no value in high end audio?
Sherman Room Lower Level: Tyler Acoustics/Benchmark DAC/Rogue Audio Cronus Magum/Cardas Audio. $5500 for the new Insight Loudspeakers in Green Tiger Maple and $3800 for the new Highland H4's in Movingui wood! The Insights were sounding very good too.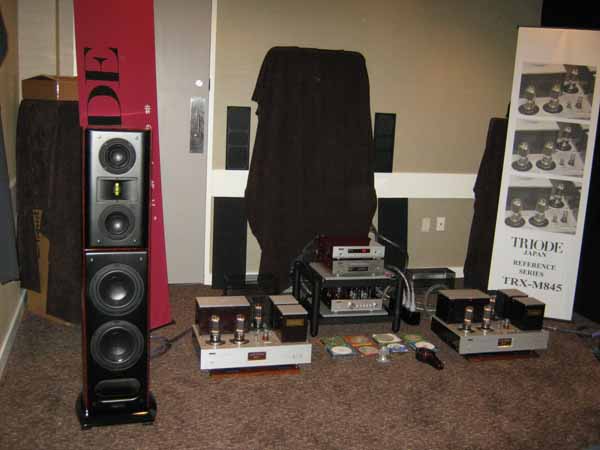 Seneca Room Lower Level: Acoustic Zen/Triode of Japan/Twin Audio Video. Very nice gear… Very nice guys… The Acoustic Zen loudspeakers sounded good driven by the Triode TRX-M845 amplifiers. These big daddy mono's use an 845 driver and either 211's (40 watts as shown) or 845's (50 watts) as the power triode. Whoa.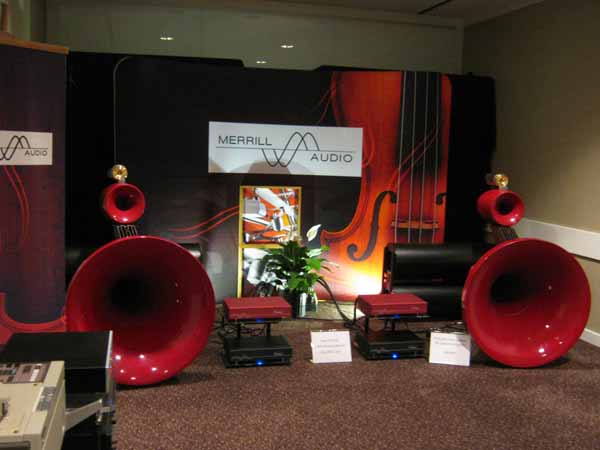 Burton Room, Lower Level - Merrill Audio Advanced Technology Labs and Sadurni Acoustics: The Staccato Horn System driven by four Merrill Audio Veritas NCORE1200 Class D mono amplifiers. It was a very cool set up with incredible dynamics. I would certainly like to hear it again.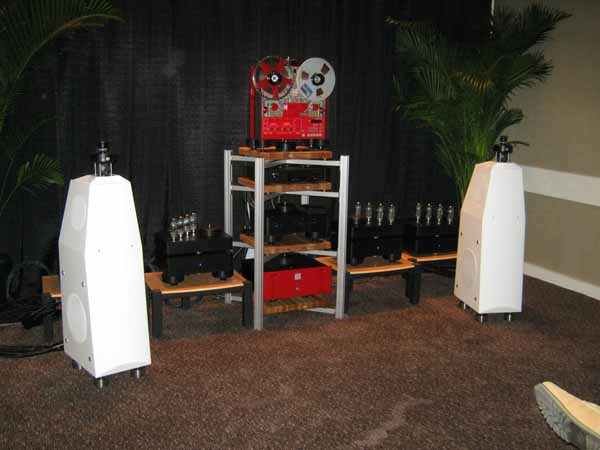 Washington Room Lower Level: United Home Audio/MBL/Jolida: More great tapes and MBL loudspeakers driven by Jolida's new reference mono block amps. The Jolida's run KT150 tubes in ultralinear… Approximately $15k/pair.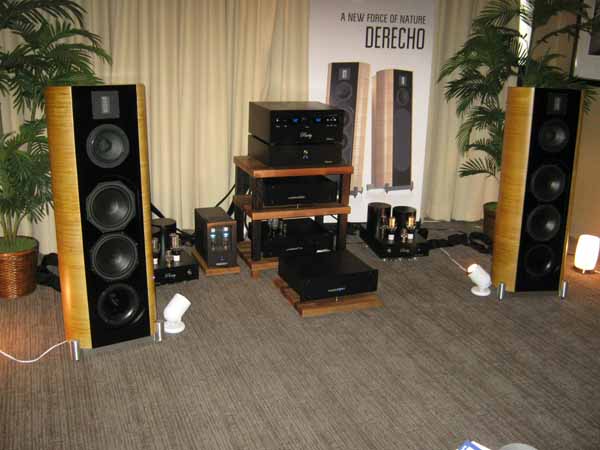 Room 432 - Vapor Audio: Vapor audio Derecho loudspeakers, LampizatOr DAC, Purity Audio Electronics. This room had A VERY big sound with lots of presence. Nice.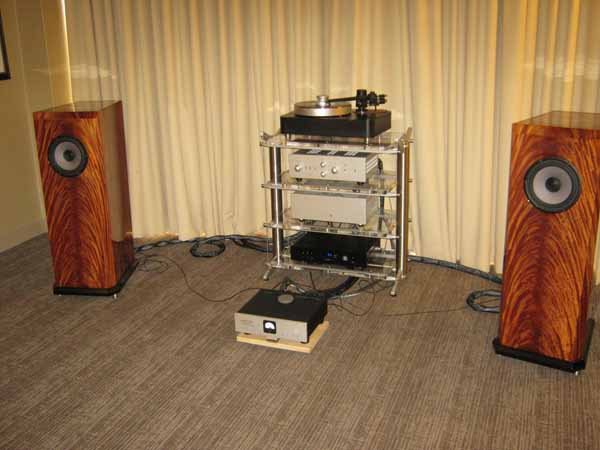 Room 420 - Lakeview Audio: David Berning electronics and LaHave Speakers. The LaHave loudspeakers (once they arrived from a detour in customs!) featured a full-range SEAS driver. The cabinet was drop dead gorgeous. Nice guys and great tunes in this room. As a former single driver/Berning guy (who sometime wishes he could still be a single driver/Berning), I really liked this set up. Besides the late arriving floor standers, the second time I came in they had another new wrinkle, a power supply called the Joule Case (in the foreground). Never heard of it before...Interesting.
Room 406 - Bricasti Audio: Featuring Bricasti electronics/Silver Circle Audio/Oppo/Tidal Loudspeakers. This was one of my favorite rooms. I loved the Tidal Piano's last year and this year was no exception. This gear looks and sounds great. I'd love a turn with the new $8995 M1 DAC. Hint, hint.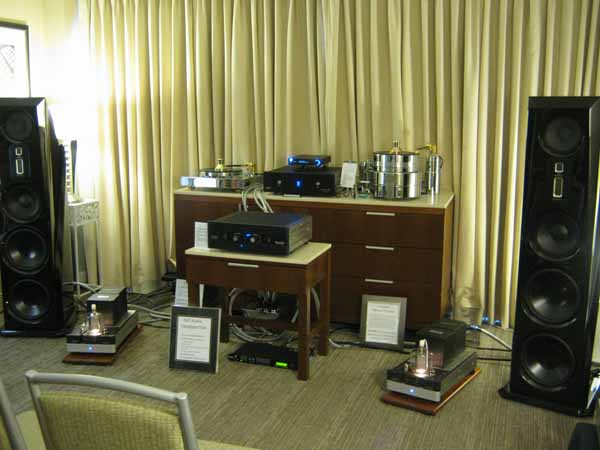 Room 404 - Midwest Audio/NAT/Legacy/Triangle Art: I went to this room to hear the AURALiC and Invicta Mirus DACs, but when I sat down they were playing large scale orchestral music on the big-dog Triangle Art turntable. The Legacy Aries loudspeakers sounded very good with unrestrained dynamics even in the small room. One of my favorites stops for sure.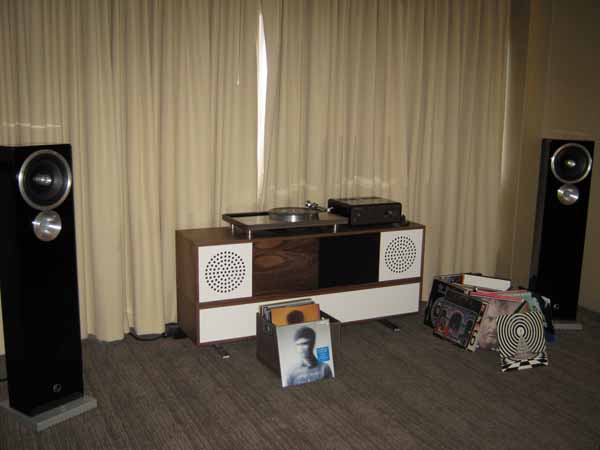 Room 322 - Zu Audio/Peachtree Audio: Once again...For those that say there is nothing affordable in high end audio... this room was a great value at $8500 for the total system. Zu Audio's Chuck Williams created the Mad Men cool credenza. Not to be outdone, Zu's Sean Casey created LP Stonehenge…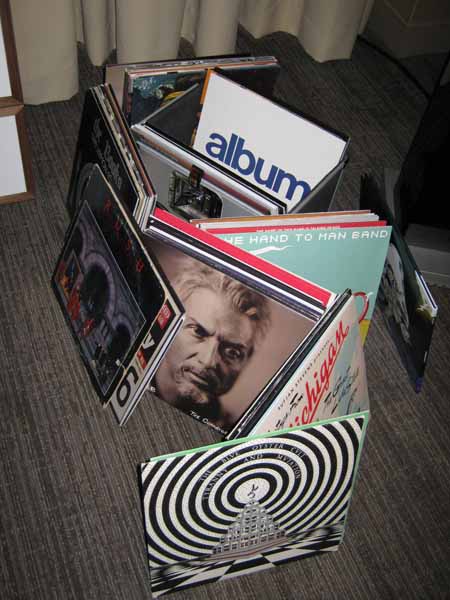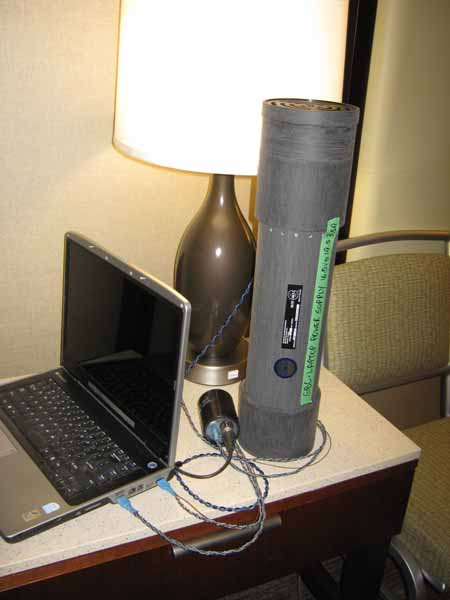 Room 308 - TLP and Blue Circle Audio: Gilbert. That sums it up. Very cool gear. New products from Blue Circle include PVC pipe linear power supplies for laptops and electronics of all brands of gear ranging in price from $295 -$2500.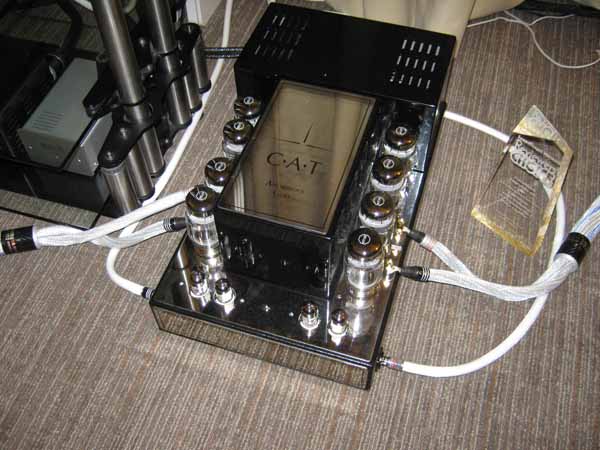 The CAT is outta da bag.
Room 315 - Kyomi: Convergent Audio Technology/Marten Loudspeakers. The Marten Bird 2 had explosive dynamics and killer resolution. Ken Stevens' CAT gear is terrific. Not that twenty-two thousand of anything is chicken feed, but I gotta admit, I thought the CAT preamp and amp were $22k each, not for both... I wanna, I needa...Without any trace of doubt one of my favorite rooms at the show.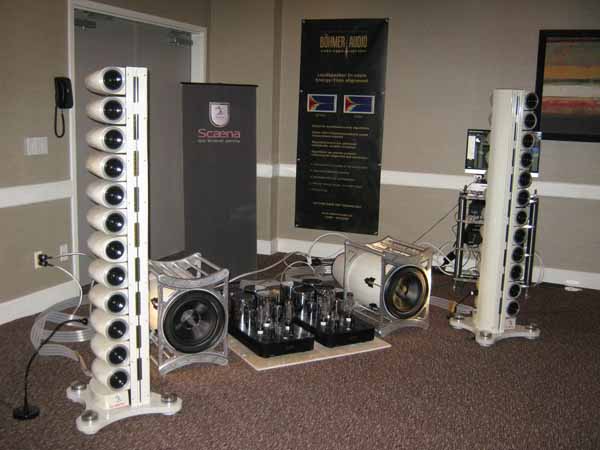 Lobby Level, Division Room - Scaena Loudspeakers/ Ayon electronics. The Scanea line arrays were smokin' from power provided by the Ayon tube amps. While the room might have been a challenge, the system had a very deep soundstage and serious dynamic impact.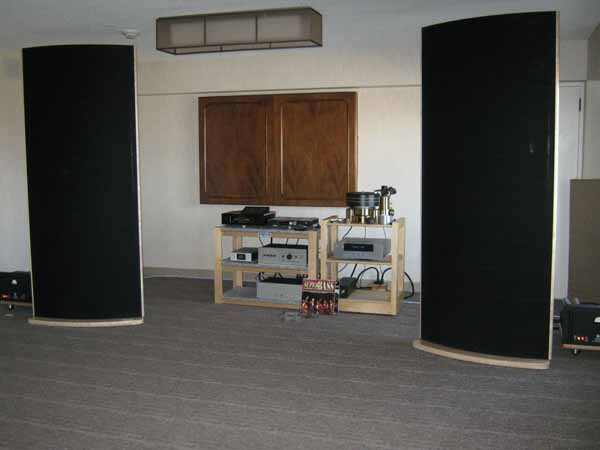 Essential Audio's Brian Walsh had his Sound Lab Electrostatic speakers almost touching the ceiling of 3rd Floor, Rosemont 4. Driven by the massive Atmasphere MA-2 Mk. III mono block amplifiers, there was BIG sound, very cool gear and good music.
There was a lighthearted moment when Brian, LP in hand, along with analog playback guru's, Scot Markwell and Michael Fremer, were all standing around a beauty of a Kuzma turntable visibly discussing something regarding the turntable setup. After a couple of minutes of animated conversation, someone behind me muttered, "How many audiophiles does it take to play a record?" There were more than a few low chuckles from those of us who heard the jesting "set up". Mr. Fremer, methinks you missed an opportunity for a 180 gram wax punch line!
Value Plays of the Day
For those who think you can't find low cost systems and components that sound good, I say hogwash! The following rooms banish that thought with a vast array of inexpensive high performance audio goodies and they were by no means the only locations showing wares of the affordable kind, I just happened to capture them in digital image form!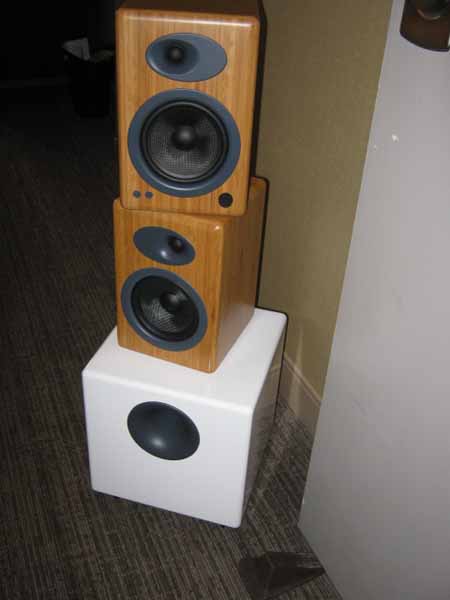 A Stack of Audioengine's.
Got music on computer? Got an idle iPod? Got any kind of musical input? These, boys and girls, are a great way to start in this wonderful hobby.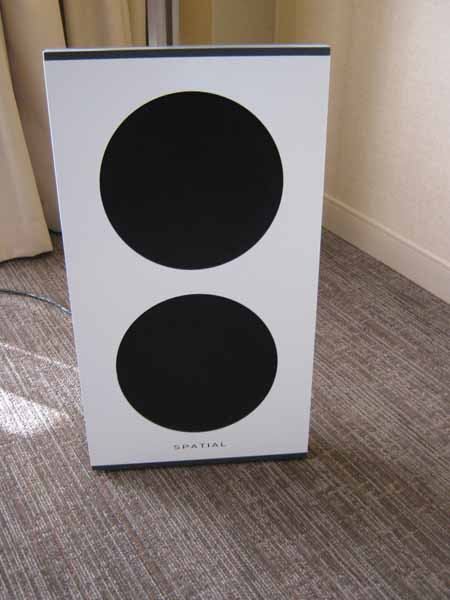 Room 450 - Spatial Audio/ Red Dragon Audio: AXPONA was the world premiere of Clayton Shaw's new $1995 Spatial Hologram M2 Standard OB loudspeaker. It had terrific sound staging capability and sounded very good with the Red Dragon mono amps. Mr. Shaw shared his views and vision on audio during a lengthy discussion that I found very interesting.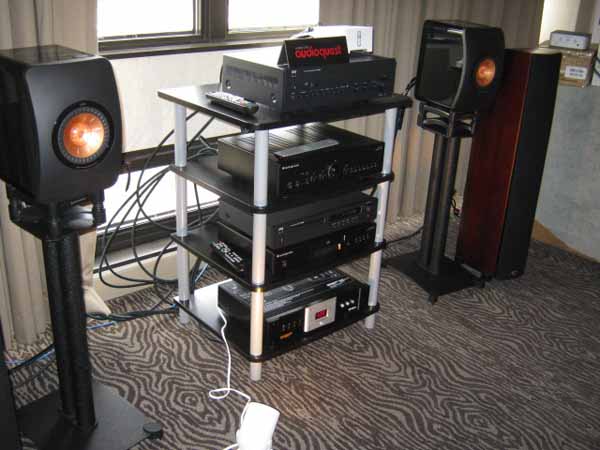 Saturday Audio Exchange was featuring multiple systems featuring Cambridge Audio, NAD, and KEF LS50 loudspeakers among many others. While they were not in operation during my time in the room, I've owned NAD and Cambridge gear and it is generally head and shoulders above the big box store stuff that so many people plunk their hard earned cash down for, only to find it doesn't satisfy. Yes, in some cases it costs a little more to buy these brands, but it's worth it to buy something that sounds great and will last a lifetime with a little care.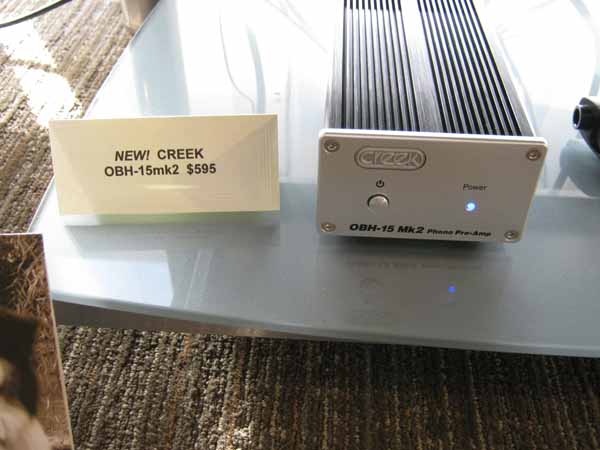 Room 448 - Music Hall: Where high value and high end collide. I was particularly taken with the newly upgraded Creek phono stage for $595. Good, relaxed and listenable was the sound at the end of Day One. It is always a pleasure to spend a few minutes with Roy Hall and Leyland Butler.
…but then I met the Editors!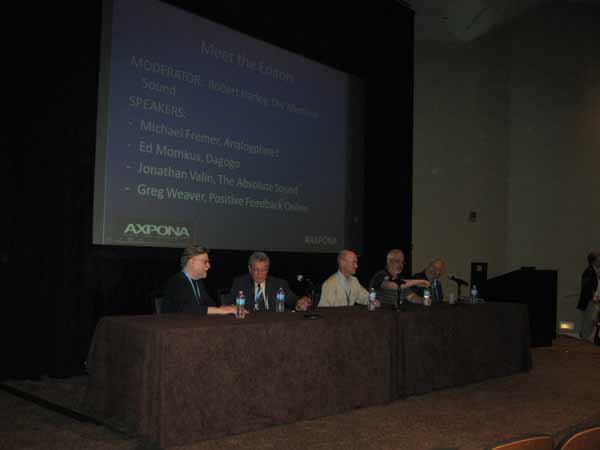 As you can see, there were several lifetime's worth of audio experience discussing our hobby in the Meet the Editors seminar. There were some interesting answers to questions like: What is the future of high-end audio? And just as there are many different ideas of what good sound is, there were diverse opinions on the direction of audio too. And what is the answer to the question of where do " kids" buy turntables today when they don't have a phono input? Well, below you'll find just one an example of the choices available at AXPONA…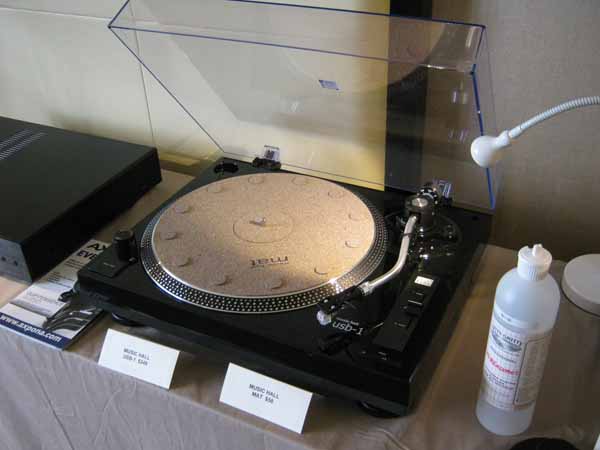 Many companies were selling their wares in the Audiophile Marketplace...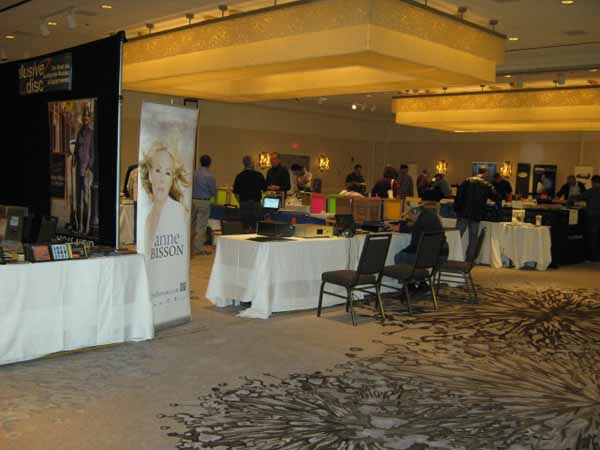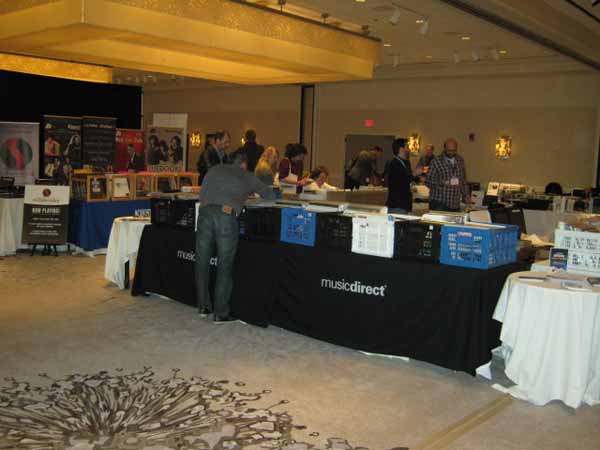 ...And appeared to be doing a brisk business.
This Windy Weekend of Audio Bliss is now but a Fond Memory and I Had a Grand Time.
AXPONA 2014 was very cool and attendance seemed to be quite high. The was a lot of gear I didn't mention and quite a lot I didn't even see. There was a very nice E.A.R. GEAR headphone area all unto itself and another where MA Recordings had headphone listening stations. AIX Records had an incredible Surround sound system featuring German Physiks loudspeakers. My report focused on my own list of interests and nowhere near all the audio equipment that was available for listening, fondling, or buying. In order to get this article to Positive Feedback in a timely manner, I glossed over some of the details, like complete names of components and prices for everything shown. But I know that if you are really and truly interested, you'll know where to look, or you wouldn't be reading this in the first place.
You know what? AXPONA actually makes me feel a bit stupid. I'm just a simple guy who loves music and fell in love with audio. I have built a few pieces of gear, changed my system more times that I care to admit and I am fortunate that I get to write about high end audio for a lark. The more experience I get, the more a show like AXPONA serves to remind me how much I don't know. Discovering fine audio is a life-long journey with something new to learn around every revolution of a Thirty-Three and a Third Long Playing Record. I, for one, can't wait to hear the flip side!
Cheers to you all, audiophile pals!