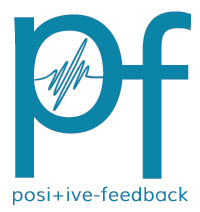 You are reading the older HTML site
Positive Feedback ISSUE 73
may/june 2014
AXPONA 2014: Chicago Rises to the Occasion
by Greg Weaver
What an improvement over last year's event! Even though I only had one day at last year's inaugural event, the quality of the venue (Westin O'Hare versus the Doubletree by Hilton last year), and especially the planning and execution of this year's event promoters, JDEvents of Trumbel, CT, made this year's event an unquestionable and stirring triumph!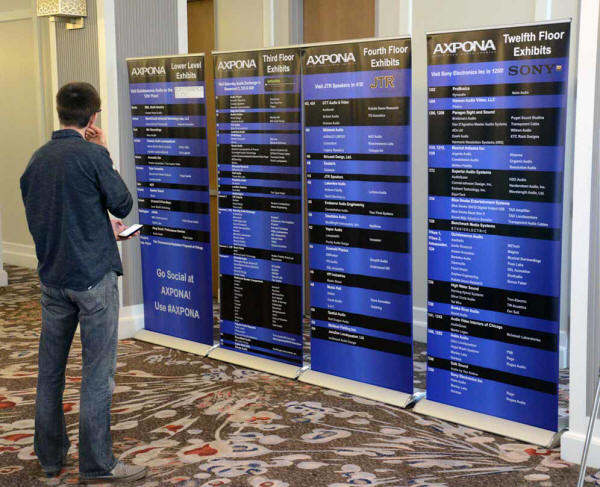 Banners just across from the mail elevators outlining all the room locations
Held Friday, Saturday, and Sunday, April 25-27, boasting over 75 rooms of exhibits, a dozen seminars, live music, an Ear Gear Expo, an Audiophile Marketplace, and the Sennheiser "Silent Disco," this was a serious and very well attended 3-day event. The promoters indicated that attendance was about 5500 to 6000. Not ONE of the exhibitors I spoke to over the three days said they ever really saw slow traffic until late afternoon (2:30-3:00 pm) on Sunday, the last day of the show, when it was scheduled to close at 4:00 pm.
Lower Level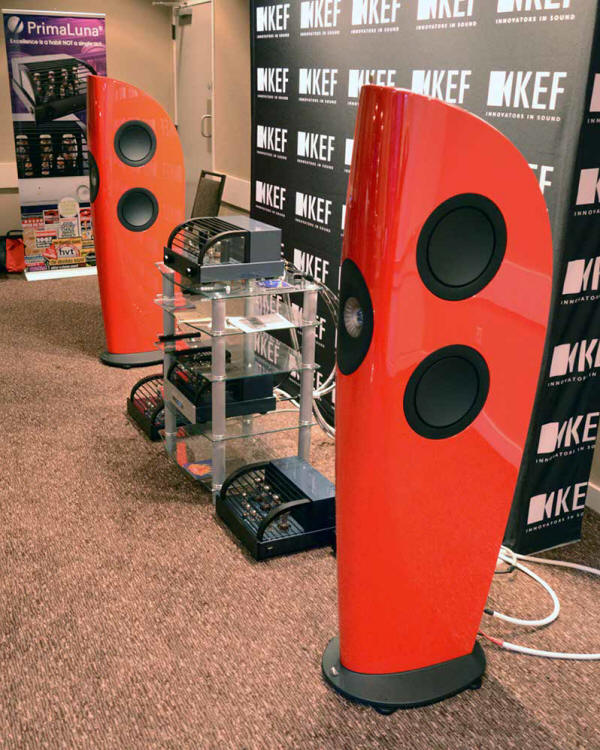 KEFs Statement Blades in beautiful Red, all driven with PrimaLuna gear
So, let's start with some of the big rooms downstairs on the lower level. Since one of the main trends at this show was Head-Fi and computer based audio, I'll admit to only taking a mild interest in such gear. Headphones just don't do it for me any more… I've gotten rid of most every set of can's I've tried over the past 10 years.
Veteran speaker manufacturer KEF was showing a wide variety of products, ranging from their statement Blades ($30,000), the superb and affordable LS50s ($1500—but with a show special of just $1300!), their wonderful sounding Ci series of in-walls for home theater, including subs, and a new $700 complete wireless computer speaker solution, the X300A. While the X300A was nice, this type of product really didn't speak to me. And while there is no doubt that the Blades are very nice, it was the little LS50s that really stole the show for me.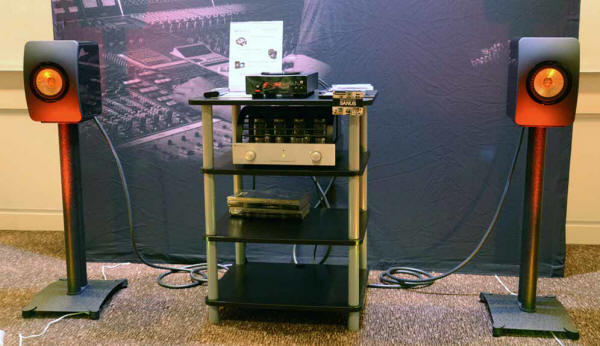 Stirring little KEF LS50, again, driven with PrimaLuna gear
Originally designed as a 50th anniversary celebration of the time-honored and remarkable BBC designed loudspeaker, the LS 3/5a, for which KEF built and supplied drivers for licensed manufacturers like Spendor and Rogers, this is one super little loudspeaker; one I could easily live with. Friday, our daughter's boyfriend Travis was able to attend, and he was very taken with them, putting them at the top of his short list for his next speaker upgrade.
Also in the lower rooms, long time cable and speaker maker, Robert Lee was showing his excellent Acoustic Zen Crescendo Mk II ($16,000) Loudspeakers. Powered by Triode Corporations TRX-2 tube preamp ($5000), TRX-M845 monos ($22,000/pr.), sourced with the TRV-CD55e Tubed CD Player ($3200) and TRX-DAC 1.0 tubed DAC ($2500), with all power, interconnects, and speaker cables from Roberts own Acoustic Zen lines of products.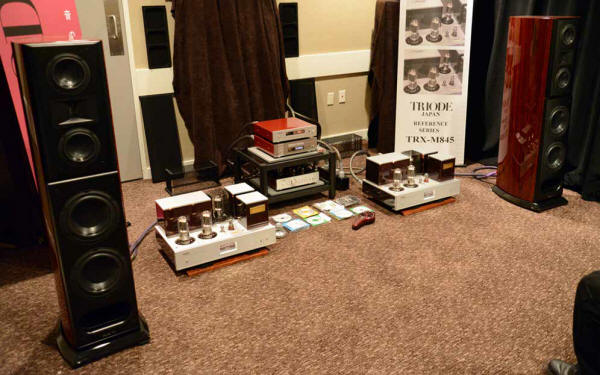 The beautiful and superb sounding Acoustic Zen Crescendo Mk IIs, driven by all Triode Corporation electronics
Listening to this system made it easy to see why this speaker has been so heavily cited and written about. Our own Jim Merod has a set in his prime listening room, which I've had the pleasure of listening to on a number of my visits.
Another room on the lower level had one of the most accessible sounding, if very LARGE, horn speakers I've ever run into at a show. Merrill Audio Electronics paired with Sadurni Acoustics to show off a remarkable looking, and very good sounding, set of Staccato Horns ($40,000) in a stunning metallic red finish.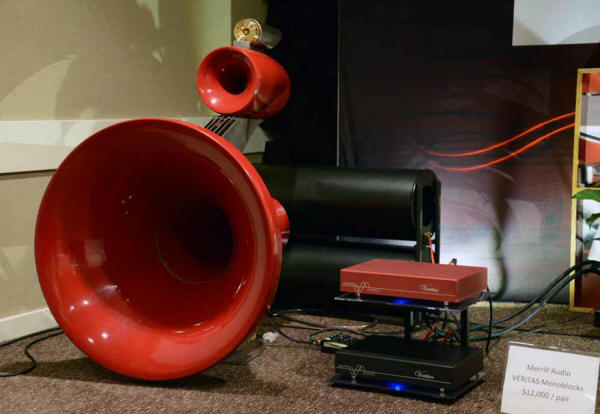 The bold and beautiful Staccato Horns from Sadurni Acoustics, driven by the Merrill VERITAS mono amps
Reel-to-Reel Master Tape copies and digitized copies of master tapes from High Definition Tape Transfers were played on a Sony APR 5002 open reel deck (no price provided). The DAC was the Meitner MA-1 ($7500), the preamplifier was the Divinitive XR from Miracle Audio ($5100), and the amps were the Merrill Audio VERITAS monoblocks ($12,000/pr.). Speaker cables and interconnects were all Merrill ANAP series ($1149 each).
Unless you were seated directly equidistant between the speakers, you heard primarily only the speaker closest to you. However, when at the proper triangle point, staging and imaging were excellent. Of course, the dynamics were to die for, and WITHOUT ripping off your head. Sadly, I'd have liked there to be a bit better support down below about 45-50Hz, but, all in all, this was a very believable sounding set of horns.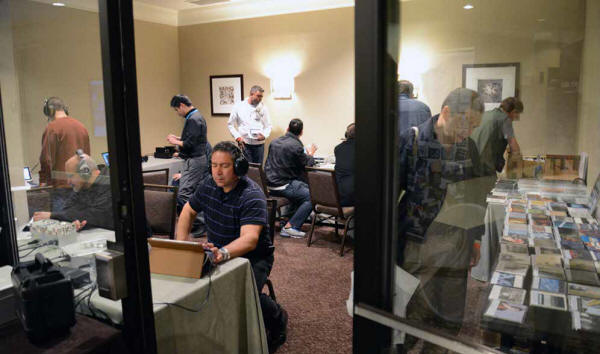 MA Recordings had a large space for users to audition their wares—using headphones, of course.
As I mentioned, Head-Fi gear, headphones and ear buds of all size and variety, headphone amps, some including DACs, streamers, and all other things that could be considered "personal audio" were the big draw in rooms like the MA Recordings room on the lower level, and in both the Audiophile Marketplace and the Ear Gear Expo on the main floor. I'll apologize now. If you're looking for a meaningful take on that type of gear, you'll have to look to someone else's report.
While I understand how important this segment of the market is to our industry, especially to the younger crowd, as I said, I'm just not a headphone guy… They just can't make magic for me like a set of good speakers in space are able.
Lobby Level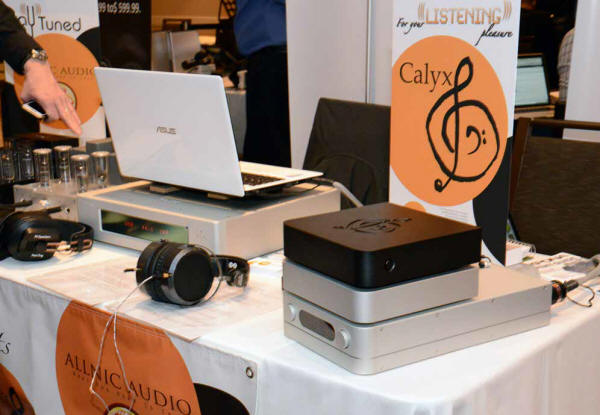 Calyx Femto DAC (under ASUS computer), the CTI Integrated (long silver box on bottom of stack at right) and the Femti Triple Mode Amp (black box on top of stack)
One of the more interesting displays in that whole Head-Fi/Audiophile market place on the Lobby Level of the Westin was that of Chris Zainea, owner of On Song Audio Distribution. Chris is an importer of the very highly regarded Korean Calyx gear, including the Femto DAC ($6850), the CTI Integrated amp with DAC ($2500), both of which I have had in house and will be writing about, as well as the DAC 124/92, and the new, highly versatile Femti Triple Mode (Stereo/Biwireable/Bridged mono) amps. In my experience, the exquisitely crafted Calyx gear affords great value and a whole lot of versatility for the money.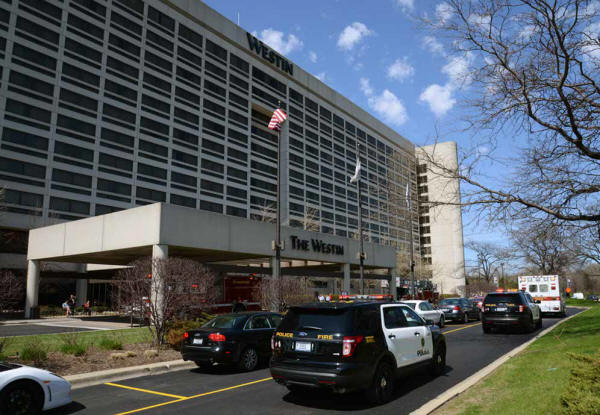 It seems that a fire drill is standard procedure at AXPONA, with one at both last and this year's events
Many of you may have heard about this uncanny coincidence, but for the second year in a row, we had a Fire Drill during AXPONA! Saturday afternoon about 2:30, I found myself standing in the main lobby of the Westin, by the main doors and registration area, chatting with PF's own Gary Beard, when four police officers, all looking rather serious, made their way into the building and toward the elevators. We only heard something about the sixth floor, so my first inclination was that they had been called in for some kind of disturbance on that floor.
Within minutes, they were followed by half a dozen or so firefighters, sporting axes and other tools of wanton destruction. Within a matter of minutes though, everything was pronounced just fine and all the uniformed responders had left the building. It was an interesting diversion, nonetheless!
Steve Rochlin in his mobile Enjoy The Music.TV studio on the Lobby Level of the Westin
Also on the lobby level, my old friend Steven Rochlin had set up his mobile TV Studio for Enjoy The Music.TV. Steve was streaming live music events, interviews, and updates from the show all weekend long. Lots of fun, and all in Hi-Def! Way to go, Steve!
While earlier in the event I had found the Legacy Aeris speakers ($20,735) on the 4th floor, my friend and PFO colleague, Gary Beard, had mentioned in passing conversation that he had seen the Legacy Whisper XDS ($24,750) and the smaller—but still very impressive—Focus SE ($10,615) somewhere on the Lobby Level. But search as I might, I'll be hanged if I could find them… After walking in circles on the lobby level for about 10 minutes with no luck, I decided it was time for a technology strike. So, after SMS'ing Gary and asking him to come to my aid, he led me into the big Dearborn room, down the hall from the Ear Gear Expo. It was worth it; thanks Gary!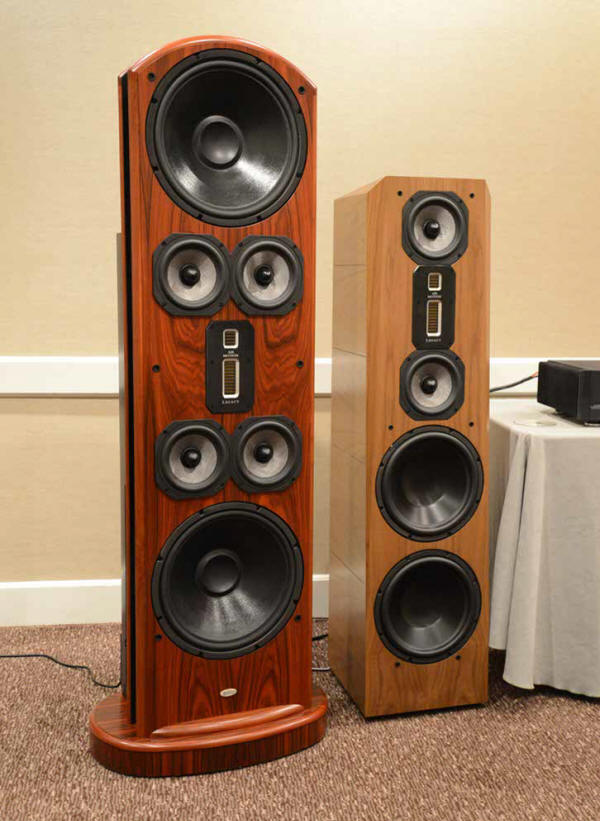 The Dearborn room on the Lobby Level held both the Legacy Whisper XDS (Rosewood) and smaller Focus SE (Walnut)
While I like the Aeris (which I first heard during its debut at CES 2013), and find it to be a superb concept, one that is very well executed, I have to admit that the Legacy Whispers, now in the XDS edition, just as they always have since their first introduction, just speak to me. In this room, the Whisper or Focus were alternately sourced by the Oppo BD 93 CD Player ($3500) feeding the CODA 07x Preamp ($6500), and driven by the CODA 15.5 Amp ($10,000), with all cabling by Marrow Audio Cables.
The big and, to my eye, beautiful Whisper's ability to convey nuance, to sound convincingly full and balanced at lower levels, combined with their effortlessness just seem to be the best recipe Legacy has ever cooked up. My hat's off to you, Legacy!
All the seminars, including my participation in Friday's Meet The Editors event, were held in the Executive Forum, across from the Audiophile Marketplace. Michael Fremer offered his Turntable Set-up seminar both Friday and Saturday, and Dr. Rob Robinson, of Channel D, did his Vinyl Ripping presentation both Saturday and Sunday.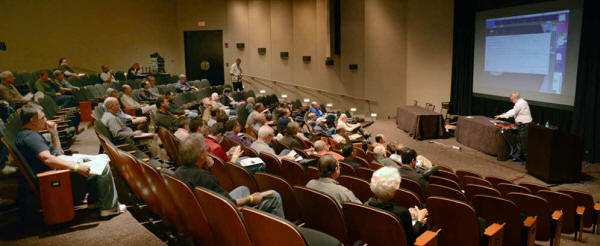 The Executive Forum with Dr. Rob Robinson, of Channel D, presenting his Vinyl Ripping seminar
Other seminars included: Meet PonoMusic (John Hamm), Vinyl Lives (Michael Fremer/Josh Bizar/Matt E. Earley/Chad Kassem/Dr. Rob Robinson/Bob Weston), The Future of Loudspeakers (Bill Dudleston), Meet the Editors (Robert Harley/Michael Fremer/Jonathan Valin/Greg Weaver/Ed Momkus), Loudspeaker and Room Measurement (Jeff Merkel), The Reel Deal: What's Old is New Again (Myles Astor, PhD/Bruce Brown/Ki Choi/Nick Doshi/Jonathan Horwich/Charles King), 2014: Is this the Year for High-Resolution Audio (Mark Waldrep), What is the Right Headphone for You?—A Discussion in Personal Audio (Kevin Glendinning/Scott Houston/Scot Hull/Chris Martens/Brannan Mason), and, for the life of me, I've NO IDEA WHY, but Introduction to Transcendental Meditation! From what I saw during my Forum, and the few others I had time to drop in on, these events were very popular and well attended.
Fourth Floor
Next, I would logically take you to floor three, but… I'm going to skip to four right now. Why? Just you wait. Trust me; you'll understand when we get there!
While the rooms on both the Lower and Lobby levels were all larger suites, the majority of the rooms on the other exhibit floors, three, four, and twelve, were all just standard hotel rooms, sized and shaped on the smallish and square-ish side. To many exhibitor's credit, these smaller rooms had to be extremely challenging to work with. Most did an adequate job. However, it was two 'tables that stuck out for me on the fourth floor. The first, from VPI, is the called the Nomad. With a retail of $995, Mat Weisfeld was touting the Nomad as a very powerful one-box solution, unlike much else you've ever seen.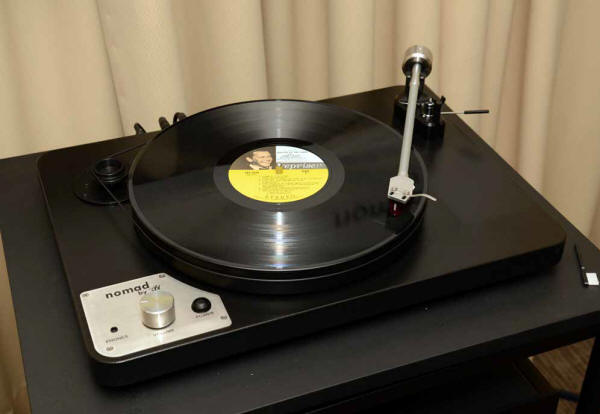 The Plug 'n' Play VPI Nomad—with built in Phono Stage and Headphone Amp
To execute the Nomad, VPI engineered a new gimbaled-bearing tonearm that includes the Ortofon 2M Red moving-magnet cartridge, and has a newly designed platter/spindle/bearing assembly. Also included is a built-in headphone amplifier, as well as a built-in phono preamplifier! You can just plug in a pair of 'cans and you are ready to rock. Or, plug it directly into any line stage preamp, integrated amp, or receiver with NO other phono stage needed (or possible!). This is truly Plug and Play analog, and at a great price to boot! This is the perfect table to allow the Head-Fi enthusiast to get into vinyl.
The table that really spoke to me, especially for the money, was Roy Hall's new beautifully crafted ikura turntable ($1195), shown in white lacquer. Designed in the US (by a Chicago based industrial designer) and built for Music Hall, the ikura has the Music Hall designed dual-plinth construction. It features a one-piece alloy tonearm, with high-purity copper internal tonearm wire, and comes with a pre-mounted and expertly aligned Ortofon 2M Blue MM cartridge (with replaceable nude elliptical diamond stylus). The table uses a precision stainless-steel main bearing sheathed in Teflon.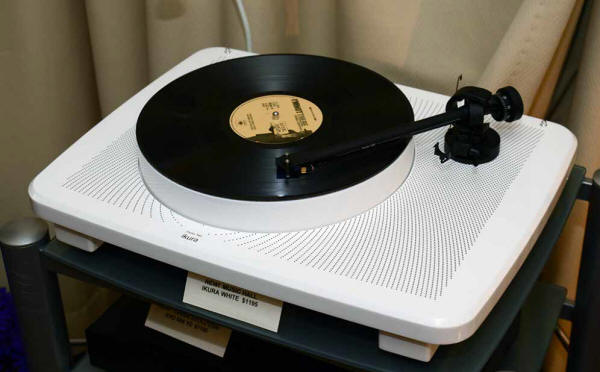 Roy Hall's latest triumph, the beautiful looking and stirring sounding, ikura turntable in white lacquer
Further, the arm's counterweight center of gravity is level with the stylus-tip and the DC synchronous motor is separately isolated and has a two speed (33/45 rpm) pulley. The dust cover and 45-RPM adaptor are included. Finally, the high-quality gold RCA connectors and detachable phono cable (not a "captured" cable like some other tables in this price point), allow you to use any interconnect you like with this table. With looks AND sound like this table has, watch for it to be VERY successful. Roy, thanks once again for keepin' it real, and for the shot of the Macallan!
I found another very innovative and excellent sounding product on the fourth floor. When I walked into the Grimm Audio room, I found my friend Joe Kubala in the driver's seat. The person Grimm had gotten to work the room for the event was only able to be there on Friday and Sunday. So Saturday, Joe Kubala had volunteered (yes, he is THAT nice a guy, REALLY!) to help out, and he and I got to spend some time chatting AND listening. Grimm Audio was showing their LS1s ($39,900) three-way, full range loudspeaker system. What makes the LS1s so unique is that it is literally a Plug 'n' Play loudspeaker system; just add your source. Really! No amps, preamps, or cables necessary.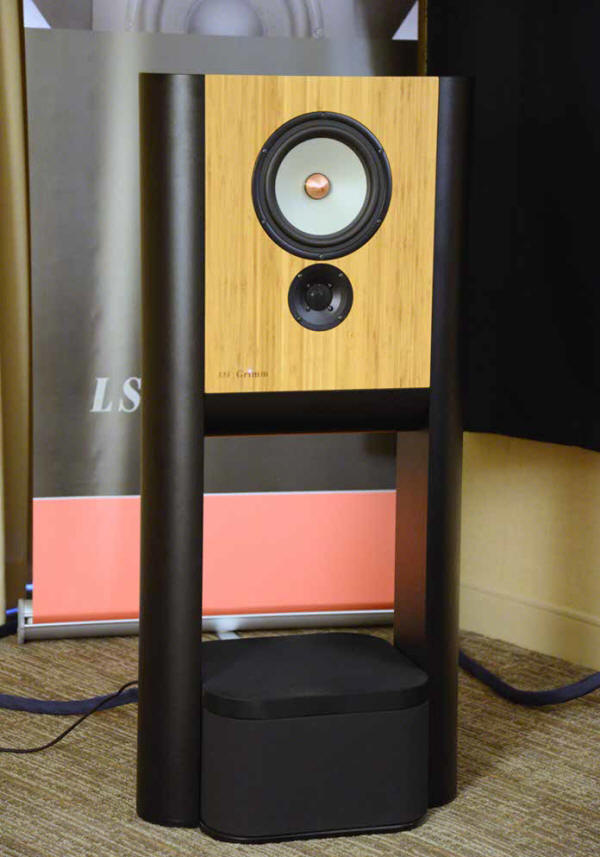 Um, more Plug 'n' Play! This time, the Grimm LS1s loudspeaker system
The LS1s incorporates High Resolution AD/DA's, a CC1 Master Clocking Circuit, 6 NCore (Bruno Putzeys) Amplifiers, one for each driver (tweeter/midbass/bass module) per side, DSP Processing, USB Interface, preamp/switcher/control unit, Integrated Bass Modules, Cables, and supports DSD 128 and DXD 32-384! The LS1, the two-way version (only 4 NCore amps and no bass modules) is available at $29,900.
I have to hand it to them; this compact, attractive, all-in-one system was quite enchanting. Clarity, focus, speed, impact, micro- and macro dynamically impressive, and musically expressive overall. I was surprised as this is one of the first of this type of product that I found myself pretty much going all-in for! Very nice job by Grimm.
Finally, on floor four, the Endeavor Audio Engineering/YFS (Your Final System) room in 426. Endeavor's Leif Swanson was on hand, and proudly showing the Endeavor E-3 speakers ($6995/pr.). Source was the YFS Ref-3 Music Server Transport System ($15,500) which comes complete with touch-screen monitor and 10-inch tablet for remote control. The beautifully executed YFS server fed an EMMLabs DAC2x ($15,500) while electronics included the exquisite Constellation Virgo II preamplifier ($25,000), and the Constellation Centaur Stereo power amplifier ($27,000). All system cabling was from MasterBuilt.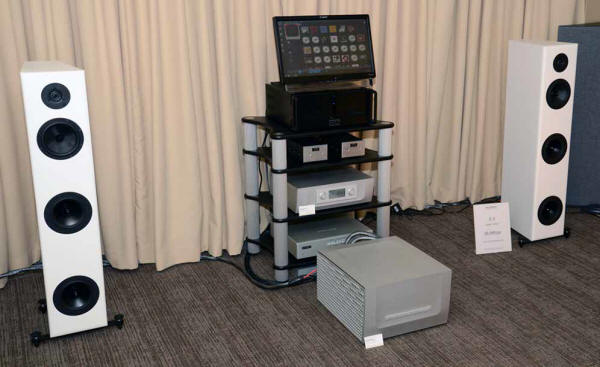 The Endeavor Audio E-3, YSF Music Server system, EMMLabs, and Constellation Electronics
The system, and particularly the E-3 speakers, REALLY got my attention. What an overachiever the E-3 is. While I LOVED the rooms sonic result every visit I made, and I made many because it was soooooo good, Sunday, as the crowd thinned a bit, Leif asked me if he could really light the system up for me. MAN, was I sold.
Rock solid staging and imaging, bottom end punch, dynamics, and definition, midrange purity and focus, upper frequency extension, shimmer, and detail, all with no strain, glare, or congestion, even when really driven to realistic musical levels.
When Irv Gross, the Constellation rep, came by to take some photos, I asked him if he knew anyone else that would throw a sub-$7000 loudspeaker out in front of over $50,000 worth of Constellation amplification. He smiled, and just said he understood that Leif had wanted them to sound their best. That was accomplished, as they really caught a lot of listener's ear.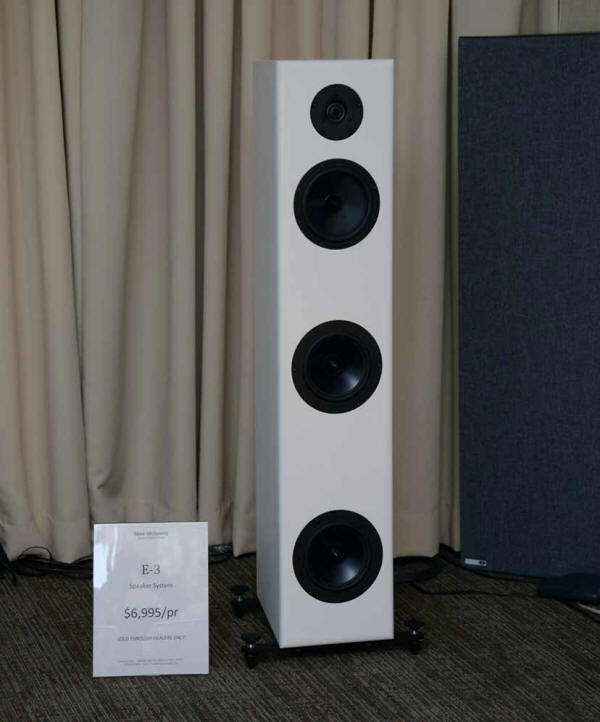 A closer look at the over-achieving Endeavor Audio E-3 Loudspeaker
This is the speaker to watch, one that will easily run with, and likely best, MANY highly regarded speakers in the $10-$12,000 price range today. If you get a chance to hear them, go out of your way to check them out. The Endeavor E-3 earns my choice as the best value product at AXPONA 2014, and is possibly the best loudspeaker available under $10,000 today.
Twelfth Floor
Time to move on to the twelfth floor, which, like the Lower and Lobby levels, also contained a number of larger suites, as well as normal sized hotel rooms, like those on both floors three and four. Four of those larger suites on floor twelve were hosted by Quintessence Audio, LTD and Musical Surroundings. These four suites had one other thing in common; all were wired with Joe Kubala and Howard Sosna's superb Elation series of cables.
While I was not really moved by the Clearaudio, Simaudio, Dynaudio combination in the Ambassador room, it did have its charm. And well it should, with a system MSRP just under a cool quarter million bucks!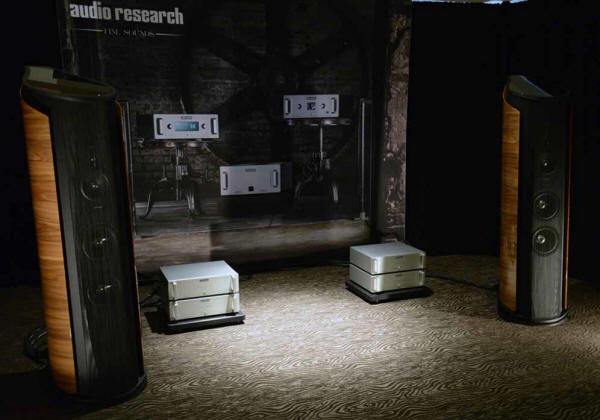 Big sound, from a big buck system using AMG, Audio Research, and Sonus faber
I had a much more musical impression of the O'Hare 1 room, with an AMG Viella table/Benz Micro MC Cart, all Audio Research electronics, and the Sonus faber Aida loudspeakers. This room had an MSRP of just over $240,000.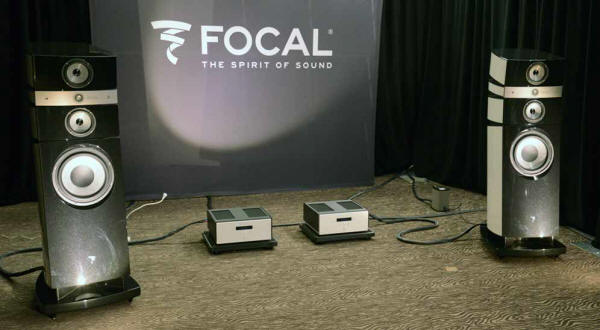 One of the most impressive sounds on 12, using Clearaudio, Aesthetix, and Focal
It was the O'Hare 2 room that spoke more clearly to my tastes. Here, vinyl was decoded using a Clearaudio Master Innovation Wood table ($29,400) in piano black, the new Graham Phantom Elite 10" arm ($12,500), the Clearaudio Goldfinger Statement MC cartridge ($15,000), using the Aesthetix Io Eclipse ($15,500) phono stage. The digital source was the new Aesthetix Romulus Signature DAC & CD Player ($10,000). Preamplification was by the Aesthetix Callisto Eclipse Line Stage ($19,500) with remote, amplification came from the Aesthetix Atlas Monos ($16,000/pr.), and the speakers were the gorgeous Focal Stella Utopia EM (97,500/pr.). Yes, another system with stratospheric pricing, this one with an MSRP of about $270,000! But oh, how this room could sing!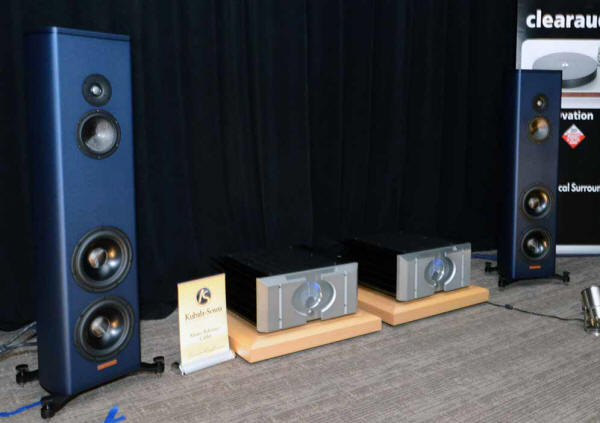 The new Magico S3 loudspeakers, driven divinely with all Pass Labs electronics
Finally, in the fourth and much smaller room 1234, the new Magico S3s ($22,600/pr.) were making magic, pun intended. Sources here were the Clearaudio Ovation table ($5350), the new AMG 9W2 tonearm ($3500) fitted with the new AMG Teatro MC Cart ($2000), feeding the Musical Surroundings Nova II Phono Stage ($1200). This room also used the new Aesthetix Romulus Signature DAC & CD Player ($10,000). Amplification was all Pass Labs, with the XP30 Line Stage ($16,500) and the XA100.5 monos ($16,500/pr.)
All four of the afore mentioned rooms used Harmonic Resolution Systems RXR Racks and Amp Stands, as well as Kubala Sosna Elation cables throughout. Though the Magico/Pass room was smaller and was less costly than the other three from this exhibitor, to my ears, it sonically surpassed them all but the O'Hare 2 room, and with an MSRP of about $100,000.
Next, I moved into the Benchmark Media Systems room in 448. I found a bit of a surprise here, as over the last 5 or 6 years, while it was common to see David MacPherson sharing a room with Rory Rall of Benchmark, the room was usually branded both Benchmark AND Studio Electric, which was David's company. David makes superb hybrid amps and loudspeakers.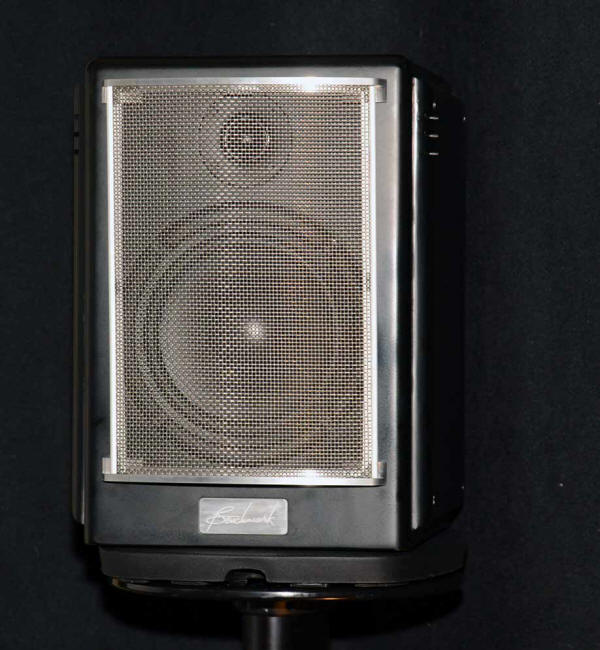 The new Benchmark SMS1 Monitor in black
As I got into the room, and got a taste of the very exciting sound, I was surprised to see a monitor that looked remarkably like David's Studio Electric Pasadena Monitor. But with a newly worked silver metal grill, the speaker all in black, and branded Benchmark SMS1 ($2450), this really was a new speaker.
It seems that the collaboration had come naturally given their many years of association. The Pasadena's crossover had been slightly reworked by Benchmark, upgraded with very low tolerance components, and the new look, more in line with the look of the rest of the Benchmark products, had been adopted.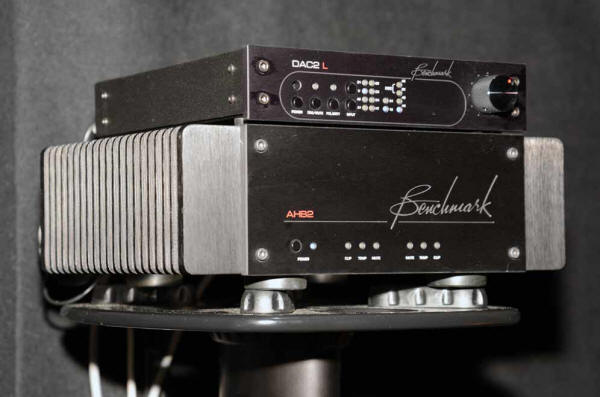 The Benchmark DAC2 L sitting atop the new Benchmark AHB2 amplifier
The system was fleshed out using the new Benchmark AHB2 amplifier ($2995) and DAC2 L ($1695). All that is required to complete this system is your source. In this case, they were using David's MacBook, sending the system a diet of almost exclusively ripped CDs at 16/44.1. So, with a system price of just over $7000, this amounted to yet another complete, ready to go, Plug 'n' Play system. And I'm here to tell you, this system delivered.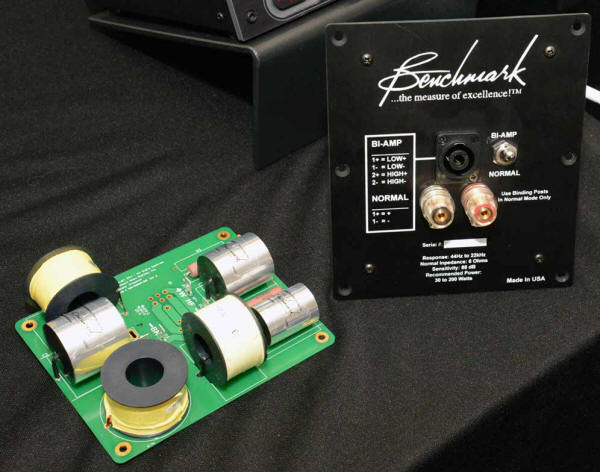 A closer look at the new Benchmark SMS1 Monitor crossover and back
During my visits to the room David never once wasted time playing Audiophile favorite cuts. Instead, he always plays "real" music. The result had most of the room's listeners, including this jaded reviewer, bobbin' heads and tapping toes. This was without question one of the most musically engaging rooms on floor twelve, even at its comparatively modest price. And as usual, David was kind enough to share some very tasty single malt!
The final room of merit on 12 was the big joint Kharma/Constellation Audio room in 1218. Sources were the superb Grand Prix Audio Monaco 1.5 turntable, with the Tri-Planar U12 tonearm, fitted with an Airtight PC1 Supreme MC Cart, all fed to the Constellation Audio Perseus Phono Preamp, or the Constellation Cygnus Digital File Player/DAC. The line stage was the Constellation Virgo II, and biamplification was provided by using a Constellation Centaur Stereo amp to drive the Kharma bass modules, and one of the Centaur Monos driving each of their mid/tweet modules.
When Irv told me how this was wired, I stared at him blankly for a second, then quickly got it. It was actually a very smart way to go, once you think about it. All sources and electronics rested on the Grand Prix Audio Silverstone F1 Isolation Component system. Speakers were the big Kharma DB11-S and cabling was all Argento FRM. Though I'm sorry to say that no prices were offered for any of this gear, this was clearly a pricy system.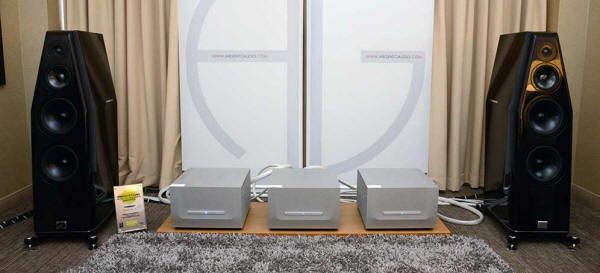 Constellation Centaur Stereo and Monos provided biamplification to the Kharma DB11-S loudspeakers
Very nicely done, if maybe just a tad too much for a room this size. But the system served up remarkable transparency, focus, space, honest timbre, and very delicate dynamic shadings across intimate jazz and full-scale classical, showing this system's musical capabilities.
Third Floor: Best of Show

And with that, we finish off the most mentionable rooms on the twelfth floor. Time to go back down to the third floor, just as I did so many times during this three-day event. So, why did I wait so long to get down there? It's quite simple, really. Floor 3 was home to the Best Sound of AXPONA 2014, Kyomi Audio in 315.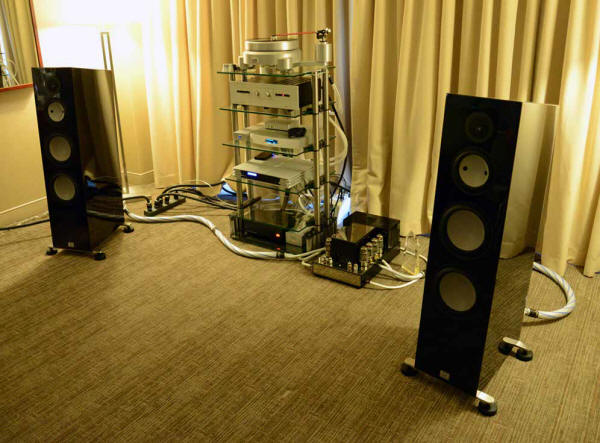 Kyomi Audio showed the best sounding system at this year's event, using Acoustic Signature, Funk, vdH, Lumin, Aria, CAT, Marten Designs, and all Stealth cable
The room was a collaboration between George Vatchnadze, owner of Kyomi Audio, (as well as a gifted pianist and teacher at DePaul University), Dan Meinwald, importer of Marten Design Loudspeakers, and Ken Stevens, owner and designer of the Convergent Audio Technology (CAT) gear.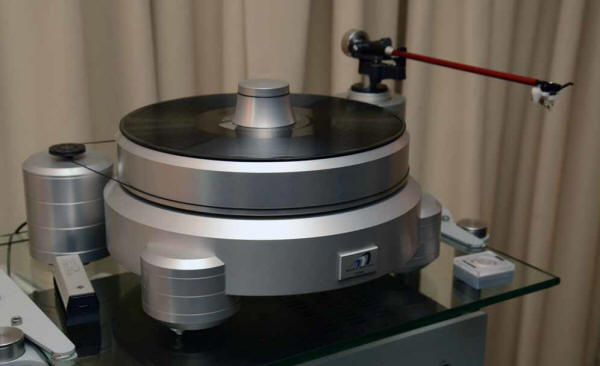 The Acoustic Signature Thunder turntable, the Funk FX-R 12 inch tonearm, and vdH Colibri XGP cart
Analog playback was handled with an Acoustic Signature Thunder 'table ($5200), a Funk FX-R 12 inch tonearm ($3000), fitted with the van den Hul Colibri XGP cart ($7800). Digital playback came from either the Lumin Music server ($7,200) or the remarkable Aria Music Server with Wolfson DAC ($5000-$7500, depending on configuration—HDD, SDD, DACs, power supply). More detailed info about the Aria Music Server is available about an hour and 54 minutes into this Enjoy The Music.TV AXPONA video.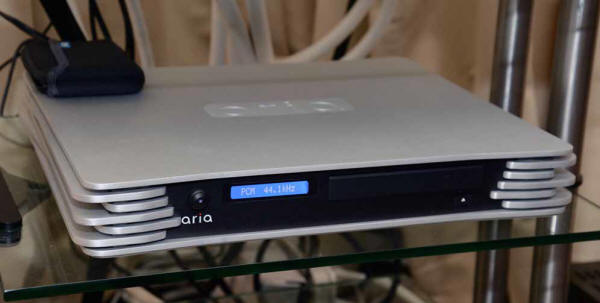 The Area Music Server with Wolfson DAC
All sources ran to the CAT SL1 Renaissance Preamplifier with MC phono stage ($9990), amplification was the magical CAT JL-5 amp ($11,990), all driving the Marten Designs Heritage Bird 2 loudspeakers ($42,000). All cables were from Stealth Audio, including Śakra V12 interconnects, the Helios phono cable, and the Dream V10 speaker cables.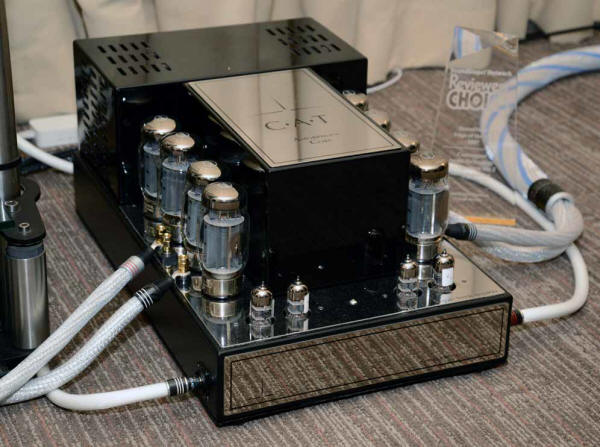 The Convergent Audio Technology JL-5 amplifier
This was simply one of the most synergistic mating's of equipment I've ever had the pleasure of hearing. Dynamic contrasts that could knock you out of your seat, musical transparency, vibrant, honest, timbre, and a degree of musical expressiveness that is hard to beat, let alone achieve. Guys, what a terrific job! Thanks for the treat—and the adult libations!
Wrapping it up…
AXPONA 2014 turned out to be one of the nicest surprises I've had from a show in some long while. Aside from the fact that it was close enough for me to drive to, this was a very vibrant, worthwhile, and significant event. AXPONA has proven its mettle as a serious High Performance Audio event here in the mid-west.
Honestly, I enjoyed my time talking with friends and colleagues like Gary Beard, Joe Kubala, George Vatchnadze, Dan Meinwald, Ken Stevens, Rory Rall, Irv Gross, David MacPherson, Philip Bamberg, and others too numerous to mention even more than I did listening to all the cool toys. I'm looking forward to 2015…
Till then, enjoy!