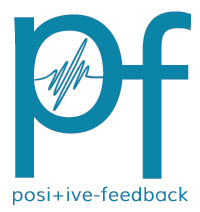 You are reading the older HTML site
Positive Feedback ISSUE 73
may/june 2014
audionet
DNP Preamplifier and AMP Amplifiers
as reviewed by Marshall Nack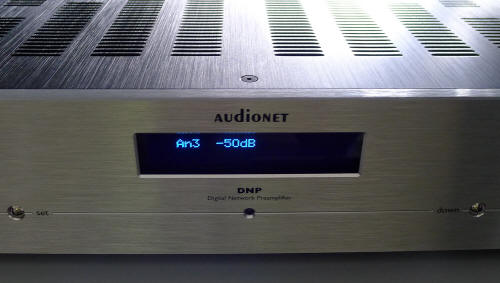 Can an $18,250 pair of monoblocks and a $20,300 preamp be considered bargains?
I'm writing this on day two after my amp and pre-amp were replaced by the mid-level (!!!) AMP mono power amplifiers and the DNP (Digital Network Preamplifier) from Audionet, a German manufacturer with nineteen years of experience in audio. The line is now officially being imported into the USA for the first time.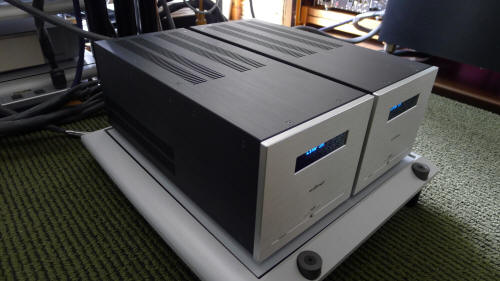 The best gear I'm hearing nowadays, from brands like Ypsilon and CH Precision, offers a hybrid-like performance, melding all of the desirable attributes of modern solid-state with the same from classic tube sound. The result is a component that is able to harness speed, dynamic power and control to flow, timbre, body and soul—gear that does it all.
You should realize how high we've been flying at Nack Labs lately. The Audionet displaced the Ypsilon PST 100 Preamp feeding CH Precision A1 monoblocks, by any measure a pair of components to be reckoned with. I got used to a lofty standard, at lofty prices, with these Big Boy components.
Affinity to the Unobtainium
It occurs to me the best narrative line to take in describing the sound of the Audionet components is to tell you what I wasn't thinking about. Information retrieval, for one, was not on my mind. Tonal balance, frequency response, signal purity, noise level—all of these weren't rumbling around inside my cranium.
That says a lot. It means that here was a pair of mid-level, relatively affordable, components able to scale up in these areas into the neighborhood of the Big Boys—to the highest level. I knew we were off to a merry start. As you'll see, this will be the major theme of this review.

DNP Analog Preamp Section
Now let's talk about what I did take note of. Over the years, I've heard many audiophiles talk about the seeming impossibility of reproducing realistic transients. I have to agree. If you've ever been in close proximity to a live drum set, you'll know what the issue is. The speed, the force, the aggression of a single cymbal strike is outrageous.
In this regard, Audionet is in a class by itself.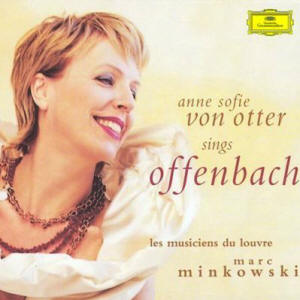 One of my favorite Anne Sofie von Otter recordings is Offenbach: Arias & Scenes, with Marc Minkowski conducting Les Musiciens du Louvre (DG 289 471 501-2). You might ask why is a French period instrument orchestra performing this Romantic era material? Isn't Offenbach too late for the period instrument era? Well, yes, but putting aside the legitimacy of the endeavor, the project works. Much fun is to be had in this "Adroit Alchemical Fusion of Romanticism and Foolishness," as the liner notes put it.
From the very first note—you're going to be caught off guard.
The transient hits hard, with blazing speed and a sharp edge. Audionet gear refuses to slow it down. Indeed, with one of the highest slew rates in the industry, the specs clearly reflect what I am hearing. Full orchestral blasts exert maximum pugilistic verve. Abetting the impact is a dark-hued tonal balance that doesn't skimp on the lower frequencies and packs oodles of weight and heft.
Beyond the sheer power, there are two more things to note about that transient onslaught. First, the treble is not rolled off and is allowed to roam freely. Second, dynamic range is staggering: not only do big macros give no hint of compression, they travel to places previously unheard at Nack Labs. The Audionet thrust coefficient is something else!
Yet peak SPLs do not bite you. Nice! I don't know how Audionet managed that. How do you pack power, speed and full treble extension without harming the sensitive cochlea of the listener? Certainly, I did not expect it at this price point.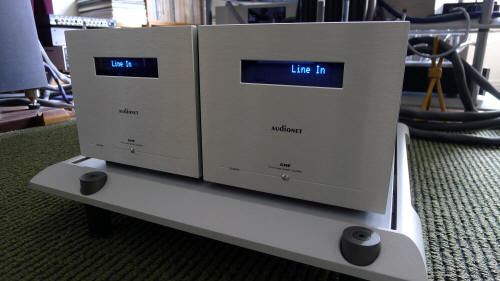 While the AMP monos have a smallish footprint and only weigh 49lbs, their 200 watts/8 ohms has no trouble at all driving my power hungry YG Anat Signature speakers.
Purity
A choral group enters and re-states the melody. Each instrument/voice is in its precise place, stable and unwavering, and ranging seamlessly across the width of the stage with nary a gap anywhere. Images are taller than usual, though a little narrow; stage depth varies—sometimes very deep, but often shallow—depending on the recording.
With a damping factor of > 10.000 @ 100Hz, one of the highest in the industry, the AMP exerts a very tight grip over the signal. Control is evident everywhere. There are no stray sounds, no loose ends, and no evidence of mechanical noise of any kind.
That is the third key ingredient in the Audionet power triumvirate. Control joins speed and vast dynamic range to yield a presentation that isn't cluttered with extraneous, nonmusical noise; one that emphasizes the musical message and puts the point across cleanly and succinctly.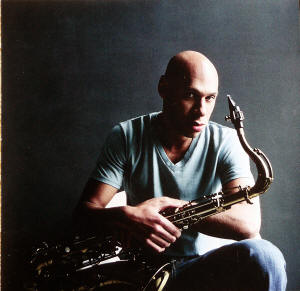 Time for some more music. I stumbled upon Compass, featuring saxophonist Joshua Redman and a curious rhythm section of twin basses and drum kits (Nonesuch 510844-2). Interestingly, the liner notes say the engineer, Jim Farber, used a single stereo tube microphone.
The thumping, drunken March tune begins with a double bass on the left establishing the rhythm. A second bass is heard on the right making sighing, labored breathing noises. As Joshua plays the melody, the crazy march gets punctuated by double drum kits far left and right adding counterpoint.
"Listen to that bass!" It's very easy for a system to smear a single double bass, let alone a pair of them. The Audionet made fast running bass lines tight—but not etched—and easy to follow.
Cool stuff—but what's really nice is that it's full bodied and fleshed.
Caveat Emptor
There aren't many caveats, just a word about those transients. As much as the audiophiles who came by were awestruck, a small subset of listeners dissented. This group of sensitive souls found the attacks hard-hitting; they preferred something more laid back.
In the beginning, I heard an occasional hardness, especially with loud passages, which led me to think the DNP had a solid-state signature. But this only happened with my Accuphase DP-600 digital, and when I swapped it for a CH Precision front-end, it completely vanished. Hmm, then it ain't the DNP.
Introducing the Ypsilon PST 100 Preamp
I was curious to see what would happen when I paired a Big Boy preamp, the Ypsilon PST 100, one of the best of the tube-hybrids, with the AMP monos.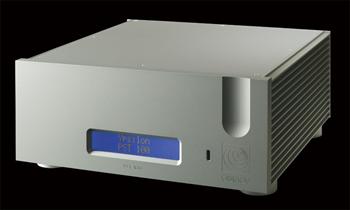 Well, I can tell you it doesn't POP like with the DNP. Big macros don't jump as much. Part of this is how the Ypsilon soundstage behaves. The front line of the stage moved back to the plane of the speakers and stayed put, it didn't budge regardless of the SPL. The DNP stage is more active, with soloists moving forward into the room, especially when the volume went up.
Timbre
But something wonderful was introduced in the realms of timbre and flow. While I can't fault the DNP's timbres, it was clear that the Ypsilon PST 100 brought a further level of nuance and refinement. I started to hear a lot of, "Ah, now that's a beautiful sound," from the panel. This pairing of the Ypsilon PST 100 and the AMP monos: this was one hell-of-a class act.
Frankly, I'm not surprised by what the Ypsilon Preamp can do. Keep in mind it's a dedicated component designed to do one thing and has a $37K MSRP.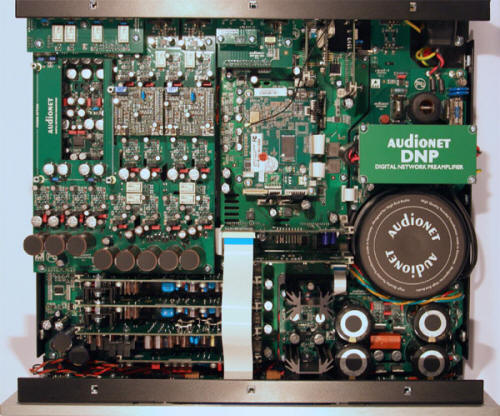 DNP Features
In this review I'm describing the sound quality of the DNP's analog pre-amp section feeding the AMP monos. But the DNP does much more: it is a multi-purpose product with a boatload of functions and a great deal of technology.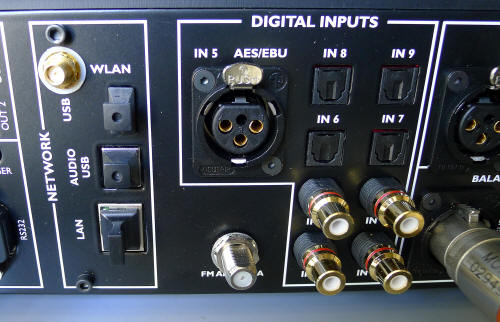 Here are some of its additional features:
- a DAC with asynchronous upsampling up to 192kHz/24-bit
- thirteen digital inputs for just about every format, including support for SACD and USB input
- a digital parametric equalizer with multiple EQ functions
- Delay Manager for adjusting delay times
- Bass Management software for integrating subwoofer(s)
- DSP room compensation
- an audio streamer which can be fed via WiFi or Ethernet
- an FM tuner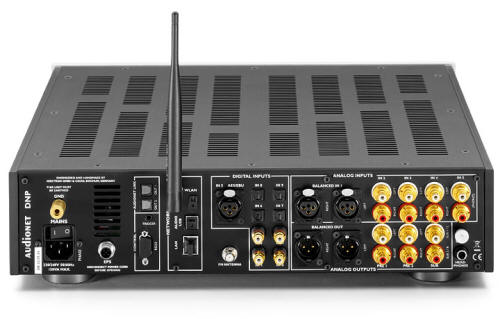 And some specs...
Output impedance is 24 Ohm "real"—not corrected like others that boast low output impedance. This correlates to how it can drive a cable and the control it has over an amplifier.
EPX Power Supply Upgrades
The DNP can be used as is or enhanced with two levels of power supply upgrades. It was installed in my house with the top level EPX power supply upgrade. The EPS G2, a level 1 power supply upgrade, is also available for MSRP $4050. Both of these are external, full-size chassis for single-component use and require an additional power cord.
From the website: "The EPX achieves effective decoupling of all harmful influences from the public power supply system. The EPX is fed by a constant, low-noise source usually used in laboratory environments."
The EPX on its own has 576,000 uF of capacitance, a spec many amplifiers would be proud of.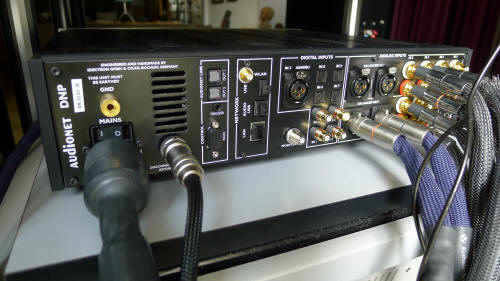 AMP Specs
Some of the features of the AMP monoblocks...
Each monoblock contains a microprocessor unit that controls all functions and monitors fault conditions such as: DC, HF, temperature and overload. If a fault is detected, it disconnects the AMP from the mains supply.
And some impressive specs:
Filtering capacity of 82,000 uF
Frequency response from DC to 300K
Outstanding SNR: >122db
Damping Factor >10,000
Rise time 0.63 μs
Cosmetics
All of the Audionet gear sports a similar cosmetic, with clean lines and purposeful construction. It is not luxurious or overbuilt, just solid and well-made. The German aluminum silver face plate with black accents is the Euro-look of the moment, as is the graphic display window that tells you input choices and other pertinent info. Chassis interiors utilize amorphous granite, steel, aluminum and MDF.
Installation was a snap. No re-voicing of the system was necessary. The DNP accepts single-ended or balanced connections on both input and output: I preferred single-ended on both sides. Power delivery was via a pair of prototype K•S Power Distribution strips. I have to say, Audionet loves Kubala•Sosna cables. (This just in: the K•S XPander product is now shipping, MSRP $4800.) Both components run warm, so give them room to breathe
The EPX attaches via a supplied umbilical.
Conclusion
Are they or aren't they? At the top of this review, I posed the question: can an $18,250 pair of monoblocks and a $20,300 preamp be considered bargain components?
After traversing the many strengths of the Audionet DNP and AMP mono amps, I think you'll agree a case could be made that many aspects of the Audionet pairs' performance bears more than a passing resemblance to the best, usually unaffordable, gear that they replaced in my system. Frankly, I was surprised at how well they scaled. Audionet definitely has similarities to the unobtainium.
Beyond that, if your thing happens to be lightning fast, enormously powerful transients—you've met your match.
I didn't have time in this review to assess the DNPs' other features. It is really a ground breaking component, redefining what a "full function preamp" means today. Hopefully, I will get more time down the road to explore some of these.
In conclusion, the Audionet DNP and AMP, now available for the first time in the USA, are serious contenders for top-notch solid-state electronics and certainly worthy of your serious consideration. Marshall Nack
AMP Mono power amplifier
Retail: $18,250/pair
DNP Digital Network Preamp
Retail: $20,300
EPX enhanced power supply
Retail: $10,100
Audionet
www.audionet.de
Distributor Information
GTT Audio/Video
908-850-3092
av@gttaudio.com
www.gttaudio.com