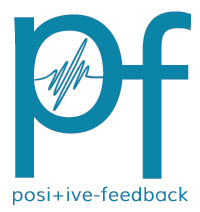 You are reading the older HTML site
Positive Feedback ISSUE 73
may/june 2014
Notes of an Amateur: Schnittke, Planès' Bartok, Koh & Laredo; with Brief Notes on Contemporary Piano Trios from the UK, Ferneyhough, and Tai Murray.
by Bob Neill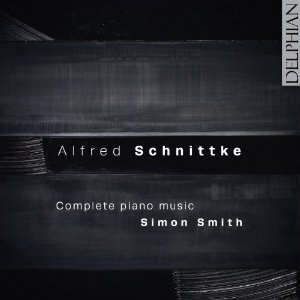 Alfred Schnittke, Complete Piano Music. Simon Smith. Delphian D D 34131 (2 cds's)
You never know what you're going to get from Alfred Schnittke (1934-1998), the baddest of the Russian second generation modernists, which is both the good news and the... challenge. If you can get through the first three minutes of Piano Sonata No. 1, you'll be fine. The next two minutes will be your reward. My eighteen-year-old son aimed his cell phone toward the speakers and proclaimed to his best friend on the other end that his father had gone batshit. Scottish virtuoso pianist Simon Smith reportedly loves this music and is clearly in complete control of it. The better your audio system, the better you'll like it.
"Complete Piano Music" means: three sonatas, one set of variations, a prelude and fugue, an improvisation and fugue, variations on a chord, little piano pieces, an homage to Stravinsky, Prokofiev, and Shostakovich, five aphorisms, a sonatina for piano four hands, and cadenzas for four Mozart piano concertos (!)
The sonatas are passionately, angrily, insanely, childishly, joyfully, mournfully Russian. All were written during the last eleven years of the Schnittke's life. The rest of the music is a surprising (given the sonatas) mixture of sonorous, whimsical, entertaining diversions and romps. The Mozart cadenzas are a treat.
As a whole, this 2-CD album is an exciting and representative introduction to a composer who is just beginning to be appreciated. This is twenty-first century music composed a half century before we were ready for it. The sound is spectacular: I've seldom heard this much of a piano on a recording. Clear the room of the timid and timorous and let it rip. This will be one of my favorite releases of 2014.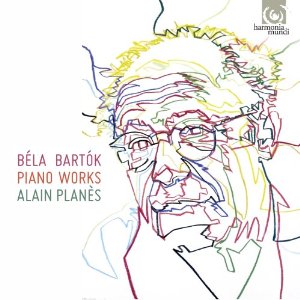 Bela Bartók Piano Works. Alain Planès. Harmonia Mundi HMC 902163
The last time I wrote about Bartók, reviewing the Alexander Quartet's recording of his string quartets, I talked about how he turned folk music into modernism. Alan Planés, playing a program of the composer's music for solo piano, does something else, asking, in effect, isn't the end product more folk than modernist classical music? Isn't the composer bringing out something that is latent in the his country's music rather than converting it into something else?
Planés, one of the very best and least recognized pianists on the planet, with bold and searching performances of Schubert and Debussy on his resumé (along with some equally compelling Haydn), is exactly whom I want to pose this question. Answering the question as a musician means either hearing it in your head as modernism and forcing it a bit, driving it; or letting its natural rhythms drive you. Both ways work—the question is not an easy one. Ivan Fisher plays Bartók's orchestral music as less radically modernist than Pierre Boulez does, and these two interpretations are also equally effective.
The answer lies in deciding which interpretation is the most satisfying and convincing realization of this music. Modern propagandists (like Boulez) are looking to capture as many twentieth century composers as they can for their cause: moving away from the past and onto new musical ground. Composers and their music, left to their own devices and our ears, are not always eager to be captured. Which is a long way of saying that I find Planés' Bartók eloquently escapes ideas about what constitutes modernism and, as with his Schubert, gives us a unique composer who seems to speak his musical ideas to us directly. We hear him taken by folk music but also with ideas of his own. The music is inspired by folk music but the composer seems more to hear it than process it. Planés is a genius at hearing the composers he plays. We get the sense he has gone directly to Bartók himself to hear what he believes this music is. We always get this feeling when Planés plays. Music always feels freshly revealed. His performances always feel definitive, whether they are or not.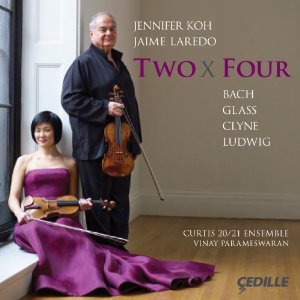 Two x Four. Jennifer Koh, Jaime Laredo, violins. Bach, Glass, Clyne, Ludwig. Curtis 20/21 Ensemble, Vinay Parameswaran. Çedille Records CDR 9000-146.
The feature work in this program snuck up on me. Bach's BWV 1043 Concerto for Two Violins is one of the greatest works in the violin repertoire, its middle movement largo one of the most beloved. To have remained this popular and lyrically compelling and not cloy over its nearly 275 year lifespan is an accomplishment in itself. Many of us have heard countless performances of this concerto and have our favorites. Mine is by Stanley Ritchie and Linda Quan with the Helicon Ensemble in which the two violins make love to each other in so convincing a manner that no other performers I know have attempted to compete on that score! But Jennifer Koh and her former Curtis teacher, Jaime Laredo, to whom it would not occur to take such an approach, present the work in a more formal manner and surprise us with what else this classic work has to say. There are no studied (inspired?) pauses. There is no suggestive lingering. The two violins move ahead, respect each other by keeping their distance, and create in lieu of romance, a truly elegant pas de deux. Even recording engineer Judith Sherman keeps her distance, enhancing the beauty of the instruments by keeping the mikes 'where they belong.' I have heard more romantic BWV 1043's and also more passionate ones. But I have heard none better.
The rest of the program is made up of a short work by Philip Glass and two premiers commissioned for Koh and Laredo: Anna Clyne's (b. 1980) Prince of Clouds and David Ludwig's (b. 1974) Seasons Lost.
The Clyne work (2012) reminds me some of Jennifer Higdon's modern American romanticism, cloaked effectively in urgent but stoical garb. The two violins playing close together harmonically are only intermittently conspicuous as a dual presence. It's better music than I'm making it sound here.
Glass's Echorans (1995) is classic (!) minimalism, but there is a hint of melodic backbone hovering under and over the expected warbling. I am not a fair critic of composer Glass or his style, so if you like him and/or minimalism, pass me by and listen for yourself.
David Ludwig's Seasons Lost (2012)—four brief pieces, again in American modern romantic (or neo-romantic) style—feels like a set of encores alongside another set of bravura excerpts from a concerto. Don't know what else to say here.
Jennifer Koh is a marvelous musician. Her performance of Bach's Partita No. 2 in Buckley Recital Hall at Amherst College a few years ago was the most moving solo violin playing I've ever heard. Jaime Laredo is a very fine veteran whose skill and reputation surely does not need my praise. The piano trio with whom he plays is one of the world's finest. The two musicians play a great Bach BWV 1043, which is more than worth the price of admission to this CD. The rest of the program does no harm. Sound, as always with Ms. Sherman, is terrific.
Brief Notes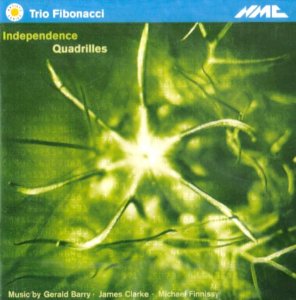 Trio Fibonacci. Works of Gerald Barry, James Clarke, and Michael Finnissy. NMC Records NMCD 107.
Two contemporary English composers and Irishman Gerald Barry, whom I've reviewed here before: Barry (b. 1952), James Clarke (b. 1957), Michael Finnissy, Trio Fibonacci, (b. 1997). This is the kind of music that keeps some music lovers away from concert halls... because you'll never hear it there. Once you've become acclimated to contemporary modernist music, this is the kind of CD that will just flat turn you on. I came to it for the Barry but stayed for Clarke and Finnissy. It's music that clears the air.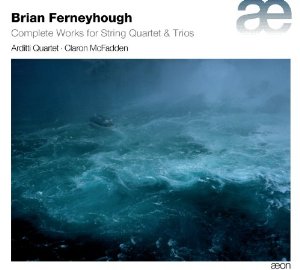 Brian Ferneyhough. Complete Works for String Quartet and Trio. Arditti Quartet. Claron McFadden, soprano. aeon records AECD 1335 (3 CD's).
Around twenty years ago when I first heard the music of British second generation modernist Brian Ferneyhough (b. 1943), I found him nearly unlistenable but also intriguing. I set him aside for a year or so and then returned to find him more listenable and even more intriguing. I offer this as both a warning and an enticement. The Arditti Quartet, premium interpreters of the modernist and post-modernist string quartet literature, admire him enormously and have premiered some of his work.
This music was composed between 1967 and 2010. It is, as with the contents of the Fibonacci Trio CD, music you are unlikely ever to hear in a concert hall, at least in the U.S. At least outside New York City. It is too bold, too unsociable! Is there such a thing as delicious dissonance? If so, this is it. Not in the least sweet or smooth on the pallet. But tasty. Tangy, peaty, complex. To my 75-year-old ears, along with the somewhat more conservative Thomas Adès, Ferneyhough has become (always was?) the premier British modernist. But that won't make him any easier for you if you're where I was twenty years ago.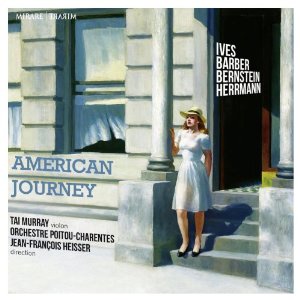 American Journey, Tai Murray, violin. Orchestre Poitou-Charentes, Jean-François Heisser, piano and director. Works of Bernstein, Barber, Gershwin, Ives, Barber, and Herrmann. Mirare Records. (no album number)
I came to this album not to go on an American journey but to listen to brilliant young violinist Tai Murray, whose release of Ysaye's solo violin sonatas two years ago grabbed many of us. But I got fooled because despite top billing she only appears in one work in the program; and on top of that, Murray's (Mirare's?) choice of American works produces a decided uninspired mixed bag.
Leonard Bernstein's Serenade, one of the composer's best and least often heard works, is a fine choice. If I'm remembering right, Hilary Hahn's version feels more 'American,' for whatever that's worth. Murray and her French conductor Heisser for most of the work take a suave European view of it by suppressing its dance rhythms. The quieter passages gain from this and play to Murray's considerable lyric gift. They find the heart of the work in its last movement, unable to keep Bernstein at bay any longer. West Side Story lies deep within the work, as it does in most of the composer's music; but in the Serenade it behaves itself until the final movement. Then we get to experience the powerful artistic tension that define both Bernstein and Gershwin, whose Three Preludes for Piano come later in the program.
Samuel Barber's Adagio for Strings really didn't need to be here. It is the American version of Pachelbel's Canon (I know I've blamed other works for that recently), which as moving as it is on first hearing or so, soon exhausts its possibilities for enchantment. Arguably it's best heard in the composer's Quartet No. 1 where it was born. There is no room for Murray in this orchestral version. I wonder what she'd make of it arranged for solo violin?
And then, for some reason, we get Bernard Herrmann's furious Psycho Suite for Strings. Yes, that Psycho, the film for which Herrmann wrote the score. This is not a part of the American journey anyone needs to go on, but if we do, maybe a subtler analysis of our violence would serve better. The woodwinds in Ives's Unanswered Question at the end of the program, which convert the trumpet, at least temporarily, to dissonance?
Gershwin's Three Preludes for Piano, played inspiringly by if not quite in American style by director/pianist Heisser, save us from Psycho. Musically, this may be the star piece of the album.
The CD ends with Charles Ives' seven-minute Unanswered Question for trumpet (!) and orchestra, which definitely belongs on an American journey—though not one that baits us with Tai Murray and then switches.
A violin piece by Aaron Copland, say his Sonata for Violin and Piano, in lieu of the Herrmann could have turned this album around. Take the Bernstein, Gershwin, and Ives; pitch the rest.
Equipment used for this audition: Resolution Audio Cantata CD player; Audio Note OTO Signature integrated amplifier with E/SPe HE loudspeakers; Crimson 710 preamplifier with Blue Circle BC 1022 and NSP stereo amplifiers and various JM Reynaud loudspeakers. Crimson cabling.
Bob Neill is a former equipment reviewer for Enjoy the Music and Positive Feedback. Since 2004 he has been proprietor of Amherst Audio in western Massachusetts, which sells equipment from Audio Note (UK), Blue Circle (Canada), Crimson (UK), Resolution Audio (US), Jean Marie Reynaud (France), and Tocaro (Germany).