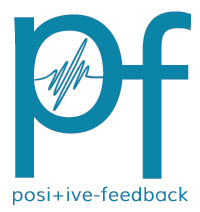 You are reading the older HTML site
Positive Feedback ISSUE 72
march/april 2014
Jeff Rowland Design Continuum S2 Integrated
text and images by Wojciech Pacuła, translation by Andrzej Dziadowiec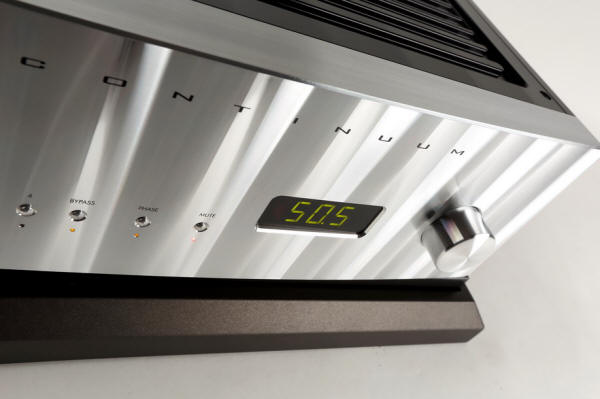 Jeff Rowland Design presented the Continuum S2 integrated amplifier in the third quarter of 2013. It had two predecessors in the form of identical-looking Continuum 500 and Continuum 250, both using the ICE modules from Bang & Olufsen operating in the analog class D (manufactured between 2009 and 2013). The new version also features class-D power stage topology but employs completely different modules so we are in fact dealing with a completely different design. As before, the amplifier can be equipped with a phono stage. A new feature is an optional D/A converter. The relatively small unit is capable of delivering up to 400 Watts into 8 Ohms and 800 Watts into 4 Ohms. The Continuum is not the first Jeff Rowland amplifier to feature this output stage technology, although previous designs used the M3xx ICEpower modules. The preamplifier stage is based on the Capri S2, a new version of Jeff's preamplifier.
Class D is regarded with some suspicion in the high-end audio. It is not without a reason as the technology is still in its infancy and it will definitely take some time before it matures enough to yield predictable results. Although when it has support of people who know their way around both solid state and tube technology and get down to work on it, the effects can be stunning, an example of which was the SPEC RSA V1 amplifier (see also HERE).
Jeff Rowland also seems to believe in the potential of class D. His most expensive amplifiers, the Model M825 and M925, use the Ncore NC1200 power amplifier modules. In the knowledgebase section of the JR website he says:
"Over my career I have designed using a wide variety of technologies. I prefer to believe that my work displays a willingness to explore audio design regardless of class designation. While my basic design goals seem best suited to the solid-state domain, I am not overly concerned about which class of technological platform I work within. You might say I am a proponent of the classless society of audio design taking the best that each has to offer in an attempt to create the finest components possible.
I consider class-D to be highly competitive in the present, and to offer an evolutionary pathway of audio design that may produce even more astonishing results in the future. Again, it is not a matter of class distinction. The application of technology is what is important. It can produce brilliant or poor results depending on its implementation. Strict adherence to a class designation for an audio designer is like asking a painter to reduce the number of colors on his palette.
New components, technologies and design concepts are just pieces of a greater puzzle. It takes years to understand the complex relationship between component parts and the end design. Audio design is an art form that requires a lifetime to master. There are no shortcuts."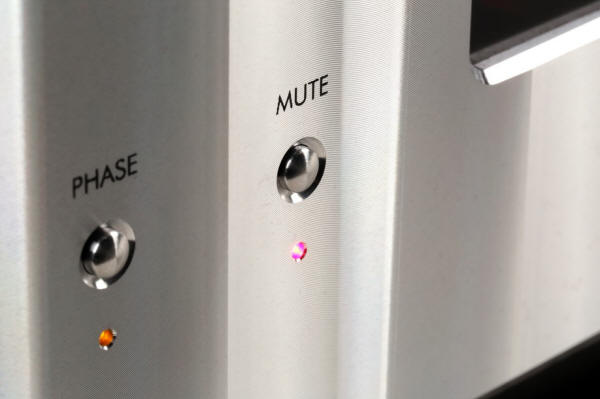 This is not another "something something" statement, which is used by every second company to explain their transition from class-AB (or A) to class-D. Most of them are hard to believe; it seems to be the easiest way to reduce manufacturing costs, adapt to the requirements of environmental protection and to achieve high output power. While many of those designs are acceptable and some are even pretty good, they have nothing in common with the high end. You need people like Shirokazu Yazaki, head of SPEC Corporation—referred to earlier—to understand the latent capabilities of class D and the problems that need to be addressed. With that in mind, Jeff Rowland's explanations appear in a different light and are much more credible.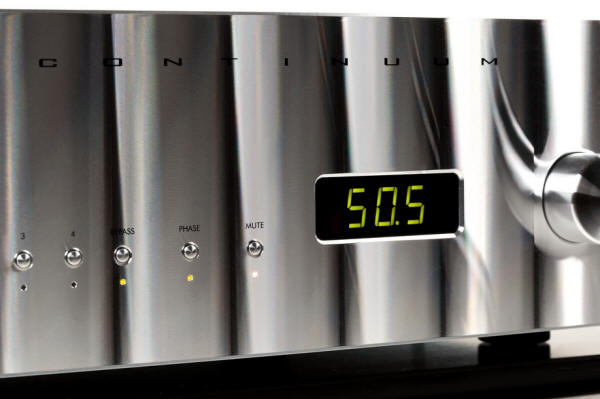 The new Continuum (S2) integrated looks very similar to its predecessor. It is a solid unit housed in an enclosure made of aluminum panels, with a very characteristic thick faceplate from 6061 billet aluminum (aircraft-quality material). Its wavy surface finish had also been used by Enlightened Audio Design, and more recently can be seen in components from Wow Audio Lab. I don't know who manufactures enclosures for the people from Hong Kong, but earlier production for EAD and now for Jeff has been covered by Vertec Tool. This high precision CNC machining shop is located a few blocks away from Rowland's factory in Colorado Springs. The film showing the work on enclosures for the Continuum S2, 825, 525 and the Corus can be see HERE.
The amplifier is equipped with line inputs, but input No. 1 can be turned either to a phono stage input (this amplifier version is 37,000 PLN) or digital input (37,900 PLN). The phono stage offers three gain levels, 40, 50 or 60 dB, and the choice of 47 k, 400 Ω and 100 Ω load. The optional DAC accepts signal up to 24-bit and 192 kHz. The amplifier features a direct-in and pre-out connectors. This versatility made Roy Gregory title his review Jeff Rowland Design Group • Continuum S2 Integrated Amplifier. Four products (and four reviews) in one, (Roy Gregory, The Audio Beat, January 6, 2014, see HERE)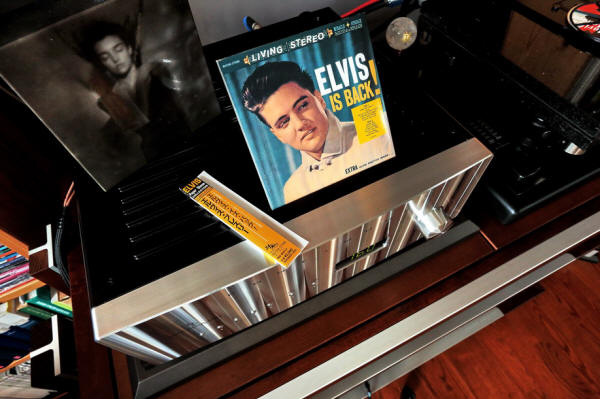 Sound
• A Day at Jazz Spot 'Basie'. Selected by Shoji "Swifty" Sugawara, Stereo Sound Reference Record SSRR6-7, 2 x SACD/CD (2011).
• Arimasa Yuki & Hisatsugu Suzuki, Duet, Una Mas Jazz UNACD-10-01, XRCD24 (2010).
• De Vision, Void, WEA Records 3984-29705-2, CD (1999).
• Ella Fitzgerald, Ella Fitzgerald sings the Cole Porter Song Book, Verve 537 257-2, "Verve Master Edition", 2 x CD (1997).
• Ella Fitzgerald, Joe Pass, Take It Easy, Pablo/JVC JVCXR-0031-2, (1973/1987).
• Elvis Presley, Elvis is Back!, RCA/BMG Japan BVCM-37088, "Living Stereo", CD (1960/2002).
• Kraftwerk, Minimum-Maximum, Kling-Klang Produkt/EMI 3349962, 2 x SACD/CD (2005).
• Marilyn Manson, Personal Jesus, Interscope Records 9864166, SP CD (2004).
• Nat "King" Cole, Night Lights, Capitol Records 319642, CD (2001)
• This Mortal Coil, HD-CD Box SET: It'll End In Tears, Filigree & Shadow, Blood, Dust & Guitars, 4AD [Japan] TMCBOX1, 4 x HDCD, (2011).
The American amplifier has a sleek, compact form factor and distinctive visual design. I really like this combination. Naturally, I have deep respect for huge amplifiers and I use one myself, knowing that it's not possible to obtain certain things from a "small" unit. Jeff Rowland is certainly aware of that as his top power amplifiers, the Model 725, 825 and 925, are massive boxes. However, there is something special about well-designed audio that goes beyond their limits and makes them complete, finished products.
The new Continuum perfectly meets these criteria, not only in terms of its appearance but also its sound. Here, these two aspects go hand-in-hand, targeted at a specific customer.
The model customer would be a well-organized person who is fulfilled both professionally and socially; a minimalist who prefers to buy a single expensive item rather than multiple cheap, low quality goods. His or her personal disc collection would be on the softer and calmer side, including classical music, jazz and electronica; say, the likes of Beethoven quartets, Bach cantatas, duets and trios with drums, double bass and a lead instrument, vocals oriented albums and recordings that came from the hand of Ivo Russell (4AD). Granted, that this way I narrow down the circle of potential customers for the latest Jeff Rowland integrated, but I do that being fully aware of the fact that it's better to do a "targeted" review rather than one that is "for everybody", as "everybody" is often a synonym for "nobody". The Continuum S2 is the kind of amplifier that should find its way to the home systems of as many music lovers as possible.
Its sound has been clearly shaped and has its strengths and limitations. It's not that I want to associate this amplifier with a certain kind of music and claim that it's not suitable for anything else, for that would be a misunderstanding. However, certain design choices and the resulting sonic envelope clearly favors certain aspects over others.
It's a warm and smooth sound that is so characteristic of products from this manufacturer to warrant calling it, with some reservations, "trademark Jeff Rowland's". At the same time, however, we get a beautiful and very deep soundstage. The warmer the audio components' sound, the more they emphasize the foreground and pull up the background. This often has an amazing effect. For example, that's how the JBL 4429 monitor creates its large sonic volume and saturated phantom images, showing their perceptible bodies to create a palpable sound. The Continuum S2 does something more. Albums like This Mortail Coil's Blood, Kraftwerk's Minimum-Maximum or the ultra-purist production from the Japanese duo Arimasa Yuki and Hisatsugu Suzuki (Duet) turn into a real music event to the extent that we accept them "on faith", without asking questions about their other sonic aspects. It's a holistic, holographic presentation where each dimension is just as important, and in which they all together form something more than just a left-right and forward-backward perspective.
And yet, in the context of this presentation it's difficult to talk about distinctive sources or high selectivity, or even clear focusing of attention on particular events. In this respect, the sound is reminiscent of that of digital sources from emm Labs, like the XDS1 V2 SACD player reviewed last month in High Fidelity. In spite of that, I was never missing any clear-cut edges and their definition in space, as long as I remained within the above circle of albums.
The Continuum S2's presentation is coherent, as if everything in it was "geared up". No makeshift whatsoever. This gives the impression of a fast and precise sound with lots of oomph, even somewhat "raw" and austere. A long term product audition is more important for me than a short listen. In this respect, the Rowland amp proves excellent and perhaps even dangerous, because it's addictive.
Its great strength is the depth of sound and soundstage. The recordings that are not aggressive, those built on internal tension, comfortable with silence and pause, and simply refined, will sound as if listened to for the first time. The amplifier offers a colorful dense sound that rivets the listener to the chair/couch/seat. Not with excess information but rather with its proper order. I can't imagine a system in which it might be somehow offensive. Even if the vocals are recorded with slightly more sibilance, as it's true for Ella Fitzgerald and This Mortail Coil vocals but also for Marilyn Manson singing the cover of Depeche Mode Personal Jesus, it will not pose any problem. Treble will be shown with more energy, but without any "clicking" artifacts.
The reason for that is that it's rounded and smooth. Actually, this concerns the whole frequency range. No matter which sub-range we pick, we will see that the sound attack is subdued rather than sharp. I am convinced that this is the basic characteristic of this sound, which was used as a base to "set" other sonic aspects.
High power = punch, energy and even aggression. This is often true and that's the sound of amplifiers used on stage. However, the American amplifier confirms what I heard with the best amplifier designs where high power = ample reserves and calm. It's like driving a 300 hp car (say, Audi A5) in the city. The point is not about taking it up to high speed, even though it's part of the whole "package". What is more important is that there are no surprises when it comes to accelerating or braking suddenly, and the car won't even notice that. We operate in a wide safety margin, rather than "touch-and-go".
This is the basic and probably only advantage of high-powered audio amplifiers. Others are secondary, like the ability to produce a high volume of sound, and while important they are not really necessary. The calm in the sound of Mr. Rowland's amplifier results directly from the fact that it doesn't need to wrestle with anything, operating in a comfortable zone and far from any limitations. Bass extension is very deep. Power and low bass are not synonymous, and it is my impression that one has actually nothing to do with the other. Even small tube amplifiers can sound perfectly satisfactory in this respect, given some prerequisites are met. Here, however, they go hand in hand - perhaps due to the fact that the power output is doubled at half the impedance, and the amplifier behaves like an ideal voltage source (at least for 4 Ohm and 8 Ohm loads; lower impedance is a problem for class-D amplifiers). The bass is colorful rather than contoured. It has a great focus but seems rather soft due to rounding off the attack. It is slightly stronger around 150Hz, which emphasizes double bass's strings rather than its body, but this has no further consequences. The upper midrange appears a little calmed down, which translates into quieting of micro-dynamics. On the macro level, its ample power output makes the amplifier handle both large orchestral compositions and Marilyn Manson with equal ease. Neither will bring out the best the speaker has to offer, though. They will end up smoothed and sweetened, which won't be that great in their case. That illustrates one of this design's limitations. As I wrote in the beginning, it is small ensembles and not overly aggressive music that seem almost destined for the Continuum S2. Pair it with some good speakers, e.g. the Raidho D1 that I reviewed for "High Fidelity", and the result will be really good. Or try out the JBL 4429 monitors mentioned above and you'll be dying with excitement and joy.
Conclusion
'Nuff said. If the above is up your alley this amp could last you forever.
Design
A small amplifier size doesn't necessarily mean light weight. I know it from everyday experience, when I move around my Leben CS300XS [Custom Version]. The Continuum S2 integrated from Jeff Rowland is another perfect example. It is really very heavy and the weight is concentrated in a small area. Taking it in hand, so to speak, confirms the impression that this is a solid piece of audio equipment.
Its enclosure is made of aluminum panels. The faceplate has the traditional Jeff Rowland wavy pattern finish while other sides are black anodized. The front is not crowded which makes for a very tidy look. It features a large green LED display that shows the volume level and a volume control knob to the right. The left side is populated by a row of small buttons with micro-LEDs below. The first four are to select the active input, the fifth one selects the "Bypass" input to connect an external audio processor (e.g. a home theater receiver), the sixth one inverts absolute signal phase and the seventh button activates the mute mode. Except for the latter one that is red, all other LEDs are amber.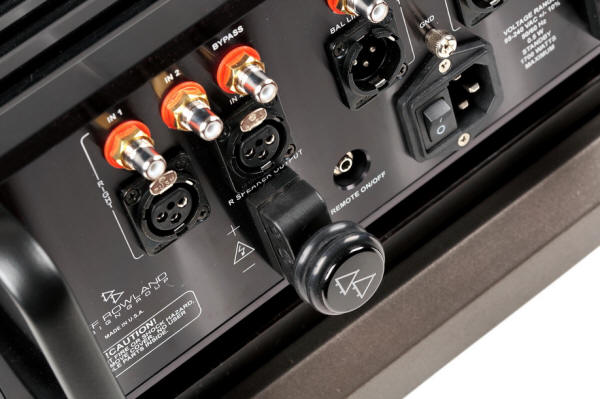 The rear panel looks just as professional. The first three inputs are unbalanced RCA connectors from Cardas, with rhodium plated contacts. The next two are silver plated balanced XLRs from Neutrik. The same pairs of connectors are used for the balanced and unbalanced preamplifier outputs. Speaker binding posts accept spade connectors only but that's understandable as they are superb Cardas terminals providing uniform contact pressure for both spades. Between them is an IEC socket with a mechanical switch and an adjacent mini-jack socket for 12V remote on/off control trigger for power switching.
Electronic circuits are assembled "upside down", which is typical for Rowland. In this case, however, the enclosure is not machined from a single aluminum billet, with milled out chambers for separate PCBs but is assembled from metal panels instead. The PCBs are mounted to an aluminum chassis across the width of the enclosure. The most important is a large PCB housing a complete stereo amplifier. It is the M-PRO2 module manufactured by Pascal A/S. Delivering a staggering 800 Watts into 4 Ohms in stereo mode, this is actually the lowest-power amplifier module from this manufacturer! The top X-PRO3 is capable of 2500 Watts for the subwoofer and, simultaneously, two times 800 Watts into 4 Ohms. Interestingly, the amplifier modules can be bridged and the M-PRO2 can deliver up to 1400 Watts at 8 Ohm in BTL (bridge tied load) mono configuration. The Continuum doesn't make use of that feature, though. The modules employ Pascal's proprietary UMAC class-D technology with full bandwidth PWM modulator. Adjacent to the main amplifier PCB is a supplementary switch mode power supply board. The amplifier module has its own integrated switch mode power supply with Pascal's UREC technology.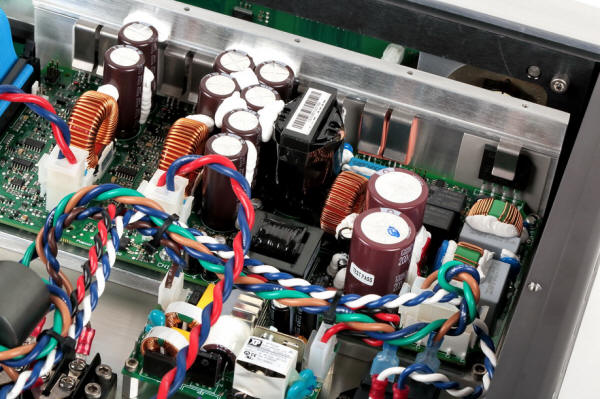 The connectors are soldered directly to a separate board that is mounted to the rear panel. The inputs are selected via relays. All signal inputs are coupled via Lundahl audio transformers for voltage step-down and signal isolation. A phono stage or DAC boards are mounted to the input PCB. The boards are connected through push-in PCB terminal blocks. The volume control circuit uses an integrated resistor network.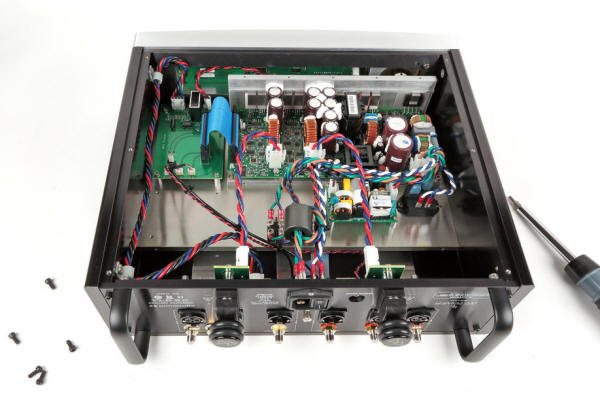 The remote control unit is not worth a mention. It is so ugly and in such stark contrast to the amplifier elegant and refined looks that if you accidentally step on and break it, it may actually bring a smile of satisfaction to your face. Of course, it'll only last until you need to get up to adjust the volume level or channel balance, or to turn off the display. The latter two can only be done via the remote control. If it's not one thing it's another…
Technical Specifications (according to the manufacturer)
• RMS Continuous Output Power: 400 W / 8 Ω | 800 W / 4 Ω (both channels driven)
• Frequency Response: 5 Hz - 70 kHz (-3 dB / 8 Ω)
• THD + Noise: 0.05% (20 Hz - 20 kHz)
• Inputs: 2 x Balanced XLR | 2 x Unbalanced RCA | 1 x Unity Gain (Bypass) RCA
• Outputs: 1 x Balanced XLR | 1 x Unbalanced RCA
• DAC Board: optional
• RIAA Phono Board: optional
• Weight: 15.9 kg (35 lbs)
• Dimensions (HxWxD): 135 mm x 394 mm x 380 mm (5.3 in x 15.5 in x 15.0 in)
Price (in Poland): 35,900 PLN
Jeff Rowland Design Group
2911 N. Prospect St.
Colorado Springs, CO 80907-6326
(719) 473-1181 | USA
www.jeffrowlandgroup.com