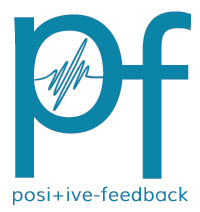 You are reading the older HTML site
Positive Feedback ISSUE 71
january/february 2014
CES and T.H.E Show Las Vegas 2014 - Part 1
by Steve Lefkowicz
CES and THE Show in Las Vegas this year seemed very different than past years. First, there certainly seemed to be fewer exhibitors this year at both venues. Second, for the first day and a half or so, the halls were empty. I suppose over two thousand cancelled flights around the US had something to so with that. I spoke to several exhibitors whose equipment, literature, exhibit partners or some combination of those things were absent or missing.
Then there was, especially at CES over at the Venetian, a sense of malaise, a lack of enthusiasm, and too many exhibitors who simply didn't seem to want to be there. Things were more upbeat over at T.H.E Show (in the Flamingo) but some of that was a "well, no one's here, so let's make the best of it…" attitude. What was worse was how the majority of exhibitors either couldn't or wouldn't play any of the music I brought. I had a USB flash drive, with a sampling of 16/44, 24/96 and a few DSD files. I wasn't asking for much time, two or three minutes, which shouldn't have been much of an issue since I was usually the only visitor to the room. Of course rooms that were playing or focused on LP and analog playback were exempt, as I chose not to bring any LPs with me this time. I was just surprised that so few rooms were set up to play from USB drives.
That seriously took a lot of the fun out of being there for me. I look forward to my Las Vegas trip all year long (odd, since I drink very little and don't gamble at all), and usually once I get in the flow of hopping from room to room, seeing old friends, making new ones, hearing good sounds and even bad music, I love it. This year it was work. Fortunately, there were enough good sounds, cool new equipment and good people there to make it, in the end, another good trip. I'm already looking forward to T.H.E Show Newport!
I am going to do this report a little differently this time around. I didn't get to all the exhibitors, and skipped many of the really high priced displays. I'm sure by now the other PF correspondents have submitted their write-ups covering gear for the Magico, YG and Wilson crowd. However, I'm going to get a little personal, and for the first time, pick out certain room in different categories that really connected with me at one level or another. The categories might not make sense to you, but this is my personal journey. Exhibitors in each category will be listed alphabetically, not necessarily in order of preference. And just because someone gets listed without being in a category, it doesn't mean I didn't like their gear, it just means I didn't put it in a category.
As always, I feel the need to point out that when it comes to the sound at shows, I am fairly understanding and forgiving of overall sound quality, if it appears to be room or setup related. I've learned over the years to listen for potential, not just the current setup. I've been an exhibitor at shows (in another industry) where we had 48 hours to set up equipment that normally took a week to dial in, and we would get nitpicked to death by attendees who quite honestly, I knew would never set up our gear as well as we had it running no matter how long they had it. However, I have little tolerance for exhibitors that badmouth their competitors or spend time pointing out problems in other companies' gear rather than explaining their own.
So with that in mind, let's get started.
Category 1 – Most impressive gear that wasn't outrageously priced.
All the systems in this category sounded exceptionally good, and all sounded better than several much more expensive suites. Sure some fit my personal taste better than others, but everything in this category played music and did all the audiophile stuff remarkably well.
Angel City Audio, Melody Valve HiFi, MG Audio
Angel City Audio, long time distributor of Melody tube electronics, and manufacturer of their own Trinity speaker system ($2599/pair) were again demonstrating their wares. Powered by the Melody PM845 amps ($8499/pair) and Melody Pure Black 101 preamp ($4999) and connected with MG Audio cables, this room excelled in fun factor and tunefulness.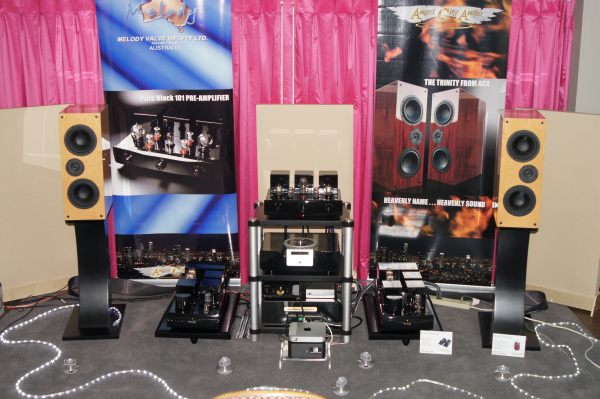 Audeze
Okay, $1800 headphones might not seem like something that can be called "not outrageously priced," but try to find this quality of sound in a speaker system for this price. Good headphones can offer a sound quality per dollar value that no speaker system can approach. Absolute state-of-the-art.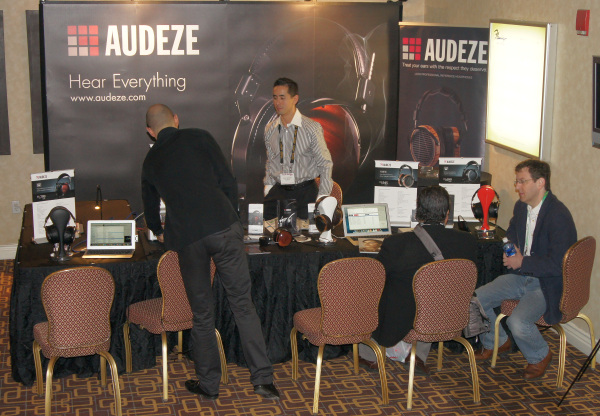 Here is the LCDX ($1795), the best closed-headphones I've ever tried. Stunning sound here driven by the ALO Studio Six amplifier ($4100).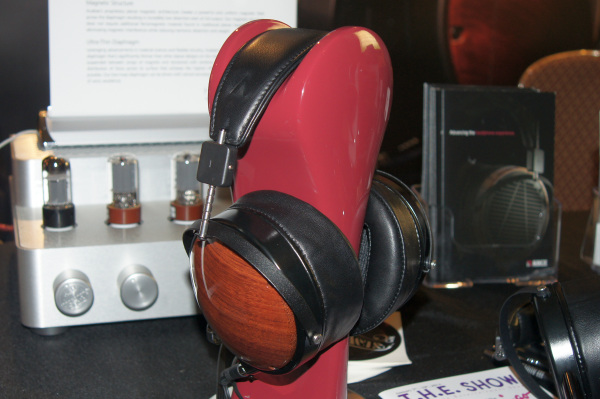 Audio Skies, Larsen Speakers, Pear Audio
Audio Skies was showing off the brands that they import, and getting just great sound from the Larsen 8 speaker system ($6999) and the Tom Fletcher designed Pear Audio Blue Kid Thomas turntable ($5995), Cornet 2 tonearm ($2195), Tracer cartridge ($995) and Externa Power supply ($1995) being driven by a little over $20,000 of GamuT electronics. Even with the fairly high overall system price, they are in this category because of the Larson 8 speakers, which received a rave review in issue 70 and a Writer's Choice Award. In spite of a fairly small room, the speakers exhibited the huge, spacious soundstage that their design claims. Thoroughly entertaining.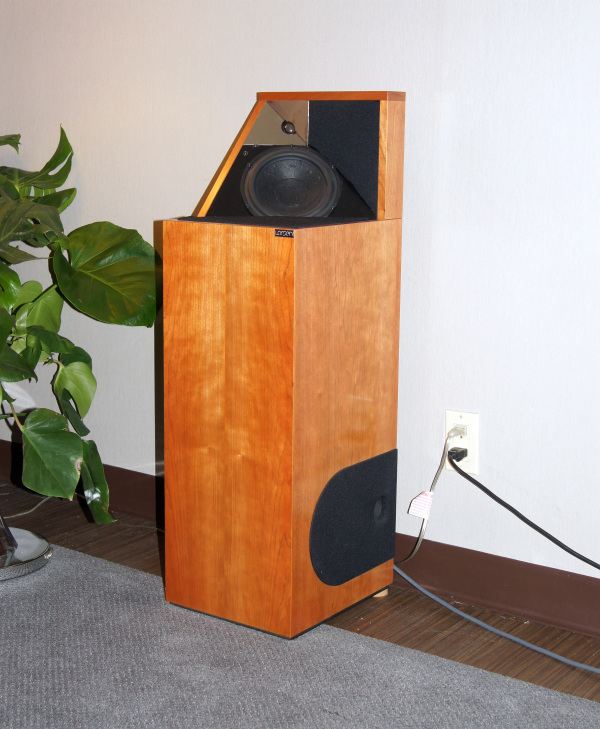 Avatar Acoustics, Abbington Music Research, Rosso Fiorentino, Clarity Cable
Though the Rosso Fiorentino Volterra speakers were $12,995, the whole system using AMR CD-777 SE CD Player and AM-777 Integrated Amp ($4995 each) and a selection of not outrageously priced Clarity Cable still overall fits in this category. And it sounded wonderful. Not at all an in-your-face, hyper-detailed type of sound, but rather the super-musical-sit-and-enjoy type of sound. Had to pull myself away from this room.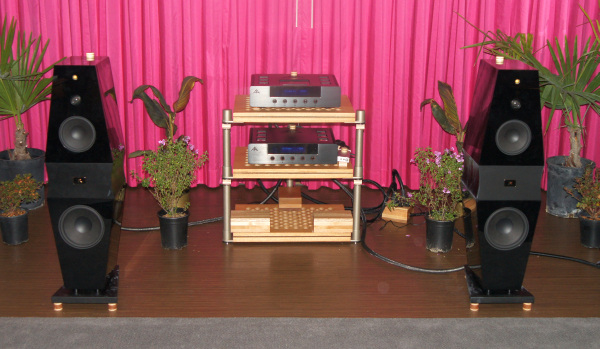 Colleen Cardas Imports, Opera Speakers, Unison Research
Since CCI started importing Opera speakers and Unison Research electronics (along with other brands, too) a few years ago, they have consistently exhibited some of the nicest sounding rooms at every show I've been to. This year they outdid themselves. The system was comprised of the long established CDE CD player ($4495, plus $225 for dual mono DAC option) as a front end, the new Unison Research Triode 25 Integrated Amp (22wpc, two EL34 tubes per side, $3495) and the Opera Quinta SE speakers ($6995) which has upgraded drivers and a ported, rather than sealed cabinet, as compared to the standard Quinta model. This was one of just a handful of rooms that just seemed to get everything right. Only thing I had wished was that I had spent more time there listening.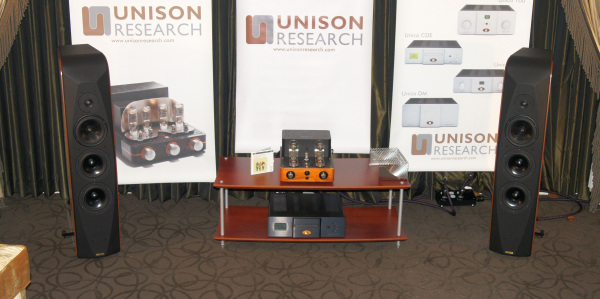 Chapman Audio System
Chapman, who have had excellent sound in the past few shows with their upscale T-8 speaker system, made things more interesting for us budget minded audiophiles with the introduction of the smaller T-5 speaker system ($4995/pair). Still a floor-standing transmission line design with bass response (claimed) below 30Hz, the three-way T-5 just looks like a smaller version of Chapman's other speakers. Paired up with a pair of Quicksilver Mono 88 amplifiers ($4495/pair) and DH Labs cables, these sounded big, bold, detailed, and they rocked.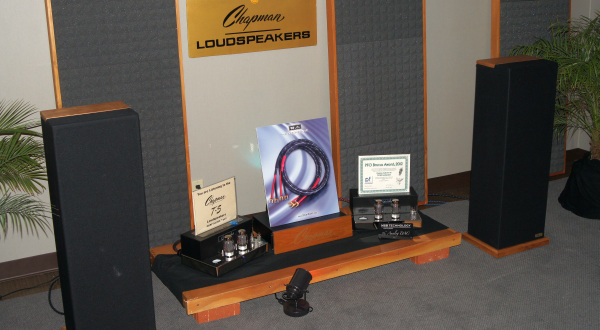 Goldenear Technology
Sometimes audiophiles can't stand a bargain. Without an outrageously high price, some people just can't take a product seriously. In this case, they would be missing out. Goldenear Technology's flagship system, the Triton One ($5000), simply makes you wonder about the pricing of a lot high-end gear. Yes, I did hear other rooms with speakers five and even ten times this price, that didn't sound as good. Using decidedly high-end and expensive Pass Labs amplifiers to drive the Triton Ones, these did just about everything exceptionally well.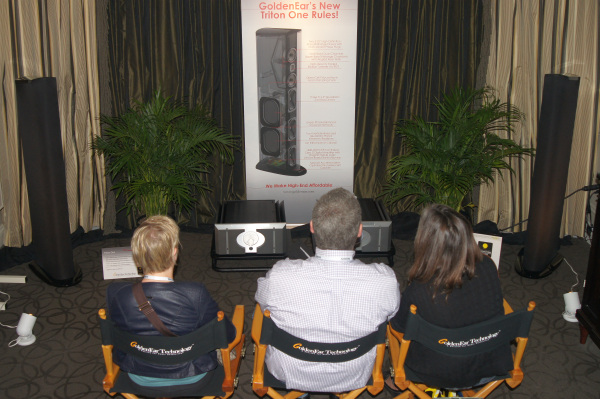 Here is Goldenear's complete Triton lineup, left to right; Triton One ($5000/pr), Triton Two ($2998/pr), Triton Three ($1998/pr), Triton Seven ($1398/pr). I am still hoping to review a pair of Goldenear Triton Sevens this year.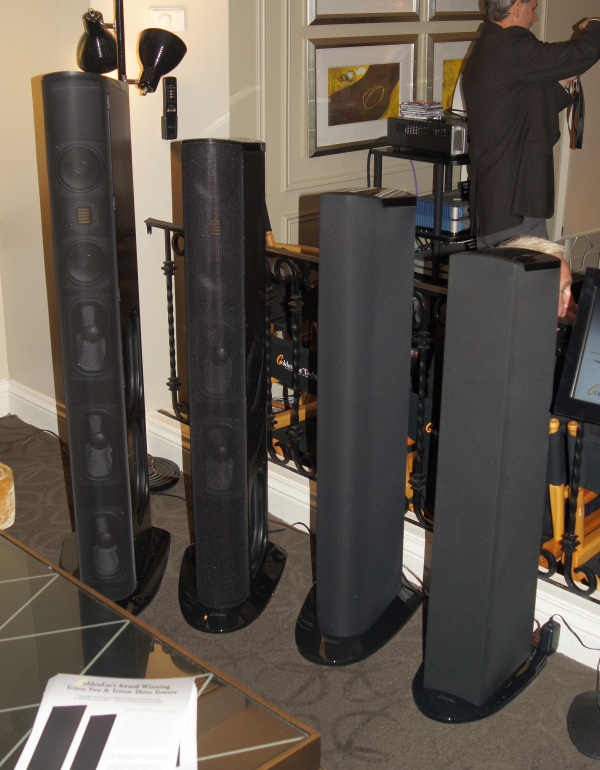 King Sound - headphones
Here is another example of just how much good headphones are ahead of the game in price/performance compared to speaker systems. The Kingsound H-3 ESL electrostatic headphone, driven by its dedicated M-20 tube amplifier ($2150 for the set) was amazing, and extremely comfortable too. For just $1250 you can get the headphones with the M-10 solid-state amplifier. Though still very good, the M-20 amp seemed worth the extra $900.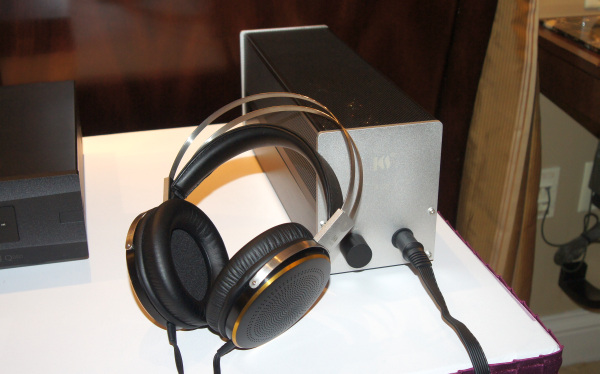 Lampizator Audio, Theorem Imaging Science
Even the lower priced of the two systems exhibited by Lampizator Audio and Theorem Imaging Science stretched the limits of what "not outrageously priced" means, what with Mosaic Lumen speakers ($11,500), the Lampizator Level 7 DAC ($9495) or Lampizator Transport ($2595). But then, they powered the system with nicely affordable Musical Design T-100 Elite Amplifier ($2695) and Chameleon Elite Preamp ($2995). The sound justified the price, and I think I understand why the Lampaizator DACs have received so much positive commentary online. They had a much more expensive system in the next room, using Lampizator tube amplifiers and an $18,000 power line conditioner, but this lower priced system really sounded sweet, yet detailed and powerful. I think we'll be hearing a lot more from both Lampizator and the Mosaic speaker line.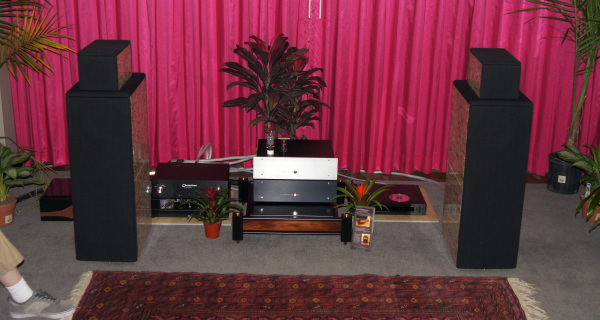 Prana Fidelity, Atma-Sphere, Kuzma, Aesthetix, Furutech
I heard Prana Fidelity's largish stand mounted speaker last year and was very impressed. This year they showed their larger, floor standing Vayu/fs speakers system ($6950) driven by the ever-beautiful sounding Atma-Sphere M-60 MK3.2 OTL amplifiers and MA3 preamp. Even playing some of the goofiest (in an intentionally humorous way) music I heard at the show, this system stood out for its full range, totally coherent and highly musical sound. If you've ever met either Steven Norber of Prana Fidelity or Ralph Kartsen of Atma-Sphere, the extremely high quality of the sound and the light-hearted atmosphere of their presentation would make perfectly good sense. Loved this room.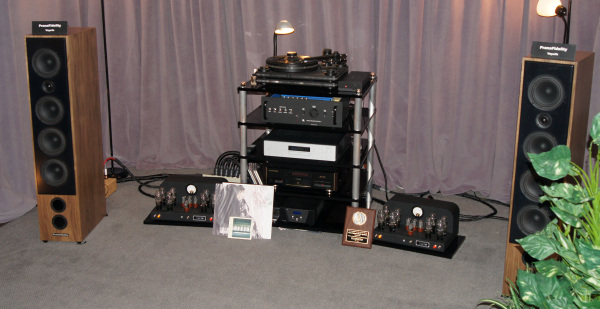 PTE (Precision Transducer Engineering), WyWires
Once again PTW was showing their large, stand-mounted, powered (internally tri-amped) speaker, but this year it was the new upgraded Phoenix SG ($9500). The $3800 premium over the standard Phoenix gets you several significant upgrades; thought he most outwardly noticeable is the new beautiful cabinet with full hardwood baffle. Being seventy-five pounds and over two feet tall, this is hardly your typical stand-mount. Nor is the sound typical of smaller stand-mount speakers, being hugely dynamic and truly full range. If only audiophiles would understand the anxiety free nature of powered speakers. And, even though they use no speaker cables, the cables that were used (interconnects, power cords, etc.) were from WyWires, a name I've come to associate with many of the better sounding rooms I've heard at shows over the past few years.