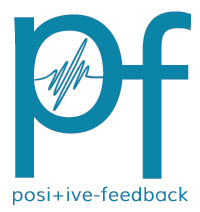 You are reading the older HTML site
Positive Feedback ISSUE 7
june/july 2003
Rachel Podger, Vivaldi's Opus 4, La Stravaganza, CD and Hybrid SACD
Channel Classics
by Bob Neill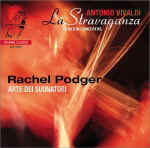 I have been a Rachel Podger fan since I first heard her early music quartet, the Palladian Ensemble, on Linn Records. I love the energy and conspicuous enthusiasm she brings to everything she plays and I love her face. (I am not sufficiently self-aware to know how much the latter figures in my affection for her playing.) Among contemporary early music specialists on the violin – her British colleagues Monica Huggett, Simon Standage, Elizabeth Walfisch, and Micaela Comberti (Podger's late teacher); and such other personal favorites as Sigiswald Kuijken, Fabio Biondi, Giuliano Carmignola, Daniel Stepner, Linda Quan, and Benjamin Schmid—Rachel more than holds her own but does not stand out for her especial virtuosity. Musically, however, she often strikes me as among the most infectious, sympathetic, and knowing interpreters of whatever composer she is representing.
She and cellist Pieter Wispelway, by choosing to record for Jared Sacks' small but musically astute recording company, seem to have been able to pretty much call the shots on repertoire, and neither has let us down yet. Personally, I think the future of classical music recording lies in the hands of small labels like Channel Classics. I am grateful to Big Boys Deutsche Gramophone for their 20/21 series of contemporary music and Boulez' Mahler; to EMI for Andnes, Bostridge, and Rostropovich; to Philips for Mitsuko Uchida; and to Warner for keeping Les Ars Florissants alive on ERATO and the Ligeti series flourishing on Teldec, despite dumping the solid Ton Koopman Bach cantata series. (It's back, by the way, on a new small label, of course. More on that soon.) But when I look at my record shelf these days I am not surprised to see an increasing preponderance of recordings from, Channel Classics, Opus 111, Hyperion, Chandos, Harmonia Mundi, Montaigne, Arcana, Signum, CPO, ASV, Bis, Astree, Alia Vox, ECM, Bridge, and most recently, Artisled and Albany. They are not always where the biggest names are, but they are frequently where the most interesting music is, and it is invariably well performed.
At Channel Classics, Podger's vehicle for ensemble recordings (she has done wonderful solo Bach and Telemann CD's) has been Florigellum, an early music ensemble she founded. (She, Wispelway, and Florigellum have made my favorite recording of the Haydn cello concertos.) On this record, she plays with Arte dei Suanatori, a Polish early music group that plays in the style of today's most robust Italian ensembles, setting their performance in direct and illuminating contrast to the obvious competition on this work, Monica Huggett with Christopher Hogwood and the Academy of Ancient Music (Decca's L'Oiseau Lyre). Huggett and Hogwood offer a considerably lighter and more refined British interpretation, which to be fair, was pretty much the convention when their recording was made, 1987. Their pace is deliberate. Huggett's approach is straightforward and what I consider middle-of-the-road in tone, smoother and slightly less lean than Standage, both of whom are smoother and less astringent than Manze, the two Brits with whom she is most often compared. (For perspective, Biondi is sweeter than either.) As a package, the Huggett and Hogwood presentation is attractive, energetic, and well-balanced, but not especially exciting or engaging. Theirs is the kind of performance that doubtless encouraged the Italians (most notably Il Gardino Armonico) and others, like Suanatori, to reclaim Vivaldi for themselves.
The Podger/Suanatori ensemble strikes us immediately as bolder and Podger herself as both warmer and more adventurous than Huggett. Within moments, we get the impression that these musicians like Opus 4 more than the Academy does—or at least are more willing to show it. They dig into their instruments and give us a more earthy interpretation of the music, as has become the fashion with Vivaldi especially. The sound of this recording is terrific, as I have been led to expect from a Jared Sacks recording—the double bass is a real player! Podger is more in evidence as soloist than Huggett and by really going after the music finds much more in it to enjoy and share. As I say, her fellow string players seem to pick up her approach (she is a leader/conductor in this set) and answer with more rich and eloquent playing than the Brits. Some of their ensemble playing is truly ravishing. This is among the most persuasive demonstrations I've heard that until lately we have got Vivaldi all wrong.
SACD?
I am not surprised that Jared Sacks chose this recording to offer on (hybrid) SACD. He is among the few who have decided to take this new format seriously. As an absolute newcomer to SACD, I am grateful to US importer Harmonia Mundi for making it available to me in both CD and SACD formats, so I could find out whether SACD truly offers something necessary to music lovers as well as sound buffs. (They have also sent me several more CC pairs as well as some Alia Vox pairs. Stay tuned.)
So what did I hear? Well, my first impression was that Rachel's delivery is a bit smoother—and that there seems to be a bit more ambience, space, air—that combination of effects which makes recorded music sound a bit more 'live.' The double bass who is clear on the CD is even more so on the SACD—attacks on both cellos and the bass seemed clearer and a bit more incisive. The ensemble of strings is more tasty. Is the difference dramatic? Depends on what kind of listener you are, I expect. And how long you listen. Moving from excellent to more excellent can be a subtle experience: you are going with the grain, so to speak. It not strike me as dramatic to begin with, but after a few back and forths, it became inescapable. Did I come to prefer the SACD version? Yes. I was not eager to go back to the CD versions after a few hearings. I don't know what that means yet. I have a sweet tooth but not a very sweet tooth. So while I like smoother I'm not easily seduced by false sweetness, for long. And again, it isn't just sweeter and smoother It's also a bit clearer and a bit more 'live.'
The real test of whether something is truly better is when you turn back to what is allegedly inferior: when you go against the grain. Going back to the CD, I wasn't disappointed, but it did seem different. Pressed to itemize, I'd say it sounded a bit less fine-grained, three-dimensional, and sorted out. And bass clarity was down a bit. For a while, it was more like to two different recordings than a significantly better and significantly inferior one. I found that while there was a bit more of everything good with the SACD, while listening to the CD, I did not necessarily feel anything was missing.
Did the difference become clearer the more I compared? Yes, which is why I grew reluctant to go back. As I became more attuned to the SACD's presentation, I noticed that there was more of a glow about the string ensemble: the SACD affirmed the music more. The difference grew to feel like the presence of virtues with the SACD contrasted with the absence of defects with CD. That is, the CD did nothing wrong. It was an excellent recording. I could easily live with it. While listening to the CD, I did not pine for the SACD. But when the SACD was playing, yes, I heard more and liked it better.
Was there anything I didn't like about the SACD—or any area where I preferred the CD? No. In other words, contrary to what some have said, the virtues of the SACD did not strike me in any way as artificial, as the result of ingenious processing. The longer I listened to it, the more I was persuaded that the difference I was hearing was more, not altered, reality. I am eager to listen to more SACD's to see if I can become a bit clearer to myself and more articulate to you all about what I'm hearing.
I used the Audience modified Sony DVP-NS 999ES for the CD/SACD comparisons, with Audience Au 24 interconnects and speaker cable. Electronics were Blue Circle AG3000/8000. Speakers were Jean Marie Reynaud Concordes.
Still to come:
Britten, Cello Suites, Pieter Wispelway, Channel Classics CD and hybrid SACD.
Rameau, Pieces de Clavecin en Concert, Podger/Pinnock/Munsen, Channel Classics CD and hybrid SACD.
Couperin, Pieces de Viole, Mieneke van der Veldon, Channel Classics CD and hybrid SACD.
Lully, L'orchestre du Roi Soleil, Jordi Savall et al, Alia Vox CD and hybrid SACD.
Carlos V, Jordi Savall et al, Alia Vox CD and hybrid SACD.
La Folia, Jordi Savall, et al, Alia Vox, CD and hybrid SACD.