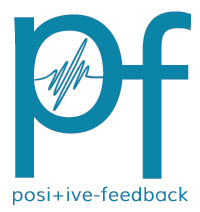 You are reading the older HTML site
Positive Feedback ISSUE 7
june/july 2003
LP vs. CD, listening to recent releases
by Tom Campbell
It's a conspiracy. Don't believe for a second it's not. If you're a dedicated vinyl fan, you can't complain too much these days. Classic Records, Sundazed, newcomer label 4 Men With Beards, and others continue to churn out (mostly) high quality reissues of a catholic variety of music. Numerous European labels do the same, and those are readily available from domestic online merchants. Rhino has just begun a reissue campaign of classic 70s rock titles. Best of all, there is a notably increasing amount of new music available on vinyl, from the majors and from industrious indies.
LPs have proven themselves to occupy a valuable niche, albeit a small one. The vinyl contingent is a loyal and consistent lot—true music nuts, and analog diehards to the end. We're not going to pass up an LP version of a favorite artist's new album, and here's where the conspiracy kicks in. Because the labels have a tendency to not release the vinyl edition of a new title until after the CD has been out for a few weeks (or months, or in some cases a few years—Ryan Adams' Gold, anyone?). In other words, there is a concerted effort to make us buy the LP when we've already got the CD. I regret to say it's a ruse that works all too well. In the last couple of years, I have bought twin editions of new music from Dylan, Tom Waits, the Flaming Lips, and more others than I care to mention. I'm a sucker.
I could bemoan my suckerhood to no productive avail, but I've decided to perform a public service to Positive Feedback readers by comparing the vinyl and digital editions of recent releases from Lucinda Williams, the White Stripes, and Ry Cooder/Manuel Galbān. If you've already grabbed one or the other (or all) on aluminum disc, should you lay out for the vinyl "upgrade?" Read on.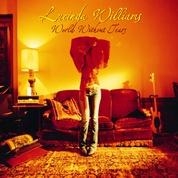 Lucinda Williams, World Without Tears
The LP version of World Without Tears was actually supposed to come out a couple of weeks before the CD, with bonus tracks to boot. It didn't work out that way. The (excellent) extra tracks still reside on side 4, but pressing problems resulted in the vinyl edition coming out several weeks after the CD. Delay notwithstanding, the folks at Lost Highway/Universal really got this one right. This is an exemplary pressing: perfectly flat, perfectly quiet, and beautifully mastered. (The day I bought this, I also bought another Lost Highway LP, the Jayhawks' Rainy Day Music, and that is similarly flaw-free and superb-sounding.) Of the three records under review here, this is the one you need to own on vinyl, though the White Stripes runs a close second. Only on vinyl does this record really come alive, and sound the way it was meant to.
For World Without Tears, Williams employed a live-on-the-floor production ethic that not only had the musicians playing together—a relative rarity on major label rock recordings—but playing without the isolation/separation that producers use to keep the sound of each instrument from bleeding into the other musicians' microphones. The record therefore has less separation between instruments and much more "room" sound than typical. It's the wettest acoustic I've heard on a rock record in quite a while. On CD, the result is not particularly pleasant. It's not terrible sounding, but the disc suffers from digititis: it's two-dimensional, compressed, bright. The natural reverberation places a murk over the sound, which is diffuse and distant.
The LP makes sense of Williams' production process, and the difference is night and day. The LP breathes. The instruments and room acoustic sound natural, dynamic, warm, not filtered through an electronic medium (though of course they are). On vinyl, these recordings sound like a group of musicians playing live in a reverberant but relatively small space, controlling their volume to achieve a natural balance, playing off each other in a way that is not possible when most of the band overdubs on a pre-recorded rhythm track. The LP passes the bullshit detector with flying colors. While I still haven't gotten through the CD's 59 minutes without shutting it off, I've happily spun all four sides of the vinyl record (including the bonus tracks) over and over without fatigue.
As for artistic merit, it's likely that no comment is necessary. If you're a Lucinda fan, you've already got this record. The fact that this is the first Lucinda Williams album that seems like just another Lucinda Williams album is almost beside the point. She may be traversing familiar lyrical territory (and in a couple of cases, familiar melodies), but this woman has never made music that is not smart, sexy, and soulful. By all means, though, go for the vinyl. It's the only way to hear this music properly.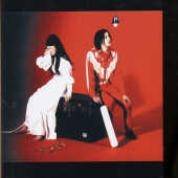 The White Stripes, Elephant
This is the "it" record of the first half of 2003, and my natural apprehension colored my initial impression. At first I thought the White Stripes were just another of the over-hyped, overrated retro rock bands, a la the Strokes, the Vines, etc., but I was wrong. These two are like no one else. Something in this quirky music taps into a powerful vein; I wake up in the morning with these tunes in my head. I have now been entirely won over by Elephant's marriage of old-fashioned rock'n'roll virtues with the unique sensibilities and stylings of Jack White and Meg White.
The CD's fourteen cuts have been spread over two LPs (one white and one red, in keeping with the band's sartorial obsession with these colors) and I'll bet you can guess what I'm going to say next: the vinyl sounds a lot better. It's way more open and impactful. It rocks. The Elephant LP may not be quite as essential as World Without Tears, as the CD version does not inhibit enjoyment of the music, but if you've got a decent analog rig, the choice should be a no-brainer. In fact, if you're a rock fan, this is one of the records that should make you want to go out and buy an analog rig. Recorded mostly live, on pre-1963 equipment, vinyl is the artistically, ethically, and politically correct thing to do for this one.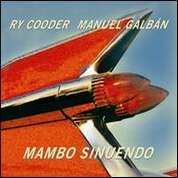 Ry Cooder/Manuel Galbān, Mambo Sinuendo
This LP was released a few months after the CD, seemingly as an afterthought. This one is a toss-up. The CD and LP don't sound exactly the same, but each exhibits the qualities of its respective format to good effect. The CD is a little more solid in the bass and a bit more sharply detailed, without being bright. Unlike most CDs, it has real depth and three-dimensionality. And of course, it's perfectly pitch-stable. It's an exceptionally well-mastered disc, and strikes me as one of the rare CDs for which pains were taken to make it sound as good as possible.
The LP is superior in the expected ways. The tone of Galbān's guitar is richer, the decay of his omnipresent reverb more natural. The CD is nicely spacious and dynamic, but the LP is more so. However, while pressing quality is quite good, it's not as good as on the Williams and White Stripes LPs. The vinyl seems a little cheaper, the grooves not as deep. There is also a small but noticeable amount of wow on my copy. This slight speed variation may bother those particularly sensitive to pitch, as sustained notes are sometimes just a bit unsteady. By the way, it's a wonderful record—exquisite, eclectic music that guitar enthusiasts will dig like a ditch.
All of these discs are throwbacks to an earlier era of recording, before multi-multi-track madness ruled the day, and before almost every popular album evinced the kind of soulless, clinical sterility that has helped drive a generation of music fans away from the industry. They all feature musicians playing live, with minimal edits or overdubs and little or no "computer correction." While all over the stylistic map, these are three records I can wholeheartedly recommend to Positive Feedback readers. And yes, I especially recommend them on vinyl.