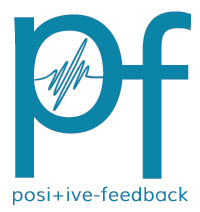 You are reading the older HTML site
Positive Feedback ISSUE 67
may/june 2013
teac
UD-501 USB DAC/Headphone Amplifier
as reviewed by Teresa Goodwin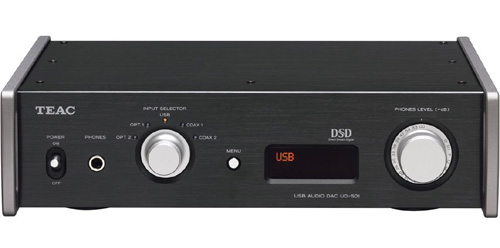 TEAC's new UD-501 is so far the least expensive DAC that supports Direct Stream Digital (DSD) playback at both 2.8MHz and 5.6MHz rates, and PCM up to 384kHz 32-bit resolution. DSD is available with the USB connection using ASIO 2.1 (Windows) or DoP (Mac). Both 2.8MHz and 5.6MHz DSD files are processed in native mode to properly convert DSD into an analog signal without any conversion to PCM.
2.8MHz DSD is the same resolution as SACD, and 5.6MHz is double SACD's resolution, which in addition moves ultrasonic noise beyond 60kHz.
The output section of the UD-501 features two Burr Brown 32-bit DACs per channel and JRC Muses op amps. It's a dual monaural design that eliminates signal interference and maximizes performance for a purer audio signal.
Both balanced XLR and unbalanced RCA outputs are available, I used the RCA outputs to my AMC tubed preamp using Mojo Audio's Lucent Copper Ribbon interconnects. A toroidal-core power supply ensures top performance and clean transient playback, for quality that outperforms much more costly components.
With its asynchronous transfer mode timing is controlled more accurately by ignoring the clock signal from a PC, nearly eliminating clock-noise and allowing digital data to travel un-affected.
The front, side, and top panels are each constructed of aluminum and attached to a robust steel chassis. These heavy parts eliminate vibration allowing internal circuits to perform under stable conditions.
Sonic Impressions
The Teac DAC sounds very much like honest to God real music, with a very warm analog sound like one would hear in a really good jazz club or concert hall. Music becomes very inviting. The most realistic sound so far is from the Opus 3 "double DSD" 5.6MHz samplers. As I have reported in the past, my 24/96 copies of audiophile LPs sound very close to vinyl, with the Teac DAC I seriously doubt I would be able to tell the original analog LP from the 24/96 PCM copy, my audiophile LPs sound just like LPs without the hassle.
For many years I lived with and was quite happy with the maximum resolution of 96kHz offered by my computer, although I did have DVD-Audios at 192kHz and pure DSD SACDs. This is my first time to experience 352.8kHz 24-bit PCM and 5.6 MHz DSD, and I am quite impressed with both. Both sound, and more importantly feel, more realistic than even 192kHz, and the beauty of sound fills my body with goose bumps, even with music as simple as just voice and guitar, these super high resolution music files feel so frightfully real.
With the Teac DAC my 24-bit 192kHz music files now offer better sound than I remember getting from my 24/192 DVD-Audios. I was able to compare the same music in both 96kHz and 192kHz, and the 192kHz versions offered a much higher level of sonic realism, a more holographic sound field, and more ambiance. However, for me 24/352.8 PCM and DSD are the music files that bring me the most listening pleasure, we don't have a lot of those yet, but the selection is growing.
If you would like to compare different resolutions of the same music file I recommend free downloads from 2L's test bench http://www.2l.no/hires/ Most of their masters are DXD, which is 24-bit 352.8kHz, and you can compare a variety of resolutions and file formats from 24/96kHz PCM to 5.6MHz DSD. And on the Soundkeeper Recordings Format Comparison page, you can compare 16/44, 24/96, and 24/192kHz. In addition free software programs such as XLD allow you to convert your highest resolution music file to various lower resolutions to hear the differences for yourself.
The sonic differences in the 2.8MHz and 5.6MHz Opus 3 samplers, which are from Purist Analog Recordings, proves to me that many analog masters are superior to even high resolution digital masters, this should add more fuel to the analog-digital debate. To my memory, both 2.8MHz and 5.6MHz DSD sound better than I remember Opus 3 LPs sounding.
Here is a quote from David W. Robinson on the Opus 3 double DSD 5.6MHz samplers:
"It's like having the 15 ips master tape playing right there in your listening room, quite literally. (And I ought to know; I own some of Opus3 Records' Analogue Master open reel tapes, and have heard them on the UHA Phase9.) Jan-Eric's exceptional engineering comes through with shocking transparency and directness via these Double DSD files."
To read the rest of the article
High resolution digital has been getting me closer to the magic of analog realism, it sounds like with 5.6MHz double DSD we are finally there.
Playback Options
There are selectable PCM digital filters for PCM format signals. The digital filter will be disabled when playing 352.8 and 384kHz music files regardless of setting.
Off - disables the digital filter
Sharp - uses a sharp rolloff
Slow - uses a slow rolloff
There are selectable DSD analog FIR filters for DSD format signals. The cutoff frequencies are as follows:
FIR1 - 185kHz gain -6.6dB
FIR2 - 90kHz gain +0.3dB
FIR3 - 85kHz gain -1.5dB
FIR4 - 94kHz gain -3.3dB
For PCM music files I preferred the slow digital filter. For DSD music files I preferred FIR2, and when I realized it might be because it had the most gain, I adjusted the volume to match the other three. I still preferred FIR2.
Considering all it does, the Teac DAC is a bargain; it is much warmer than any digital component I've tried before. All lossless codecs and uncompressed music files sound wonderful, but there is a realism in DSD that takes me even closer to the feeling of live music, even with simple acoustic music such as acoustic guitar and singer.
When I look at the TEAC logo, it reminds me of the TEAC reel to reel tape decks I've owned in the past.
Headphone Amplifier
The sound of the headphone amplifier was excellent. The volume control works only with headphones, so when directing sound to your speakers, use the volume control on your preamp or receiver. The smaller size, slightly less than 12 inches in width would allow the Teac UD-501 DAC to be placed next to the computer in a headphone-only system.
Some of the recordings I used in this review:
Opus 3 DSD Showcase 1: Various Artists (Opus 3 2.8MHz and 5.6MHz DSF downloads)
Opus 3 DSD Showcase 2: Various Artists (Opus 3 5.6MHz DSF download)
Blue Coast California Audio Show 2011 (Blue Coast 2.8MHz DSF download)
Blue Coast California Audio Show 2012 (Blue Coast 2.8MHz DSF download)
Open Your Ears: Sampler (Head-Fi/HDTracks 24/96 PCM except for one track which is 24/88.2 PCM)
Puttin' It Down: Terry Evans (AudioQuest Music SACD to 24/96 PCM)
David Johansen and the Harry Smiths (Chesky 24/96 download)
Wayne Horvitz: Sweeter Than the Day (Songlines SACD to 24/96 PCM)
Dave Grusin: Discovered Again (Sheffield Lab LP to 24/96 PCM)
Bill Berry and his Ellington All-Stars: For Duke (M&K RealTime Direct Disc LP to 24/96 PCM)
Pink Floyd: Dark Side of the Moon (MFSL LP to 24/96 PCM)
Duke Ellington: Blues in Orbit (MFSL SACD to 24/96 PCM)
I listened the most closely while playing the above recordings and the free sample single songs and compositions from 2L's Test Bench http://www.2l.no/hires/ including DXD 24/352.8kHz, 24/192kHz, and 24/96kHz, and DSD 2.8MHz and 5.6MHz in DFF. I have now listened to most of my computer music files at least once, and I am thrilled with each and every one through the Teac DAC.
DSD-Ready Media Players
Channel D Pure Music - http://www.channld.com ($129 Mac only)
Audirvana Plus - http://audirvana.com ($49 Mac only)
Signalyst HQPlayer - http://www.signalyst.com/consumer.html ($142 PC only)
Foobar2000 - http://www.foobar2000.org (free PC only)
JPlay - http://jplay.eu (99EUR PC only)
J River Media Center - http://www.jriver.com ($49.98 PC only)
DSD Downloads
2L - http://www.2l.no (DSD downloads are sourced from DXD masters)
Blue Coast Records - http://bluecoastrecords.com
Channel Classics Records - http://www.channelclassics.com/dsd.html
Cybele Records - http://www.cybele.de
Downloads NOW! - http://downloadsnow.net
DSDfile.com - http://shop.dsdfile.com
e-onkyo music - http://music.e-onkyo.com
HighResAudio - http://www.highresaudio.com
Ototoy - http://ototoy.jp/music/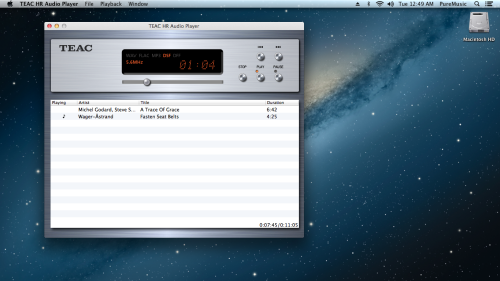 Teac also offers a free, very basic high resolution audio player for both Mac and Windows. It handles up to 384kHz PCM (WAV, FLAC, and MP3), and both 2.8 and 5.6MHz DSD (DFF and DSF) files. Nothing fancy, just title, artist, and playing time. The sound quality is excellent, but nowhere near the sonic level achieved by Pure Music's memory playback and other advanced features. However it will introduce one to extreme high resolution PCM and DSD at no extra cost.
In conclusion Teac has a winner in the UD-501. I'm buying this wonderful DSD USB DAC. Teresa Goodwin
UD-501
Retail: $849.99
TEAC
http://www.teac.com/product/ud-501
POSITIVE FEEDBACK ONLINE © 2013 - HOME