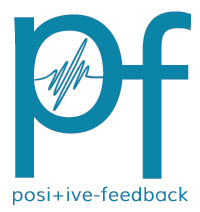 You are reading the older HTML site
Positive Feedback ISSUE 66
march/april 2013
New York City Audio Show - 2013
by Bruce Kinch
In general, I like the idea of regional high-end audio shows. With the rise of the Internet has come the decline in "Bricks & Mortar" stores carrying high performance audio; even big box mid-fi stores are affected—who can go into a Best Buy without wondering what happened to the Circuit City now sitting vacant and abandoned down the road, across from the old Blockbuster and Borders complex?
The industry has adapted as best it can, some manufacturers moving to catalog and direct sales, others shifting focus to home-theater, desk-top audio, and headphone users, many hoping advertising in the magazines, buzz from review sites like Positive Feedback, and international sales of high priced/low volume products can take up the slack, bottom line-wise. But there is another problem. The local independent Hi-Fi shop was also the place where a community of interest in audio could develop, friendships made, and industry demos held.
One early clue to a new direction has been the success of open-to-the-public shows like Rocky Mountain Audio Fest, or DIY and tube gatherings like Burning Amp, organized and supported directly by audio societies and enthusiasts.
Alternatively, there is the Willie Sutton approach: you go "where the money is". Thus the T.H.E Show morphs from Las Vegas outlaw exhibition to tony Newport Beach carriage trade institution. Axpona in Post-Capone Chicago thus makes sense, as does The Chester Group's second New York Audio Show, held April 12-14 at the New York Palace Hotel, more or less halfway between Wall Street and the Upper East Side, the Banksters having supplanted the gangsters in the Big Apple. The luxury hotel is undergoing renovations, so you can get a room for as little as $269, but a hamburger in the restaurant will still set you back $28.95.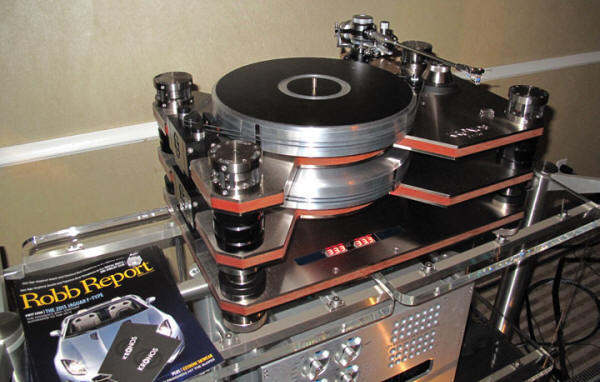 As I was going to be in NYC that weekend with family anyway, I decided to at least stop by when I could, given Positive Feedback was one of several Media Affiliate Sponsors of the event. So this is not a show report, just a few thoughts and comments.
One of the advantages of having a press pass is early admission, and an opportunity to watch talented but totally stressed people set up hotel rooms for audio demos. You can also get a listen and a pitch before the public arrives. The beds are removed, naturally, but the headboards are fixed to the sidewall, and of course you can't nail any room treatments to the walls. More than a few rooms had problems early: in one, speakers set up to manage bass issues then had first-reflection problems with the headboard that destroyed imaging (the solution, I noted later, was the casual draping of a wool sport coat over the headboard, just so). Another room featuring highly reviewed $25K+ mini-monitors had an awful mid-bass bloat at the prime listening position. A third room had a UK manufacturer's top of the line speakers that just plain sounded odd until a fellow reviewer noted that the left and right channels were reversed…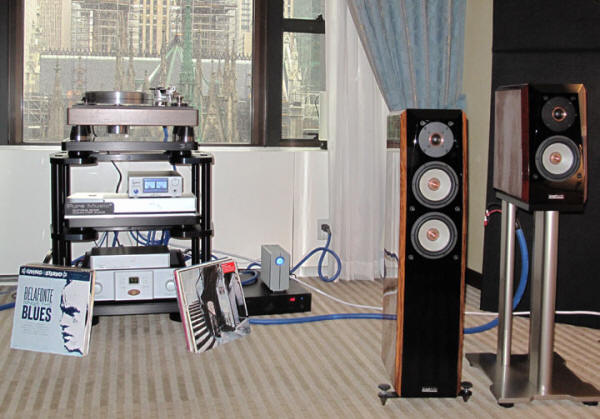 My rule #1 for audio shows: Go to the Joseph Audio room first, and calibrate your ears to the rooms. Jeff Joseph always gets "best sound" kudos for his systems set-up, so anything that you really think sounds better is probably pretty special, and vice-versa. He partnered for this show with Channel D (Pure Vinyl LP ripping software), so there were both top-notch analog and digital sources on hand. His demos have long featured Louis Amstrong's St. James Infirmary, first on the ancient Audio Fidelity LP, more recently from a CD-R ripped from a DAT dub of the production master he somehow tracked down. With the Channel D software, he was delighted to be able to play the file at the native DAT 48kHz resolution for the first time. The LP has been reissued, and at least four rooms at the show had copies for demo.
Apropos the above, and just down the hall, Harry Weisfeld, who rarely does shows, was demoing his new AC induction motor direct drive (!!!) turntable (a prototype in a Classic chassis, I think) and "3D printed" tonearm. He was using 3 Joseph Audio speakers (and rebuilt Harman-Kardon Citation electronics). Very busy room, I stopped by once while he was playing "Bob and Ray Throw a Stereo Spectacular", a show highlight to warm the analog heart. So why do 50+ year old recordings sound that much better than last year's Grammy winners?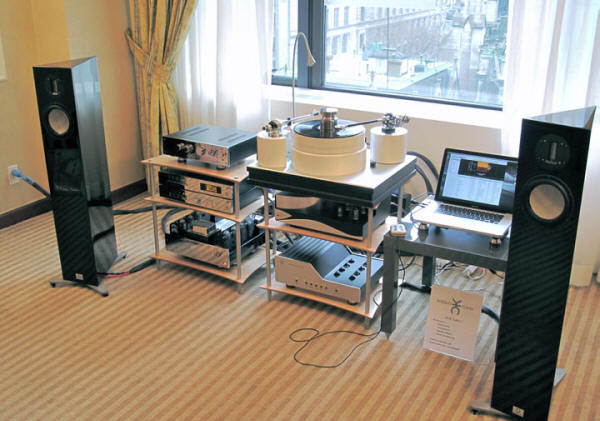 The weather Friday was New York miserable, cold and wet, but the Men in Suits steadily trickled in. It was not a particularly large show, but there were any number of $100k+ systems to temp the tax refunds of the 1%. No slight to the electronics and wire guys, but the "audio-visuals" that go over well in a show like this are flashy loudspeakers and massive wedding-cake turntables as worthy of reviews in the Robb Report as in TAS. I'm fine with that, as there should be a way to compare, say, speakers like KEF Blades and other high-ticket audio/sculpture products from YG, Vivid, Wilson, MBL, Raidho, Marten, etc., all of which have had reviewer bestintheworld nominations, but rarely share a showroom. At least you can visualize how they would look in your downtown loft, Pre-War co-op, or place in the Hamptons. (From this show, my choices might be the Marten FormFloor, Harbeth 30.1, and Vivid G1Giya, respectively). The big names draw the bigger crowds, so listening conditions are often sub-optimal. And of course, the City chose this weekend to jackhammer the street in front of the hotel.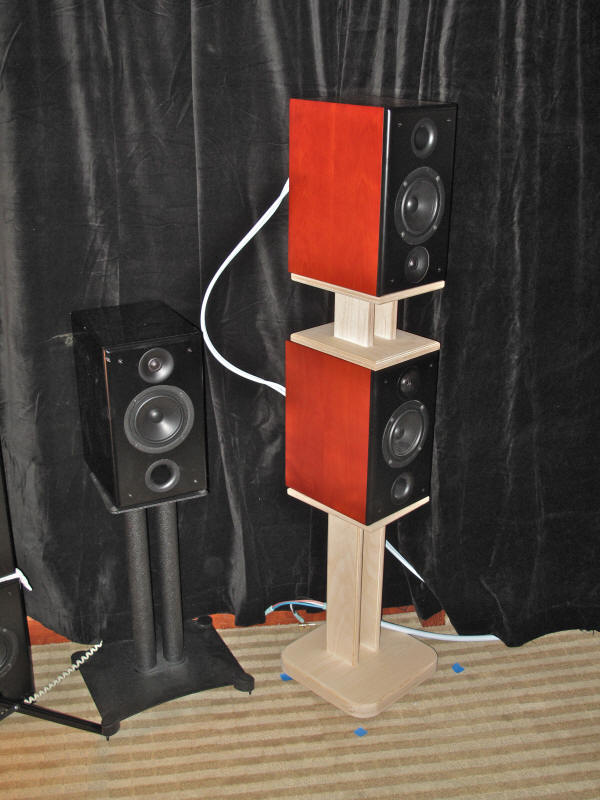 There was not a lot of action at the 47% plateau, although the guys with The Clue loudspeakers were doubling down. Hearing stacked sets of these $1000/pair overachievers reminded me of the days I had stacked Advents, Mark Levinson had stacked Quads, and we shared a girlfriend. The idea is simple: adding a second compact speaker, bi-wired or bi-amped, you gain headroom, image size, and dynamics while lowering bass/room problems and distortion. Yes, the temptation is to play them too loud. Which they did, because they can, and because it's fun, you gotta problem wit dat? I don't, and anyone contemplating $25K speakers shouldn't, either.
Over all, the show provided a fine selection of serious audio components, many familiar names and more than a few newcomers. Most had bricks & mortar outlets in the NYC area to allow follow up auditions, which certainly makes sense. On the other hand, conspicuous by their absence were most of the direct sales only/mostly concerns. I seems to me that an open to the public show should solicit participation from the likes of Audio Advisor, Emotiva electronics, Taylor speakers, and Oppo, where audition is otherwise impossible.
Saturday the weather was much improved, but I had even less time to spend at the show. Crowds were good, definitively more diverse, even a few women and children. I ran into old friends from New York, Boston, and California, so the social aspect of the show worked for me. Even the worst rooms sound better with a few bodies as room treatment. No actual survey, but a I had the clear impression that more rooms used vinyl or high-rez computer audio than CD—so much for forever. I mostly skipped the seminars, but noted Fremer (cartridge set-up) and Dudley (vintage gear) drew substantial crowds. There was also plenty of activity in the headphone and vinyl stalls, as one might expect.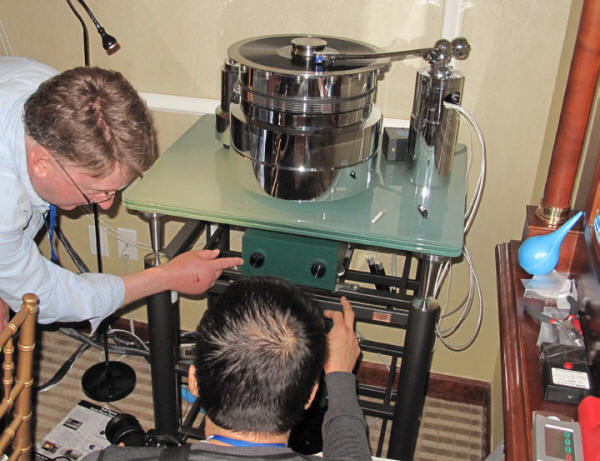 Having had the base level High Fidelity Cables in my system, I did hope to hear some under show conditions. That led me to the Beauty of Sound/Laufer Teknik room, where the top line CT-1 Ultimate cables were used throughout. I don't think one can really evaluate cabling at a show, but no way they were a weak link here. The components were all new to me: Ikeda cartridge and arm from Japan, 200 lb Triangle Art Signature turntable from the US, Tube Guru electronics (phono, preamp, 14 wpc 6C33C SET amplifier, from Hungary), full range Leonardo Model 8 planar ribbon dipoles from Italy. These guys were precise and obsessive about set-up, cables off the floor, diffusers behind the speakers to disperse the back wave, Stillpoints all around, including the LPI weight on the turntable. The sound was superbly smooth, clean, spacious, dynamic, as good as I've ever heard at any show, and I probably spent more time in that room than any other, out of pure pleasure. I may never have anything like $200K to spend on an audio system like this one, but it was a true lottery-motivating experience.
The weather was equally fine Sunday, but after a weekend of good food, theater, and music, we made a quick stop at Zabar's and a longer one at the Cloisters before heading home.