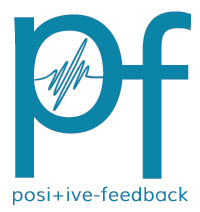 You are reading the older HTML site
Positive Feedback ISSUE 65
january/february 2013
audioquest
The Dragonfly DAC: Incredibly Good Sound at an Entry-Level Price
as reviewed by Tom Gibbs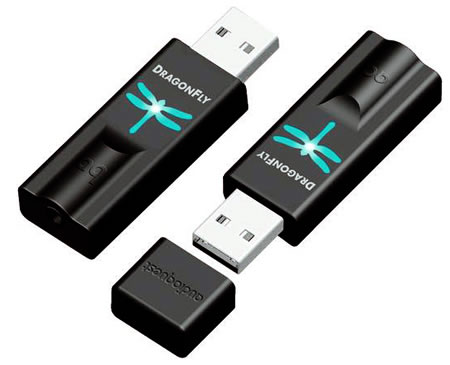 When most people think of Audioquest, they generally think of one thing: Cables, really well-made, high-performance cables of every description, and priced to appeal to a broad range of audiophiles. Imagine my surprise when I first saw online rumors of an Audioquest DAC; those internet blogs that many of us are so fond of are also frequented by industry professionals and insiders, often going by monikers and nom-de-plumes that offer few clues to their actual identities. But as I've frequently discovered, the trade-related information they proffer that seems so shockingly provocative months in advance often comes to eventual fruition. So, while rumors of the upcoming Audioquest DAC seemed truly provocative, the following seemed too true to believe: none other than Gordon Rankin of Wavelength Audio—designer of some of the most esoteric and highly-praised, cost-no-object DACs available—had generated the circuit design. And then there's the icing: the Audioquest DAC was rumored to retail for a ridiculously low $249! Seriously? OK, at this point, I'm jonesin' to check one out, and with only a couple of emails followed by a phone call to Audioquest's Dragonfly point man, Steve Silberman (formerly of Ayre Acoustics), the Dragonfly showed up at the house in about a week. And it came accompanied by a custom-made 5-meter length of Audioquest Big Sur interconnect cable that had been factory-terminated with a 3.5mm connector for easy hookup from my computer location (in an adjacent room) to my Acurus RL-11 preamp.
Superior Circuit Design
All the compact DACs I've been reviewing over the last couple of years have been getting progressively (and almost exponentially) smaller in size; the HRT Music Streamers just about fit in your pocket, while the Centrance DACport easily fits in your pocket. The Dragonfly is the smallest of them all, just about the same size as a typical USB flash drive—while I know that the miniaturization of circuits has become nothing less than an art form these days, it's almost incredulous that the Dragonfly can contain the necessary complement of circuitry in such a very small case. Nonetheless, Gordon Rankin's circuit design appears to be approaching state-of-the-art; it's built around the ESS Sabre 24-bit digital-to-analog conversion chip. It's a USB Class 1 design, meaning it supports up to 24/96 resolution files using the native drivers of most Mac, PC and Linux operating systems, with no additional drivers to download. And with music players like JRiver Media Center, you can opt for the highest resolution downloads and set them to downconvert to 24/96 or 24/88.2 with very little in the way of ill-sounding conversion effects. That way, when you eventually upgrade to a more capable DAC, you'll already be ahead of the curve.
The circuit also employs Wavelength's asynchronous StreamlengthTM protocol, utilizing dual fixed master clocks, which far surpasses anything likely to be found in the typical computer sound card, much less the average USB DAC, especially at this astonishingly low price point. The 3.5mm audio jack on the unit can be used to drive a line-level signal sent to a preamp or powered loudspeakers, or it can be used as a headphone amplifier, and includes an analogue volume control that works very well, indeed. The unit also includes a smart-LED dragonfly-shaped indicator that displays different colors for the particular bit-rate that's streaming. Red indicates the unit is in Standby mode; Green indicates a 44.1kHz signal, Blue equals 48kHz and Amber indicates 88.2kHz. The Magenta display indicates the maximum rate of 96kHz. My only regret with the Dragonfly's cute and useful indicator display is that the highest-powered USB connections on my PC are located on the back of the unit, which, considering it's rack location, makes it a bit difficult to practically either observe or confirm the streaming rate. The unit is powered by the USB bus, so there's no external power supply necessary.
There are also a couple of restrictions concerning PC users of the Dragonfly; early adopters of Windows 8 will lament the fact that the Dragonfly is not yet compatible with that OS, while there have also been numerous reports of problems with the Microsoft Vista OS. Audioquest recognizes these issues on their website, and workarounds and drivers for those operating systems are apparently in the works. There also are issues with files that stream at the 88.2kHz rate; that's not a native rate for the Windows OS, but if you're employing a player such as JRiver Media Center or Foobar, they'll stream all your files at any rate with no problems. As far as I can tell, there are no issues or problems yet identified with the Mac OS.
Effortless Connection to Your System
At this point, I was already using the excellent JRiver Media Center software as my music player, and having experienced a bit of difficulty and consternation in hooking up my budget-reference HRT Music Streamer II+ DAC to JRiver, I expected about the same from the Dragonfly. Surprise! The Dragonfly is definitely about as effortlessly plug-and-play as it gets; it hooked to Media Center without as much as a hiccup, and at the default settings, started streaming music bit-perfectly! I only had to choose the Dragonfly as the playback device in Media Center—how easy is that! By the time I'd received the Dragonfly, I'd already switched my choice of skins in Media Center's GUI to Noire, in which the Audio Path button glows either blue or orange (depending on your choice of color scheme) to confirm bit-perfect playback. A simple click on the button displays the input and output bit and sample rates to further confirm your signal path—which can easily be double-checked with a look at the Dragonfly's glowing indicator on the unit itself. It just doesn't get any easier than this!
Connection to the preamp is just as easy, provided you have sufficient inputs—not normally a problem for most full-featured equipment (I've got three DACs running simultaneously). And with the specialized cables available from Audioquest and the Dragonfly's built-in analog volume control, your hookup options are even more diverse; you can forgo the preamp completely and hook the Dragonfly directly to the single-ended inputs of your amplifier or powered speakers. Or you can buy a reasonably high quality 3.5mm to RCA adapter and roll your own cable preferences—I used both the supplied Audioquest cable and a 5-meter cable from Blue Jeans Cable with equally impressive results. I don't have any high quality powered speakers on hand, but for those looking for better sound from strictly a computer-based second system, the Dragonfly might just be the ticket. I did try driving my Emotiva XPA-2 directly from the Dragonfly, and wasn't particularly impressed with the results. I've just recently added the really outstanding Zu Audio Omen loudspeakers to my system (review forthcoming); they're a really high-efficiency design (98 dB/watt, up from about 87 dB/watt with the Magneplanar MMGs), and the accompanying increase in background hum and noise from the Dragonfly directly driving the amp was totally unacceptable. I don't really do a lot of headphone listening, so I didn't check out the Dragonfly in that capacity, but I've seen a number of positive reviews regarding its use with headphones.
Shockingly Good Sound!
I've been listening now for months to three compact DACs interchangeably; the Centrance DACport LX, the HRT Music Streamer II+, and of course, the Audioquest Dragonfly. And I don't mean this as a total cop-out, but despite their obvious circuit differences, sonically they share a surprisingly similar signature. The main differences between the devices is how they individually resolve the music's macro and micro dynamics. Those differences are really obvious with the Zu Omens in the system—to say that I'm pretty smitten with those bad boys is the understatement of the century, and their ability to portray divergent musical styles with absolute accuracy is almost uncanny. They're perfect for evaluating differences between source components, including DACs.
I've been listening to a really diverse range of music recently; having the Zu's in the system has really enhanced my enjoyment of full-scale classical music, as well as acoustic folk and jazz and even metal, and the Dragonfly proves a very competent DAC with all genres of music. I've been ripping everything to uncompressed FLAC via dBpoweramp, with pretty spectacular results that are not lost on a good DAC like the Dragonfly. A recent acquisition over the holiday season, Beth Orton's new album Sugaring Season, proved a really good test for reproduction of female voice with sparse accompaniment. Her voice on the song "Candles" is presented with thrilling realism, and the Dragonfly paints a really nice portrait of the musicians in a believable space as guitar, bass and drums join in the mix. This is perhaps Beth Orton's least processed album, and the Dragonfly offers the results with convincing accuracy. Another really good test was given by Ella Fitzgerald's Sings The Harold Arlen Songbook, where Ella is accompanied superbly by Billy May and his orchestra. I've always felt that through most conventional CD player reproduction, Ella's voice has had a distinctly metallic ring to it; that is most definitely not the case through the Dragonfly, where Ella's voice has a much more mellifluous tone. "Blues In The Night," the opening track, offers brassy big-band climaxes with room filling precision, where you can literally pick out the individual instruments from across the soundstage, with Ella's remarkable voice perfectly positioned front and center.
In terms of orchestral music, I've also been ripping a lot of Telarc and Reference Recordings discs, and they provide pretty impressive results via the Dragonfly. Telarc first got noticed in the late Seventies with those overpowering bass drum whacks and cannon shots, a real challenge for any system to accurately reproduce. A longtime favorite of mine is the Telarc Leonard Slatkin/St. Louis Symphony disc of Bizet and Grieg: Carmen and Per Gynt Suites, a disc that has always offered great promise for me but never lived up to its potential. Through the Dragonfly, the music was neither overpowering or tubby—the orchestra plays with power and reckless abandon and those drum whacks are offered with authority and clarity; I've never heard this music sound so very good. I could go on and on; some of the oldest CDs in my collection are Telarcs, and rips of them through the Dragonfly have uniformly all sounded incredible. I always thought the Telarc LPs were remarkable, but just didn't translate well to Red Book CD; now, I sit in absolute wonderment at how marvelous they currently sound.
I've also been listening to a lot of 90's rock lately; an album that I really didn't listen to all that much back in the day (but can't seem to get enough of now) is the Smashing Pumpkins' second album, Siamese Dream; I picked up a copy at a thrift store recently for a dollar. The entire album just rocks in a way that none of their successive efforts were able to duplicate, especially the tune "Silverfuck", which is presented with off-the-charts energy and rhythmic drive. Especially noteworthy are the drums, which through the Zus explode with such palpable realism that when I close my eyes or dim the lights, Jimmy Chamberlain's drum kit is in the room! And this is a rip from the standard catalog issue, not the recently remastered (and quite expensive) expanded edition. I paid a buck for this disc, and it sounds freakin' amazing! When I play this disc, I can feel the drywall screws slowly working their way out of the walls throughout the house.
In Conclusion
The Audioquest Dragonfly has been on just about everyone's budget component "best of" lists for the last year—just check out the glowing reviews from such sources as TAS, Stereophile and Computer Audio (and received a Brutus Award from our own editor here at PF: Dave Clark). While the performance level is astonishing for a device that retails for only $249, my honest impression here is not that dissimilar to my experience with the Centrance DACport LX; if they'd placed all the amazingly good circuitry in a well-shielded, more robust box with dedicated outputs, it'd be much more at home in an audiophile-grade system. Even for my relatively budget-friendly tastes, the Dragonfly is a bit flimsy for use in a dedicated home system, and much more well-suited for portable use or use with a computer-only second system. My pretty obvious preference is for the HRT Music Streamer II+, which I feel takes you deeper into the music, giving you more of everything you want for a mere hundred dollars more, while behaving much more like a true audiophile component. While I commend the excellent work done here by Gordon Rankin for Audioquest, I still get the feeling that the Dragonfly is more of a gateway device for their eventual entrance into the higher-end DAC market, a move which I welcome with open arms. If they can build a DAC this good for only $249, imagine what they could do for $500 or so! Recommended. Tom Gibbs
Audioquest Dragonfly
Retail: $249
Audioquest
www.audioquest.com