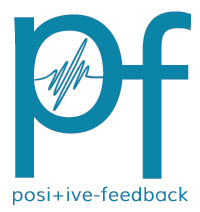 You are reading the older HTML site
Positive Feedback ISSUE 65
january/february 2013
Notes of an Amateur: Schnittke, Rihm, & Adès.
by Bob Neill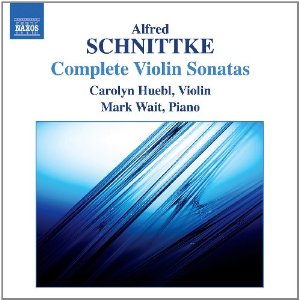 Alfred Schnittke, Complete Violin Sonatas. Carolyn Huebl, violin; Mark Wait, piano. Naxos 8.570978.
It takes a while for even those of us who consider ourselves welcoming of modernist music within sight of 'the deep end' to be hospitable to the music of twentieth century Russian composer Alfred Schnittke (1934-1998). We are perhaps, speaking for myself, warned away by the likes of the surreal, disjointed Violin Sonata No. 2 (1968) included in this recital. And then we hear rollicking, angular Violin Sonata No. 3 (1994) and Sonata (1955) and stay around for a while. Because Schnittke is willing to go pretty much anywhere and do pretty much anything, if we choose to go with him at the urging of his major contemporary composers and musicians, we have to be prepared for the stuff that doesn't come off along with the unquestioned jewels that do. And we have to learn to trust a maverick who can compose the jewels even if something like Sonata No. 2 seems nuts. We are seldom ready to hear things that are genuinely new, which Sonata No. 2 may be.
I wrote a long, pretentious essay for PF many years ago about profundity in modern music. What I think drove me to it was listening to more and more modern music from Eastern Europe (including European Russia) and noticing how much more moving it was than music being written in the West -- even when it was hard to find ones way around in it. Composers in that part of the world seem to take the world more seriously, to pursue a richer and more complex sense of what it means to be human. This music can be as cerebral as its German and French equivalents but it also has great passion and suffering.
Schnittke is as compelling a way into this music as any of his contemporaries. At his best, he is more accessible than Gubaidulina. He is tougher and more demanding than Pärt, Vasks, Silvestrov, and Kanchelli, whose hearts are closer to the surface. Three of the four works on this disc are truly compelling music. I'm still working on Sonata No. 2!
The musicians are from the faculty of Vanderbilt University, which years after I left its fair city had the wisdom to adopt the excellent Blair School of Music across the street. They are really good, as is the recording. This is the best recording of a violin I've heard in a l-o-n-g time. This whole project is the kind of thing that Naxos does best: seek out truly fine but less well known musicians, give them interesting music to perform, and then record the hell out of them.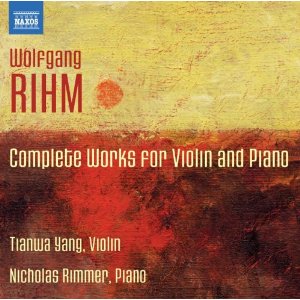 Wolfgang Rihm, Complete Works for Violin and Piano. Tianwa Yang, violin; Nicholas Rimmer, piano. Naxos 8.572730.
On a good roll, stick with Naxos. Rihm's music (contemporary German) here is as radically interesting as Schnittke's but hasn't the emotional continuity of much of the Russian's work. Rihm's music is cousin to Schnittke's Sonata No 2! It is meditative, exploratory... and disjunctive. It feels like line drawings in process. One of the works is actually called "Drawing" (1992-93). Like most of the music on the album, it can be spell-binding but it can also be troubled. There are brief emotional outbursts in the midst of extended meandering musical reflections. The violin and piano are seldom together -- they interrupt each other, complete each other's thoughts.
And then... we get to Über die Linie (Over the Line) VII, 24 minutes of music for solo violin—and the game changes. No piano to argue or play with now. We're all alone with the violin. The range and quality of emotion remains essentially the same, but hearing it from a solo violin changes everything. There is no release, the kind of thing another instrument could provide. If we let ourselves, we are riveted to the violin, locked onto the songs and travails it tells us of. The musical experience feels utterly personal but never proprietary: an objective rendering of subjective experience. Which is, after all, the goal of almost all modern art, isn't it? Art which eschews the imposition of conspicuous structure: the structure here is the structure of human experience. Hang on and go for a ride.
All of the music on this recording was composed between 1971 and 2006. Violinist Yang and pianist Rimmer leave nothing to be desired, nor does the recorded sound, which gives us the two instruments with great immediacy as well as weight. As I say, on a Naxos roll.
Thomas Adès, Seven Days, for Piano and Orchestra; Noncarrow, Studies Nos. 6 and 7, arranged by Adès. Nicolas Hodges, piano. Ralf Hind, piano. London Sinfonietta, Thomas Adès, conductor. Signum Classics SIG CD 273.
Thomas Adès continues his exploration of the importance of the treble range and where it fits into the whole tonal range, begun most notably with his Violin Concerto and opera, The Tempest. Seven Days is a piano concerto based on the Bible's presentation of the week of creation. I heard the composer conduct this work in November (Boston's Symphony Hall) on my annual trek to remind myself how tame even a really fine home music system is compared with The Real Thing. I have become an ardent admirer of Adès's music, and I'm sure that figures into my response to this work, live and recorded. What continues to impress me about him is how, while reinventing himself with every new work, he also maintains a sense of continuing development that we feel compelled to follow. There is a DVD included of abstract visual material written to accompany the music. It doesn't feel essential (the BSO concert did not include it) and my guess is that it will fall by the way over time. You'll have to make that call for yourself.
Seven Days begins as a demonstration for minimalists on how their mind-numbing idea can actually go somewhere, lead somewhere, have purpose. It then takes off and becomes another Adès masterpiece of turbulent eloquence. It is as if Adès twists the orchestra around him as he stands at the center of a musical spectacle. Following the program notes - Chaos - Light - Dark - Separation of the Waters into Sea and Sky, etc is interesting. The notes make more sense than notes usually do. But like the visuals, they are far from necessary. The music itself is more than enough. It struck me strongest when I got home from the live concert and listened to the recording on my medium sized Reynaud speakers, the Abscissas, which are probably the most expressive speakers in the line now, if not the largest or most refined. This is extremely expressive music. So if you take my advice and pursue this CD, don't be surprised if it takes a listening or so (and the right mood) to grab you, which it surely will.
Also included here are two Studies for player piano by the late Conlon Nancarro, adapted for two pianos by Adès. Nancarrow's music is wonderfully funky but it is also something else, which Adès has picked up on and in which we can feel a strong connection to Seven Days. A seemingly unlikely pairing which turns out to be an inspired one.
Equipment used for this audition: Resolution Audio Cantata CD player; Crimson CS710 preamplifier and CDS 640E monoblock amplifier; Jean Marie Reynaud Abscissa and Orféo Supreme loudspeakers on Symposium Sveltes; and Crimson cabling.
Bob Neill, a former equipment reviewer for PF and For the Music and a current music reviewer for PF, is also proprietor of Amherst Audio in Amherst, Massachusetts, which sells equipment from Audio Note, Blue Circle, Crimson Audio, JM Reynaud, and Resolution Audio.