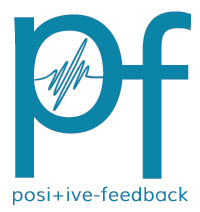 You are reading the older HTML site
Positive Feedback ISSUE 64
november/december 2012
The Theta Compli Blu: An Unsung Hero in the Fight for Universal Disc Players
by Andy Schaub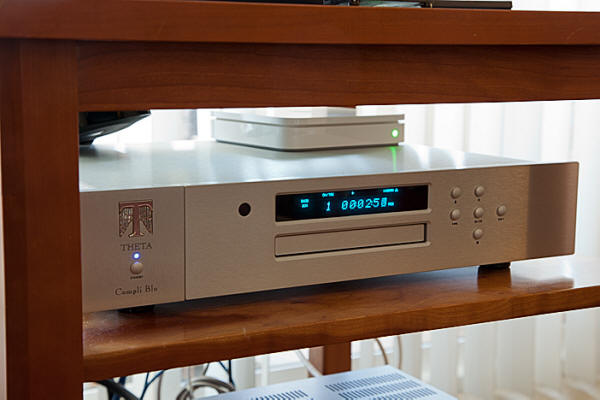 "Ticking away the moments that make up a dull day
You fritter and waste the hours in an offhand way.
Kicking around on a piece of ground in your home town
Waiting for someone or something to show you the way."
—From "Time" by Pink Floyd
Yes, I will admit that at times it can sound a little bright. That's my primary complaint about the Theta Compli Blu as a two-channel music playing machine; and, in a side-by-side comparison between it and my former Ayre C-5xeMP, the Ayre definitely sounded softer if all you want to do is use it as a $6K SACD player; and there are many times when I have considered making a bargain with the devil and buying one second-hand just for that purpose. But I have also put a lot of effort into optimizing the Compli Blu, and Theta has been doing digital for a very long time, so I have reason to believe that its sound is somehow righter than the Ayre's, despite my romantic recollection of the Ayre's all class-A output. I also have to confess I really like the user interface on the Compli Blu, which is by far better than the C-5xeMP since it's basically a well-laid GUI on my Sony flat screen HDTV. You can even turn off the video circuitry in the Theta's "Pure Audio" mode if you want to ultra optimize it for sound; however, I have to say that I can't hear that much of a difference and I like to see what track I'm on, etc. So I generally don't touch the "Audio Only" virtual button on my Logitech Harmony One universal remote control.
The Theta definitely sounds best when propped up on the Spiral Groove Strange Attractors; but since those are temporarily back in the hands of Immedia, I'll write this review from the perspective of the Compli Blu sitting on the television stand I bought many years ago at Palo Alto Furniture, before it became a high-end restaurant or some such thing. First I played Ann Hampton Callaway's Blues in the Night on Telarc SACD-63641. Supplied with current by a PS Audio Power Plant 10, an EquiTech 1Q and about 4.5 feet of Audience powerChord "e", the sound of Callaway's voice was quite open and natural. Running through 4.5 meters of Audio Note Lexus copper interconnects helped to smooth over and filter the treble a bit, but not to the point of taking away from the musicality of the disc, and the bass was quite stunning. Switching to Keb' Mo's eponymous SACD on Mobile Fidelity (UDSACD 2054), I heard a naturalness and clarity to his guitar work that made me glad the Compli Blu had a bit of a bite; and I will say that the midrange was quite glorious. His voice came through with a purity and clarity that made grab the volume control and crank things up. On the more complex second track, "Tell Everybody I Know," small details emerged from a pool of blackness and there was a hushed quality to the silence between notes that made me shiver a little.
On the Analogue Productions SACD of Wish You Were Here by Pink Floyd, (EMI 5099952243325), I heard a tremendous blossom in the midrange with a very clean bass and treble. "Welcome to the Machine" had an almost analog-like quality to its complex layering and this was clearly one disc where someone was paying attention during the mastering process. The fact that that I could actually tell it was a well-mastered SACD, even in stereo on an 8 wpc SET-based system, spoke volumes about the Compli Blu. The synthesizers had a nice bite while the acoustic guitar and bass guitar played right along in a masterful way. Again, it made me want to crank the volume. The electric guitar and drums on "Have a Cigar" were right up in my face like they should be but not at the expense of the drum kit. All seemed in order and as it should be. But this is a universal player, right? So let's switch to the thing that the C-5xeMP didn't do so well, play DVD-A's. First, there wasn't really a good user interface on the Ayre for DVD-A. You had to play based on batch number and simply choose the one the sounded the best, not a bad paradigm, but hardly as informative as being told things like the resolution and intent of the mix (stereo versus multichannel) that I see easily on my Compli Blu via the Sony HDTV to which it's connected.
I actually prefer the sound of DVD-A to SACD. It sounds more dynamic and doesn't have that brightness I describe; plus, with the Theta Compli Blu, I can more easily choose specifically what set of tracks I want to play. On Gaucho by Steely Dan (MCA B0001767-19 IN02), I heard a truly analog-like playback quality from the horns on "Babylon Sisters" and everything sounded nicely balanced. I do wish DVD-A had won the format wars, but it seemed like SACD emerged as the victor with downloads hot on the heels of everything else. "Hey Nineteen" had a nice snap to the drums and the words of everything sound cleaner and clearer. I sat very near the left speaker but could clearly hear sound emerging from the right. It sounded more open and less homogenous than an SACD. On the 24/192 tracks from the Classic Records HDAD of I Robot by The Alan Parson's Project (HDAD 2003), the bass was truly superior to anything I have heard, save my digital music server, where—if it's in the recording—it can create truly thunderous bass, as if I have a subwoofer, which I don't. The 24/88.2 download of Brasileiro Soul by Reinaldo Brahn from Reference Recordings (via HDtracks.com) has such bass. Also, there's an analog-like articulation to the strings in I, Robot that I don't think I've heard from an HDCD, including from the Ayre C-5xeMP. On "Some Other Time", the flute actually sounded like a flute even though—knowing Alan Parsons—it may have been synthetic to begin with.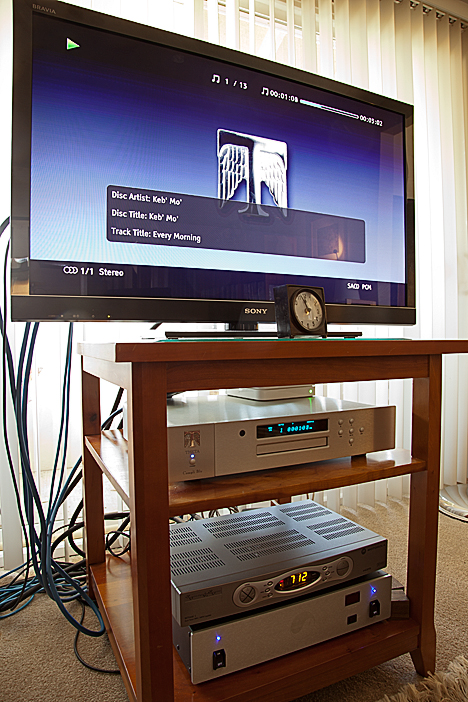 One thing I have noticed about the Compli Blu, and I confirmed this with Theta, is that it sounds best if you leave it powered up all the time, not just in standby mode, but fully powered. Of course, I power down everything when I leave on vacation; but I'm talking about "regular" all the time, like every day that I'm likely to use it, which is often. Now, one thing I haven't addressed is the Theta's video capability. Let me assure you, it doesn't slouch there either. Saving Private Ryan is a visual reference for me because it's so well photographed; I own both the DVD and Blu-ray disc. Pulling out the Sapphire Series Blu-ray and inserting it in the Theta's transport (which is based on an Oppo but heavily modified), the opening shot of the American flag waving in the sun had a glistening quality to it that I couldn't imagine from a lesser player or from such a less-optimized arrangement. Even the scenes of the cemetery had a lovely, gentle quality to them, but at the same I saw true black in my carefully calibrated monitor. As soon as the Omaha Beach scene began, however, and we saw Tom Hanks for the first time, I really felt like I was in a movie theater, and it's not like I have a Runco Crystal monitor. The sound of the bullets whizzing by sounded about as realistic as I imagine such things can; and the fire on the beach had an orange glow that told me I was immersed in this horrific action while at the same time I was appreciating an almost painterly quality to the colors in the compositions. It was a strange, almost dissociative effect.
So what happened when I just played a regular CD? I've been listening a lot lately to Lana Del Rey's Born to Die (Polydor B0016425-02). In my reference Audio Note CD 3.1x/II, this disc sounded quite dynamic but also a little muddled. The lyrics can be difficult to understand. Not so on the Theta Compli Blu. Although it lacked the bass authority and the overall blossom on the Audio Note, the Theta did a very fine job at articulating this heavily layered, compressed, and processed CD:
"Feet don't fail me now
Take me to the finish line
Oh my heart it breaks every step that I take
But I'm hoping at the gates,
They'll tell me that you're mine"
—Lana Del Rey, "Born to Die"
I wanted to know how this heavily digital "system" (including the CD) sounded compared to pure analog. Since Born to Die is so processed, I just grabbed my latest all-analog remastering from Acoustic Sounds, specifically the 50th Anniversary reissue of Chet is Back! (ORGM-1075). Recorded during the "golden age", remastered by Bernie Grundman, and pressed at Pallas on 180-gram vinyl. I put it on my Rega RP-6 and the disc began to spin. Lively, upbeat tones began to emanate from my system and it sounded "just right"; no SACD can do this in any player that I have heard. Some high-resolution downloads can come close, but that doesn't take away from the fact that, if you really want to play every shiny disc, and you're perhaps more home theater oriented than two-channel stereo oriented, the Theta Compli Blu could be just your cup of tea. I know I'm glad I have it in my system.
Kindest regards,
Andy