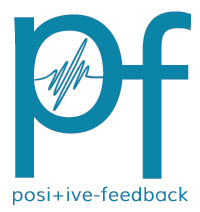 You are reading the older HTML site
Positive Feedback ISSUE 64
november/december 2012
unison research
Simply Italy Integrated Amplifier
as reviewed by Francisco Duran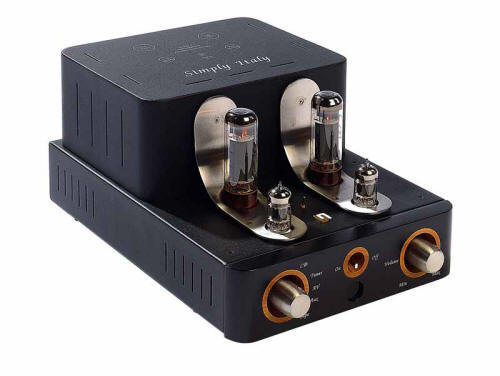 A good friend of mine used to say, "Not all recordings are equal, that's why God made tube amps." I used to respond back, "No, that's why God made tone controls," I got his point; he was referring of course to the flexibility of a tube amplifier. The amplifier in question here is a new one called Simply Italy from Union Research. As most of us high-enders may already know, Unison Research has been designing and building tube and solid state components for a number of years in, where else, Italy. I love their phrase, "High End Electronics born in Italy." When Dave Clark shouted out for a reviewer for this amplifier, I raised my hand really high. The fact that I own two pairs of very high-efficient speakers helped qualify me as reviewer for this 12 watt tube amp. Those two pairs of speakers were definitely put to good use. My floor standing Tonian TLD1's 95dB efficiency spec is solid and real. The 91dB for my Ascend Acoustics CB-170 monitors is equally correct and no exaggeration. I have driven both of these speakers with only a few watts from a lowly plastic job of an amplifier, a Sonic T, a Fatmam iTube's 15 watts, and also a Topping TP20-Mk2's 20 watts to quite high SPL's. Compared to them, the Simply Italy's 12 watts and huge transformers seem like a behemoth amp. My speakers should pose no problems to this amplifier.
To me, Unison Research gear has always had pleasing aesthetics. With hardwood trim gracing solid metal chassis and stainless steel shielding, one gets the feeling of an earthy yet strong design. The steel and wood, I am told, are for the purpose of shielding and damping vibration. I am not sure if Unison Research were the ones who actually started this design trend or not. If so, it has inspired many other manufacturers from the far reaches of the globe to copy suit. This amplifier with its basic metal covered transformers in the back, and tubes with cages in the front, offset by the slight yet handsome metal and wood accents, be they for aesthetics or not.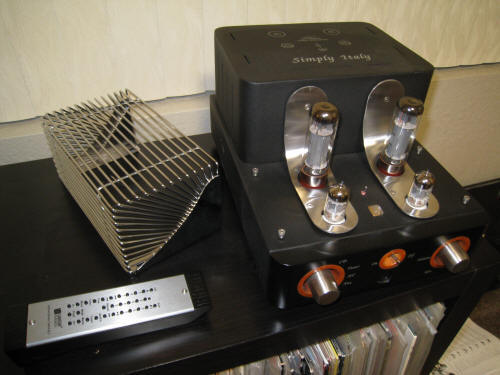 The output stage is a single ended, ultra linear, class A design outputting 12 watts. Its output impedance is 6 Ohms, input impedance is 47K ohms with negative feedback of 5dB or 1.8dB depending where you position the switch that is top front of the chassis. The valve compliment of two 12AU7s and two EL-34 output tubes is nothing exotic. But let's face it, exotic tubes equals expense. For a "little amp" it weighs 15 Kgs or a shade over 30 pounds. The owner's manual is written in both English and Italian. Although basic, covering unpacking, amplifier placement, and connecting options, some will find the "removing the valve cover and fitting the valves" mildly interesting. Really, you could hook this thing up practically blindfolded. The section I found rather important was number 7, feedback control and biasing the tubes. Wow, I can switch the feedback switch back and forth with the amp on, and without lowering the volume control, and no harm to the amp. This will affect the bandwidth, damping factor, and even distortion? Hey my speakers don't distort. But wait there is no specifications on setting the bias for the output tubes. With my Antique Sound Labs AQ25DT mono blocks, setting the bias is potentially very hazardous to your health. I have to flip the amp over, take the bottom panel completely off, and stick a plastic screwdriver and positive probe from the meter where the sun don't shine. Trust me, it is very nerve-wracking. My Margules U280SC tube amp is self-biasing. The Simply Italy, also self-biasing.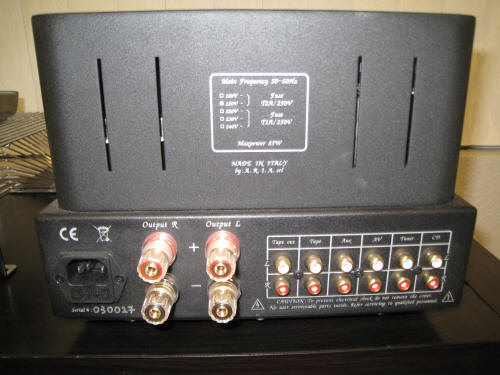 First impressions of this amp were of a very clean, detailed, and slightly thin sounding amp. More break-in you say? Yes, that did seem to do the trick. The amp filled out a bit and that tube signature came into play. Still, I let this amp burn in quite a bit more for good measure. As usual, we played many CDs, LPs, and movies while this little amp was in system. I would like to focus on two in particular. Mighty Sam McClain's Give it Up to Love CD on XRCD seemed to work hand in hand to showcase the Simply Italy's strengths and weaknesses. McClain takes you on a musical roller coaster ride with this one. It doesn't hurt that the recording sounds great too. On the opener, "Give it Up to Love"; McClain handles his mighty voice with delicacy in this tender blues ballad. Guitarist Kevin Barry's gentle guitar strums floated above and in the middle of the speakers so effortlessly with McClain's voice anchoring a solid foundation for the rest of the band. The simply Italy reproduced this cleanly with delicacy and a full wide and spacious dimension. This amp really reproduces vocal timbre very naturally. Sam and the band change pace on track three, "What You Want Me to Do" with keyboardists Bruce Katz squeezing out the growls on his Hammond B-3, and McClain matching Katz growl for growl. The Simply Italy shifted gears right along with the music with its speed and ability to track dynamics in a lively manner. These qualities were also displayed well on Rimsky-Korsakov's "Dance of the Tumblers" from Tutti, Orchestral Sampler from Reference Recordings, with lively dynamics, a natural but brisk pace and again a full soundstage. There was nothing lagging, syrupy, or bloated to the sound of this amplifier. In fact the long term overall feeling I got with this amp's tonal balance was that it is a little thin overall. The bass while taut and fast and solid lacks a bit of weight. The verdict, it has a very clean, detailed and dimensional sound signature with a dash of warmth and a good amount of tube harmonics at play. It is a single ended class A design after all. But this is definitely not your grandfather's tube amp. Not at least in my system and with my speakers anyway. By the way, I did experiment with a bit of tube rolling, but the tubes that came with this amp were better than my stash. I also tried different positions with the feedback switch and preferred the front or 5dB position.
We watch a lot of movies through my 2.1 stereo system, and the Simply Italy readily displayed its talents. Through this amp there was a flurry of the smallest details effortlessly and cleanly spread out on a wide stage in front of us with movies as varied as Cowboys & Aliens and Cool Hand Luke. Who says you need five channels? In fact most well recorded movies displayed these characteristics. This definitely upped the enjoyment factor quite a bit. On music in the movies the performance factor of this little amp didn't waver. It again displayed clean, detailed sound, and fast transients. The sound was quite dimensional and spread out in front of us with a holographic air around instruments and voices that only a tube amplifier seems to reproduce. Similarly when watching programs on the National Geographic channel, I was surprised to hear a clean and detailed sound with a wide soundstage on the documentary "The Kingdom of the Blue Whale" narrated by Tom Selleck. I have for a few years now listenined to a quite high quality solid state amplifier in my Marantz Reference PM15S1 integrated amp. The big boost in this amp's performance is the modification done byThe Upgrade Company. It is a smooth, detailed, and dimensional sounding amplifier in its own right. But as good as it is, it is not a tube amp. Those dimensional and holographic traits stop short of where a competently designed tube amp does with ease. But again one can only squeeze out so much power and dynamics from tubes. It seems never the two shall meet, but they will come close.
Sometimes reviews can be misleading, although my Margules U280 SC all tube amp can be described in exactly the same way concerning its performance. It is noticeably better in every way compared to the Simply Italy. Therefore, I thought a little experimenting would be interesting. I have three other amplifiers in my stable that I thought would make for some fun comparisons. Let's start with the Fatman iTube amplifier. This 15 watt Hybrid amp has two inputs, a headphone input, and an iPod docking station. With the right speakers it is fun, fun, fun, and I do have the right speakers. At first listen this amp was a tad warmer sounding, handled dynamics well, and was quite spacious in its own right. But on closer listening to some very well recorded CDs its weaknesses started to emerge. Compared to the Simply Italy, it didn't have the inner detail or fast transients. Its soundstage was not as wide or deep, and overall it sounded a bit thicker, and with certain speakers considerably warmer. But again, that didn't stop me one bit from really enjoying listening to this amp. Overall, it is a very enjoyable amp for its under $500 price.
For the next comparison, I really should have put on some personal protective equipment, in case things started flying from the audiophile gallery. Because there is a faction of audiophiles out there that simply cringes at the mention of the words chip amp. But there it was, hooked up to my floor standing Tonian speakers and giving an excellent account of itself. It is the Topping TP20-MarkII. Comparing it to the Fatman, it had a slightly richer presentation which mostly came from the mid-range. That was the jaw-dropper. Yes, the mid-range is very tube-like. The treble was slightly more extended but not as smooth as either the Italian or Chinese tube amps. The treble was not etched, thin, or bright at all. The bass was more prominent and tighter sounding, and it handled dynamics very well. This little amp sounded slightly less refined overall. But there it was a solid state amp that could fit in the palm of my hand and kicking ass. And it cost $100 give or take.
I substituted the Margules U280SC and the performance jumped up quite noticeably. This amp is more spacious with an authority and grip on the music and dynamics that any of the other amps can't match. It has faster transients and a cleaner separation of notes and more fleshed out detail. The orchestra on the Reference Recordings Stravinsky's Rite of Spring sounded so much more open and dimensional. I think the Margules performs a lot better than its $3500 price. To be fair, one look at the Unison Research catalog and one can see substantially more expensive and robust amplifiers that would more than stand up to my Margules.
I did these comparisons to make several points. As we can see as you climb up the price level, the performance for the most part increases. Where does the price/performance level taper off? Is it five, ten, fifteen thousand dollars? I don't know, haven't climbed that far. Actually I am having too much fun with my inexpensive gear right now to worry about a piece of gear that costs as much as my car or house. Secondly, although the Fatman, Topping, and my Antique Sound Labs mono blocks perform very well for their prices, the Simply Italy is actually not that much more expensive and the performance and build quality are easily more substantial. Think originality of design and long term musical satisfaction. It would be very easy to give in to temptation and buy a cheaper knock-off brand to the Simply Italy. But as I have heard in my own system, the sound quality would not be quite there either. In comparing the SI to my stable of inexpensive, low power amps, we again found speaker matching to be very critical. For instance, the Fatman was not a happy match with a pair of B&W LM 1 small speakers, while the SI drove them with absolutely no problems.
So, is this new tube amp a triumph of modern tube design? Well with its single-ended, ultra linear class A design, I think not. But with its modern tube sound it qualifies as a modern tube success. This amp is the product of a company that has long experience in designing both solid state and tube circuits. The Simply Italy shows the pedigree of both schools of design, and delivered solid and very satisfying musical performance in my system. Francisco Duran
Simply Italy
Retail: $2450
Unison Research
A.R.I.A. Advanced research In Audio
Via barone, 4
31030 Dosson di Casier Italy
Tel: 939) 0422-633547
www.unisonresearch.com
US Distributor
Colleen Cardas Imports
Austin, TX.
Tel: (512)-262-6280
www.colleencardasimports.com