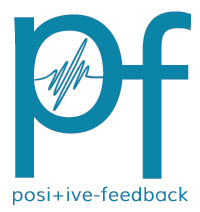 You are reading the older HTML site
Positive Feedback ISSUE 64
november/december 2012
mojo audio
Lucent Copper Ribbon Interconnects
as reviewed by Teresa Goodwin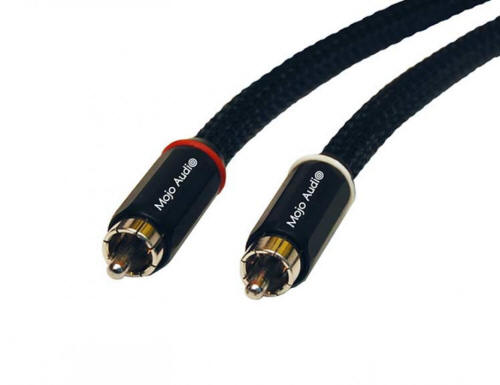 This review is of two sets of the 1.5 meter version with Furutech's high-performance FP-126R rhodium-plated copper RCA plugs. One set between my Yamaha SACD/DVD-Audio player and AMC tube preamp and a second set between the preamp and my Adcom power amp.
The interconnects that come with audio components are usually very cheap looking and once one hears upgraded interconnects the originals are quickly thrown away. I have used AudioQuest Turquoise and various interconnects from most of Monster Cable's line which I got to audition at home back when I worked for The Good Guys. There were clear differences as I moved up the Monster Cable line, however I settled on cables towards their lower middle price range as the most efficient cost/performance ratio. Back when I purchased my SACD player I compared the interconnects that came with it since they had gold plated connectors, and looked of superior quality; however the Monster Cable easily outperformed them.
The Mojo Audio interconnects sound unlike any interconnects I've ever heard in my home, they were more realistic, instruments and voices more lifelike, and more of a feeling of being in the actual recorded space.
Prior to my first listening session with the Mojo Audio interconnects I ran the burn-in and demagnetizing tones from my XLO/Reference Recordings Test & Burn In CD for several days. I have been listening with these interconnects for over six weeks now.
Benjamin Zwickel, owner of Mojo Audio told me "At one end of each interconnect there is a small shrink tubing near the plug that says "Cu" on it, that indicates the end of the IC that the shield is attached (the other end "floats"). Certainly both interconnects should point the same direction with the "Cu" end on the same component. Most prefer to put the "Cu" end on their source but in some systems it actually sounds best to put it on the destination component."
I tried the interconnects both ways and I preferred "Cu" at the output "source," the bass was more powerful and the sound overall fuller. Be sure to try it both ways with your system.
I compared my Monster Cable interconnects to the Mojo Audio interconnects, and Mojo had more impact, more ambiance, longer decay, and were more spacious, there was just more there...there.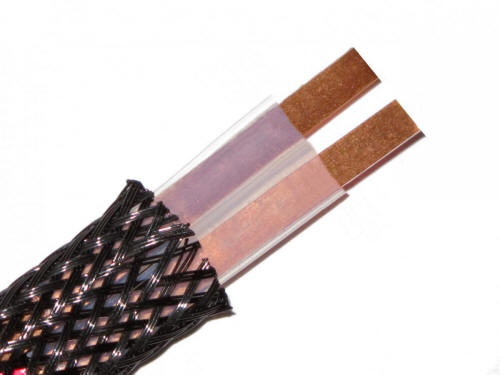 Description of Mojo Audio's Lucent Copper Ribbon RCA Interconnects
Single-ended copper ribbon RCA-terminated interconnect, the Lucent Copper Ribbon RCA is constructed from 21AWG high-purity OFC copper ribbons that are covered in a thermo-bonded microdielectric to prevent oxidation. Each ribbon is floated inside a laboratory-grade PTFE Teflon tube to ensure minimal surface contact and increase durability. Their near-air dielectric all but eliminates the capacitive effects caused by dielectric absorption, and our edge-oriented parallel ribbon geometry minimizes inductive effects caused by conductor proximity. This design results in an extremely coherent wide-bandwidth musical signal with a minimum of phase and time distortion.
Description of Furutech high-performance FP-126 or CF-126 rhodium-plated copper RCA plug sets.
To assure optimal signal transfer, they terminate the interconnects with Furutech high-performance FP-126 or CF-126 rhodium-plated copper RCA plug sets.
Furutech's pure transmission rhodium-plated connectors set the standard by which all other connectors are judged. They start with the highest-purity metallurgy and the most sophisticated plating processes. The metals are then treated with a proprietary cryogenic and demagnetization process. Durable polymers combined with carbon powder and patented piezoelectric nano-sized polycrystalline ferroelectric ceramic particles are used in their casings to minimize resonance, oscillation, and electrical noise-based distortions. The result is the most coherent sounding and lowest noise connectors available.
They are also available separately in sets of four to dress two interconnects, the FP-126 for $74.95 and the CF-126 for $249.95.
Benjamin Zwickel, owner of Mojo Audio went into great detail on why he selected the Furutech RCA plugs and the selection process used in an email to me, which I thought was impressive enough to share with my readers:
Last year we built literally DOZENS of identical interconnects with every brand/type of RCA connector we could find and burned them in for hundreds of hours.
We have literally 2-3 systems burning 24/7 breaking in this or that component part for hundreds of hours and then do blind comparisons with our employees.
We'll build identical components and only change ONE part at a time and do these tests over and over again. You could not believe some of the differences we've found when we compared the so called "high end" parts on a level playing field with mil spec and computer grade parts.
Nearly every day we do blind listening tests when employees get together at our coffee/listening breaks and swap this or that in and out blind to make comparisons (one person switches and the rest listen).
As a matter of fact, one of their favorite "games" is to see if they can trick/stump me by not switching or switching something I wasn't expecting. We have fun and they keep me on my toes ;)
When it comes to connectors, we already knew that brass core with any plating sounded like crap because brass has 35% the conductivity of copper and that gold plating on anything sounded a bit warm and smoothed over since gold has 65% the conductivity of copper.
We were focusing on silver plating or silver/rhodium plating over pure copper or solid silver and solid copper contacts only.
Most of the better ones sounded quite similar.
Some had better bass…some had a more open top end...some had overall more transparency.
We got it down to our favorite few and were literally driving ourselves crazy because we all found that one did some things better and another did other things better and it was all quite subjective since none of us could agree on which one sounded better overall.
Then we heard about a new mid-priced RCA by Furutech that used their best metallurgy in a simple case. It was a bit more expensive then we would like to have spent (over $80/set retail) to use on an IC with a projected MSRP of under $300 but we tried it anyway.
The day we made up the first prototype ICs to burn in and compare to our top three references just for giggles we decided to plug them in "raw" and listen to them before putting 100+ hours on them.
As soon as we started one of our "play it a few dozen times a week test songs" everyone in the room's jaw literally dropped and we all looked at each other.
I said: "where is the reverb in the top end?" and we all listened attentively. Then I asked: "am I crazy or is the time and tune better as well?"
Out of the box these Furutech RCAs had significantly better coherency and transparency then ANYTHING we had heard. The difference was not small.
Once we had 100+ hours on them they began to sound quite sweet and even more coherent and transparent.
We later learned that they continue to noticeably improve for 500+ hours and customers would tell us they would hear improvements for over 1000 hours.
Since then we've tested many of Furutech's other products with the same metallurgy and found them to be equally superior to any other high end connector on the market. It was hard for us to believe but true.
I now have ultra high-end customers that are upgrading ALL the connectors in their system - cables and chassis - to the best Furutech "CF" series and they are RAVING about how much of an improvement it makes.
Mojo Audio sells directly to consumers; most companies import their products from subcontractors and sell them through a series of importers, wholesalers, and distributors. In this common multi-tiered marketing scenario, the price doubles every time the product changes hands. Thus Mojo Audio is able to sell a similar or superior quality cable for considerably less than you would find at your local high-end audio store.
All Mojo Audio cables come with a lifetime warranty. The lifetime warranty is for the original owner and applies to any new, used, or demo cables purchased directly from Mojo Audio. If for any reason their products should fail under normal use, Mojo Audio will repair or replace them free of charge.
There is a 45-day no-risk trial period and a 90-day full-value upgrade time period which is plenty of time to audition the interconnects. In addition there's an 80 percent trade-in value for up to six months and a 70 percent trade-in value for up to one year. See the http://www.mojo-audio.com/terms-of-sale/ for return instructions.
These Mojo Audio interconnects are the most natural sounding cables I've heard yet in my system and give me more intricate detail and a feeling of being in the presence of the performers and the space they are playing in. I always believed that well made cables offered some of the most noticeable sonic changes in a sound system; however these take it to an even higher level. Highly recommended. Teresa Goodwin
Mojo Audio Lucent Copper Ribbon Interconnects with Furutech FP-126R RCA plugs
Retail: .5 meter $299.95, 1 meter $299.95, 1.5 meter $349.95, 2 meter $399.95, 2.5 meter $449.95, 3 meter $499.95
Upgrade option to CF-126R RCA plugs, Custom lengths and special-order terminations are available
Mojo Audio
www.mojo-audio.com