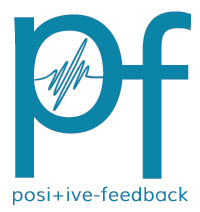 You are reading the older HTML site
Positive Feedback ISSUE 64
november/december 2012
The Audio Circular 2 - A Human Audio Experience!
by Gary L. Beard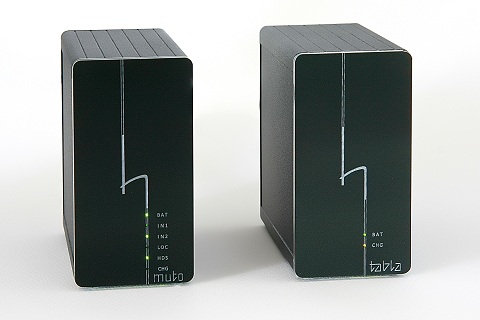 The Muto HD DAC and Tabla USB Converter
I enjoy new audio experiences and as technology marches on--seemingly one tick ahead of time--there is an ever-continuous stream of new tech toys being developed. They come to market at a dizzying speed and if you blink, you miss something really good. I have missed a lot over the last few years; lately it has been the USB audio revolution.
This past year I decided that the next logical step in my own digital audio evolution to be high resolution capable audio playback. Having audio served up hot from a computer on my mind, I asked PFO Editor Dave Clark to find one of the many new USB DACs on the market for me to experience. He found a very cool one: The Human Audio Muto HD DAC. Of course, no DAC is of any value to a computer without an interface, so bring on the Tabla, Human Audio's Dual Asynchronous USB to Sony/Phillips Digital Converter. Both units were designed and built by Human Audio Ltd. of Hungary and are represented in the U.S. by True Audiophile of Portland, Oregon.
The Past, Present, and Future
I have long admired the beauty and potential of high resolution audio. I tried SACD in its infancy, but it just couldn't trump computer-based Lossless playback in my listening room. Yes, as stupid as it may sound, I dumped a particularly fine Sony SA-777ES SACD player in favor of the convenience and very good sound of the Squeezebox 2 streaming .WAV and ALAC files. Now however, with Hi Res audio maturing and all genres of titles (not just the 52nd remastering of Kind of Blue) are becoming available from music download sites around the globe, it is time for me to add it to my audio arsenal. The few titles I own have been downloaded from HDTracks http://www.hdtracks.com/ as they seem to have the largest selection of music I enjoy and they are adding more titles every day. While downloading Hi Res is a seriously cool development, I am embracing it slowly to protect the kitty. It is easy to download music… Waaaaay too easy. It can be an expensive venture to willy-nilly download music at 3am.
As we audiophiles are wont to say, "Sorry about your wallet!"
My reference Red Wine Audio modified Squeezebox 2 and Bel Canto DAC 2 make an excellent digital front end, but even as the battery powered RWA SB2 performs to a level well beyond what its humble plastic case would suggest, it will not decode the higher bit rate and sampling rates of high resolution files. In addition to the SB2, I own an M-Audio USB Fastrack Pro that I use to digitize vinyl. The Fastrack Pro is 24b/192k capable, uses ASIO drivers and sounds good, but has been too finicky for me to use as an everyday playback device. I am also enjoying a Halide Designs Bridge (on loan) to play files up to 24 bit/96kHz. The Bridge is totally plug and play and sounds great without computer muss or driver fuss.
Like the Halide Designs Bridge, the Human Audio Tabla utilizes USB power from the computer, but unlike the Halide, this power is used to charge the Tabla's two internal batteries. Rather than firmware drivers, the Tabla utilizes a licensed version of the M2Tech (Hiface) USB 2.0 driver. I downloaded the Windows 7- 64-bit version (it is available in many OS configurations for both PC and Mac) and it loaded up without drama of any sort. As recommended by my newly installed J River Media Center playback software, I set the audio output option for WASAPI-Event Style http://wiki.jriver.com/index.php/WASAPI and connected the Tabla to a USB 2.0 port on my laptop with a standard-issue 6 foot USB cable. The computer recognized the Tabla almost immediately and was ready for connection to the DAC.
In addition to sending his personal Tabla and a well-traveled, fully broken-in Muto HD for a 30 day evaluation, Gary Alpern of True Audiophile, also sent me a Revelation Audio Labs .5 meter BNC to BNC digital cable. This cable was designed by Revelation Audio Labs in concert with Mr. Alpern expressly for interconnection of the Tabla>Muto. Fit and finish of the cable is first rate and the length works perfectly to set the two units adjacent to each other. The BNC connectors are excellent. My own Belden 1506A homebrew cable is very good and while I didn't have much time to compare the two, the RAL cable added a good measure of clarity over the Belden. While not inexpensive, it is quite obviously, a very nice complement to the Human Audio gear. I must admit I probably need to upgrade…
…All together now readers, "Sorry about your wallet Gary!"
[Sidebar: I recently purchased the very nice (and cheap) Asus K55A laptop with Gen 3, i-5 core processor, 4 gigs of RAM and a SATA hard drive running Windows 7-64 bit OS to use as my audio server. I paired it with a 1 Terabyte Seagate USB 3.0 portable external hard drive for audio file storage as well as J River Media Center Version 17 for playback software. While I wish I had bumped up the budget for a backlit keyboard, I am more than satisfied with my new server, especially in light of the overall cost. In the future, I will add more RAM, perhaps a SSD hard drive for the OS and some type of remote control. (A Surface tablet would be nice. Are you reading this Microsoft?). I am still debating when and if to upgrade to Windows 8, but my gut tells me waiting is the best option for the short term. ]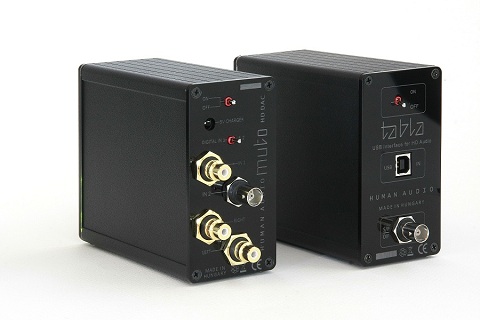 The Specs!
Rather than trying to describe specific design information, with Gary Alpern's permission, I have included the specifications and a portion of the narrative on the Tabla, Muto and RAL cable from the True Audiophile website:
The Muto HD DAC*
…Features include twin LiFePO4 batteries with at least 12 hours operation time. HD DAC up to 24bit / 192kHz with two selectable digital (S/PDIF) inputs which are configurable 75 ohm BNC-BNC, BNC-RCA or RCA-RCA. The analog outputs are RCA. The whole charging process is automated. The recharging starts when the unit is switched-off or in case of switched-on and the level of batteries reaches the low state. The Muto has a unique and discrete analog output stage with "Class-A" operation in order to give the most realistic musical experience for the audience.

Specifications
S/PDIF input compatibility: 44.1, 48, 88.2, 96, 174.6, 192kHz (16/24 bit)

Input sensitivity: 0.5Vpp (75 ohm)

Inputs: Two fully equivalent digital inputs with RCA and BNC connectors (RCA+RCA, BNC+BNC also available upon request)

Operation time in "green" operation: at least 12 hours (assumed full charge)

Time to re-charge in switched-OFF mode: 12-14 hours (maximum)

Overcharge/critical discharge protection: YES (built-in, automated)

Analog output stage: Fully discrete (non-OPA!) and unique with bipolar and J-FET transistors in "Class-A" operation

Analog output level: 1.25Vrms (NOTE: lower than the standard 2Vrms)

Minimum load impedance: 10Kohm

Frequency response: 20Hz-40kHz +/- 0.5dB (in case of real HD* signal source)

Total Harmonic Distortion: less than 0.05%

Signal to Noise ratio: more than 112dB(A)

Internal batteries: LiFePO4 high-grade cells with long (more than 5yrs) lifetime without any memory effect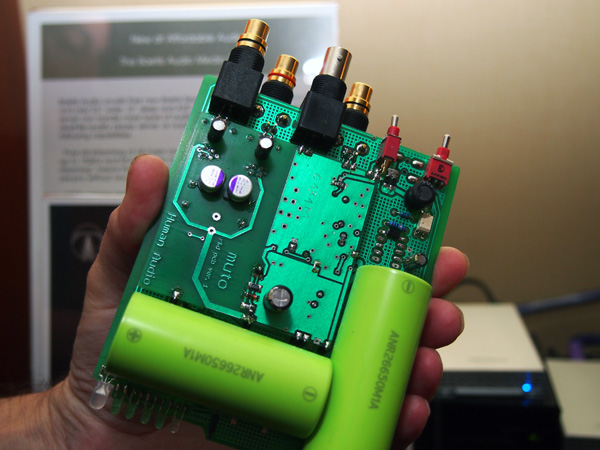 The Tabla*
…Based on the Human Audio philosophy this device is purely battery powered with 2 built-in high-grade Lithium-Iron-Phosphate (LiFePO4) cells. Each one runs separate operations. One for the USB and one for the converter circuity. This separate is what provides incredible blackness and giant soundstage, making the presentation organic and liquid. These are no mere batteries. These batteries were originally created for the electric car industry and have an internal resistance of .002 Ohms. There is even a video of one of these batteries, which are the size of a large AA battery, starting a car. Batteries are rated to last 8 years.

The charging is fully automatc without any external device since the Tabla uses the USB power for charging purpose during idle. You do nothing. When its not playing its charging. With up to 18 hours of runtime and nearly impossible to run out of battery life during any normal listening. Even if by some chance you ran it 24 hours the most that happens is the green light goes to yellow telling you its now running off USB buss power. We do suggest letting it charge overnight but you will not have to worry about it interrupting your listening.

Tabla provides ultimate audio performance using these built-in batteries selected for the lowest ripple and the least noise output performance, a very advanced ripple smoothing technology in engineered into the Tabla when using the USB power while the battery is being silently reloaded, ultra-low jitter (3 ppm) discrete onboard clocks for 44.1kHz and 48kHz multiples, a specialized pulse transformer on its real 75 Ohm BNC output and of course one of the best USB-Audio algorithm available on the market (developed by M2Tech).
Specifications
Warranty: 12 Months

Resolution: up to 24 bit / 192 kHz

Bit-perfect playback support: YES

OS driver availability: for Windows & Mac OS X ( hiFace EVO compatibility )

Input: USB 2.0

Output: BNC 75 ohms (optional RCA adapter from BNC)

Powering: Built-in rechargeable 2 LiFePO4 battery with ~8 years lifetime without memory-effect

Charging: Fully automated from USB power when idle times (stop & power off state)

Operation time (in "GREEN" mode) without charging: at least 12 hours continuously playback

Seamless switching (with LED indication) between the clear battery ("GREEN") mode and USB charging active during playback ("YELLOW") mode without any audible glitch (when the battery level is low)

Charging time: max. 8 hours

Revelation Audio Labs Paradise Prophecy Cryo-Silver Reference S/PDIF* For Human Audio Tabla/Muto DAC Digital Link cable Made especially for the Human Audio Tabla DDC to Muto DAC for the ultimate true 75 ohm impedance. Employs WBT Nextgen™ Oyaide SLSB™ BNC connectors, featuring 4N pure silver center pin and Silver / Rhodium plated outer case / signal return. .5 meter for best and most convenient connection.
Audio Muto HD DAC: $1,199.00 USD
Human Audio Tabla USB Converter: $995.00 USD
Revelation Audio Labs BNC Cable: Price $399.00 USD
Human Audio
www.human-audio.com
True Audiophile
www.trueaudiophile.com
*Complete information regarding the referenced equipment may be found on the True Audiophile and Human Audio websites.
My Experience
I plugged the Muto's small wall wart power supply into to the nearest receptacle to charge its internal batteries. The "wart" is very small (allowing other items to plug in next to it!) and has a green LED to let you know it is powered up. As noted, the Tabla and Muto both utilize two Lithium iron phosphate (LiFePO4) batteries per unit--good for 12+hours of playing time. I can say that in my experience with the Human gear, the batteries performed without incident or issue of any kind. The wall wart automatically charges the batteries so there is little for the user to worry about. A simple on-off toggle switch on the back turns the unit on and there are LED's on the front that show battery condition. Digital input 1 & 2, signal lock and when the DAC is decoding a frequency higher than 44.1 kHz. Whether by design or accident, the stylish Lexan faceplates of both units refract the LED of its current state around the edge of the face, which of course looks understatedly cool. The battery power supplies in both units are designed to minimize ripple and other power nasties, supplying constant, clean power. The 1.25 V Output Voltage is a bit lower than any DAC I have used to date.
The Tabla and Muto both worked flawlessly during the entirety of my 30 day evaluation. The Muto's low output voltage required a tweak of the volume knob on the Slagle Auto former Volume Control to reach a volume level similar to my reference's 2.0V output, but a positive to that was the gain of an additional few steps of useable volume control. While I believe the Muto's lower output voltage may have scaled back large dynamic swings a smidge, the sound emanating from the Omega Super Alnico's was clear, precise, and melodic.
It should be noted that the observation regarding dynamics may not be altogether due to the Muto. I have noticed this difference to a lesser degree with all my gear when using the passive Slagle AVC. The upside of course is a purity and directness that is a hallmark of many passive designs. While dynamics might suffer just slightly, the battery powered chain of Asus K55A laptop>Tabla>Muto HD driving the Slagle provides a deathly quiet, blacker than black background. In fact, it is the quietest I have ever heard my system.
My computer-based music collection consists mainly of 16-bit/44.1kHz Redbook CD's ripped to Apple Lossless (ALAC) .WAV or FLAC format. Mixed in are smatterings of MP3's and Hi-Res FLAC files, a few 24-bit/192kHz, but most in 24-bit/96kHz. To gauge inner resolution, micro and macro dynamics, I listened to the FLAC-ripped CD layer from the hybrid SACD of Fritz Reiner conducting the Chicago Symphony's 1960 recording of Rimsky-Korsakoff's masterwork Scheherazade. Large scale dynamics do not seem to be quite as good as my DAC 2, yet blackness between notes is impressive allowing excellent dynamic contrast. Perhaps this sounds contradictory, but as I have found with my own battery-powered RWA SB2, there is unquestionably something to be said for the quiet nature of a battery powered playback chain. While large scale swings may suffer without serious amperage behind them, on the micro level, dynamics are excellent. The single driver Omega Super Alnico's are fine speakers, but perhaps not the last word in untangling complex music. On the other hand, their tone and ability to reproduce dynamic contrast is really quite wonderful. And as expected, tonal shadings, especially violin, were beautiful and I was quite taken by the Omega's improved handling of the busy parts when the untangling was reconstructed by the Muto. Combined with the beautiful tone, texture and cohesive nature of my system, this classical masterpiece held my rapt attention and was a thoroughly unforgettable listening experience in which my entire system shined.
While I would be negligent not to exploit well recorded material to evaluate gear, it was not the only music I fed the Muto. I listened to tunes I have loved for years; some of which are not even close to audiophile recordings. Yes, Sade, The Rolling Stones, Weather Report, Stevie Wonder, America, Allison Krauss, Passport, Johnny Cash... A veritable smorgasbord of rock, jazz, roots, R&B, and blues. Throughout my time with the Muto, I continually noted how easy it was to quit listening for "hi-fi" qualities and just enjoy the music. There is a balance to the sound of these components that is natural, non-fatiguing and well, human. (You knew it was coming didn't you?) Clearly this has a lot to do with my whole system and it should be duly noted that this relaxed nature is one I value highly in audio equipment. I certainly don't want every recording to sound the same—no "Rose Colored Glasses Effect" for me—but wanting to hear what differentiates recordings doesn't mean "Ruthlessly revealing" either. Human Audio must feel the same way, as the Tabla/Muto gave me the beauty and the beast without ear-bleeding stridency or glossing over poor recordings.
Tone and timbre were very good as well. Being intimately familiar with the brassy burnished tone of live saxophones, I always listen intently to their tone in recordings. One of my go-to selections for horns is the 2000 Grammy Album of the Year, Steely Dan's Two Against Nature. On TAN, an abundance of great players strut their saxy stuff and as I listened, all sounded great and correct. Check out Chris Potter's solo on West of Hollywood and you'll see what I mean; great tone indeed!
While there doesn't seem to be an aggressive bone in the Muto, there is attack when demanded and decay when required. I would not say it was a particular strength of this DAC, but it was good in my system. The top end is a wonderful mix of delicate and wispy; the low end always tuneful, authoritative when necessary, but never overpowering. The midrange is lovely and smooth, yet complex and perhaps ever so slightly recessed in the upper reaches. This would seem a calculated voicing by Human Audio and while it works to great effect on 90 percent of what I listened to, however there were times when I thought the Muto could use just a tad more energy/edge up top—especially on serious guitar-driven hard rock. That said, all in all, from top to bottom, balance seems to be a prime directive for the sound of this DAC. It is hard to argue against the results. Listening to the Tabla/Muto through my system is much like looking at a woven tapestry. There is beautiful layering to the music, yet it is presented as a whole picture. And while I am certainly able to pick out individual details when I desire to do so, most of the time it is the whole that touches me.
The Muto has that terrific "Pace, Rhythm, And Timing" (PRAT) thing too and while difficult to describe, once heard, it is not easily forgotten. This seems to be a particular strength of the Muto and one that only a handful of DACs I've heard share. The Tabla/Muto did not throw the huge, 3D, airy stage presence that I have heard at times with the Bel Canto. And while the Omega's completely disappeared on many recordings, there were no sounds bouncing around the room, or huge images of players on a stage. It is a more controlled staging, certainly an intimate one in my system. The Muto places instruments and voices between the speakers in good stead and depth is good, but sound rarely travels forward of, or outside the plane of the speakers. From some of the reports I have read, this is a strength of the Tabla; so had I more time to play with set up I might have found the magic, but as it was, I never quite got it locked in. Make no mistake; imaging and staging are very good, just not "incredibly spectacular". Therefore, those of you who put heavy emphasis on spatial audio trickery need to hear these components in your own system and judge accordingly—you may be surprised with the outcome. If I ever get another crack at them, I may find a different outcome as well.
A disclaimer of sorts:
Remembering that this is first and foremost an experience article and not a "traditional" review, I may go about evaluating a component a bit differently than others and even differently from my reviews of years past. Yes, I pepper my writing with a few "audiophile" buzz words and the structure may evoke review, but my goal as stated is to use a piece of gear and report back my findings. How well did it work? Did I enjoy it? Did it sound good or bad in my system?
Well, here are the answers: The Tabla and Muto worked very well, not one issue and extremely simple operation to boot. I absolutely enjoyed them 100% and they sounded so good in my system that I hated to send them home. It is unfortunate for me that I had such a short window of opportunity with the Human Audio gear. Thirty days is not a great deal of time to evaluate and compare digital components, especially in light of the fact that writing about audio is not my full-time job and I (as we all do) have many other demands on my time. But being the Human's were in such high demand, I was unable to keep them any longer. The result was that I spent much more time just listening to the Tabla/Muto/Revelation gear in my system and much less comparing them to other components I own. I was unable to spend any meaningful time with my active preamp, so I make no comments as to the differences between it and my AVC. Additionally, I never played with the Muto as a standalone DAC, or with the big McCormack solid state amp in the chain. Lastly, as alluded to earlier in this missive, I do not own many hi resolution files. So I focused primarily on my existing library of music as played through my new Laptop and software. Again, all these are new to me. I don't necessarily like to write about any component with so many new additions to my system, but hey, I can't use a USB interface without the associated gear!
An Observation
It seems that high end digital audio converters have reached a state where they are all very good and the differences between them are small. Yet power supply, DAC chip type, and overall design topology will, more often than not, cause differences worth noting. This is the case here as well. When compared directly with the Bel Canto DAC 2 + Tabla, there were in fact, many similarities and the differences were minute in many respects. I did find some noticeable differences. The Muto had a much lower noise floor and created a wonderful space around the notes that was lacking in the DAC 2. The Bel Canto holds the edge in large scale dynamics and seemed to be the most resolving of fine detail, but it lost out to the Muto's wonderful handling of complex musical passages.
The Wrap
The single most important observation I take from my short time with the Human Audio Tabla USB Converter and Muto HD DAC is that they are unfailingly consistent. From top to bottom they just sounded right and if they did coat the music in a rosy glow, I didn't hear it. They are small, good looking, simple to use and are at the lower end of the high-end audio cost spectrum. I could easily live with them long term as my USB playback chain. The Tabla and Muto HD have been back in the hands of True Audiophile for some time and I am feeling separation anxiety. I am...Really. Of course, that is only human. Highly recommended for your audition.
Gary L. Beard