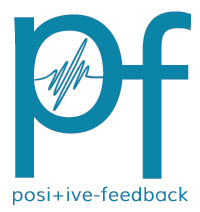 You are reading the older HTML site
Positive Feedback ISSUE 64
november/december 2012
The Future Is Here-Audio Still Rules
by Karl Lozier
Blu-ray recordings may be video, audio or most commonly video plus audio. If the video is a distraction turn it off though I would suggest watching the video at least once; at times it can be interesting or entertaining. Naxos is again following up with more high definition (Blu-ray) audio only releases. For many listeners that will be a distinct improvement in audio quality if the HDMI digital output signal is used instead of the analog. That one cable carries everything including stereo or multi-channel audio in addition to the very high quality Blu-ray video signal. Greater clarity and a smoother treble will be noticed with many if not most home audio systems. So far this seems to be consistently true. Easier connection needing only one cable is appreciated by all. Sometimes new-fangled things are even easier to use while offering better quality, at least in the audio musical field.
An easy way to get into the beauty and audio and video qualities of Blu-ray releases is by getting a truly good player (a good start is important with many things in this old world). In this issue I will continue to use the moderately priced Oppo BDP-95 player for all the Blu-ray reviews, an over performing universal player; other players may be used for SACD recordings. Next item needed would be a very decent AV receiver such as by Onkyo, Integra, Denon and others that have multiple HDMI cable inputs and good digital or digital to analog connections and jump right in. Your newer television sets will have the correct and simple HDMI connections for simplified setup. The AV receiver will let you add surround sound easily. Remember that quality is more important than quantity in the long run. If possible, try to get an AV receiver that has an official manufacturers' list price of $1200 or even a bit more, particularly if you like to listen at fairly loud levels at times and with multichannel connected. If you like an "in the theater" atmosphere or feeling, multichannel will be necessary now or later. In Issue 60, I went into some detail about why I have now chosen the Nola loudspeakers, namely the Boxers (for right and left front channels) and the specifically designed Announcer model for the very important center channel to use for the all important front trio in these and continuing reviews. Yes, you may have heard that all three would ideally be the same. That is not necessarily true; here both models are the same, in that each uses the same drivers/cones in a different designed cabinet for an even slightly better sounding center channel. As many have found out, center channels can be of extreme importance to many listeners; that is where singers live as do news reporters. In this very competitive price range, models are offered by Paradigm, PSB, Definitive Technology and others. As before, a right and left pair of Nola Thunder Bolt II subwoofers complement the front channels for even deeper and more palpable bass range desired by some listeners.
Notice the generally favorable brief revues I write each issue? There are logical reasons for that to happen. Changes such as digital and HDMI connections have made pretty darn good audio to be easier for the manufacturers to give us and easier for us to put to use. Same is true for the video portion that we pretty well take for granted here. As you purchase and use some of my suggested performances you may notice that relatively unknown sources and performers are often doing a superb job and why not! Unlike many of the big professional outfits and famous performers they can and possibly do practice for many months on end, repeating the same music or performances. That can be the way for an individual, or group, chorus or orchestra to be discovered by being on these well done Blu-ray recordings! Pay attention, watch and listen to the possible stars of the near future in the comfort of your own listening and viewing room.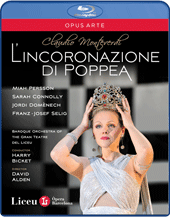 L'incoronazione di Poppea, Claudio Monteverdi. Orchestra: Baroque Gran Teatre del Liceu. Conductor: Harry Bicket. Opus Arte BD 7105 D
Love conquers all—ruthlessly and irresistibly—as Emperor Nero and his mistress Poppea remove the obstacles to their union. As the notes indicate at Barcelona's Gran Teatre production suggests a giant game of chess, that puts the opera's potent blend of sex and politics in a context that sets ancient against modern- just as the action juxtaposes scurrilous comedy and stark drama. Monteverdi's magnificent score accommodates intrigue, wit, nobility, tragedy and sensuality and the cast brings both drama and music startlingly to life and I do agree whole heartedly with the notes here. This early operatic masterpiece could easily have been taken word by word from last month's newspapers headlines. Simply substitute emperor for general, mistress Poppea for biographer and Ottavia for friend Jill.
I must remind you that this modern up to date plot was written by the early operatic genius Monteverdi at the age of 74 years and was first performed 369 years ago—that is not a misprint!
This intricate though fairly subtle plot requires thought and close personal attention by all listeners to appreciate what was created centuries ago and listens fresh and new if given the chance. I challenge you to give it that chance. No aspect of the performances presented here and definitely including the music and musicians, is to be faulted. I have no choice other than to award it my highest recommendation and hope that you will do your part to study and enjoy it.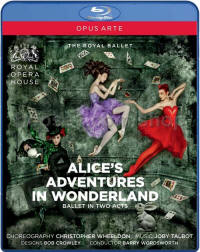 Alice's Adventures in Wonderland (Ballet in Two Acts). Music: Joby Talbot. Orchestrated by: Christopher Austin and Joby Talbot' Orchestra: Royal Opera House. Conductor: Barry Wordsworth. Opus Arte BD7090 D
"Take care of the sense, and the sounds will take care of themselves" moralizes Lewis Carroll's Duchess. Add dance though, and you are in another world where the narrative can easily get all out of shape though that does not happen here in this Royal Ballet spectacular. Principals here such as choreographer, Christopher Wheeldon are well aware that historically when "Alice" gets on stage the results have not been particularly successful. In this fine production humor in various forms seems to make a great difference. The visual scenes are both interesting and humorous. The more than adequate score may not have you whistling new melodies though you are going to remember the humor and humorous scenes.
Simply put, I enjoyed the ballet, the music, dancing and the many humorous touches and chances are fine that you will too. So I can easily recommend this to all, though perhaps even more so to children of all ages or at least those who are young at heart. Once again this fine Blu-ray recording should please both listeners and viewers and that means it is recommended viewing and more importantly for PFO listeners, it is recommended listening.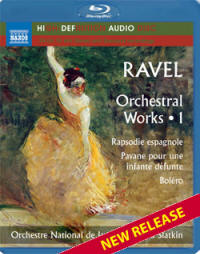 Naxos High Definition Blu-ray Audio Disc. Ravel. Rhapsodie Espagnole. Pavane pour une infante defunte. Bolero. Orchestra: National de Lyon. Conductor: Leonard Slatkin. NBD0030
Once again we have Naxos' excellent High definition audio quality though no video to go with it; audio only. As usual the audio quality is not to be faulted. Leonard Slatkin is a fine conductor usually and here he is again; I had lost track of him lately and it is nice to have him back again. He usually plays the music pretty much as written though at times he adds a nice subtle touch that is seemingly very appropriate and interesting. With a huge number of Grammy nominations there is little surprise to having won seven times so far. The orchestra has seemed to continue to improve since he has joined them and we are all benefiting. Translate that as this release is being definitely recommended. I am also looking forward to the probable future releases by these same forces. Do remember that this release is also definitely high resolution and will sound its very best only when used with a top quality player.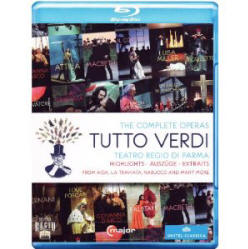 Verdi. Attila. Orchestra: E Coro Del Teatro Regio Di Parma. Conductor: Andrea Battistoni. CMajor Blu-ray 721704
It would be difficult to choose a main or lead male character or male hero with less appeal than the infamous Attila, "the Hun." He is also referred to as the "King of the Huns" and the most successful barbarian invader of the ancient Roman empire. That group was active a long time ago, like many centuries ago! However, here the setting is moved a few centuries forward. During this celebratory time of Verdi's 200th birthday, some music books do not even list this composition, and a couple others. Better not hold your breath waiting for a performance at your closest local opera house! Now for a different outlook; I offer mine. Sometimes all it takes to make me happy is an opera with some strong male voices, melodic music and definitely with powerful male choruses featured. I am easily and surprisingly contented here.
A definite plus is good orchestral playing and excellent audio quality. If your likes are similar to mine, maybe you have found a rough gem to polish and enjoy simply on your own. Good listening and happy holidays to you as 2012 comes to its end.