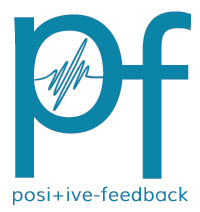 You are reading the older HTML site
Positive Feedback ISSUE 64
november/december 2012
Notes of an Amateur: Jennifer Koh, Artistled's Dvorak, Prokofiev & Britten Cello Symphonies, Talich Quartet's Complete Beethoven.
by Bob Neill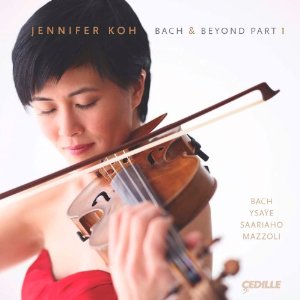 Jennifer Koh, Bach & Beyond, Part 1. Bach, Ysaye, Saariaho, Mazzoli. Jennifer Koh, violin. Çedille Records CDR 90000234.
Jennifer Koh played the best live Bach I've ever heard a couple of years ago in Amherst College's Buckley Recital Hall: Partita No. 2 in D minor, a work I'd heard a great many times before, but not like this. I exchanged looks with those immediately around me in the audience and we all nodded our heads in agreement. I bought her CD of the work in the lobby, was disappointed, but wrote off the difference to live vs. recorded. I did not notice the date on the recording, which was ten years earlier than the Amherst performance.
The Jennifer Koh on this recording is clearly the more mature and inspired performer I heard at Buckley around 2009-2010. Strong, direct, confident, emotionally warm... monumental. The smile on her face on the back of the album jacket says it all: "I nailed it." Her Ysaye Sonata No. 2 (1924) has the same quality, as it should. Bach was Ysaye's model. Not a hint of the preciousness we sometimes hear with this music. If anything, it is more conspicuously forceful and expressive as it should also be. This is not Bach, but it is music that would not exist without him, which is the overall point of Koh's album and the three CD set it introduces. All of the composers represented here have digested Bach and seek ways to speak the essence of his music two centuries later in a modern cultural and social world the composer could not have imagined.
The Saariaho Nocturne (1994) and Missy Mazzoli's Dissolve O My Heart (2011) remember Bach in more distant ways—both are freer. We sense that 'the center' that clearly held for Bach has been, if not lost, then subordinated to something else. That said, by the time we return to Bach's Partita No. 2 at the end of the program (his Partita No. 3 began it), we hear Saariaho and Mazzoli as well as Ysaye hovering in the air. The center that for Bach was an aspect of his fairly strict form exists emotionally in the modern works. This is probably what Koh hears and wants us to hear. Their music is not quite so 'lost' as first appeared.
This is absolutely wonderful music making. Jennifer Koh has become a great violinist.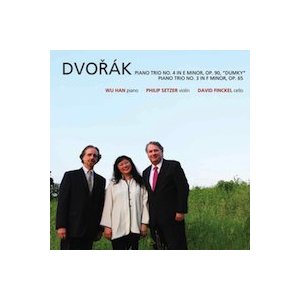 Dvorák, Piano Trio No. 4, Opus 90, "Dumky"; Piano Trio No. 3, Opus 65. Wu Han, piano; Philip Setzer, violin; David Finckel, cello. Artistled Records 11201-2.
This new release from Artisled has a lot going for it: three superb musicians who make up what is to my ears the best piano trio around these days; one of the best recording engineers in the world in Da-Hong Seetoo. And Dvorák, a sometimes overlooked, truly unique composer among the second generation nineteenth century romantics.
The Wu Han - Setzer - Finckel trio, who are too modest to have given themselves a name yet, have been playing with one another for years now, Setzer and Finckel as one-half of the Emerson Quartet and Finckel and Wu Han as a duo. Their Schubert and Mendelssohn piano trio CD's are strong and convincing musical statements, making this recording of Dvorák trios an obvious next step. They strike a wonderful middle ground between the bold Kalichstein-Laredo-Robinson Trio and the urbane, refined, and sophisticated Florestans. This 'style' suits the romantic composers perfectly.
Dvorák's distinctive dance-like lyric sonorities, which give much of his work a kind of lightness, grace, and ebullience not found in the works of his major contemporaries, are exhibited in his trios as effectively as elsewhere among his best works and cede to them nothing in appeal. In some ways, his virtues are made for the textural transparency and drama of the piano trio. Some find the composer too light to take seriously. Dvorák does not brood much, he is too good-hearted and unself-absorbed for that. But he achieves musical stature in other ways that melancholy cannot reach. He gives brio, folk dance rhythms and unabashed lyricism a good name, often raising them to the level of eloquence. He is profoundly good natured.
And finally, the sound, thanks to Da-Hong Seetoo, is full, resonant, and natural.
David Finckel will be leaving the Emerson Quartet sometime during 2013 to make more room in his life for his very many other musical activities. I hope these include more recordings like this one.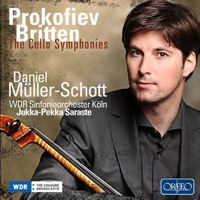 Prokofiev, Britten. The Cello Symphonies. Daniel Müller-Schott, cello. WDR Sinfoniorchester Köln. Jukka-Pekka Saraste. Orfeo Records. C847121A
The Prokofiev 'symphony concerto' for cello (1952) comes from the Romeo and Juliette ballet side of the composer's spectrum. Big, neo-romantic, sweeping, and rhapsodic. It has retained an active and continuing presence in the concert repertoire since its premiere and has been recorded by most of the major cellists, including, of course, Rostropovich for whom it was written and who assisted the composer in bringing it to its final form. It is brilliant, spirited, and infectious; and Müller-Schott, whose reputation grows with every new recording, is master of it. To call the first two movements almost overwhelmingly positive in spirit makes them sound more superficial than they are, but it is an apt description. Prokofiev here remembers his countryman Tchaikovsky, successfully, and then in the final movement gives us a pleasing, introspective darkness we seldom hear in his illustrious forbearer. It builds into a full and expressive climax but not enough to remove the darkness altogether.
With the Britten Symphony for Cello and Orchestra (1963), we are on radically different ground. This is tortured, sometimes heart-rending modernism at its most expressive. I find it among the most powerful of Britten's works. As a result, it is seldom heard in the concert hall (!), though recordings like this one may change that in the next few years. Müller-Schott, who has also recorded a fine set of the composer's solo Cello Suites, brings out the lyricism at the heart of the work's brambly storm. Rostropovich, its dedicatee, characteristically paints it more uniformly dark in the 'definitive' recording even as he extracts the work's tenderness in its quieter passages. The work radiates emotional power either way.
Part of what gives Britten's work a narrative strength that the suite-like Prokofiev's concerto lacks is a poignant piece of thematic material that the rest of the work seems to search for and finally hunt down. The theme enters in the high range of the cello early in the third movement Adagio -- though it may come earlier in disguised form that I've not found yet! We have been wandering seemingly lost until then and the entry of the theme plants an emotional goal in our minds. It is soon nearly plowed under by a threatening mass of sound from both low and high brass. The whole movement carries on at a higher emotional pitch than the two earlier ones, until the orchestra backs off and the cello takes over unaccompanied in a thoughtful, brooding lament: we feel we have arrived at the emotional center of the work. This solo passage takes us immediately into a final Passacaglia in which the orchestra brings the theme back in chromatics, the cello soon joining in to create an almost surreal exchange of the theme. Finally the cello takes command in pure lyrical song, first in its high range, then lower, until the orchestra rejoins it again, like a swelling celestial storm, gathering it up into a brief climax and conclusion.
We emerge from the Britten work with a sense of having experienced something deeply and humanly significant. Like the composer's final solo Third Cello Suite and final String
Quartet No. 3, it asks a great deal of us, far more than the attractive Prokofiev work. It also delivers hugely more as well. I hope I get to hear it live someday.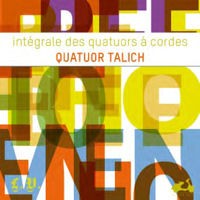 Beethoven, The Complete String Quartets. Talich Quartet. La dolce volta records LDV 121.7
These recordings were first released on vinyl by Calliope in the late 1970's (and again on CD by Calliope in 2000) at the same time the Berg Quartet released a competing set. The significantly different styles of the Talichs and Bergs defined how many of us heard and responded to each of them at the time. The Berg Beethoven was yang to the Talichs' yin. Listening to the Talichs now, 35-40 years later and by themselves with no reference beyond a dim memory of the Berg set, is a fascinating experience.
The Talichs' Beethoven on this set, remastered from the original vinyl tapes, is firm, crisp, clear, tight, and sinewy—not at all yin-like. They are not especially warm or liquid, nor as muscular as some play the composer and as I recall the Bergs playing him. They are, however, dramatic and commanding, not to be ignored during a meal or an attempted conversation. They dominate our attention. Even the early Opus 18 quartets will not be mistaken for Haydn or Mozart.
The acoustic space is a bit dry and not especially reverberant, which results in great immediacy and sonic excitement. Instrumental timbres are clear and transparent, subtly detailed. The Talichs' tempos are brisk, which is entirely in keeping with the quality of their sound. Slow movements are lovely but never indulged. If you prefer your Beethoven on the rich, smooth, and liquid side, you may find the Talichs peaty, as Scotch drinkers would say.
If you are in the mood to explore, these are extremely modest in price for a complete set of classic performances—seven CD's for around $60. The Calliope CD's from 2000 are going for around $300 on Amazon.
Equipment used for this audition: Resolution Audio Cantata CD player; Crimson CS710 preamplifier and CDS 640E monoblock amplifier; Jean Marie Reynaud Orféo Supreme loudspeakers on Symposium Sveltes; Crimson cables.
Bob Neill, in addition to being an occasional equipment and regular music reviewer for Positive-Feedback Online is also proprietor of Amherst Audio in Amherst, Massachusetts, which sells equipment from Audio Note, Blue Circle, Crimson Audio, JM Reynaud, and Resolution Audio.