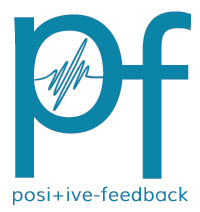 You are reading the older HTML site
Positive Feedback ISSUE 64
november/december 2012
Notes of an Amateur: Schumann, Devienne, Prokofiev, and Stile Antico.
by Bob Neill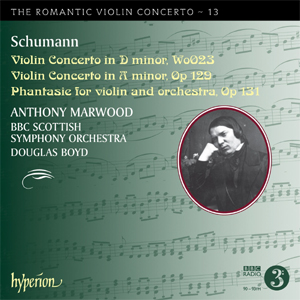 Schumann, Violin Concertos in D and C. Phantasie for Violin. Anthony Marwood, violin. BBC Scottish Symphony Orchestra, Douglas Boyd. Harmonia Mundi CDA 67847.
What made the Florestan Trio work was the contrast between the rich piano tone of Susan Tomes and lithe violin tone of Anthony Marwood. We grew so accustomed to hearing them together that some of us were surprised to discover what Marwood sounds like on his own. It's not that the partnership with Tomes restrained his individual sound so much as the musical circumstances of a trio of necessity set it in a context which made it less conspicuous.
But once we heard him as a soloist in the Adès, Vasks, and Britten concertos and with Adès in the Stravinsky duos, his unique musical personality emerged. Marwood as a solo violinist is a bold poet—firm and commanding also nuanced and lyrical, sometimes ravishingly so. While we admire his crisp élan which comes out in the Adès and Stravinsky performances, the romantic and neo-romantic repertoire feel a little more like his home ground. Here his attributes come together. Here we get a wonderfully strong expression of emotion but under a firm control which seems to intensify it and give it backbone.
These particular Schumann works are new to me. The major piece in the program, Concerto in D minor (1853), was written within three years of the composer's death and did not really see the full light of day until 1937! The Concerto in A minor is an arrangement by Schumann of his much loved cello concerto (1850) and seems to work well once we make the transition from warm cello to soprano violin in our heads. The Phantasie in C Major (1853), while long for an encore piece has many of the qualities of that genre. There are some nice moments in it to remind us that its composer is no slouch and to give the violinist opportunities to do the same.
If you are a Schumann or Marwood fan, this CD belongs in your collection.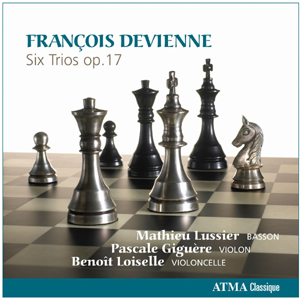 François Devienne, Six Trios, Opus 12. Mathieu Lussier, bassoon. Pascale Giguère, violin. Benoît Loiselle, cello. Atma Classique ACD 2583.
The late eighteenth century 'classical' period preferred grace and refinement to other virtues and so as a rule gives us joy, wit, delight, and comfort rather than passion and spiritual depth. We are accustomed to letting Haydn and Mozart provide us with most of our 'classical' fare, the two composers who unarguably achieve the most range and eloquence with the period's style. But their prominence over the years has let some extremely good composers fade from notice.
François Devienne, the 'French Mozart,' is one of the best of these; and despite the condescending notes of the album commentator who prefers some of his more mature music, these Opus 12 trios featuring the bassoon are lovely stuff, not least because bassoonist Lussier is an inspired whiz. (Devienne was himself an accomplished bassoonist.) Surprising to me, the bassoon suits this music perfectly. Lussier is able to combine his instrument's natural crispness with more grace than I knew the instrument was capable of. Taking the role of the more popular piano in eighteenth century trios, its contribution is less percussive, less brilliant. As a result, the music thrives a little less on contrast, a bit more on consonance.
Perhaps the most important thing this release reminds us of is how much depends on all of the musicians and how they perform on recording day. I have had intimations in the past of the overall excellence of professional Canadian musicians, not just the stars. This French Canadian music-making bespeaks a wonderfully live and spirited musical culture. When was the last time we've been disappointed by an Atma CD?! Speaking of which, the sound is wonderful.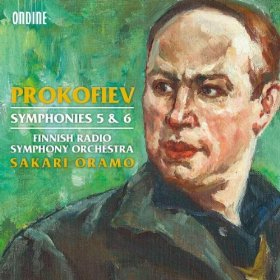 Prokofiev, Symphonies 5 and 6. Finnish Radio Symphony Orchestra. Sakari Oramo. Ondine. Ode 11812.
Sometimes overlooked in the current enthusiasm for everything Shostakovich, his equally compelling immediate predecessor and fellow Russian Sergei Prokofiev is especially notable for his often riveting compound of lyricism and cerebral drive. Where the symphonies of Shostakovich have brilliant exteriors which can sweep us up, Prokofiev's strike as more interior. We are more aware of detail in his music. While sharing some of Shostakovich's militant passion, they often retreat to thoughtful and moody narrative. Prokofiev's symphonies have en engaging analytic quality that draws us into the music's apparent ruminations. In contrast to this quality, there is also a balletic quality that emerges from time to time, sometimes as whole movements when everything seems to leap up and dance. (We are reminded that Prokofiev wrote the extremely popular ballet, Romeo and Juliet, among others.) In the context of a 'thoughtful' symphony, these balletic diversions add an elusive energy; but they are in turn affected by their surroundings, taking on a darker mood than they would have alone.
Which is to say, if I haven't already made it obvious, that Sergei Prokofiev is a difficult symphonist to characterize. Symphonies 5 and 6 are relatively late (1944 and 1947). Both are moving but No. 6 is also sonically fascinating, going places few other symphonists imagine. The experience of World War II is doubtless involved in both works but the later symphony appears to have digested the experience more. A musical and social history of Russian music from Prokofiev and Shostakovich to Kanchelli, Silvestrov, Schnittke, Ustvolskaya, and Gubaidulina would make a fascinating study.
I was drawn to this recording partly because I'd been away from Prokofiev for a long time but also because I admire conductor Oramo and Finnish music making in general. I was not disappointed. Superb sound, which we have come to expect from Finland's premier label.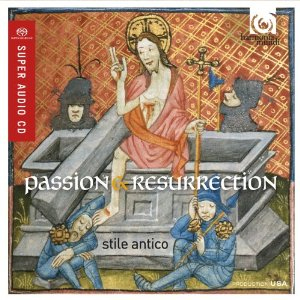 Passion & Resurrection. Stile Antico. Harmonia Mundi HMU 807555.
Many of the favored intellectuals of our day (the late Christopher Hitchens, Richard Dawkins, Daniel Dennett, et al) urge us to live without myth, the Christian, Hebrew, and Muslim in particular. Of course what they are really after are the powerful and influential religions and institutions these myths foster; but the myths themselves have taken a lot of collateral damage. Living entirely without the rich and value laden narratives and pageantry of myths can be seen as intellectually honorable; but many of us find this a choice which misunderstands and so undervalues the power of myths to give rich, concrete, and comprehensive form to the elusive vagueness of our human hopes, ideals, fears, doubts, and moral values. Stripped of these forms and all of their life-giving art and music, life can be a pretty bare and ultimately inhuman affair. Alas, Puritanism comes in many guises.
Which, as is usual in this space, is a long and teacherly introduction to a review. This is an album of renaissance choral music concerned with the passion and resurrection of Jesus by a group of musicians who have become among the very best at what they do: keeping the Christian myth and its major voices alive. Cornysh, Orlando Gibbons, Tallis, Lassus, Morales, Victoria, Taverner, Byrd are all here, along with some less well known others, configuring with words and sound Christianity's imaginative shaping and interpretation of human experience and its proper destiny.
The Tallis Scholars have sung most of this music before... and continue to do so. We would not wish to be without them. But Stile Antico have come along to show us this music can live in different ways. As I've written before about this ensemble, their 'style' is characterized by directness and seamless warmth, enabling the full humanity of this transcendent music to come out. What always strikes me about this music in either this or the Tallis Scholars' more ethereal approach is, as with all myth, how far it is from the basic raw narrative material that gave rise to it. We are in the world but we are also extraordinarily elsewhere. Inside it, above it, beyond it. Reality has more dimension. Even the prose (and poetry) of the King James version of the Christian bible, a great deal of which provides the texts for this music, feels greatly removed from the same original narrative material, reminding us how ill-conceived, if interesting, the 'search for the original Jesus' and other such research ventures are. Deconstructing literature is ignorant enough; deconstructing myth is beyond absurdity. Both forms of analysis misunderstand the nature of art and myth and what they are for.
All of this music, wonderfully performed here, makes, especially to our modern ears unaccustomed to its mainly lost sonorities, a powerful case for its continuing value. And in the midst of this program, contemporary English composer (and keyboard musician) John McCabe contributes a new version of "Woefully Arrayed," the first piece in the program by Cornysh, setting some of these lost sonorities into a context of modern dissonances to express yet more poignantly myth's even greater distance from a world, ours, in which it has lost most of its power.
This is Stile Antico's seventh release, all on SACD.
Equipment used for this audition: Resolution Audio Cantata CD player; Crimson CS710 preamplifier and CDS 640E monoblock amplifier; Jean Marie Reynaud Abscissa and Orféo Supreme loudspeakers on Symposium Sveltes; Crimson cables.
Bob Neill, in addition to being an occasional equipment and regular music reviewer for Positive-Feedback Online is also proprietor of Amherst Audio in Amherst, Massachusetts, which sells equipment from Audio Note, Blue Circle, Crimson Audio, JM Reynaud, and Resolution Audio.