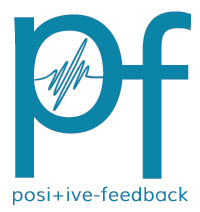 You are reading the older HTML site
Positive Feedback ISSUE 64
november/december 2012
Notes of an Amateur: Dutilleux, Ibragimova's Mendelssohn, and Adès.
by Bob Neill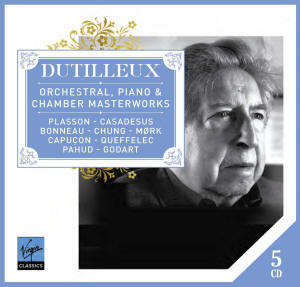 Dutilleux, Orchestral, Piano, and Chamber Masterworks. Virgin Classics 50997-319364 (5 cds)
Musical modernism was born in France (alongside modern art), and it is exciting to hear it coming into being not just in the works of Debussy, Ravel, and Stravinsky, but also in the music of lesser known but wonderfully inspired Henri Dutilleux (1916- ). I bought this box of five CD's with no intention of reviewing it—some of the recordings are 50-60 years old, the most recent a decade or so. I just wanted a large chunk of the composer to pursue with my own wayward curiosity. Now I can't leave this box of music alone, so I might as well talk about it.
Dutilleux's better known contemporaries are here; from time to time we hear most of them. But this music has its own appeal. It is less arresting or groundbreaking than theirs but altogether appealing. His modernism is true to the new emerging aesthetic but not so eager to break up the old forms. I guess the most obvious thing to say is that after listening to this music you will not recognize it in the future by its melodic or thematic content. What you will recognize is its overall sound and texture. Anywhere you dip into this anthology you will recognize what you'll come to call "Dutilleux." It all proceeds from an identifiable sensibility and voice. This characteristic is what defines a genuine artist in any medium and it is rarer than we think.
Notes: The cello concerto, Tout un monde lointain and unaccompanied cello music for Sacher, both played by Truls Mørk; and the violin concerto, L'arbre des songes, played by Myung-Whun Chung, are gorgeous. To my ears they express a whole new and surprisingly rich and inventive view of what modernism is capable of.
Though there is no information to this effect, these recordings are surely remastered: they sound really good.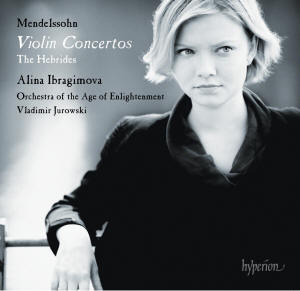 Mendelssohn, Violin Concertos; The Hebrides. Alina Ibragimova, violin. Orchestra of the Enlightenment, Vladimir Jurowsky. Hyperion CDA 67795
The odyssey of young Russian violinist Alina Ibragimova continues. This CD is her first excursion into the standard repertoire where soloists have truly to bring something distinctive to the table to compete successfully. What Ibragimova brings is herself—her unique combination of lightness and force that we recognize from her performances of the Beethoven sonatas and Bach solo sonatas and partitas. The lightness brings grace and brilliance; the force contributes drive that we hear as foundation, a solidity that keeps the lightness from becoming too sweet. The result forces the composer rather than the soloist into the foreground. It induces us to take this music more seriously, reminds us why the Concerto in E minor (1845) in particular has remained in the standard repertoire.
The Concerto in D minor, composed in 1822 when Mendelssohn was 13 (!), hasn't its big brother's weight and reputation. But like everything Mendelssohn wrote, it is entirely listenable; and Ibragimova makes an enjoyable case for it.
In a world currently full of promising violinists, we have to let our ears tell us which of them are worth following. I'll listen to anything Alina Ibragimova chooses to record.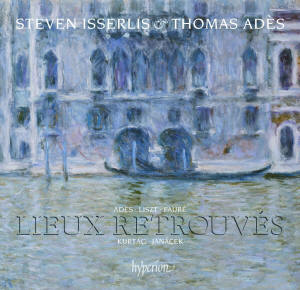 Steven Isserlis [cello] & Thomas Adès [piano], Lieux Retrouves. Music by Adès, Liszt, Fauré, Kurtág, Janácek. Hyperion CDA 67948.
British cellist Steven Isserlis is not enough to call us to this album, but Thomas Adès is. We are willing to listen to the two of them play a recital of nineteenth century music by Liszt, Fauré, and especially the elusive and eccentric Janácek; more than willing to hear Isserlis tip-toe respectfully through several solo cello elegies by Hungarian second generation modernist György Kurtág. But make no mistake, we come to this recording for Adès' fairly recent (2009) and as yet unrecorded Limeux Retrouves (places rediscovered, found again).
To many of us, Adès is a bolder, more urgently outspoken Britten. The poignance that lies at the heart of the elder composer is present in Adès, but it is less guarded. And it frequently bursts into passages of open emotional exuberance, antic and dissonant dance, and drama. Since composing his version of Shakespere's The Tempest, the exquisite sonorities of that work, especially in the upper register, have never been far away. This is not a major piece of music but it is as exciting as the best of Adès, even on its smaller stage.
Equipment used for this audition: Resolution Audio Cantata CD player; Crimson CS710 preamplifier and CDS 640E monoblock amplifier; Jean Marie Reynaud Abscissa and Orféo Supreme loudspeakers on Symposium Sveltes; Crimson cables.
Bob Neill, in addition to being an occasional equipment and regular music reviewer for Positive-Feedback Online is also proprietor of Amherst Audio in Amherst, Massachusetts, which sells equipment from Audio Note, Blue Circle, Crimson Audio, JM Reynaud, and Resolution Audio.