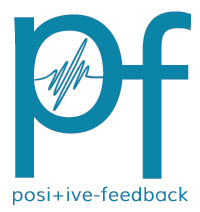 You are reading the older HTML site
Positive Feedback ISSUE 64
november/december 2012
Dorsey's AES 2012 Show Awards
by Scott Dorsey
BEST NEW PRODUCT
From my perspective the most exciting cable product was Belden's 1776 "Super Strong Microphone Cable" that was made as a reaction to some European rock bands that were destroying cables. These have jute strength members capable of holding several hundred pounds and a super-thick jacket, without being unpleasantly stiff. Lots of people talk about sound quality in cables but it doesn't matter what it sounds like when it's broken. Here's a cable that won't break in bad conditions.
WORST NEW PRODUCT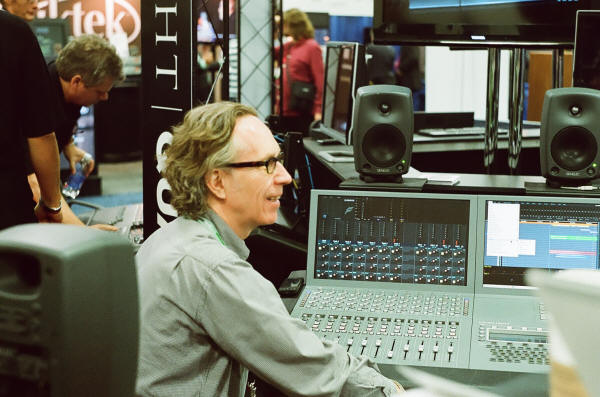 I know it was the hit of the show and everybody loved it, but I look at the Slate Raven digital console and it just seems like everything I don't like about the digital world. It's a console that feels like mixing in the box. And what's with the iPhone dock and the like? I feel about the iPhone the same way I used to feel about cassettes... handy to have around but there's no reason to have it too close at hand. The touch screen interface is ingenious and sexy but it exemplifies everything that bothers me about the new generation of digital systems. I know this probably brands me as an old fart obsessed with one-function-per-control interfaces, but is that so bad?
BEST SOUND IN SHOW
Surprisingly it was actually on the AES show floor. ATC was showing off their SCM 25A pro monitor speakers, and although the booth acoustics were very poor and the ambient level very loud, they really were pleasant to listen to and definitely something I'd want to try under better conditions. This is clearly one to look out for. It's powered, which I know is not popular in the audiophile world, but don't let that scare you off.
WORST SOUND IN SHOW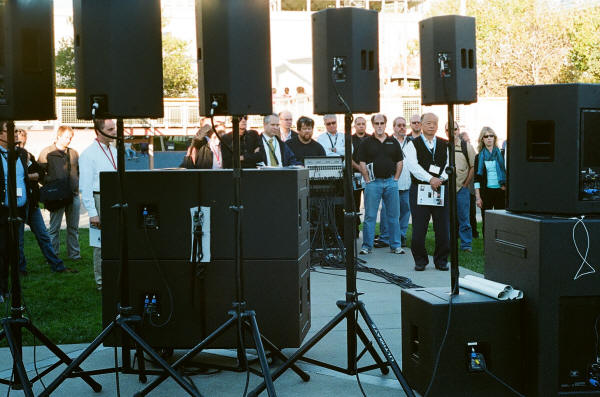 I'm sorry to say I have to give this to Vue Audiotechnik, a new company that was doing an outdoor demo of what looked like some very well-designed and clean PA speakers that had the potential to sound good. Unfortunately for them, the demo material picked was very sibilant and seemed to show off the speakers in a poor light. This was combined with poor acoustics at their selected site and a presenter who was constantly popping his Ps and hissing into the microphone. I couldn't stand to listen to it for very long, and had to leave. I'd love to hear these speakers again under better circumstances where I could tell what they sounded like without P-popping, flutter echoes from curved benches, and three discrete slap echos from nearby buildings.
LOUDEST SOUND IN SHOW
This was a hard award to give since it was just loud everywhere on the show floor, but I think the folks in the M-Audio booth definitely had an edge on the other loudness sources this year.
QUIETEST SOUND IN SHOW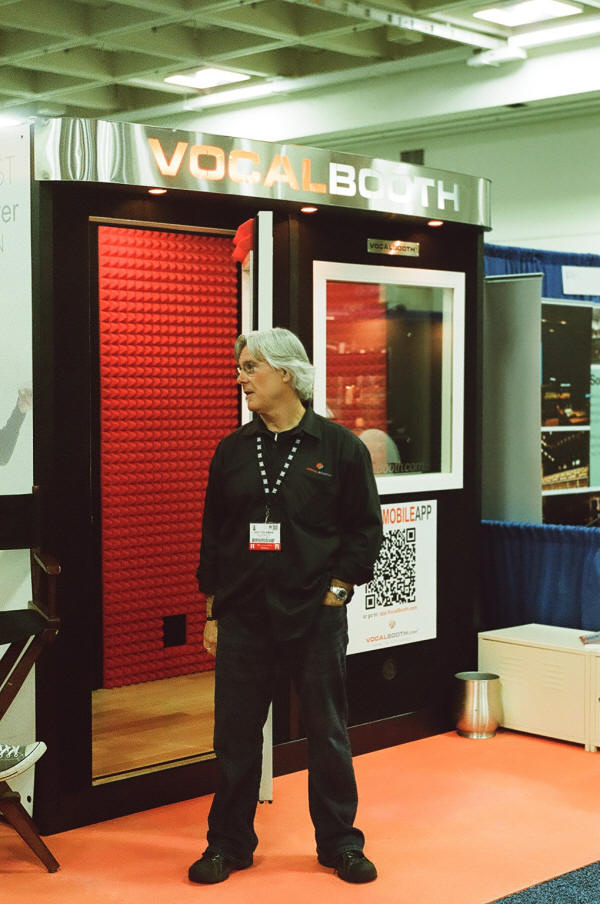 Vocalbooth.com. They make small, quiet rooms. Still some low end leakage inside from the M-Audio booth, but it was remarkably pleasant to sit in there after the noise from the outside hall.
BEST PRESENTATION IN SHOW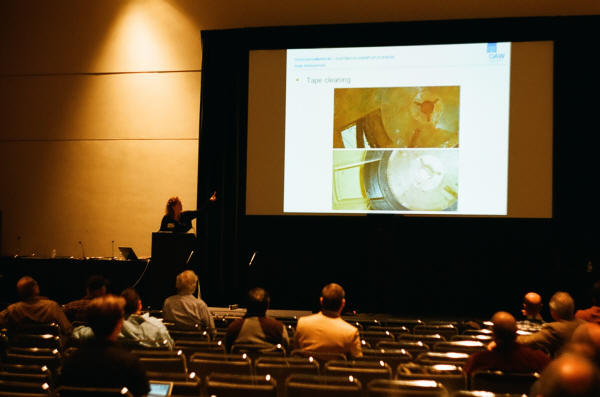 Nadja Wallaskovitz from the Austrian Academy of Sciences Phonogramarkiv gave a talk on "The Replay of Historical Magnetic Tape," which by itself would have been an interesting overview on how to manage playback of old tape materials and formats. The thing is, though, she talked briefly about a process being worked out by the Phonogramarkiv to not only stop the vinegar syndrome which affects older acetate tapes, but to reverse it and make badly brittle old acetate tapes playable again. She reports being able to both stabilize the pH and replasticize the material using the original plasticizer used in the early acetate tapes. The lack of detail was frustrating, but if this is even a little bit workable it is an enormous revolution in the handling of older tape materials, and certainly the most exciting thing I saw at the show this year.
WORST PRESENTATION IN SHOW
Someone came up to me in the lobby and handed me a piece of paper that said "Solitone-- World Premiere! Revolution solution Solitone! Let's change the way of audio! Be there!" I looked in the program and there was a description of the program which was about as vague and did not describe anything about what Solitone actually was.
So, I went to the program item which was called "Solitone: The Way of Audio's Future: How to Make a Profit with Solitone" to discover it was another somewhat doubtful audiophile cable product. But, shamefully, it seemed to be a "Make money fast by selling our cables" presentation, which is exactly the sort of thing that the AES ought to be discouraging. I don't know who "Tagai Ex-Port Ltd." is but they really weren't at the right show for that sort of thing.
BEST FREE STUFF
TC Electronic was giving out free Haagen-Dazs ice cream. How can anything be better than free ice cream?
WORST FREE STUFF
Hosa was giving out free contact cleaner and gold cleaning products from Caig Labs. What were they thinking? Are their connectors so badly plated that their customers need a lot of contact cleaner? There are lots of things to give out if you're trying to sell cables, but this is not one of them.
MOST CONSPICUOUS ABSENCE
There was no House Ear Institute truck, nobody at all doing hearing testing at all for the first time in my memory at the US conventions.
BEST BUTT IN SHOW
Our panel selected two Germans: Karin Fleing from Schoeps and Stefan Flock from Direct Out for best female and male butts respectively.