MICHAEL MERCER'S SYSTEM
LOUDSPEAKERS
Zu Audio Omen Defs, System Audio SA2Ks (master version – internally wired w/ Nordost Valhalla), CEntrance 2504 near-field speakers, Audioengine A2s (powered desktop speakers), Audioengine A5+ (powered speakers), Nola Thunderbolt IIIa subwoofer.
ELECTRONICS
E.A.R 868 tube preamp, Unison Research Simply Phono tube phonostage, Classe Audio DR-9 amplifier (w/ mods to power supply, caps), Hafler DH-220 (back-up), Wadia 151PowerDACmini, CEntrance DACmini PX, Audioengine D2 24-bit Wireless DAC, Audioengine D1 USB DAC/head-amp, Music Hall DAC25.2 (w/ Sovtek tube), Audioquest Dragonfly USB DAC/head-amp, HRT Headstreamer USB DAC/Head-amp, StyleAudio CARAT-TOPAZ USB DAC/head amp,
SOURCES
Macbook running Amarra 2.4/Amarra Hifi, Wadia i170Transport, Oppo BDP-95 Universal Player, Luxman DZ-111 CD player/transport, SONOS ZP-90 players, VPI Traveler turntable w/ Ortofon 2m Blue cartridge, Music Hall USB-1 Turntable w/ Ortofon Red 2m cartridge, Luxman PX-99 turntable, AppleTV & Boxee (both used as media servers), Sonicweld Diverter (24/96) USB to SPDIF interface.
CABLES
Nordost Heimdall interconnects, Nordost Heimdall speaker cables, Nordost Leif series (White Lightning speaker & analog interconnects), Nordost Valhalla SPDIF, Nordost Blue Heaven USB, Cat Cable XV-Ultra SPDIF, Black Cat Cable Morpheus interconnects, Moon Audio Silver Dragon optical*, Moon Audio Silver Dragon IEM cables* (for JHAudio JH-13 Pros), Locus Design CORE SPDIF, Locus Design Nucleus USB, Locus Design AXIS USB, Nordost Vishnu Power cables, Nordost Magus Power cables, Nordost Purple Flare Power Cables (Figure-8 for AppleTV & SmartTV), Furutech Pure Transmission Power Cable.
ACCESSORIES
Nordost QB8 Power Distribution System, Nordost QX2, Nordost THOR Power Distribution System, Cryo-parts Power Blocks (2), Silver Circle Audio Juice Box One, Audeze LCD3, JHAudio JH-13Pro IEM, Grado SR-80s. Sennheisser HD-490, HD 25-1 II, Audioengine AW1 wireless audio adaptor, Bright Star Bases, Nordost SORT KONES, Eben Cold Rays points, KAB iso pods, Black Ravioli's (Stickies), Custom Equipment Racks by VisionaireFX.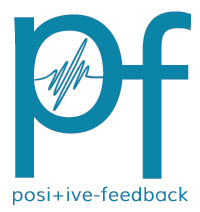 You are reading the older HTML site
Positive Feedback ISSUE 63
september/october 2012
unison research
Simply Phono V2 - Tubes Rule
as reviewed by Michael Mercer
I fell in love with the Unison Research Simply Phono the moment I fired it up. They say first impressions are everything, or close to it. Well, with a $2445 price tag I had high expectations. That may sound affordable to many readers, and in high end audio terms it is reasonably priced, but two grand is two grand, plain and simple. That's not cheap to me. When I opened the box and pulled out the unit I had a feeling I was about to hear something special. The Simply Phono is a dual-chassis design. The power supply is housed its its own box, therefore isolating its noise from the phonostage. The two are connected via a seven pin umbilical cord. The gain stage is class A and has four ECC83/12AX7 tubes. The chassis that houses the tubes and outputs is slim-lined, with a combination of what looks like cherry wood (the base) and a black-metal casing which keeps the tubes safe from wondering hands. I can't tell you how many times I've reached for something, over a tube unit, with the tubes exposed, and had an accident which rendered the component temporarily useless. I welcome the protective enclosure. In all it's a pretty sexy-looking piece of audio kit. But how did it perform?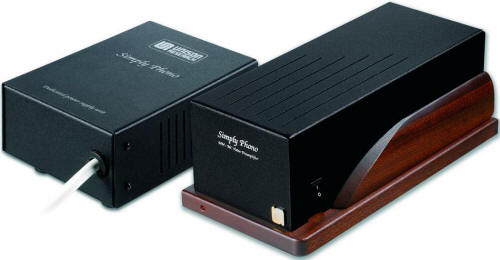 First of all, I especially like the versatility of input impedances the Simply Phono provides, making it a good fit for moving magnet and mid to high-level moving coil cartridges. There are these tiny switches on the rear panel that can accommodate 47k, 100, 50, and 20 ohm loads. Using my Ortofon 2M Blue cartridge (which is, in my opinion, one of the very best cartridges in the $200-500 price range) on my classic Luxman PX-99 turntable, and later the VPI Traveler, I set the switches to 47 and I was rolling. The rest of the system included a Benchmark DAC1-HDR (used as line-stage), Classe DR-9 stereo amplifier, and Reference 3A Dulcet speakers with a Nola Thunderbolt IIIA subwoofer. All cabling was Nordost Leif: White Lighting signal and speaker cables with Magus power cords on the Benchmark and Classe. Out of the box the Simply Phono sounded fluid and vibrant. Those tubes cliches came to mind immediately: Warmth and rounded. The Classic Records re-master of Peter Gabriel's Scratch My Back sounded glorious; even the space between the instruments seemed to have depth. As this is a pretty sparse recording at times, I've often heard analog rigs reek havoc on the nuances of the music. The Unison Research, as part of this system, gave it such breadth and sense of liveliness that I listened to that album twice when I got things cookin'. I don't do that often, well, not with older releases usually. If a new album's sonic signature really grabs me I end up playing it to death sometimes, which drives my wife crazy. When I'm listening to one of my reference discs to gauge the performance of a component I rarely play it over and over. Usually I go through my usual reference arsenal. The Simply Phono gave me the sensation like I was listening to Scratch My Back for the first time. This is a true rarity—and is perhaps the greatest compliment I can bestow upon this audible gem.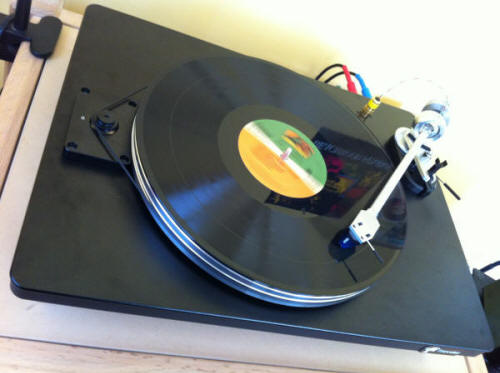 Another compliment that I feel speaks louder than my literal attempts to try and explain how much I thought of the Simply Phono is the fact that I bought my review sample! Now, granted I paid an industry accommodation, which is common in our industry, but this was not an easy purchase for me financially—but after experiencing the product I had to have it as part of my office system! When I gave it the James Blake test (playing my 10" single of "Limit to Your Love") it passed with flying colors. There is this warbling, twisting, pounding Roland TB-303 bass-line in this track that will truly test the limits of your systems low end capabilities. I've even had people at Hifi shows ask me "is it supposed to sound like that"?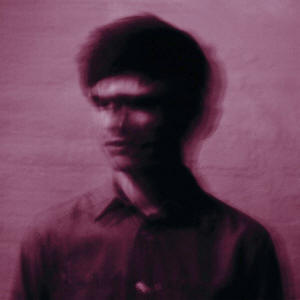 This baby had no issues dishing out the sonic goods, and like some of the better DACs I've heard recently, the Unison Research had me digging through stacks of vinyl I haven't touched in years. Of course when it comes to DACs I'm searching through file directories I haven't searched in a long time. I found my copy of Bad Brains first record (thanks to the wifey) and the sound brought me back to a time in my life when all I cared about was my girlfriend, music, and when the next keg party was going off! The sound was assaulting and menacing. Just what the doctor ordered! On a completely different musical tip, I busted out my copy of Crosby, Stills, Nash & Young's Deja vu and I found myself singing along to the words like we used to do in high school. I swore I even heard a few new details; various guitar notes and plucks that I had not heard before.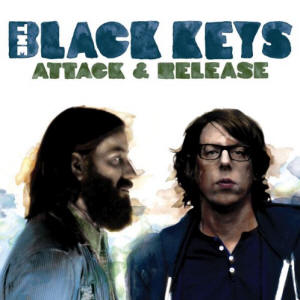 The Black Keys Attack & Release on Nonesuch was another experience where I had to listen to the album over and over again. I think that says it all. At one point I was so caught up in the music I dropped the notepad and closed my eyes, welcoming the therapeutic sonics that washed over me. This was especially true when I dropped in Radiohead's Kid A (ten inch pressing) and In Rainbows (on 12"). I am a Radiohead addict, and have been for many years. When a system is doing what it should with their music the results are mesmerizing.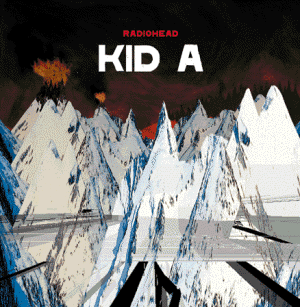 Kid A is an album that calms me down in times of stress, of pure turmoil. The music just carries my worries away. However, if the system is off, that feeling morphs into frustration and anger. I love some of their albums so deeply that I get emotionally invested in their presentation. I actually take it personally when a stereo kills the magic of their sound! I had no such fears with the Simply Phono, and I haven't had any worries about it since it arrived months ago. I give it my highest recommendation, and it will surely win a PFO Writers Choice Award from yours truly for 2012. Check it out if you're in the market for what I would consider a reference-level tube phonostage, but you can't afford to spend five to ten grand! The Simply Phono is simple in its form, but soulful in its performance. Michael Mercer
Simply Phono
Retail: $2445
Unison Research
www.en.unisonresearch.com
US Importer
Colleen Cardas Imports
www.colleencardasimports.com
Michael Mercer is no longer employed by Centrance.