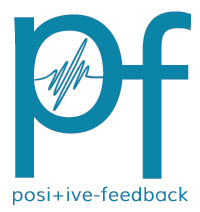 You are reading the older HTML site
Positive Feedback ISSUE 62
july/august 2012
55th Annual Monterey Jazz Festival
by Jim Merod
All images courtesy of Michael Oletta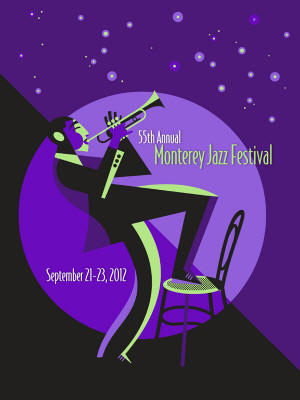 The third weekend of September each year brings the most engaging musical party on the planet to the Monterey fairgrounds: multiple stages, dozens of musicians, too many food booths to count, old friends you only see once a year, new groups of hip players you're not likely to hear at your local pub or saloon, and the irrepressible good luck of being surrounded by great music from early to late across acres of lawns, paths, amphitheatres, club houses, and relaxed locations. If you need to refresh your belief in humanity (a necessity sometimes, given the depraved condition of American popular culture), then Monterey each fall may be a source of hilarity, good cheer and spiritual salvation for you.
I'll confess that my yearly trek to the gentle vibe that suffuses this bigger-than-life jazz bash has become an annual family reunion for me. Over the years I've been blessed there to hang out regularly at length with Gerald Wilson and his adorable wife, Josefina. Several years ago I had three days of unexpected fun with Duke Elington's unparalleled bassist... Jimmy Woode. The last two years, former Ahmad Jamal guitarist Calvin Keys has regaled me and others across late evenings at the nearby Hyatt lounge. And last year Sonny Rollins held forth for long hours after his bravura closing performance on Sunday night at the Jimmy Lyons outdoor stage. Orrin Keepnews was there to share Sonny's unbelievable high energy with me in the front row and, afterward, my artistic pal, photographer Michael Oletta, and I were charmed by Maestro Rollins' unflagging candid give and take.
Monterey is a special place and the jazz celebration that Tim Jackson puts into play each fall is a special form of improvised human grandeur... that most elusive of all things: people loving life, art, food, collective merriment and just plain good old hangin' out.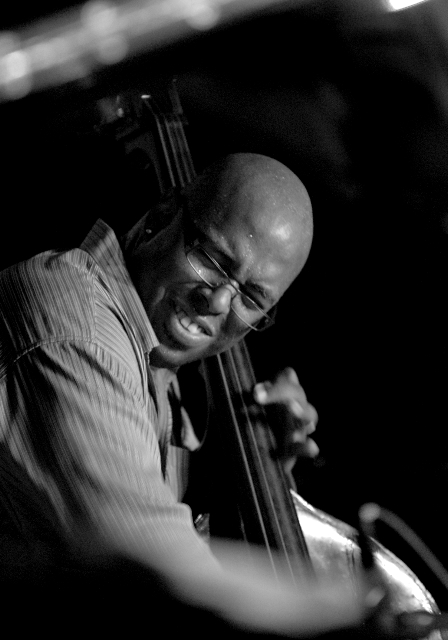 Christian McBride
It's dawned on me only slowly over time that my respect for and loyalty to the Monterey Jazz Festival in some indirect way emulates Dirty Harry's tenacious commitment to its joyful return each fall. The man himself is a near-fixture there. In his later life as a director no less than an actor, Clint Eastwood's public reminiscence about his attendance at every one of the (now) fifty-five festivals serves as a gauge for the ongoing value of Monterey's institutional permanence. In a world that seems devoted to ever greater acceleration toward transitory meanings and values, an event that stays the long course with the aim of paying homage to the best that music has to offer becomes increasingly iconic. And that, I think, is exactly what Monterey's annual recreation achieved long ago and boldly reinforces each year.
Last year I heard the single most impressive live jazz performance I've ever experienced. Since I'm seventy and have spent a large chunk of my waking night life haunting Birdland and the Village Vanguard in New York, Basin Street West along with the El Matador and the Both/And Club in San Francisco, Steamers Cafe, Catalina and Elario's in Southern California (and places too numerous to list in the US and Europe), such a statement might seem an exaggeration... except for the radiant fact that it's true.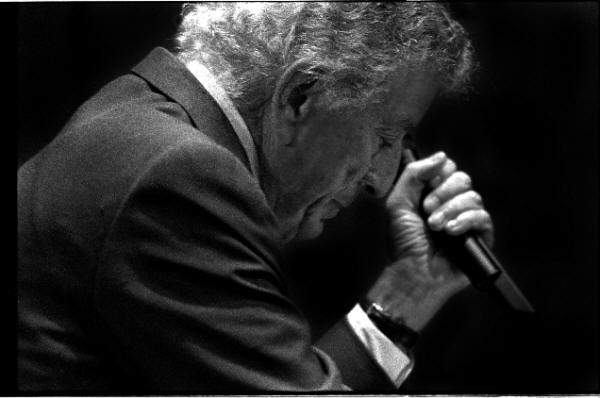 Tony Bennett
Immediately before Sonny Rollins brought down the curtain on Monterey 2011, Vince Mendoza'a "Miles Ahead" Orchestra prevailed with charts written by Gil Evans for Miles Davis' exceptional late '50s Columbia albums: Porgy and Bess and Sketches of Spain. The role of Miles Davis was given to trumpeter-extraordinaire Terence Blanchard. What he did outdoors, before a large audience on a chilly night, cemented for all time my absolute respect and astonishment. Terence—with a world class orchestra executing Gil Evans' gorgeously intricate arrangements (including Gene Cipriano on woodwinds; Gary Foster on flute and alto sax; Peter Erskine on drums)—played each chart without a single fluff or cracked note. Terence outperformed Miles Davis' studio execution of these difficult charts... and did so with ease, one after another, "Solea" followed by "Saeta," from Sketches; "I Loves You Porgy" followed by "Summertime" and "There's a Boat Leaving" from Porgy.
Miles remarked that his studio recordings of Gil's charts for Sketches were the most difficult he ever attempted. Miles accomplished the making of that album only with the good fortune of multiple takes spliced together. Fifty two years later, on a raw California evening, Terence Blanchard carried out that daunting task without a hitch or inch of trouble. Not least here, a doff of collective hats belongs to the magnificent Darlene Chan who produced this utterly amazing outdoor performance... truly One For The Ages!
Esperanza Spalding
This year Monterey features the indefatigable Tony Bennett as well as youthful near-veteran Esperanza Spalding. Their age difference suggests the reach of experience that defines each year's line up. Add to that Eddie Palmieri, Pat Metheny and Jack DeJonette and you should get a sense of the brilliance about to do its thing. Add these, too: pianists Mulgrew Miller and Gerald Clayton, bassist Christian McBride, vocalists Dee Dee Bridgewater and Tierney Sutton, vibraphonist Stefon Harris, Monk Award winner Tigran Hamasyan, keyboard guru Larry Goldings, dynamic sax duo David Sanchez and Chris Potter, rising bass star Kyle Eastwood, and a Vince Lateano-inspired tribute to vibraphone genius Cal Tjader.
One last note. The crew at Monterey is probably the most poised, well oiled, and flat out competent group of concert facilitators that I've ever come across. Years in and out they craft fluidity from act to act. The turn over from a one group to another flows as if nothing much is happening... no sweat, no agony. Only the joy of helping great musicians create the surprise of artistic greatness. That trick, joyful ecstasy rolled out as the norm of some invisible routine, is the hallmark of the Monterey Jazz Festival.