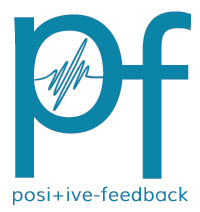 You are reading the older HTML site
Positive Feedback ISSUE 62
july/august 2012
Dvorak's Slavonic Dances on SACD
by Teresa Goodwin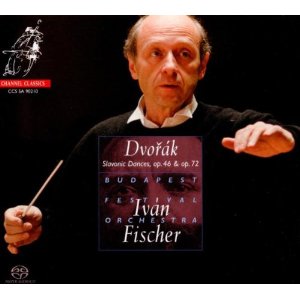 Dvorak: 16 Slavonic Dances, Op. 46 and 72. Ivan Fischer, Budapest Festival Orchestra. Producer: Hein Dekker. Recording Engineer & Mastering: Jean-Marie Geijsen, Roger de Schot. Stereo/Multichannel Hybrid SACD - DSD Recording. Recording Location: Italian Institute, Budapest. Recording Date: March and May, 1999. Channel Classics CCS SA 90210. Playing time: 70 minutes 15 seconds. Licensed from Decca Music Group Limited, a division of Universal Music Group, originally released on SACD as Philips Classics 470 601-2, now out-of-print.
As many SACD music lovers know the major labels have pretty much abandoned SACD. In addition to not releasing new SACDs, the major labels have allowed many important SACDs to go out-of-print. Channel Classics has licensed two of the out-of-print Philips SACDs of Ivan Fischer conducting the Budapest Festival Orchestra playing Dvorak, maestro Fischer now records exclusively with Channel Classics. Both are DSD recordings.
Universal Music owns the Philips recordings but is no longer licensed to use the Philips name, so Universal has phased-out the Philips brand and these recordings are being reissued under the Decca imprint. And this is why this SACD says "Licensed from Decca Music Group Limited".
There are 16 Slavonic Dances composed in 1878 and 1886 and published in two sets as opus 46 and 72. Originally written for piano four hands, the Slavonic Dances were inspired by Brahms' Hungarian Dances and were orchestrated at the request of Dvorak's publisher soon after composition.
The dances are lively and nationalistic. They were well received at the time and today are among the composer's most memorable works.
Unsure how to begin, Dvorak used Brahms' Hungarian Dances as a model. There are a number of important differences between the two works. For example, whereas Brahms made use of actual Hungarian folk melodies, Dvorak only made use of the characteristic rhythms of Slavic folk music, the melodies are entirely his own.
The types of dances upon which Dvorak based his music include the furiant, dumka, polka, sousedska, skocna, mazurka, odzemek, spacirka, kolo and polonaise.
Opus 46
No. 1 in C major (Furiant)
No. 2 in E minor (Dumka)
No. 3 in A-flat major (Polka)
No. 4 in F major (Sousedska)
No. 5 in A major (Skocna)
No. 6 in D major (Sousedska)
No. 7 in C minor (Skocna)
No. 8 in G minor (Furiant)
Opus 72
No. 1 in B major (Odzemek)
No. 2 in E minor (Starodavny)
No. 3 in F major (Skocna)
No. 4 in D-flat major (Dumka)
No. 5 in B-flat minor (Spacírka)
No. 6 in B-flat major (Starodavny "Ancient")
No. 7 in C major (Kolo)
No. 8 in A-flat major (Sousedska)
Jared Sacks (director, producer and engineer) of Channel Classics has said Hein Dekker was never happy with the stereo programs since these were among the first DSD recordings made back in 1999 and they were still learning. They spent a good deal of time together going back and improving the stereo layers on the Dvorak SACDs. The other DSD reissue is Dvorak's Symphonies Nos. 8 & 9 (Channel Classics CCS SA 90110).
This reissued SACD does indeed sound smoother and more refined than the original Philips SACD, which sounded wonderful in its own right. Also I like the sonic quality of both the original Philips and this new Channel Classics version better than any of my previous "complete" versions of Dvorak Slavonic Dances including George Szell conducting the Cleveland Orchestra on a Sony Classical SACD (SS 7208) and Rafael Kubelik conducting the Bavarian Radio Symphony Orchestra on a double-play Deutsche Grammophon 4 Track 7˝ IPS prerecorded reel to reel.
In terms of performance in my opinion George Szell has an edge here as his interpretation is a little more danceable if somewhat less spectacular than the Ivan Fischer SACD's. However when performance and sound quality are combined Ivan Fischer easily is preferred in either the original Philips SACD or the slightly better sounding Channel Classics SACD.
The Rafael Kubelik version I have actually owned in three formats and I only find the 4 Track 7˝ IPS prerecorded reel to reel acceptable as both the original LPs and the later CD are bass shy. In addition the original LPs are a little bright, and the CD version is unbearably strident. Thus if you want the Kubelik I can only recommend searching out the 7˝ IPS prerecorded reel to reel or perhaps the newly released Japanese pressed single-layer Stereo SACD (UCGG-9028). The SACD and CD have the complete dances on a single disc, while the LP version is on two LPs: the first LP, opus 46 plus Scherzo Capriccioso, and the second LP, opus 72 plus Overture My Home.
My favorite version (so far) both sonically and musically remains Jean Martinon conducting the London Symphony Orchestra on RCA Living Stereo / Classic Records 180 Gram LP (LSC-2419) however it's not complete, having only 9 of the 16 dances, all eight of opus 46 and just No. 7 of opus 72. It has a pleasing sparkle in the high frequencies and a danceable vitality like no other version I've yet heard, too bad it's not complete.
To sum up, this Ivan Fischer DSD recorded SACD may be the only version of the Slavonic Dances you will ever need, it's complete, sonically first class and one of the top performances I've heard. Like all of my reviews I listened to the 2 channel stereo high resolution DSD layer. Whereas there are lots of excellent versions in various formats in stereo, if you want high resolution multichannel, this version has no real competition, it's a must have. Highly recommended.