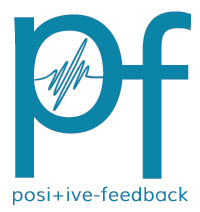 You are reading the older HTML site
Positive Feedback ISSUE 62
july/august 2012
Notes of an Amateur: Gardiner does Bach's Motets. Christopher Gibbons. Lekeu.
by Bob Neill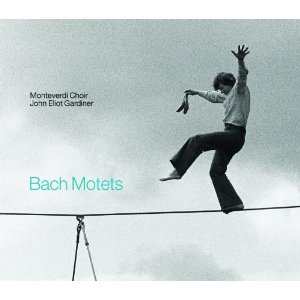 Bach Motets, Monteverdi Choir, John Eliot Gardiner. Soli Deo Gloria SDG 716.
Every once in a while we can be persuaded that the 'the greatest wind instrument' is not a pipe organ but a chorus of human voices—in this case augmented by a cello, bass, bassoon, and small organ. What (an essentially) a cappella chorus can do if it's good enough is literally become air inhabited by music. Gardiner's Monteverdi Choir have become good enough. And here, fresh from what I consider their definitive series of live Bach cantata recordings, they take on Bach's wonderfully pure and transcendental Motets—and quite literally fly them across the room. There are times when the Monteverdi sopranos become the human equivalent of violins.
The exhilaration for which their Bach cantata series is famous is achieved by a combination of the Monteverdi Choir and the English Baroque Soloists, and I can't imagine that music without either. The Motets achieve their different, quieter magic essentially unadorned; and it is impossible to imagine a comparable effect with any sort of instrumental ensemble beyond the modest one provided here. The four accompanying instruments are virtually added voices, the chamber organ only occasionally audible at all. The music has a simple airy quality that sets it apart from the cantatas, making it for some Bach lovers, his most moving music. I have never heard it sung better.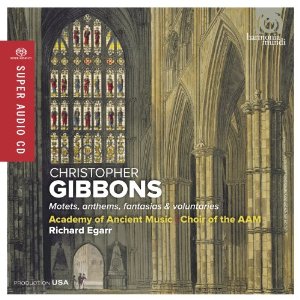 Gibbons: Motets, Anthems, Fantasias, Academy of Ancient Music & Choir, Richard Egarr, director. Harmonia Mundi HMU 807551
You can keep recording (and performing in concerts) the same stuff because people will recognize it and are drawn to the familiar. Or you can do your research, find new material, and persuade your record label (or program scheduler) to let you play it.
If we prefer the latter, we have to support it. Christopher Gibbons (1615-1676) is not the better known Orlando Gibbons but his son. Keyboard artist, leader of the Academy of Ancient Music, and major figure in the current Harmonia Mundi family of notables Egarr, has discovered Gibbons the younger and persuaded 'those in charge' to let him introduce him to us. Bless him.
What makes this music especially appealing is that, like the music of his early seventeenth contemporaries Monteverdi and Schutz, it has the rich flavor of the earlier generation's (his father's) music but is somewhat freer. Its formality is looser. It is expressive somewhat in the ways baroque music will be a generation later. The younger Gibbons is deliciously mellifluous, especially in the instrumental fantasias. I have stopped trying to speculate why stylistically transitional music (and literature) can be singularly affecting. Composers who write securely within a period style are free to refine and enrich it. Those who find themselves toward the end of a period seem to pick up the restlessness, the sense of change in the air. Born into one style that has nurtured them, they want to keep it, perhaps make somewhat more of it; but they can apparently also feel its exhaustion. And for their very artistic life, they need to explore what else is possible.
Egarr gives us a rich variety of Gibbons' music—motets for chorus, solo music for organ, instrumental fantasias. I love it all. This is a great record.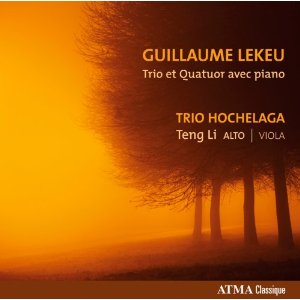 Guillaume Lekeu. Trio et Quatuor avec Piano. Tri Hochelaga. Teng Li, viola. ATMA Classique. ACD 2651.
It has got to be nearly impossible to establish a musical voice by the time you are twenty-four, which is when Belgian composer Guillaume Lekeu (1870-1894) died of typhoid fever. But on the basis of these two chamber works composed in the last two years of his life, he appears to have done so. To my ears, his principal taking off point is Brahms, though if I were more familiar with Lekeu's French contemporaries (his brief career took place in Paris)—Chaussen, Saint-Saëns, Frank, Fauré—I might hear them too. Which is simply to say that he belongs in the company of the traditional wing of late nineteenth century romanticism.
His distinction strikes me as a product of his clarity. His rhapsodic passages are rich but he gives each of the instruments a sufficiently distinct role that emotions expressed feel specific: they are clearly delineated. The Canadian piano trio Hochelaga play an essential part in creating this effect, needless to say. There is no hint of a potentially cloying smear. They are also extremely good at making persuasive transitions between the composer's quiet and bold, dramatic moods. We have the feeling that nothing gets lost—the drama is as clear as it is powerful.
To repeat, to compose moving late romanticism with the degree of clarity essential to its emotional credibility (and endurance) requires a maturity and perspective few artists in their early twenties have. Throughout the 65 minutes of music here, there is not a single muddy moment. And there is much beauty, especially in the Piano Quartet. The second movement of this two movement work (Lekeu died before completing movements three and four), which begins to feel modern, is deeply moving, suggestive of no other composer I know. I expect to return to it often.
Equipment used for this audition: Resolution Audio Cantata CD player; Crimson CS710 solid state preamplifier & CDS 640E solid state monoblock amplifier; Jean Marie Reynaud Orféos Supreme loudspeakers; Crimson cables.
Bob Neill, in addition to being an occasional equipment and regular music reviewer for Positive- Feedback Online, is also proprietor of Amherst Audio in Amherst, Massachusetts, which sells equipment from Audio Note, Blue Circle, JM Reynaud, Crimson Audio, and Resolution Audio.