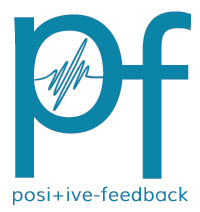 You are reading the older HTML site
Positive Feedback ISSUE 62
july/august 2012
Notes of an Amateur: Saint-SaŽns and Birtwhistle
by Bob Neill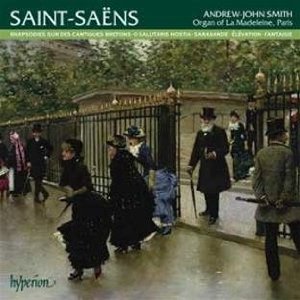 Saint-SaŽns, Music for Solo Organ, Vol. 3 Andrew-John Smith, organ of the Madeleine, Paris. Hyperion CDA 67927.
The main route to twentieth century classical music runs through the music that for a great many of us was the route to classical music itself: the late nineteenth century romanticisms of Wagner, Brahms, Bruckner, Dvorak, Tchaikovsky, Rachmaninoff, Sibelius, Richard Strauss, Faurť... and Saint-SaŽns. Musically uncomplicated, harmonically rich, melodic, emotionally accessible, seldom tragic though often bitter-sweet. Many music lovers never get any farther, which is entirely understandable. Who wants the more complex, often dissonant, emotionally troubling music of the early modernists around the corner? Getting Bartok into the concert hall, let alone the living room, is a challenge even now, a century later.
Much French music of this period, that of Faurť and Saint-SaŽns in particular, has an especially blithe character which has appealed to many over time. It has the confidence of its romanticism. A good many know Saint-SaŽns (1835-1921) through his Organ Symphony, one of the most popular showpieces of the late romantic repertoire. Perhaps more know him through his Carnival of the Animals, which he refused to allow published during his lifetime! Neither of these works are typical of the composer. His music for solo organ, even played on the great mid-nineteenth century organ of the Madeleine that Saint-SaŽns himself played several times, is considerably less flamboyant. It strikes me as music composed by a lover of the organ playing for himself and the instrument. Played on a piano, this music would lose all of its character and most of its life. It lives in swells and quiet thunder. Though keeping the mood serenely restrained, Saint-SaŽns writes this music for the great wind instrument that the organ is.
What we begin to notice about Saint-SaŽns, as we listen through the music in this 3 CD series (and revisit such music as his piano trios and piano concertos) is that his heart lies with earlier music and that he sees his role as putting it into more refined and less urgent bottles, rather than looking ahead, as some around himónotably Debussy and Ravelówere doing. He writes in a style that Debussy and Ravel will dramatize, put more of an edge on, and take in more expressly subtle, suggestive directions. History has been kinder to the so-called 'impressionist' composers, in part because history has gone their way, and beyond. But Saint-SaŽns defined a pre-modern moment that many are now looking back on with fondness. And art, unlike time itself, can be revisited and recaptured.
The jacket illustrations of the three volumes in this series show handsome exterior and interior views of the church of the Madeleine that houses the organ played here; and a Manet-like painting of churchgoers leaving the Madeleine. All is well, all is beautiful, the twentieth century will never come.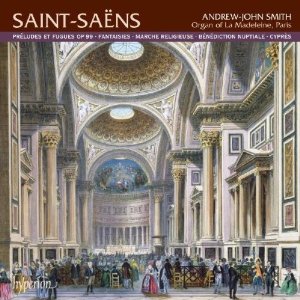 This third volume of the series is a little different from the earlier two in that in addition to containing half a dozen reflective and meditative pieces, it also includes one fairly ambitious longer work written for the dedication of the Aeolion organ in London (1906) never before recorded.
The organ is wonderfully engineered.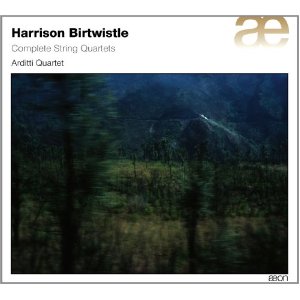 Harrison Birtwhistle, Complete String Quartets, Arditti Quartet. Aeon. AECD 1217.
One of the best ways to meet modernist British composer Birtwhistle is to come to him from a heavy dose of the melancholy and elegiac music of his Eastern European contemporaries, as I did. (Sir) Harrison Birtwhistle (b. 1934) is the most respected British composer of his generation. But he can be difficult. (Did the Queen listen to his music before the dubbing?) His modernism is strictly Western: barbed, bristly, complex, abstract, atonal. That said, if you come to him from the mournful measures of Vasks, and Kanchelli, it is wonderfully bracing and intriguing.
Birtwhistle composed chamber music relatively late in his career. The first work on the album, String Quartet: The Tree of Strings, is dated 2007, when the composer was 73; the second, 9 Movements for String Quartet, in 1996 when he was 62. This after a career best known for stark mythy chamber operas and orchestral works, which are intellectually as well as musically demanding. His aesthetic is a lean one, so the string quartet suits him well. He gets great drama and dynamics out of the four instruments. While I have had only guarded respect and not much affection for his music before now, I'll have to say this music really moved and exited me. It has much of the power of orchestral music but with a stunning sense of delineation no orchestra can manage. Its ability to move back and forth between whisper and explosion without coming across as demonstrative rhetoric is extremely persuasive. He can make a string quartet do truly amazing things. And of course the world famous Ardittis, who have a long history of making definitive recordings of modern music, do this music full justice.
Birtwhistle's modernism has much of the feel of his early twentieth century predecessors: their refusal to stand aside, hedge, equivocate. As I say, I have dismissed him in the past but clearly have a great deal to learn. That or he has broken through to a more convincing style in his old age!
Equipment used for this audition: Resolution Audio Cantata CD player; Crimson CS710 solid state preamplifier & CDS 640E solid state monoblock amplifier; Jean Marie Reynaud Orfťos Supreme loudspeakers; Crimson cables.
Bob Neill, in addition to being an occasional equipment and regular music reviewer for Positive- Feedback Online, is also proprietor of Amherst Audio in Amherst, Massachusetts, which sells equipment from Audio Note, Blue Circle, JM Reynaud, Crimson Audio, and Resolution Audio.