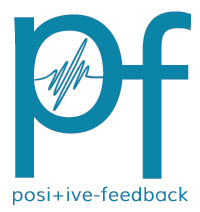 You are reading the older HTML site
Positive Feedback ISSUE 61
may/june 2012
unison research
Unico Primo Integrated Amplifier
as reviewed by Andre Marc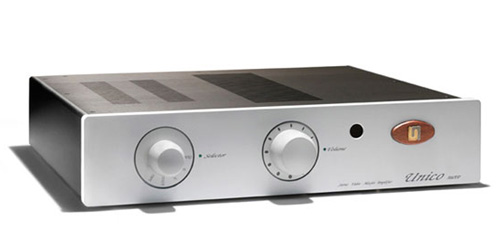 I have been familiar with the purveyors of Italian high performance audio, Unison Research, for years. I had read many professional reviews, and gotten recommendations from fellow audiophiles to check out their line. At CES 2012 I got my first opportunity to hear Unison partnered with their sister company's Opera speakers, in the Colleen Cardas Imports room. I was struck by just how natural the sound was and how much organic flow was present. Needless to say, I later emailed Marc Phillips of CCI to discuss review opportunities and he agreed to send me the Unico Primo integrated amplifier.
The Unico line is where Unison Research features their hybrid designs, that is, tube and solid state working in harmony under one chassis. The main Unison line is all tubed components and turntables. All of the Unison Research products, as well as those of Opera, are designed and manufactured in their factory in Treviso, Italy.
The Unico Primo is the entry level integrated amplifier in the Unico line, retailing for $2150 in silver, and $2295 in black. The Primo is an 85 watt Class A hybrid integrate design, with full system remote, a 12AX7 tube, a subwoofer output, and as an interesting touch, two sets of binding posts for bi-wiring. There is an optional MM/MC phono stage available as well. There are four line level inputs and one tape input.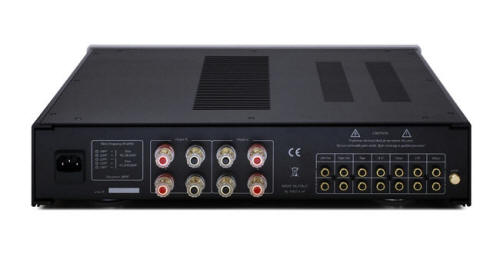 The Unico Primo is an old school, stunning looking component. Would we expect anything less from a culture that prizes beauty above all else? The thick aluminum faceplate is adorned with two large sturdy knobs; one a source selector and one for volume. There is the customary wooden logo attached to the front, as it is on all the products in the Unico line. The build quality is off the charts good, especially for a component costing around two grand. Actually, the entire chassis is made of aluminum, which also provides certain ergonomic benefits.
The remote control is also rather attractive, made of wood, with an aluminum faceplate adorned with what some might say are too many buttons. I loved the look and feel of remote, but my only complaint would be the buttons are rather small, and close together. But other than that, it exudes luxury, and is miles ahead of the usual plastic one expects with sub $3000 components. Hell, even, Audio Research provides a cheap, 70's style remote with their expensive gear. Not our friends from Italy!
Set Up, Listening, and Sound
I set up the Unico initially with a Shunyata Venom AC cord, Stager Silver Solid interconnects, with my main source the Unico CD Primo CD player, which Marc Phillips sent along a month earlier. I reviewed the CD Primo for another online publication, and he felt it would be a great idea if I evaluated the Unico with the CD Primo together for PFO, since many customers purchased the two components as a pair. The CD Primo is a 96kHz 24-bit upsampling, tube/solid state hybrid CD player that retails for $2295. I was also able to control both components with one remote, and they were a match made in heaven visually, being of virtually identical dimensions. They also shared the same silver faceplate and casework. Interestingly, the CD Primo also includes a USB digital input.
I did decide to listen to the Pimo without the CD Primo for a few weeks to get a handle on its sonic performance as stand alone component. Since this was what I believe a new shipment direct from the factory, I let it warm up for a few days running before taking any notes. Once I started listening seriously there was no doubt that the Unico Primo was a world beater. Take any item on the usual checklist that you bring to your local hifi shop to evaluate components and it passed with flying colors.
Soundstage depth? Check. Low level detail retrieval? Beyond reproach. Precise timing? Like a Swiss watch. Obvious colorations? Not really. What also became obvious down the road was none of this precision sacrificed musical beauty. That is a big no no in this reviewer's book. I also think it would violate the Italian constitution.
With the CD Primo put into the system, there was a synergy that impossible to deny, and it was easy to see why customers are pairing these two components. They were not just a visual match, but a sonic one as well. The pair was also a good fit for my Thiel CS2.4's which benefitted from the clean power and robust bass the Primo amp was generating.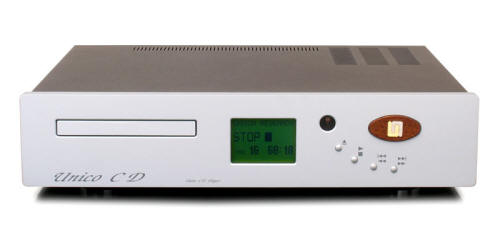 For some musical observations, i turned to some of my recent obsessions. First off, the unique and truly amazing Irish singer songwriter, James Vincent McMorrow. His debut album Early In The Morning, released last year in Europe, is nicely recorded and the performances are first rate. It is mostly an acoustic affair, with some varying accompaniment, all played by McMorrow himself. This self recorded affair album serves up deep emotional impact and surprisingly life like and spacious images. The Primo pair did a beautiful job of rendering McMorrow's voice and acoustic guitar, as well as other clever touches subtly positioned in the mixes.
A few weeks into the review period I got my Amazon purchased copy of the Bruce Springsteen's latest, Wrecking Ball. It is a powerhouse of an album, with The Boss rampaging about the crooks who helped bring down our financial system, and other recent events. He uses a very diverse set of musical frameworks, including Celtic stomps, roadhouse blues, trip hop, and classic Bruce Americana. It is hard to believe the man is 62 years old. Through the Italian combo, all of Springsteen's pent up angst is let loose and all the musical textures come alive.
I admit to spinning and streaming this disc half a dozen times over the course of a few days. It is that good, in my opinion, and there was something irresistible about the way it sounded through the Primo amp.
Readers might wonder if there were the Primo sounded like a tubed component or a solid state component. Neither actually. It seemed to successfully meld the best of both worlds. Specifically, the it had harmonic grace that tubes generally exhibit, but with the bass articulation, quiet backgrounds, and linearity that solid state generally offers. In this regard, Unison Research really has produced a hybrid.
If I had to pin down one the defining sonic attributes of the Primo combination, but especially the amplifier, I would say that there is a bit of spotlighting in the upper mids area. This brought a vividness to acoustic guitar, cymbal splashes, and the upper registers of a piano. This was in no way unpleasant and benefitted many older recordings. This was definitely not a "dark" sounding amplifier.
Conclusion
The Unico Primo hybrid integrated amplifier is a beautiful component, both sonically, and visually. It combines the best of both worlds, with quiet operation, and a smooth, harmonically rich performance across the whole frequency spectrum. Regardless of source, it performed flawlessly in my system. Coupled with the CD Primo, it was a two of a perfect pair.
The Primo was not a fussy amplifier, and offers up a pride of ownership factor that is hard to deny. It easily allowed me to hear the difference between various interconnects I also found the Primo amp responded to power cord experimentation, with the best results coming when coupled with a Transparent PowerLink in my system. I am sure it would respond to various other tweaks, but I loved it right out of the box. I strongly recommend an audition if you are in the market for a sub $2500 integrated amp, I dare say the Unico Primo may be a best buy in this market for purists who don't need "modern" features that may compromise sound quality. I say bravo Unison Research! Andre Marc
Unico Primo Integrated Amplifier
Retail: $2150 for silver, $2295 for black.
A interview with Marc Phillips of Colleen Cardas Imports, importer of Unison Research and Opera.
PFO: You mentioned to me that many customers are buying the Primo and the CD Primo as a pair. Obviously one of the reasons is single brand synergy. Can you elaborate on this?
Marc Phillips: The Primo and the CD Primo were designed and voiced as a pair. Cosmetically they are very similar; they even use the same chassis. I've spent some time with the pair in my living room system, along with a pair of Opera Callas loudspeakers, and it's truly a synergistic system for just around $9000 complete. It isn't just that we're selling them here as a pair, but that they're selling all over the world as a pair. It's just a great match.
PFO: It seems that the Primo provides the best of both worlds, with a tube input stage and a solid state output stage. Was getting the best from each technology sonically a stated design goal at Unison Research?
Marc Phillips: Unlike many companies, Unison Research has the luxury of using their own professional laboratory facilities to test all kinds of circuits and devices. Every single amplifier in their line, whether it's part of the Tube line or the Unico line, was the result of a lot of time spent listening and deciding on what sounds best within a particular design parameter. Once the basic design is decided, the design staff looks for ways to make these amplifiers as reliable as possible. That's why Unison Research designs and builds their own transformers--so they can match the transformer to the circuit design and the output tubes (if applicable), not the other way around. That means everything is tailored to work as a whole, as opposed to choosing something "off the rack" that may or may not be the optimal solution.
I think that's a better way to summarize their stated design goals. I think Unison continues making both hybrid amplifiers and all-tube amplifiers because they appeal to different tastes--I certainly think the two lines sound very different from each other--and because they have proven that they make both types of amplifiers very well.
PFO: CCI has expanded their dealer network for Unison Research since CES, back in January. Can you tell us a bit about your efforts and how things are looking now?
Marc Phillips: As of the end of March we have 9 dealers, with a 10th probably coming aboard in the next few weeks. Colleen and I just took a huge trip where we started in New Jersey, attending a dealer event at the Audio Doctor, then visiting our dealer in New Hampshire, Fidelis AV. From there we flew to Portland, Oregon to visit a couple of prospective dealers, and then came home. Nine days, nine states. We hope to visit all our existing dealers this year, and our goal is to have 20 dealers in the US before we are done. I hope we get a dealer in Hawaii, because we could use a vacation!