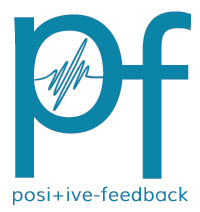 You are reading the older HTML site
Positive Feedback ISSUE 60
march/april 2012
New York Audio & AV Show 2012 - Springtime in NYC & Vinyl is Everywhere
by Marshall Nack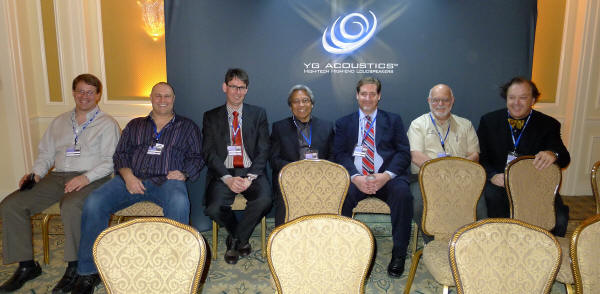 Why are these guys smiling? L to R: Yoav Geva (YG Acoustics); Bill Parish (GTT Audio); Cyrill Hammer (Soulution); Arturo Manzano (Axiss Distribution); Dick Diamond (YG Acoustics); Howard Sosna (Kubala-Sosna); Philip O'Hanlon (On A Higher Note).
It's springtime in NYC, and the biggest audio trend is the resurgence—nay, even dominance—of LP turntables. Where music servers sprouted everywhere last year, they were in the minority now. Of the approximately 30 exhibit rooms at NYAS 2012, dispersed over two floors at the iconic Waldorf-Astoria Hotel, most were spinning vinyl. Public attendance appeared quite heavy and enthusiastic.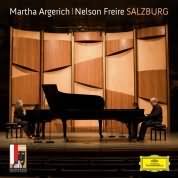 My test CD this year was Salzburg (DG 477 8570), featuring one giant and one legend of the keyboard—Martha Argerich and Nelson Freire—performing a compilation of classical and romantic piano duos. This CD never fails to impress.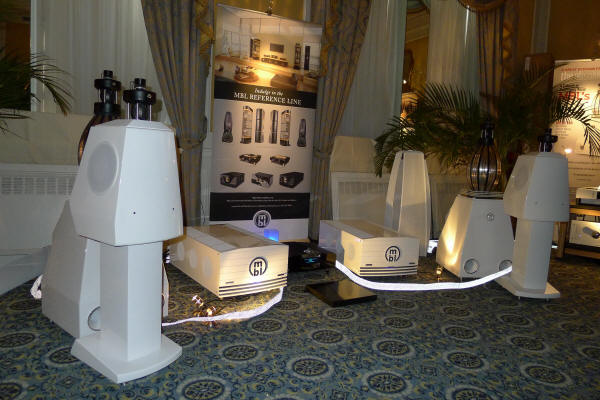 MBL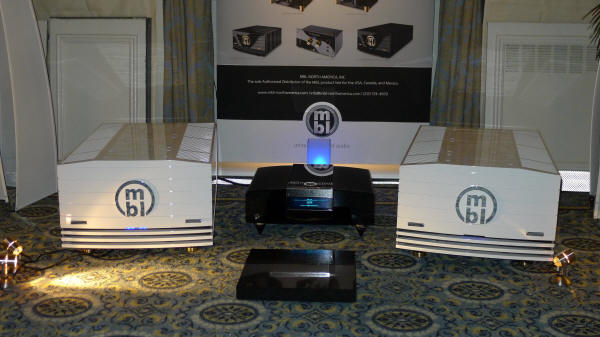 MBL Corona & Ref amps
MBL North America
I visited the MBL room early on Saturday to avoid the persistent line that develops out in the hallway. The first selection was a solo piano recorded in high res by Jurgen Reis MBL's chief designer. The sound was as impressive as last year at Axpona NYC 2011, with some minor quibbles: the piano's case resonances could have been a tad more developed and the bass was a bit congested. Then I learned that I was listening to their new, lower-priced Corona Line. Holy smokes!
MBL's demo alternated between complete Corona and Reference Line systems during the course of the day. When I returned to hear the Reference Line, which most people consider the King of Brawny Power, I heard a sweetness and delicacy previously undetected from this gear. The MBL room was truly reference caliber, as usual.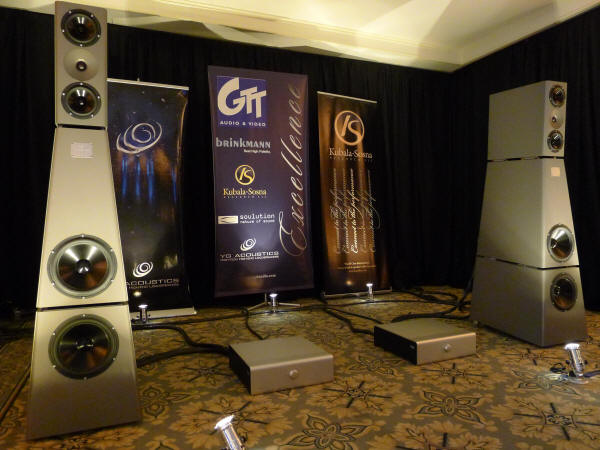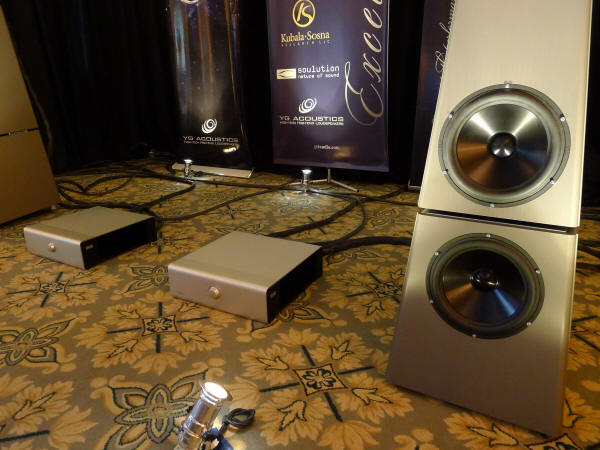 GTT Audio, YG Acoustics, Soulution, Brinkmann, and Kubala-Sosna
I've heard the YG Anat III Professional Signatures sound great and not so great in different set-ups, but there was no question when I stopped by the GTT Audio suite on Friday. Analog had the absolute lowest noise and widest dynamic range I've experienced; credit the Brinkmann turntables and the Soulution 750 Phono Stage. While CD was stunning, it was no match for vinyl.
Interestingly, the new (more) affordable Soulution 501 Mono amps and 540 CD/SACD player were in use. The new line is not as resolving and neutral as the 700 series, but voiced to be warmer and sweeter. 'Twas a trade-off of resolution for musicality. My duo piano CD had the room mesmerized; not a soul stirred.
This uncommonly fine playback was in a class by itself.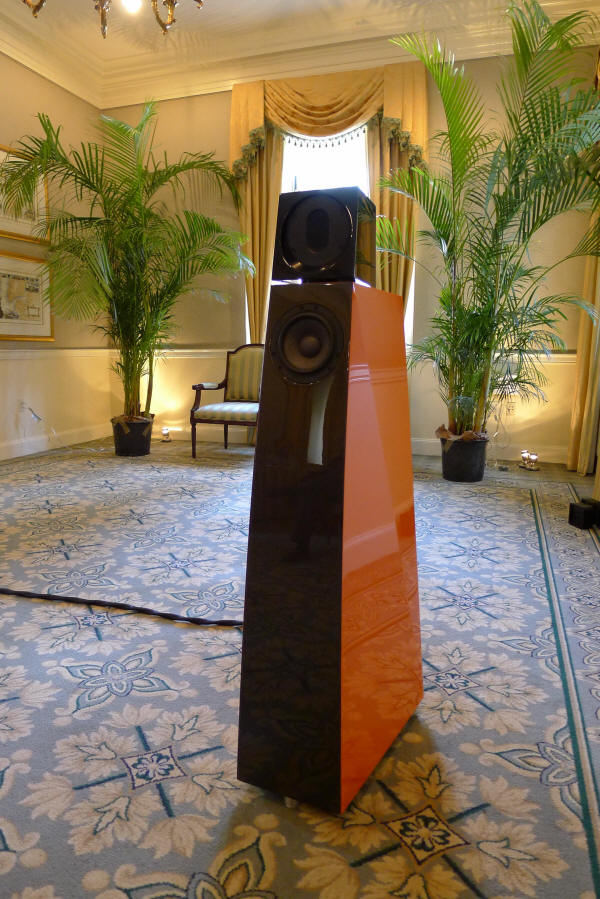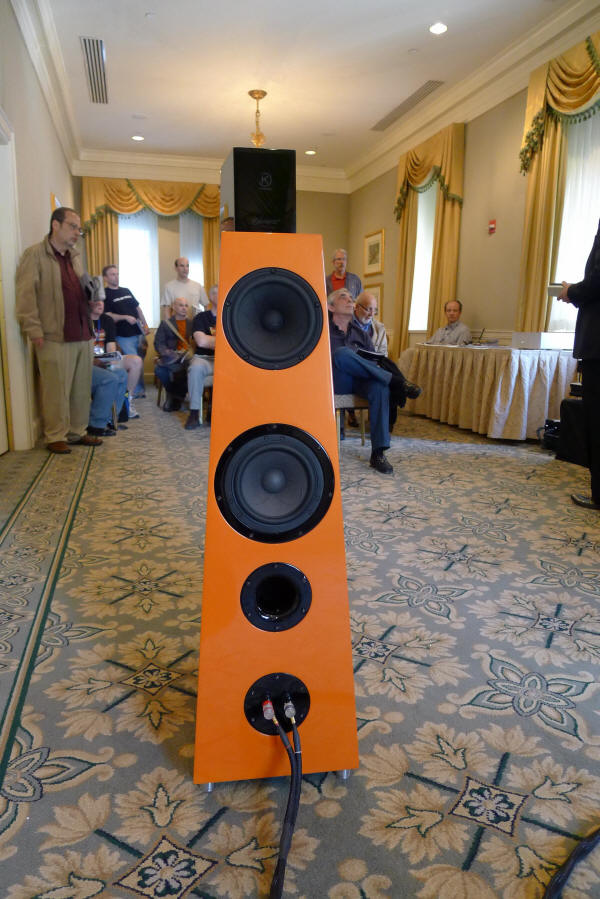 Kaiser Vivace front and rear
Lessloss, Kaiser Vivace speakers
I was most interested in hearing the Lessloss Blackbody tweaks, since they've been garnering much favorable buzz. I convinced the room's proprietor to give us an A/B.
The initial presentation was very good at the start. The smallish profile of the Vivace speakers from Kaiser with their open, rear baffle belies their big, full-range sound.
The A/B test disc was a Benjamin Britten work for string orchestra. After removing five Blackbody objects, some might say the sound became dirtier. I'd say it became less homogenous and more complex. The strings may have been smoother with the Blackbodies in place, but they lost their natural edges and texture. I wasn't alone in this appraisal; the half-dozen guys who departed with us had the same impression.
Lessloss? Here it sounded like 'more loss' to me.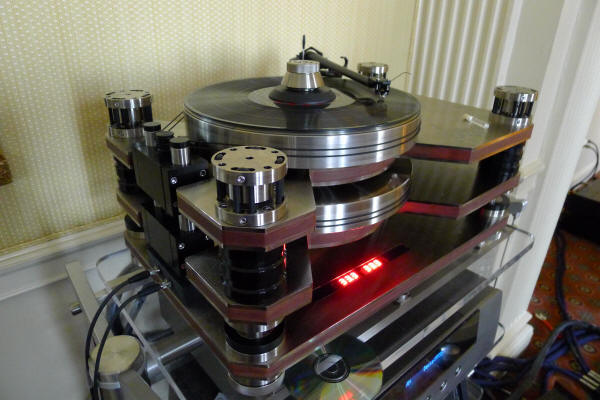 KRONOS turntable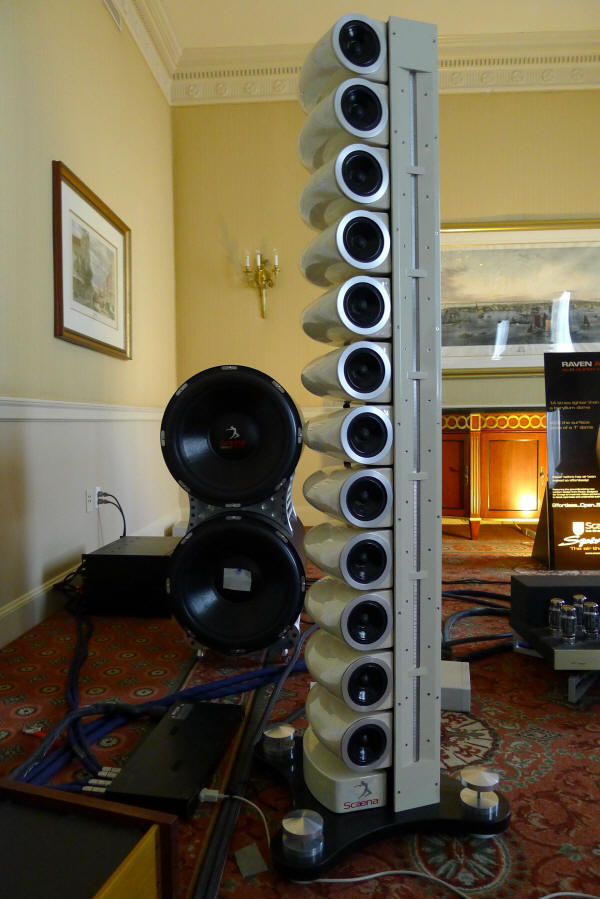 Scaena Spiritus
Audio Doctor / Scaena Speakers
Audio Doctor had four systems on display in two rooms. Some people complained about shallow depth from the Scaena Spiritus speakers, but I thought they sounded better than previous auditions of the brand's products. What really caught my attention though was the KRONOS counter-rotating, dual platter, suspended turntable. It has two platters: the top one spins clockwise, while the lower platter goes counter, at precisely the same speed. The brochure says this completely eliminates torsional forces. At any rate, LPs sounded great through an AMR PH-77, CJ preamp and CJ mono blocks.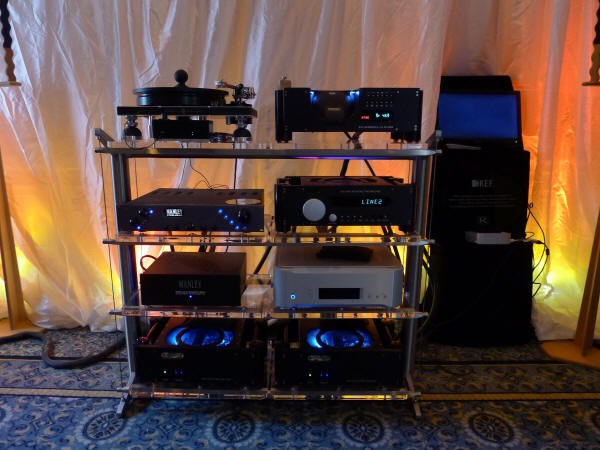 Audio Doctor Chord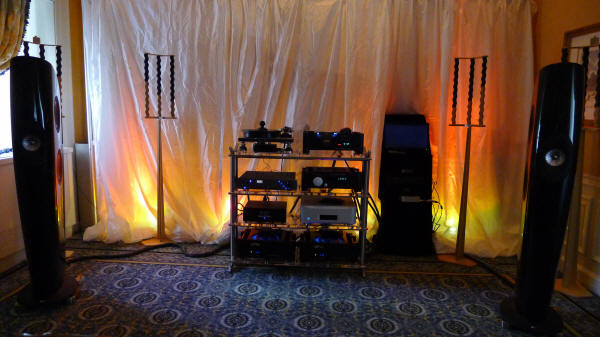 Audio Doctor / KEF
The spirits are with us tonight… along with the KEF Blade and Chord electronics.
Along another wall was a third system consisting of the KEF R900 and AMR CD-777, DP-777 and AM-777.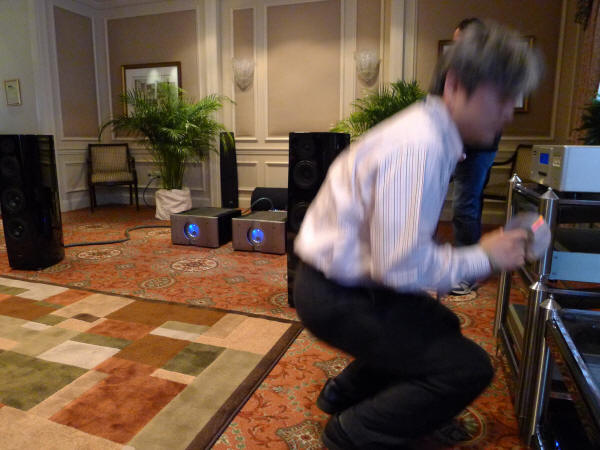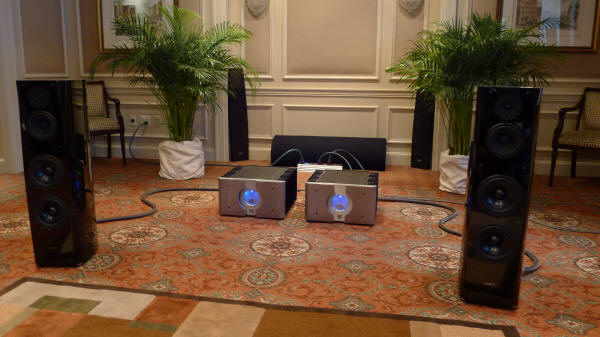 SONY SS-AR2 speakers
The SONY SS-AR2 speakers are everything that's being said about them. They seemed to handle any type of music the crowd came up with. Other components here were an EMM Labs CD player, Pass Labs amplification, Mytek DSD server, with Kimber wiring throughout.
In light of SONY having discontinued their line of SACD players, I was curious why they were giving away free SACD samplers. Upon inquiry, I was informed that SONY, in fact, has not dropped SACD support, but is in the process of re-tooling their line to bring it up to current trends in the market.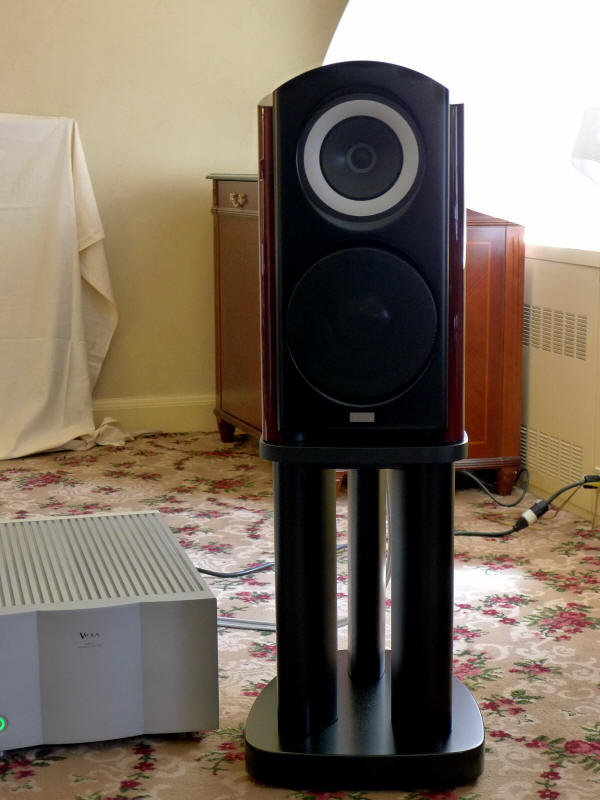 TAD CR1 monitor speakers
Ciamara
I usually enjoy the TAD CR-1 monitors. This time, however, something was amiss and synergy was not in the cards. Solid-state Viola electronics completed the chain.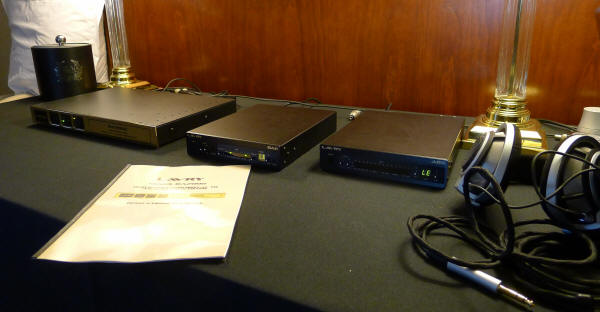 Lavry DACs
Lavry Engineering
My Red Book CD of the duo pianos sounded lovely via either the Lavry DA11 or Gold DA2002 model DAC. Things got even better when they switched to one of their 24 bit/96kHz files. This room was rich in harmonics, yet something nagged in the back of my mind. It was like you could hear the slivers or slices of information without the gel that binds them together—full coherency remained beyond reach. The DACs fed a pair of self-powered Adam Column Mk3 floor-standing speakers and created the ambience of a large hall and long decays in this small room, but they did that on every recording. As I said, it was a beguiling sound that somehow remained just out of reach; whether due to the DACs or the speakers, I couldn't say.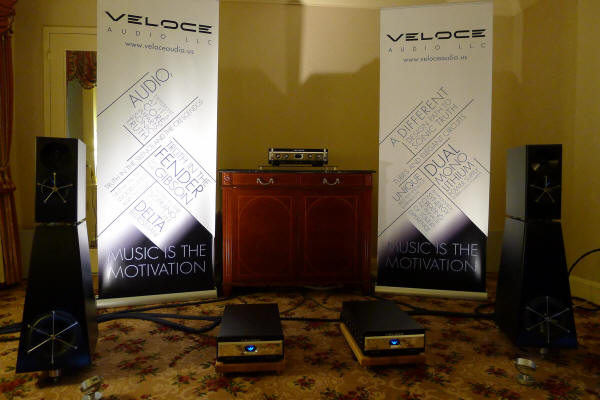 Veloce
Veloce, YG Acoustics, Kubala-Sosna, Accuphase
Immediately after the Lavry room we went to hear what the guys at Veloce Audio were up to. There was no doubt about coherency here. My duo piano CD, served up on the Accuphase CD600 and Veloce amplification driving the YG Acoustics Kipod II Signature, had a compelling openness yet maintained full control—freedom with control. The smallish Kipods had no problem with large-scale material.
Note: this wasn't the case when we visited the day before. Back then the sound was bass heavy and closed in on top. On Sunday morning, it was obvious some Rx had been applied—the replacement of the WBT speaker jumpers with a pair of K-S Emotion! jumpers, plus another day of burn-in time. These made all the difference.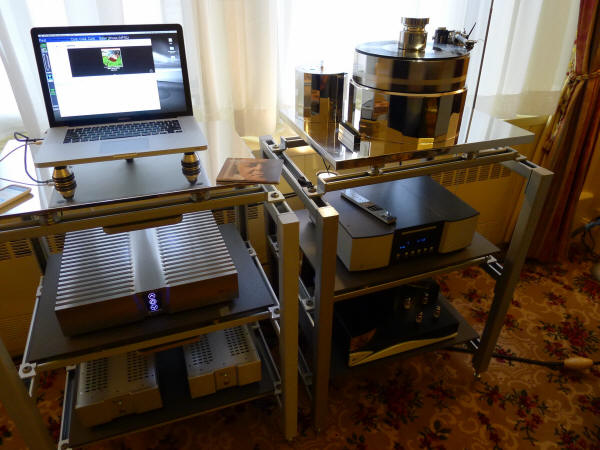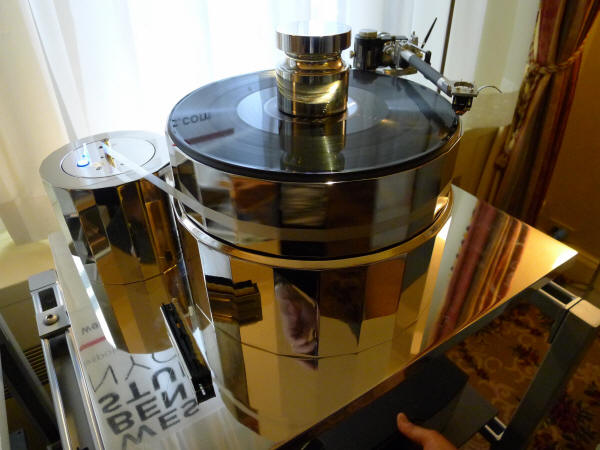 Red Point Model MG
Wes Bender Sudio NYC
Hansen is another manufacturer whose loudspeakers reliably satisfy. This time it was The Prince E model, but it was a mixed bag.
Digital source didn't cut it here, but analog was pretty amazing, as it ought to be with the Redpoint Model MG turntable (MSRP $65,000). More amazement lay in wait, because a $3900 Zesto Phono Stage was in line, and I could not detect any compromises. This tube phono stage just might qualify as a giant killer. Viola Audio electronics rounded out the picture.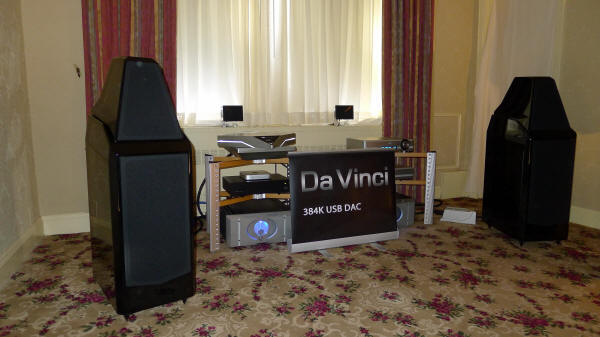 Da Vinci DAC
Light Harmonic
Light Harmonic's room ranked as one of the best of show. Aside from killer looks, their new Da Vinci DAC demonstrated a density of tone and complete harmonics—it's solid-state, but could have fooled me.
I clearly heard the differences (for the better) between Red Book and 24 bit/192kHz source. The rest of the system was comprised of Pass Labs electronics and Wilson Audio Sasha speakers.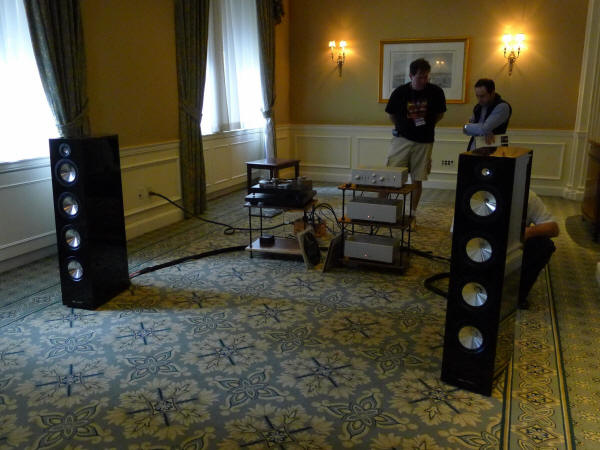 Zellaton Loudspeakers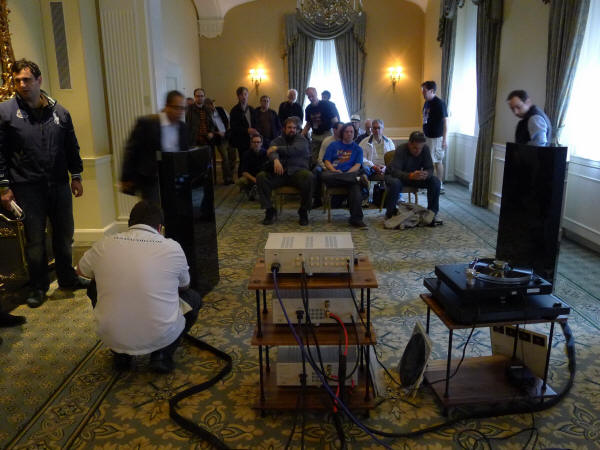 Audio Arts, Zellaton Loudspeakers
I wanted to like this room. The $59K Zellaton Loudspeakers have a rep and they were driven by David Berning electronics, another line whose reputation precedes it.
It didn't draw me in and left me uninvolved. Maybe it was the speaker placement: why put them in the middle of this very long room? Or, the lack of room treatment? Perhaps it was the low-key program material?
I hope to report back more positively when I have a chance to visit Audio Arts in their new location.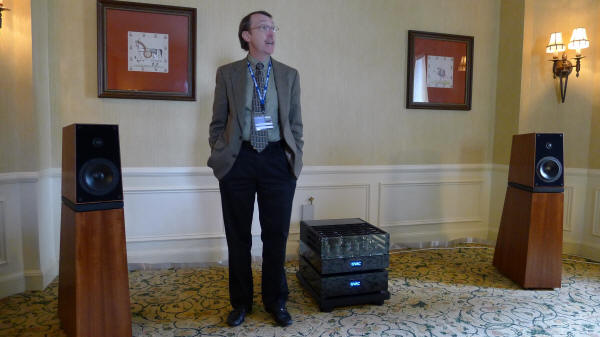 Kevin Hayes
Sound by Singer
In Sound by Singers' first room, Kevin Hayes of VAC Electronics introduced the system: VAC electronics, Playback Designs DAC and Verity Audio Amadis speakers. It was incredibly fast and clear, with great texture on massed strings, but there were issues as well: the soundstage did not develop, center fill was problematic and the space remained shallow.
In the second room, a DartZeel integrated amp driving Kudos Cardea C-30 speakers sounded good.
Here are some other rooms that caught my attention...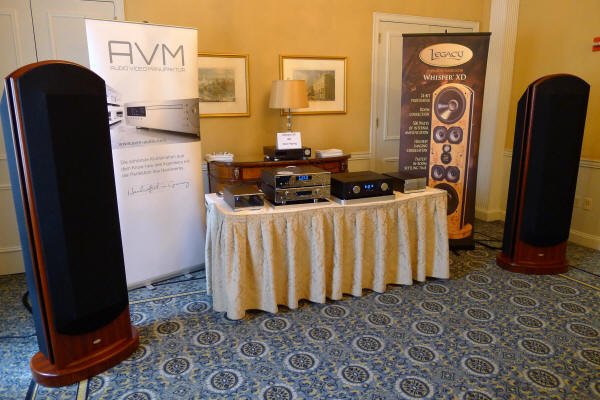 Legacy Speakers & AVM electronics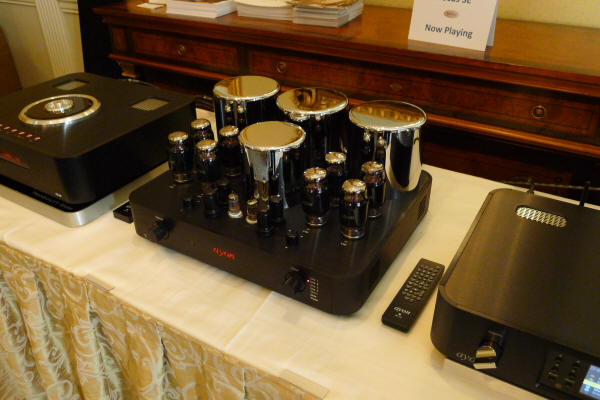 AYON Audio CD-5s, Triton III Integrated, S-3 Network Player
Nice looking tube gear—and classic sounding! The Ayon electronics were paired with Legacy Audio speakers.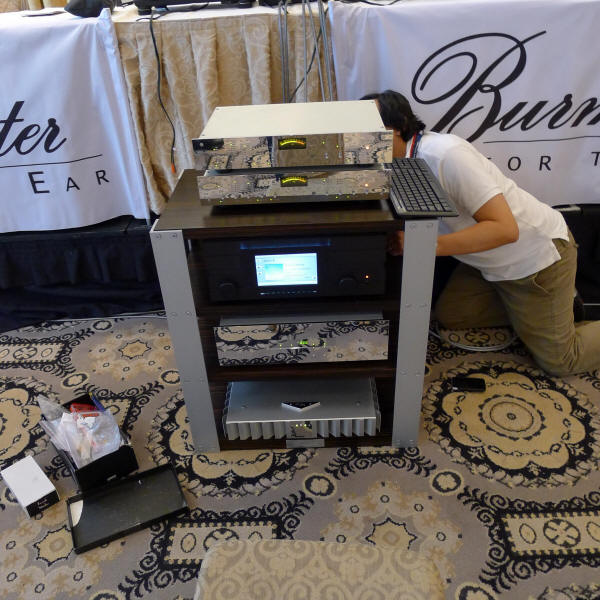 Burmester setting up, getting ready for the party Friday night.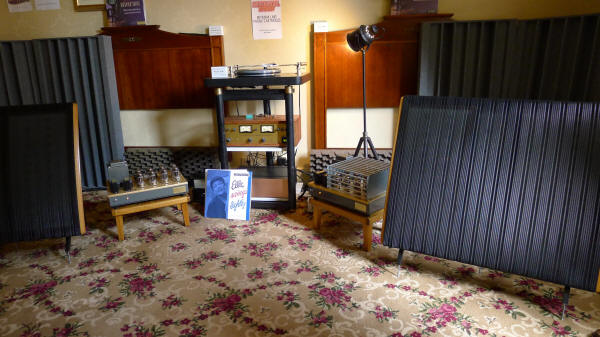 Robyatt room with Quad ESL57s
Robyatt Audio
As their promotional material had it, "1st time in 30 plus years! Quad ESL57's at a Hi-Fi show!" Mate these refurbished Quads with current production Miyajima Labs OTL amps and a Charles King Preamp and what do you get? I was curious to find out: a trip down memory lane. Come hear what Hi-Fi used to be.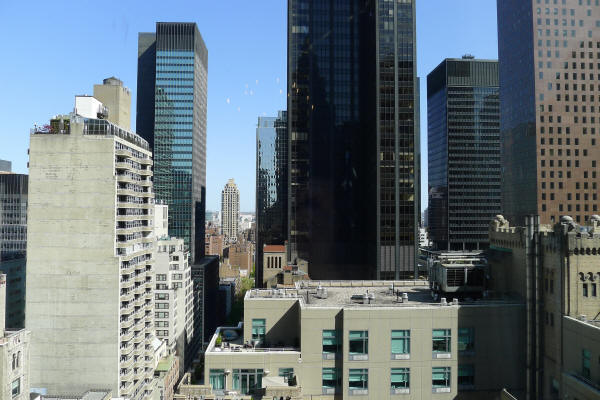 The view from the 18 floor.