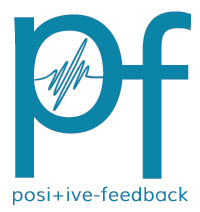 You are reading the older HTML site
Positive Feedback ISSUE 60
march/april 2012
CES 2012 Show Report, Part 2
by Myles B. Astor
First, a short message from our sponsors before returning to the headline news.
Opus 3 Records (and now Tapes!)
Prodded by several close customers, Jan-Eric Persson of Opus 3 records in Sweden took the Nestea plunge and is releasing his library of recordings on a "new", as Jan-Eric fondly refers to it," third medium, 15-ips reel-to-reel tape." Opus 3's first pair of releases (Persson has over 50 analog titles in his tape library) will be their two best selling releases: Eric Bibb's Spirit and Blues and Good Stuff. Each tape will be a "true" second generation copy taken directly from the master tape. The price for each tape (two reels) is $450; there's also a sampler tape available of cuts taken from best selling Opus 3 artists such as Eric Bibb, Stockholm Guitar Quartet, Tomas Ornberg, and The Omnibus Wind Ensemble available for $250.
For those unfamiliar with the "technical" history of the Opus 3 recordings, Persson recorded his artists with the highly respected (and slightly modified) Telefunken M28 solid-state machine; one thing that makes the M28 a very special machine is its ability to put higher recording levels on the tape than most other machines. Interestingly, even after sitting idle for ten years, all his M28 needed was a belt change. And Persson has socked away three other M28s that he obtained from a former Studer employee for spare parts.
At CES, I had the good fortune of being able sit down and listen to (as did renowned mastering engineer and tape aficionado, Paul Stubblebine) a 15-ips, Opus 3 sampler tape containing tracks taken Eric Bibb's Spirit and the Blues and Good Stuff in the United Home Audio/Quintessence/PBN room. And these recordings sounded so much better on tape. Eric's steel guitar never sounded better than with far more attack, delicacy and harmonic content. On the ballads and blues Good Stuff (second track), Jan-Eric's simple Blumlein miking (using an AKG C24/with old capsule and a C414 on the double bass) really highlighted Bibb's voice.
And stay tuned as I've just received the first sampler tape from Opus 3 and will report on it.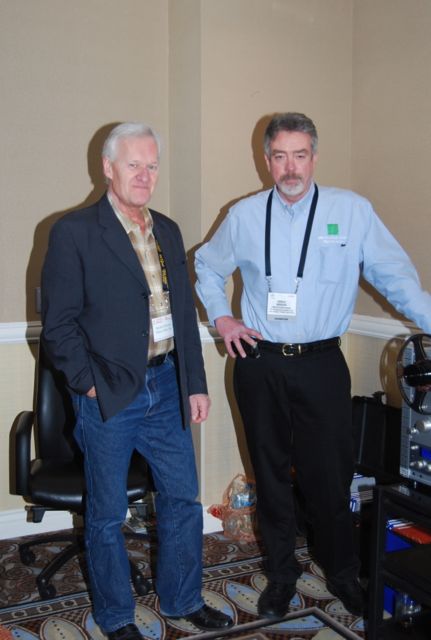 UltraAnalogue Productions
Tapeheads have even more reason to celebrate! Canadians Tony Ky Ma and Ed Pong recently teamed up and formed UltraAnalogue Records, a music label featuring up and coming classical artists. These recordings are done with state-of-the-art custom-built electronics and a highly modded [read tube electronics] Studer A80 machine. (UltraAnalogue plans on releasing their recording in both digital and analog (tape) formats.) Tony and Ed showed off at CES two recent recordings including Beethoven's Cello Sonata No. 3 in A Major, Op. 69 with Sietse-Jan Weijenberg (cello) and Yun-Yang Lee (piano). Better yet, at least two other companies are in the process of gearing up to release even more recordings on 15-ips tape; might this discarded medium be making a comeback for those who demand the best in sound?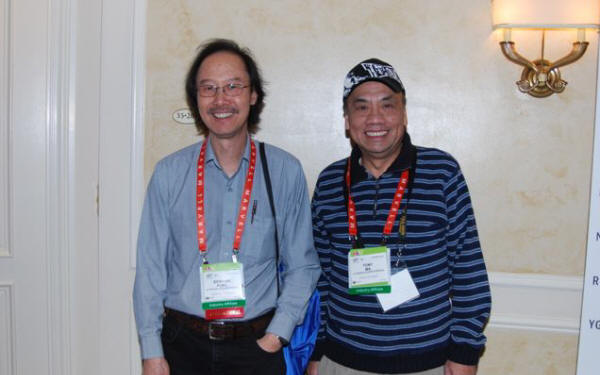 Now back to the regularly scheduled broadcast.
LAMM
LAMM doesn't mess around and they came to Las Vegas looking to deliver a knockout blow to the competition. In the megabucks, $600,000 suite, Vladimir and company were using Wilson Audio MAXX3 speakers paired with an upstream cadre of gear including LAMM's 32-wpc ML3 single-ended tube amplifiers, LL1 four box preamplifier, and LP2 phono stage. This year's table of choice was Aleks Bakman's drop dead gorgeous ONEDOF table fitted with a Graham Phantom II tonearm. Wiring, as in several rooms at the show, consisted of Kubala-Kosna's mighty Elation! IC, speaker, and power cords.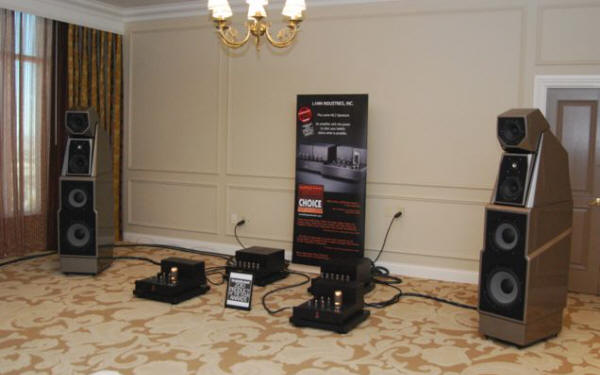 LAMM sadly fell victim to those accursed limiters. As a result of deciding to play by the rules, LAMM's sound suffered for a second straight year. It was only two years ago at CES (and in the same room), that not only did LAMM arguably have the best show sound, but possible best show sound ever. Last year, they inserted these CES/Venetian imposed limiters into their system and the resultant sound simply was not on a par with the previous year. This year—and even taking into account that Vladimir was using Wilson MAXX's instead of Alexandrias and the ONEDOF instead of the Redpoint turntable—the system just never came to life and bloom like it had two years previously.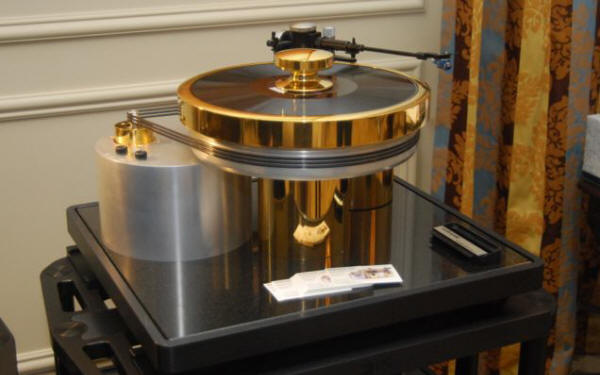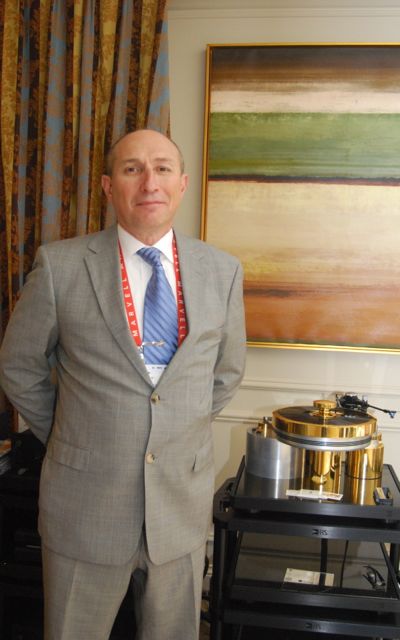 Playing next door in the adjacent suite were the $95,995/pair Verity Audio Lohnegrin II speakers being driven by Vladimir's newest iteration of his $37,190/ pair LAMM ML2.2 single-ended monoblock amplifiers along with the $25,575 LAMM L2 Reference line level preamplifier, and $7590 LAMM LP2 deluxed phono preamplifier. Changes to the ML2.2 amplifier include a new power transformer and refined input and redesigned output stages based on the top-of-line ML3 amplifiers. The total cost of the whole kit and caboodle including the NeoDio digital gear and the Kubala-Sosna cabling came to a cool $355,240.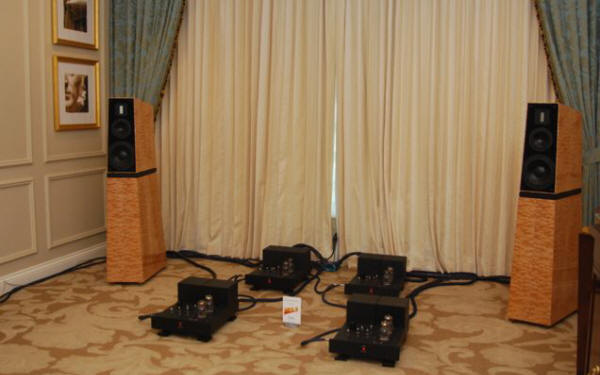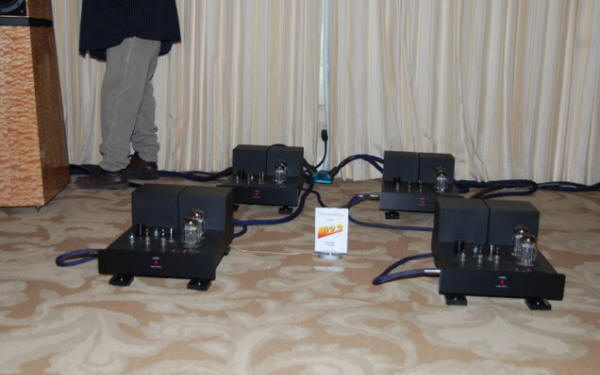 But just like in room one with the ONEDOF, it was the brand spanking new, Louis Desjardins designed Kronos turntable out of Canada, that immediately captured this vinyl lover's eye upon entering the room! The $28,000 Kronos featured Bob Graham's $5200 Phantom II XL12 tonearm (12-inch option plus $700 for cables) and the $5500 Dynavector X1Vs cartridge. According to designer Desjardins, the Kronos is the first suspended table employing a counter-rotating platter for dynamic rotational stabilization. Desjardin uses a DC motor drive (mounted on a separate phenolic/Al plinth sandwich) replete with a separate readout speed sensor for each platter to spin records. No lightweight, the Kronos tips the scales at a hefty 80lb.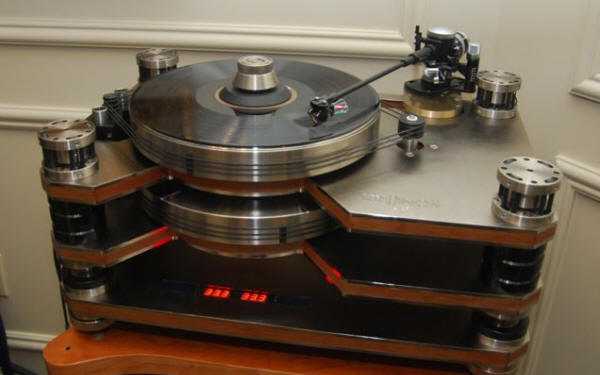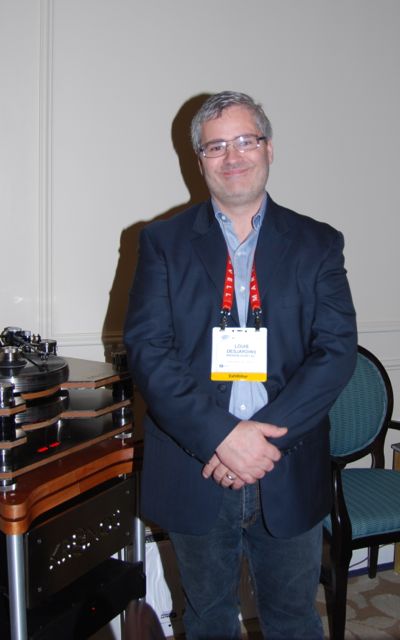 Magico
Sometimes technology is just too smart for its own good. Every time I tried typing Magico in my show notes, my iPad decided it knew better and instead substituted Magician. Ugh!
So, was the Magico room magical? For the record and despite what's appeared in print, the Magico exhibits at the past couple of CES or RMAF shows just didn't knock my socks off. For instance, two years ago at CES, Alon Wolff played The Tape Project's absolutely stunning 15-ips tape reissue of the Decca recording of Hindemith's Violin Concerto (as well as the mono Sonny Rollins tape). Anyone the least bit familiar with the Hindemith recording should have instantly heard the soundstaging issues (to be kind, the stage was 2-dimensional), the lack of transparency and resolution, and the muddy bass. (To be fair, I have heard the Q1s under better conditions and they did start to reveal the promise inherent in the design.)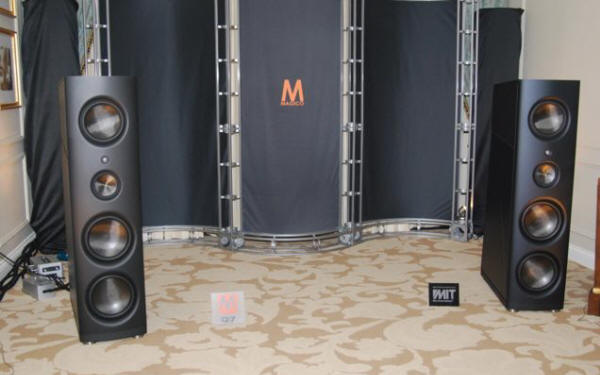 That said, the Model Q7s ($165,000), the new, flagship of the "Q" line, produced the best sound Alon has obtained at either CES or RMAF. One are particularly noteworthy accomplishment is the sealed cabinet Q7's 94dB efficiency rating. New also in the Q7s is an more efficient, 1-inch Be tweeter, that better mates with the speaker's 6˝-inch midrange drivers. Driving the Q7s were a pair of prototype amps; music was played back through either Matan Arazi's [essentially one off] Audeev Con Brio music server (Guesstimate of $80,000) or a venerable Nagra-T reel-to-reel machine (try and find one!). The Q7s were very dynamic, spacious, and possessed much cleaner bass than had previously been achieved. The set-up's biggest issue was a bit of forwardness (amplifiers running out of power?) when the speaker was pushed.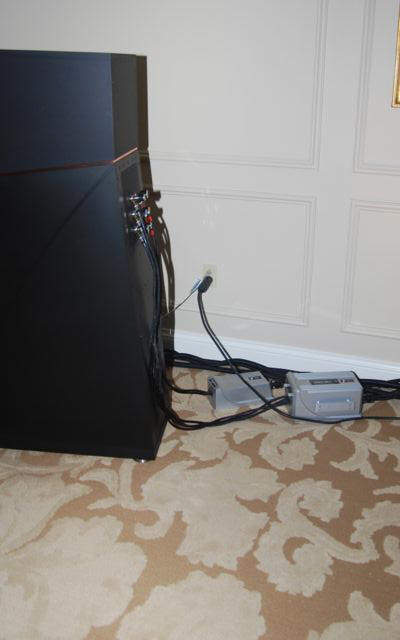 MBL
MBL was another of "ne plus ultra" systems in this murder's row. This year, MBL spared no expense, trucking their stratospherically priced attempt at the state-of-the-art, $263,000, MBL101 X-treme speakers to CES. Powering these sci-fi pod-look alike X's were four monoblock MBL 9011 amps ($53,000 each) each rated at a measly 440-wpc supported by all MBL electronics. Sonically, the speaker's light, airy, and resolving qualities really came through in spades. On the other hand, it's difficult under show conditions to listen through the MBL's transition from conventional bass drivers to "pods," the speaker's lack of midrange presence and warmth, an over-illuminated, upper midrange glimmer and not much in terms of soundstage depth (in fact, thought the X's smaller brothers located in the Convergent Audio Technology room sounded far more pleasing to the ears).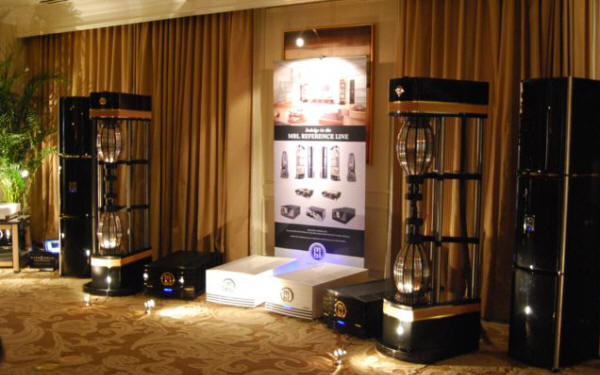 Music-Hall
Music-Hall is one of those high-end audio companies that doesn't garner a lot of attention and flies under many reviewer's and audiophile's radar. Nothing sexy, rarely expensive, just great bang for the buck gear. But this year, in striking contrast to past shows, Roy Hall's room really caught my attention. And those somethings were the new Mike Creek designed Elan speakers ($2000 or $2400 depending upon options) and the EAT turntable from Europe. First, the speakers. The Elans are the cleanest, most truthful, and resolving speakers Music-Hall has ever carried. Anybody shopping for speakers in this price range should definitely check these little honeys out! The 2˝ way Elans feature two drivers working in tandem for greater power handling coupled to, for the first time, a silk dome tweeter.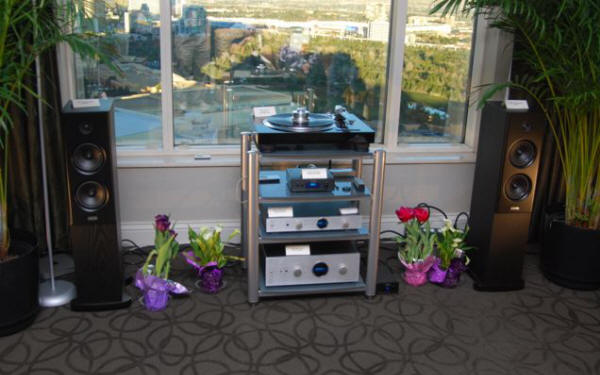 The other product in Roy's room that captured my attention was the elegant, industrial designer conceived, EAT turntable (with one of the designer's goals being to hide the platter). The unusual [read: flat] looking, carbon fiber, unipivot EAT arm brings back memories of the old NAD tonearm. The designer's objective was to reduce the arm's side-to-side movements while at the same time, controlling vertical excursions via damping. Price of the table is $6000 without cartridge and $7000 with arm and Uesugi cartridge.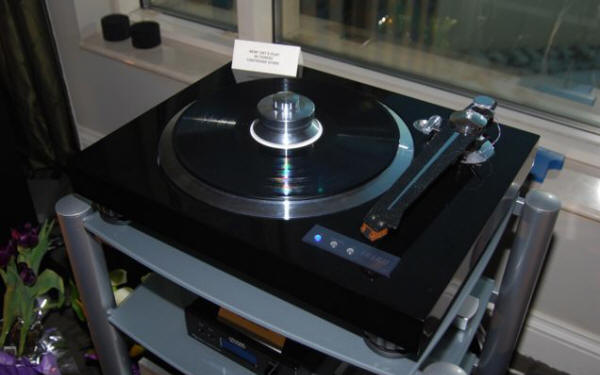 NOLA Speakers
Another speaker that caught my eye (and ear) at CES were Carl Marchisotto's newly redesigned $59,000 Baby Grand Ref. II speakers. As usual, Carl's system consisted of Audio Research electronics including this year Audio Research's new Reference 250 amplifiers as well Nordost cabling. This iteration of the Baby Grands incorporates NOLA's new Unison crossover network. Carl feels this new crossover design markedly improves the driver integration allowing the Baby Grands to rival many single driver designs. In addition, the new speakers are far better at capturing the depth of a recording. As they say, the proof is in the listening, and the Baby Grands were very impressive with amazing coherency, smoothness, and detail. Best news of all? The new Unison crossover technology is retrofittable to current NOLA speakers!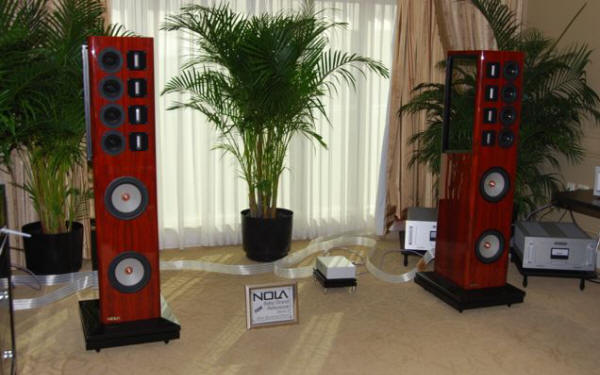 On A Higher Note
One of the best sounding systems at this year's CES was tucked away across The Strip from the Venetian at the Mirage Hotel. On tap in host Philip O'Hanlon's room were Vivid's new $40,000 G3 GIYA speakers (shipping end of March) and Luxman's absolute honey of an amplifier, the $15,000, 60-watt Class-A, M800A stereo amplifier. The amplifiers were paired with a front-end consisting of the Brinkman table with an EMT cartridge, Arian Jansen's Sonorus ATR-10 reel-to-reel deck, or Audioaero digital.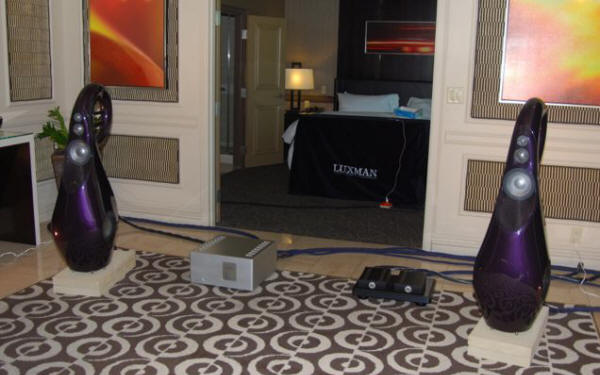 Now, getting comfortable with the Giya's unique appearance does take some time; once that getting to know you period is over, however, one can really sit down and appreciate the musicality of these speakers. The system's most striking quality? Unlimited power! These rather diminutive by today's standards, 60-watt Class-A Luxman amplifiers (and the G3 Giyas are only moderate efficient), never ran out of steam and exhibited prodigious amounts of tight, defined, and dynamic bass. Like the newest generation of amplifiers from Rowland, the Luxmans are warm, lush, and grain-free. Nor was this the first time that I had crossed paths with this Luxman amplifier. Just last October at RMAF, the Luxman M800A amplifier driving the smaller Vivid B-1s simply bowled me over (and some other lucky show attendees) using some tasty 15-ips reel-to-reel rock tapes.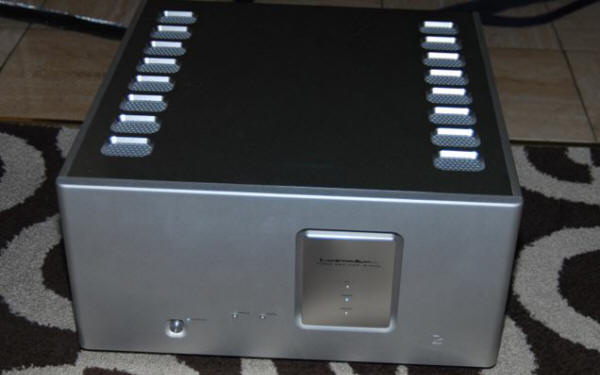 Oracle
Oracle's new Paris line of electronics and turntable proved a breath of fresh air at this year's show. No rarified gear here; instead, each piece of electronics in the new Oracle Paris lineup has a retail price in the $3000 range, allowing an audiophile to build a modestly priced, yet great sounding system, for roughly $10,000. The drop dead gorgeous Paris equipment lineup includes an integrated amplifier, CD player, phono stage, and USB DAC. Analog lovers can satisfy their cravings with the eye candy material Paris table turntable ($5000 with arm and cartridge) that comes in a variety of fancy finishes... including Ferrari Red, Lamborghini Yellow, or Delorean Titanium Gray.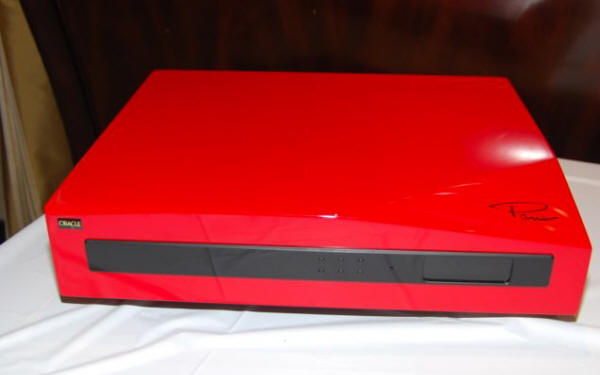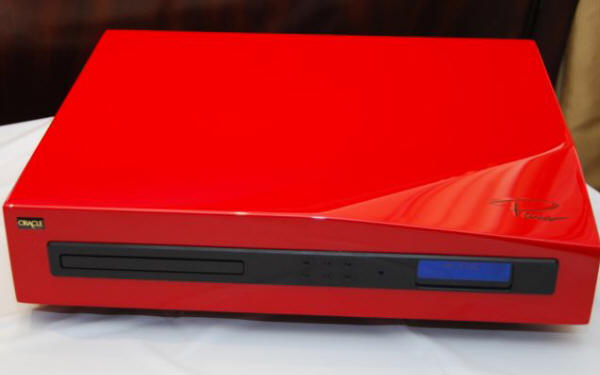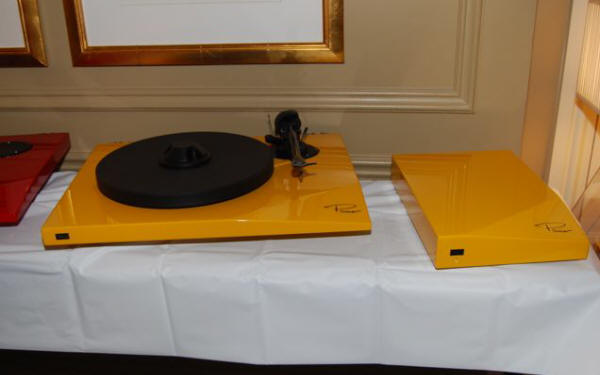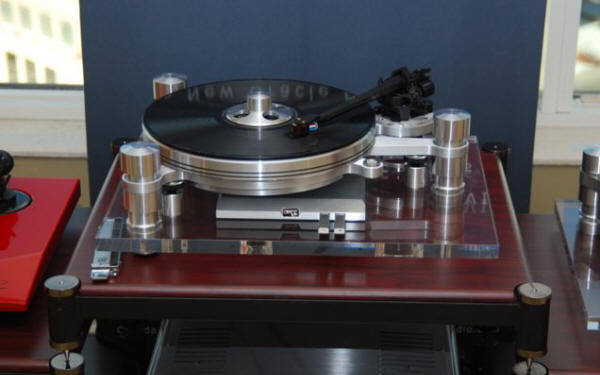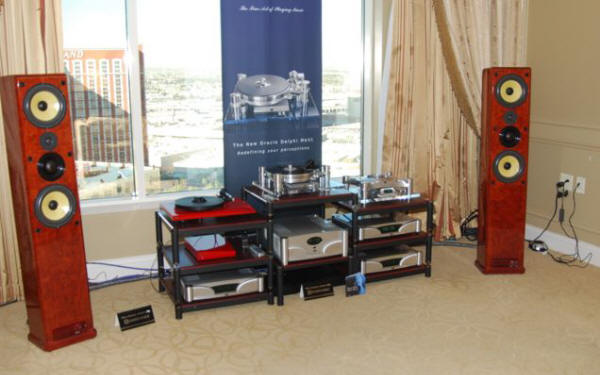 PASS
It's a good thing PASS Labs has a preferred shipping status with their freight company! Otherwise the lading bill for shipping all of those amplifiers to CES might have melted down their corporate credit card!
The name of the game in the PASS room this year was the evolution of Xs sound. PASS' newest Xs 150 and 300 amplifiers feature the biggest separate current source yet, double the capacitor bank, and over 100,000 uF of energy storage. This results in among other things Joe Samut shared, "lower noise and a more expansive soundstage. " The simply monstrous Xs 300s run $85,000 for the pair while the slightly smaller Xs 150s come in at $65,000 for the pair.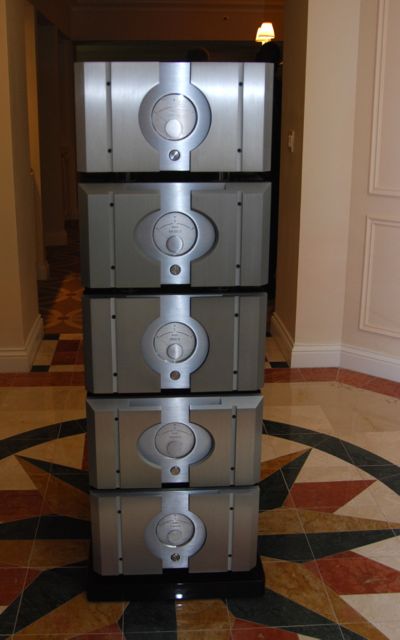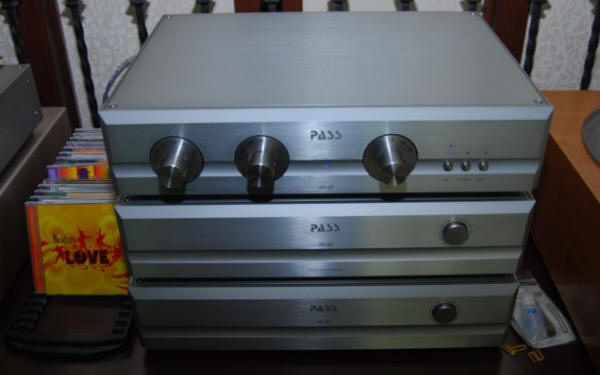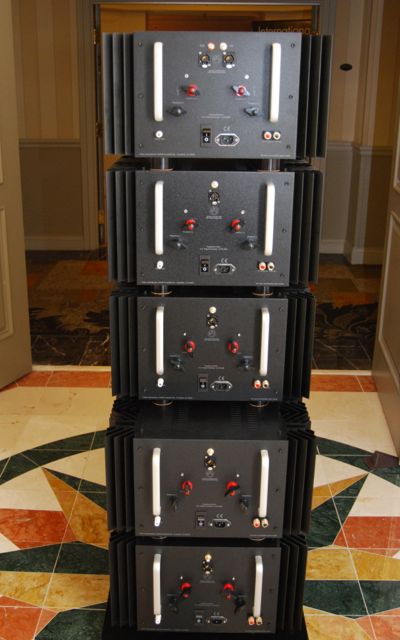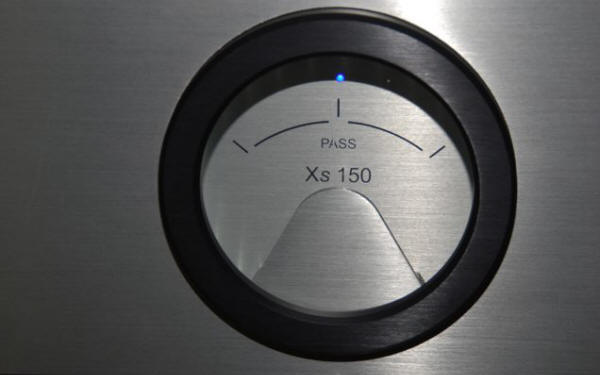 PBN/United Home Audio/Quintessence Speakers
Reel-to-reel was the name of the game here! (OK, I admit to being ever so slightly biased.) Greg Beron brought along the latest United Home Audio Phase 5PB and 6PB decks (playback only) retailing at $6998 and 8998, respectively. Greg was also using Patrick Sinegal's new and very sexy looking Reel-tronix take-up reels.
Now could it have been any more fitting given the room's "theme," than to listen alongside none other than Paul Stubblebine, a key member of The Tape Project trio responsible for the resurgence of interest in this long discarded technology? While we were listening, Paul shared that The Tape Project has finally filled all their back orders and will soon begin duping their third and most promising series yet of real time mastered, reel-to-reel tapes. According to Paul, the first Series 3 release will be jazz singer Kurt Elling's Flirting with Twilight, recorded by the legendary and multi-Grammy award winning engineer Al Schmitt at Capitol Records Studio One.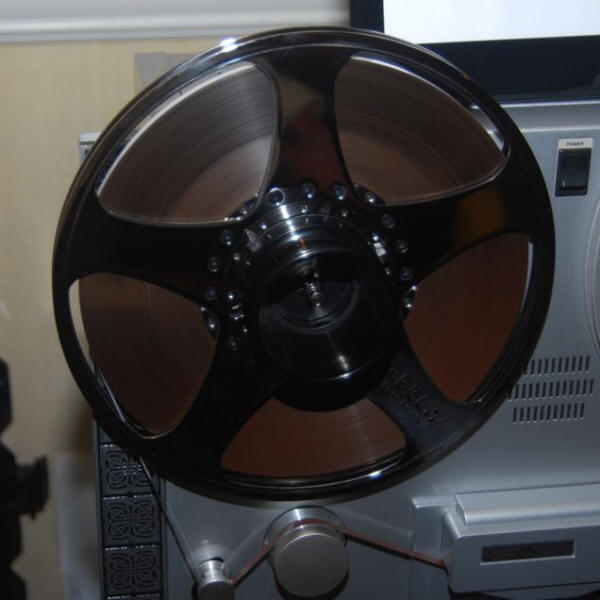 Filling out the rest of the system was Tom Campagna's $35,000 Shadow Model 5 Quintessence Acoustics speakers and Peter Noerbaek's Olympia-AX amplifier. In charge of removing the dirt and grunge from the hotel electrical lines was none other than David Stanard's (seen in several rooms round the show) outstanding Silver Circle 5se power line conditioner.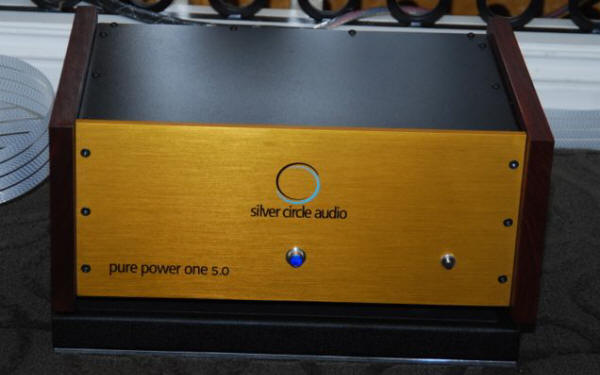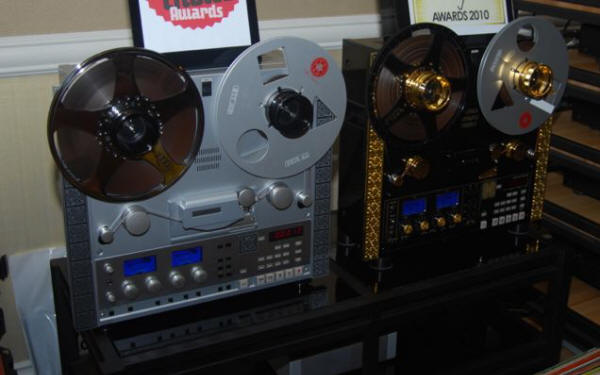 Purist Audio/Vitus Audio/Stahl-Tek digital
New at the show was the $35,000 Stahl-Tek Vekian CDP and 192/24 D/A ABC (audiophile bridge to computer allowing bridging to DAC) and $37,000 Opus DAC (add $3500 for bridge). The sound here, through the Peak Consult speakers driven by the $12,000 Vitus RI-100 amplifier, was surprising good, devoid of the typical icy, flat, overhyped digital sound so often (unfortunately) is encountered at audio shows.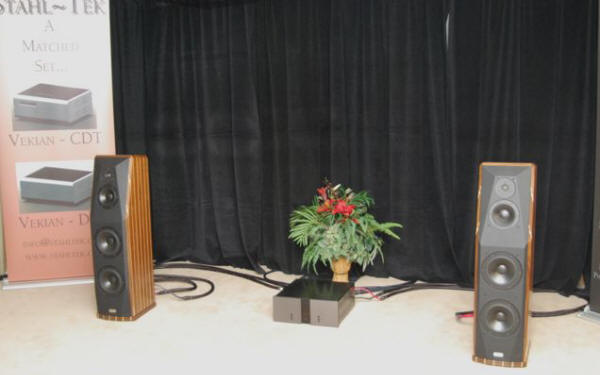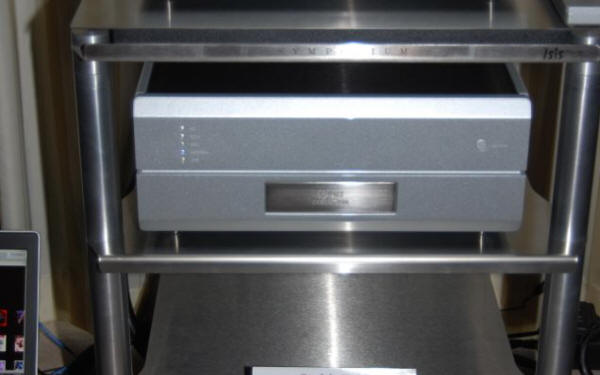 Scaena Spiritus Speakers
Exhibitors often tweak the sound of their systems as the show goes on and such was the case with the Scaena room. Unfortunately, by the time I learned of the changes, it was too late to pay the Scaena folks a follow-up visit [the same thing happened with the von Schweikert/Jolida room at RMAF]. Despite that, magic was afoot inside the Spiritus speakers. Granted [like last year] the set-up bordered on the bizarre with the midrange/ribbon speaker section placed on room's upper level and subwoofers on the room's lower level. Despite that, the system really did integrate and produce a sound with prodigious depth. The Spiritus (Latin for "air that is alive") features a new top-of-the-line Raven ribbon driver that spans frequencies from 4500 to 55,000 Hz along with an in-house designed, full fledged DSP, allowing for complete room correction.
Coupled with conrad-johnson's ART amplifier and Veloce's battery powered preamplifier and DCS Scarlatti digital gear, the Scaena equipped system really excelled in quietness, low level detail and resolution. Speaker price is yet to be determined.
Sound Lab Majestic 845 SL speakers/Teo Cables
These 2001-like monoliths pretty much had to be shoe horned into a Flamingo room. Roger West has even extracted another 3dB of efficiency from his full range Majestic 845 SL electrostatic speaker; this raises the speaker's rating from 89 to 92dB. Clearly these speakers need room to breathe and asking these speakers to perform optimally in a room this tiny is asking for trouble. Yet despite the room size, the Majestics sounded better than in past shows exhibiting a midrange window that brought voices on operatic recordings such as the Decca recording Bartok's Bluebirds Castle to life. Again, given the room dimensions (and dipolar cancellation effects), the bass was passable though the upper octaves were a little rolled off.
Sutherland Audio/Merrill-Williams
The Merrill-Williams/Sutherland room was another surprisingly good sounding room. Records were being spun on Merrill-Williams new REAL (Rubber, Elastomer, Acoustic, Laminate) turntable ($7200 with arm; $6000 without) outfitted with Ortofon's latest and greatest Anna cartridge (named in honor of opera singer Anna Netreko). Both the turntable's speed control and all the electronics were designed by Ron Sutherland.
The secret to Merrill-Williams new REAL table is a specially formulated rubber elastomer that acts like springs as well as damping the motor, bearing, and feet. Even the sandwiched plinth uses the rubber elastomeric compound between two pieces of Al for support. About the only part not fashioned from this material is the Bakelite resin platter.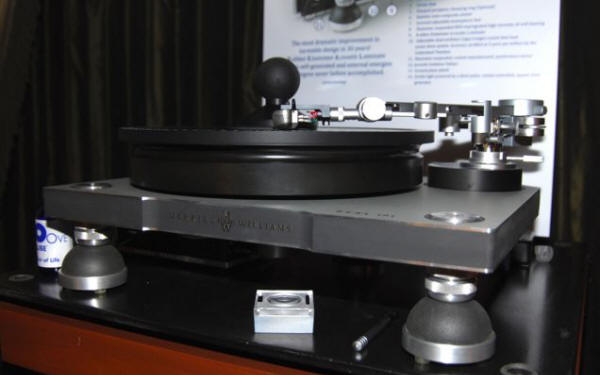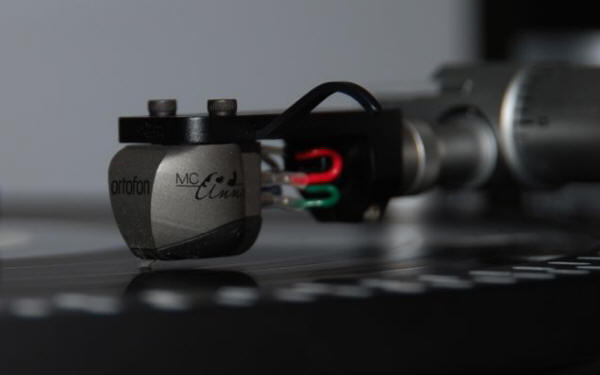 The newest addition to the Sutherland Audio electronic line is the 400-wpc monoblock ICE power modules ($10,000). Ron never leaves any stone unturned or anything to chance and even the front-end driver modules for his amplifiers are custom designed! Hooked up to a pair of Vandersteen Quatro speakers, the sound of the table and electronics was exceptionally transparent, smooth, resolving, and unmechanical.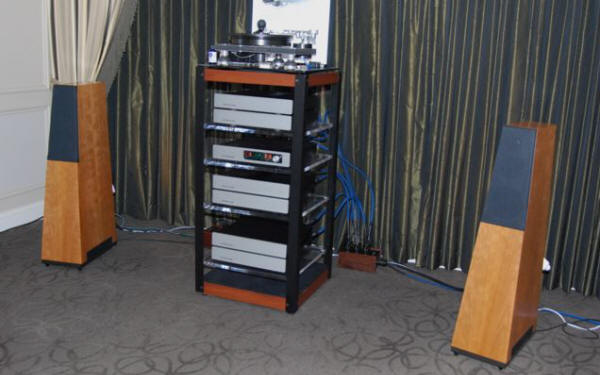 Valvet/Artos (from Germany)/Highend-Electronics, Inc.
Valvet from Germany still isn't a household name in the US but the company has apparently has developed a diehard following among some dealers and audiophiles in the Far East. Alfred Kainz and Highend Electronics brought along Valvet's $4780 L2 tube preamplifier (equipped with one 6SN7 and outboard solid-state power supply) and the $6300 A3.5 MkII monoblock solid-state amplifiers (90-watts pure class-A). Interestingly, Valvet's designer Knut Cornils prefers to mix and match his electronics and as a rule combines a tube preamplifier along with a solid-state amplifier. In addition, Cornils believes strongly in using outboard power supplies with his gear; he has, however, switched from tube to solid-state rectification in his electronics line. Rounding out this smooth sounding system were a pair of Artos Audio Mirage Speakers ($49,800).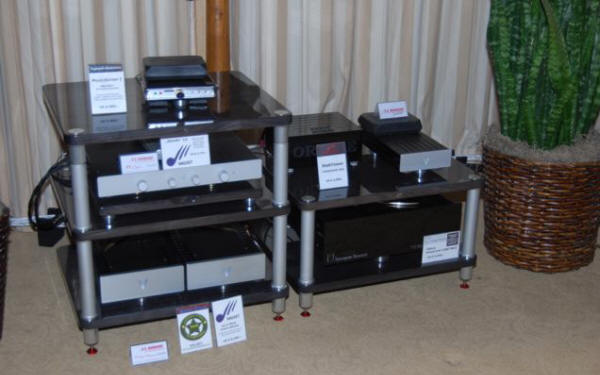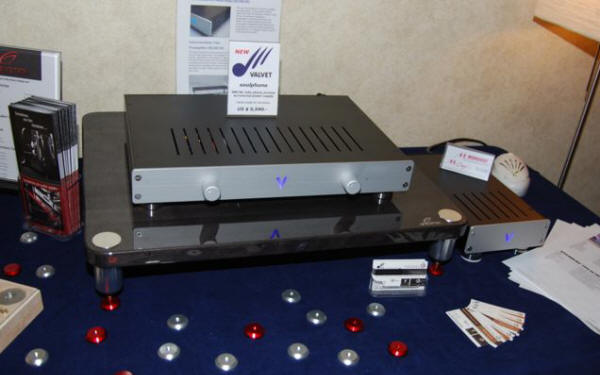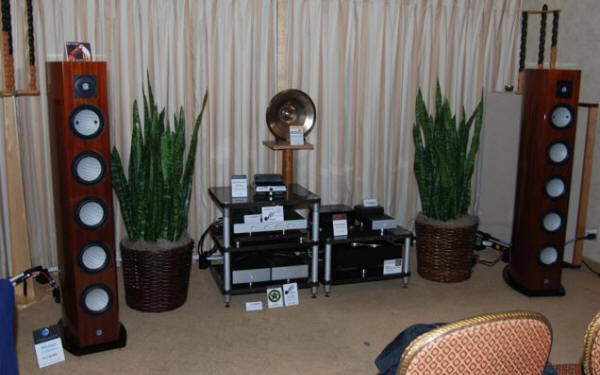 Vandersteen
The new $5990 Vandersteens Treos (along with the Devore Fidelity Gibbons), was clearly one of the best sounding speakers at this year's show. As with all Vandersteen designs, the Treo starts as a time and phase coherent speaker. Design-wise, the "upper part" of the Treo uses the same formula as the Quatro; the only difference between the Treo and Quatro speakers lies in the bottom end. Here the Treo employs a ported design using an additional 8-inch carbon loaded, cellulose flat cone subwoofer with a long throw motor assembly acoustic coupler. The Treos, like the best Vandy speakers, have rock solid imaging and sounded extremely natural, relaxed, and musical. Though Vandersteen claims the Treos extend down to 32Hz, the speakers sounded a touch light at the show.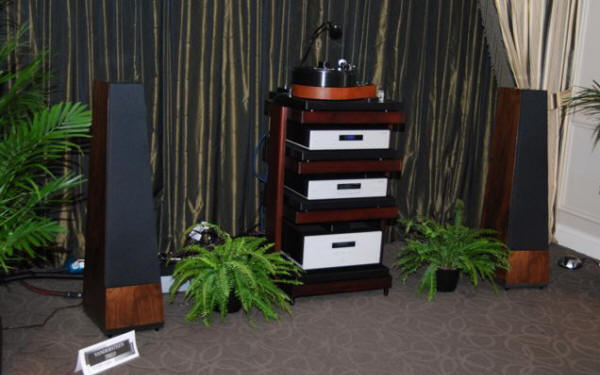 And just in case you hadn't noticed, Vandersteen is one of the few, if only, exhibitors demoing with only a turntable. Richard's current choice? For the last couple of years, Richard spun his tunes courtesy of a Clearaudio Innovation turntable. Interestingly this year, Richard opted for the newly introduced Benz/AMG (Analog Manufaktur Germany) turntable and 12-inch, dual pivot tonearm ($15,000 with arm/$12,000 without arm). No Johnny come lately when it comes to building turntables, AMG has for many years supplied parts to a number of high-end audio turntable manufacturers.
Hanging off the end of the arm was the ever so luscious sounding and underrated Benz LP-S cartridge. Two years ago, Richard showed with the Clearaudio Goldfinger cartridge; last year, in the same room and with the same equipment, the sound was markedly better. The only difference? The addition of the Benz-LP cartridge.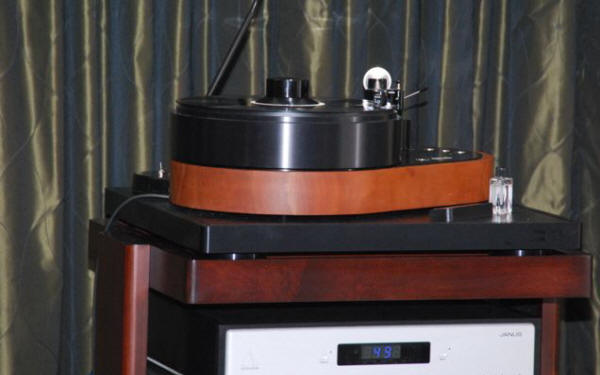 Vienna Acoustics
I've always had a soft spot in my heart for Vienna Acoustics speakers ever since my review of the original Mahlers some years ago in Ultimate Audio. Nor did the new The Music speakers disappoint. "The Music" speakers from Vienna Acoustics Klimdt line ($27,500) lacked that mechanical quality so often heard with reproduced music—and especially at shows. With an associated system built around Jeff Rowland electronics including the new 625 amplifiers, the "The Music" speakers possessed very good transparency, body, resolution and liquidity.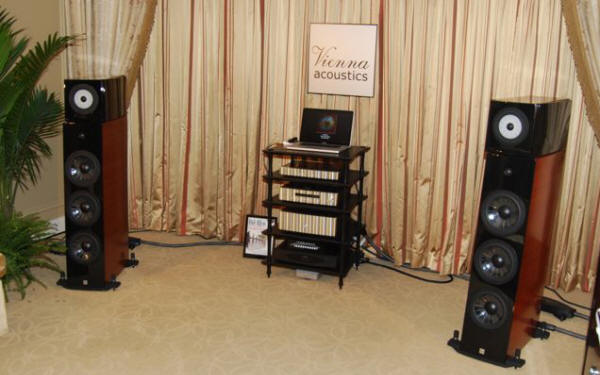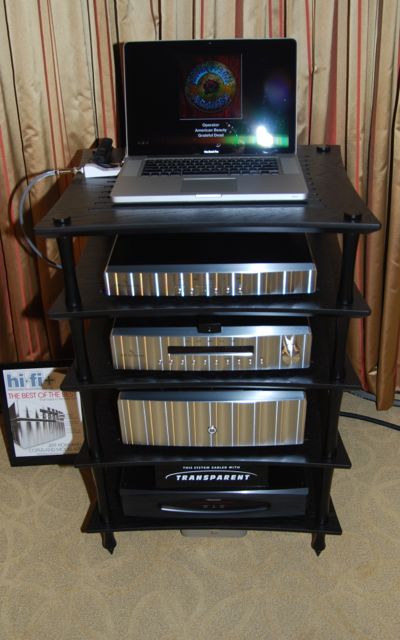 VTL
Year in and year out, Luke and Bea Manley and VTL assemble one of the best sounding systems at CES (or RMAF) and this year's show was no exception. In contrast, however, to previous shows where Luke and Bea showed with Wilson or TAD speakers, they instead chose this year to use Andy Peyor's latest $29,500 Rockport Avior speaker system. Andy's new Aviors are outfitted with a pair of newly designed 12-inch carbon fiber sandwich composite woofers along with a 6-inch carbon fiber sandwich composite midrange driver. Completing the array is the new Scanspeak Be dome tweeter.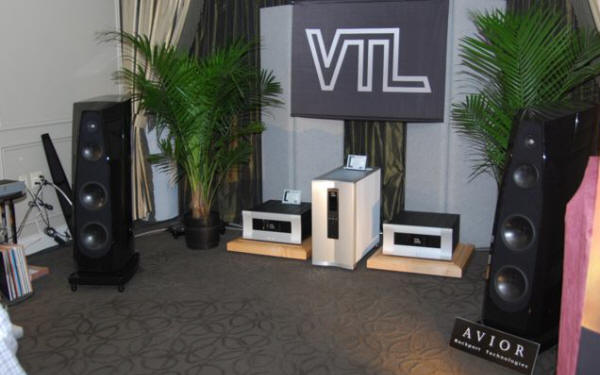 VTL showed several new products at this years show including the VTL S-400 Series II Stereo Reference 350-wpc amplifiers priced at $33,500 and the 150-wpc S-200 Stereo Signature amplifier priced at a more modest $10,000. Both amplifiers eschew the use of global feedback and can be only ran in pentode mode. Like the flagship Siegfried, the S400 series uses fully balanced circuitry while the S-200 represents the first stereo amp in VTL's Signature line.
Rounding out the analog system was VTL's own Signature phono stage with MC step up ($10,500) and 7.5 Series III Reference preamp ($20,000) and Allen Perkin's Spiral Groove SG-1.1 turntable, Centroid arm and Dynavector XV-1T cartridge ($35,000). On albums such as Alan Parson's I Robot or the 45 rpm reissue of Louis Armstrong's St. James Infirmary (both Classic Records reissues), the system simply challenged current standards for quietness, low distortion, and transparency. Neither was the system fazed by the complexity of Alan Parson's I Robot (why I Robot wasn't released at 45 RPM escapes me) or the tonality and spatiality of Louis Armstrong's St. James Infirmary. If there was anything to fault here, it was a slight sense of the sound being slightly overdamped and never really breaking free.
Wes Bender Studio NYC
The debut of several new audio products was the theme of Wes' room. This potpourri of audio products included many companies represented by Wes such as the new Viola Audio Laboratories Crescendo preamplifier with integrated DAC (($19,000) and Hansen Audio's The Prince E speakers ($39,000). Rounding out the rest of the system was Scott Frankland's impressive Wavestream Kinetics Deluxe phono stage ($7995), Peter Clark's Redpoint Audio Designs Model D turntable ($29,000), Triplanar Ultimate Mk. VII arm ($5000) and Dynavector XV-1t cartridge ($9250), and David Kaplan's power cords.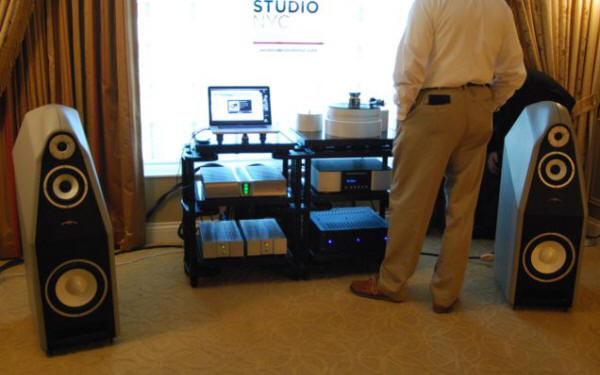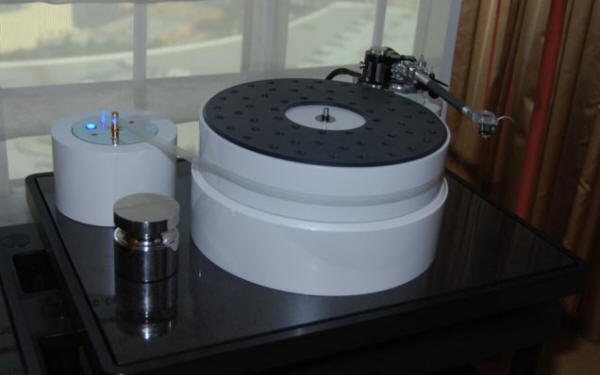 Wilson Audio
Perhaps sensing that there was nothing to be gained under show conditions, Wilson Audio instead opted for a dry display of their new flagship Wilson XLF speaker ($195,000). Daryl Wilson kicked off the "Wilson owners and dealers" get together by introducing Wilson's new iOs app. This new app allows prospective (as well as current) Wilson owners to locate dealers and schedule demos, choose cabinet colors, and retrieve information on discontinued as well as current speaker models. Choosing the "imagine" function allows users to "see" what the speakers would look like in their own listening room.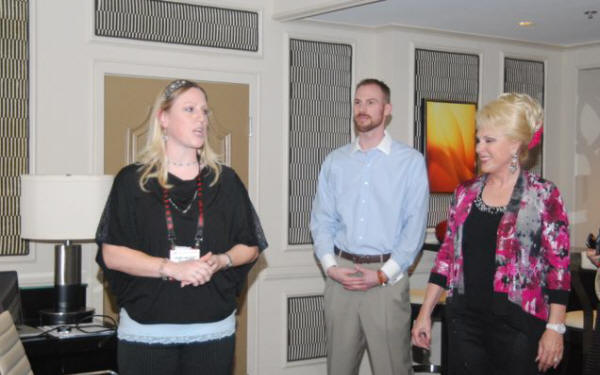 Following Daryl's intro, Sheryl Lee introduced a short movie documenting the genesis of Wilson's new XLF speakers. Among the XLF features are a new, in-house designed, silk dome, and selectable front or rear firing ports to help the Alexandria interface with a wider range of rooms. Dave Wilson went on to detail how the new silk dome tweeter allowed him to better integrate the XLF's tweeter and midrange driver and produce a more coherent sound.