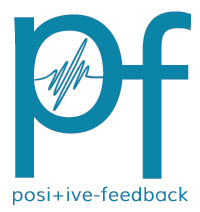 You are reading the older HTML site
Positive Feedback ISSUE 60
march/april 2012
Notes of an Amateur: The Birth of the Cello. Schumann. Goerne's Schubert. Beethoven Piano Trios.
by Bob Neill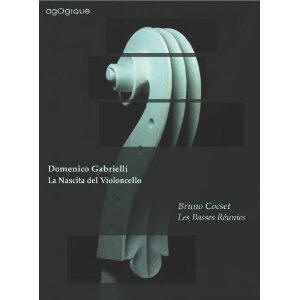 Domenico Gabrielli, La Nascita del Violoncello. Bruno Cocset & Les Basses Réunies. Agogique AG001
This remarkable treasure of an album may well get lost in the marketplace as a surprising number of such things do. It concerns itself with the birth of the cello in late seventeenth century Italy, primarily at the hand of Domenico Gabrielli (no relation to the famous Giovanni), along with lesser contemporaries, Vitali, Antoni, and Jacchini. It is an album of immensely appealing, beautifully recorded, mainly solo cello music played by Bruno Cocset and four fellow musicians playing cello, double bass, harpsichord, and organ. This is the cello becoming a singing voice before our eyes, irresistibly Italian. My main reactions to the album are How could I not have known of this Gabrielli? and How many other such composers are hiding from us in the back unrecorded corners of music history?
The CD is accompanied by an informative and handsomely produced booklet of historical commentary and delicious photographs of the instruments played. There are 74 minutes of pure musical pleasure on this album, but the photographs may be of equal appeal to lovers of old stringed instruments.
I can't imagine anyone not loving this album. Do not let it get lost.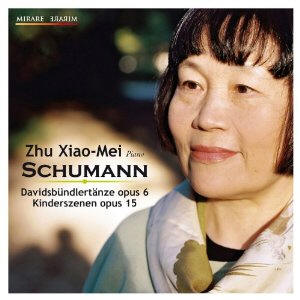 Schumann, Davidsbündlertänze, Kinderszenen. Zhu Xiao-Mei, piano. Mirare MR 158.
While the story behind this album, actually all of Zhu Xiao-Mei's releases, is compelling (mainly enduring five years of 're-education' in one of Mao's notorious camps in Siberia), it is her Schumann—its poetry, power, and how they are molded together that justifies it. Many have said that there is something in Schumann that brings to mind Bach, just as Schubert recalls Mozart. The album commentator brings it up here. But I can't say I've ever heard it in the music until now. It has something to do with backbone, a solidity that binds together lyricism and more robust and vigorous expression, which in Schumann are often in close proximity, keeping either from taking over. And it seems to require a musician who both believes in Schumann's major stature and can 'prove' it. These are easily the best performances of these two masterworks I've ever heard, perhaps the only performance of them I've ever heard. Uchida's have more personality, are more outspoken. Pollini's are more crystalline. I used to think Hewett had got them right, but she pales before Zhu Xiao-Mei. One of 2012's best and it's only April.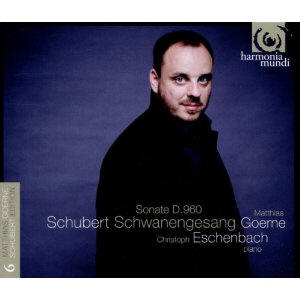 Schubert, Schwanengesang, D. 957: Matthias Goerne, baritone; Christoff Eschenbach, piano. Piano Sonata D. 960: Eschenbach. Matthias Goerne Schubert Edition, Volume 6. Harmonia Mundi HMC 902140.
The Goerne Schubert dream series continues. This is a group of songs written late in the composer's life and assembled into an opus after his death. They are of the same vintage as the late piano sonatas -- hence the inclusion of Eschenbach's solo recording of the D. 960 sonata in this release, as a freebee no less.
This CD, as have the previous five in the series, asks us, do you prefer your Schubert lieder from a honey bear or a gallant stag? I say, give me the bear every time. Schubert comes with enough honey as it is. To my ears, Goerne's wonderful deep voice provides an essential foundation for the lieder's lyric passages, giving this music the power and authority that lighter voices, even one as poignantly endearing as Peter Pears,' can't quite generate. Goerne is the only singer of this music that stops me dead, who can make me feel its greatness. It is other things besides great, and the best tenors can give those to us; but it is also great. Goerne is the descendent of the illustrious, some will doubtless say definitive, Dietrich Fisher-Diskau, whose voice is not quite as dark as Goerne's, enabling him to achieve more openness in some passages. But Goerne owns the night, of which there is a great deal in especially late Schubert. Night and also "rushing torrents" and "thundering forest."
Listening to Eschenbach's performance of D.960 immediately after the lieder, shows us what a perfect match these two musicians are for this music. How do you intentionally play a piano dark? Even if the work you are playing is in a major key? Eschenbach plays the first two movements of Schubert's last piano sonata dark and sometimes in the most nearly motionless silence I can remember. They make the resolute songfulness of the third movement recovery feel inexplicable. In human terms, it is (almost) too far to go. The fourth movement carries the reawakened mood still further into a declamatory mode. His Schubert has nearly become Beethoven, which is worth reflecting on. Contrasted with the French pianist Alain Planès's D.960 which I know best, Eschenbach's is more psychologically probing, less beautiful. Perhaps more German, less French. Schubert is not all dark but Eschenbach would surely say you have to probe the darkness in him to get the light right.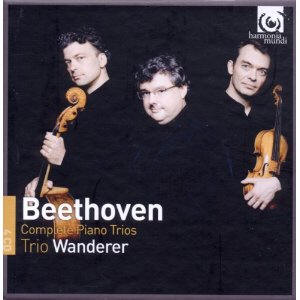 Beethoven, Complete Piano Trios. Trio Wanderer (4 cds). Harmonia Mundi HMC 902100.03.
Whether or not you'll take to this new release of the complete Beethoven piano trios will depend on how you like your Beethoven. The Trio Wanderer are not as bold and forceful as the Kalichstein-Laredo-Robinson Trio nor as virtuosic and brilliant as the Florestans. They are what I consider European, French as it turns out. Restrained, urbane, 'classical,' avoiding eccentricity or too noticeable a point of view. Transparency in audio suggests a system that avoids a sound or personality of its own in an effort to provide a window rather than an interpretation. It is possible that the Wanderers commendably strive to be a window on Beethoven, which is easier said than done, of course, because, unlike sound, music must be interpreted to get off the page. It must be made. And so whatever it is the Wanderers intend, what they have in fact made is an even-handed, suave, composed Beethoven, whom some music lovers will surely welcome. They will sigh with relief at finally hearing a Beethoven whose rebelliousness, romanticism, and esprit are not allowed to rule the day.
Equipment used for this audition: Audio Note CDT 4 transport; Blue Circle BC501obLOC dac; Crimson CS710 solid state preamplifier & CDS640E solid state monoblock amplifier; Jean Marie Reynaud Offrande Supreme, V2 loudspeakers; Crimson cables.
Bob Neill, in addition to being an occasional equipment and regular music reviewer for Positive- Feedback Online, is also proprietor of Amherst Audio in Amherst, Massachusetts, which sells equipment from Audio Note, Blue Circle, JM Reynaud, and Crimson Audio.