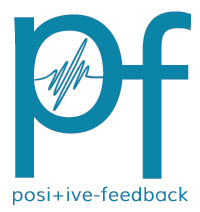 You are reading the older HTML site
Positive Feedback ISSUE 59
january/february 2012
"From Performance Capture to Digital Delivery... It's What I Do," or "The Hardest Article I've Ever Written! An Introduction to Me"
by Cookie Marenco
[All images by Bruce Walker and Daniel Zimmerman; all image processing by David W. Robinson]
[For those who do not know Cookie Marenco… well, that's what this introductory article is about. Cookie heads up Blue Coast Records, is a huge believer in the highest resolution for audio recording and mastering, and thus is a big fan of DSD and SACD. I've asked her to write about audio engineering and high-resolution audio, which she's agreed to do whenever her schedule and her inclination allows. Welcome aboard, Cookie!]
[I'd like to thank David Robinson for the invitation to write for Positive Feedback Online and sharing my thoughts on audio and music in this publication. Hopefully, my stories will give you some insights about how we produce recordings. I welcome all feedback and suggestions for articles. Send email queries to cookie@bluecoastrecords.com.]
Greetings, and Meetings!
David and I met recently at Rocky Mountain Audio Fest 2011, where I was asked to fill in for a panelist on the High Resolution Audio panel. Happily, much of the discussion was based around DSD (Direct Stream Digital) audio—a subject close to my heart. The audience asked some wonderful questions about the problems surrounding true high resolution audio distribution. Many of the issues about digital delivery are not about technology, but about source recordings and the internal workings of record labels. Over the next few articles, I hope I can bring some of these issues to light along with basic studio production information.
Controlling the sound recording from performance to customer delivery is unique in today's world. As a music production studio, we are a bridge between the artist and the label delivering the music. As a digital distributor, we work between label and music lover to deliver a sonic experience. It's an easy introduction to say I am a music producer and started a company for large file digital distribution. It's harder to explain why I chose this lifestyle. It's definitely not for stability. The good news is I love my work.
For most music producers, your job is done at the completion of mastering and the music is delivered to the record label for distribution. Sometimes we never listen again to that recording. The first time I heard a production of mine on iTunes was horrifying. It was then we vowed to improve and control the delivery to the home listeners whenever possible.
The "Six Points of Degradation"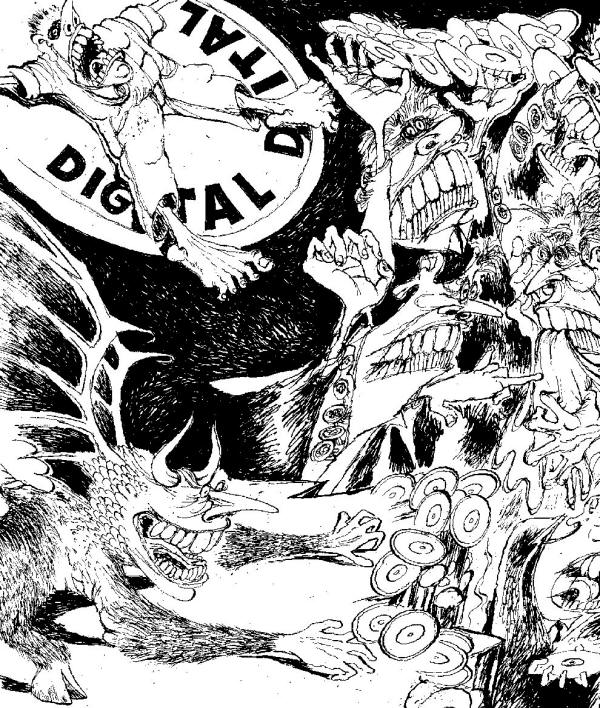 "Digital Hell" (detail), by Bruce Walker
There are at least 6 points of degradation that can occur with or without the artist's knowledge. These include:
1) performance to capture-format
2) capture-format to mix-format
3) mix-format to mastering-format
4) mastering-format to approved-master for replication
5) approved-master to label/replicator/digital aggregator
6) God only knows what happens from the label/replicator/digital aggregator to retail, and then on to the consumer
If a producer is not careful, it can be twice as many generations from the performance to the home listener. Many producers believe there is a magical world where everyone in the audio chain cares as much as they do, and will preserve the integrity of the music to the end user. More often, there is no control over the fate of the master as it goes from distribution and to the consumer. The ones who care the most about quality are at the beginning and the end of this chain—the artist and music lover. I work with and for people who care about maintaining that quality.
Until recently, I have felt my primary raison d'ętre was optimizing the environment so that the artists can perform at their best. If magic is captured with one mic in a noisy bar, so be it. Creating magical performances in the studio is like the Superbowl. The artist has one chance, one day to be great. All bets are placed on everyone being at the top of their game, that there won't be a power outage, a spouse doesn't call with bad news and a new assistant doesn't say the wrong thing (no matter how much they're prepped, you just never know). Artist performance is 90% psychology. The million dollar investment in the studio is nothing without a great performance.
I'm often asked how I got into this business. Before becoming an engineer, I was a working musician. Music was a natural career choice having played the piano at the age of four, had a music scholarship for oboe, toured in a jazz ensemble, tuned pianos, studied sitar, and had 60 music students by the time I was 18. Being a recording engineer was never something I aspired to.
Then came the "band" years. Teaching music in the daytime, rehearsing and performing 5 nights a week. Then, the band needed a demo...!
Like many first-time engineers, I was in a band and we needed a demo tape. Back then, the home studio in a box setups were not an option. Digital recording did not exist. The band spent a lot of money on gear (me and the ex, the drummer) and time setting up the equipment.
The story I like to tell at parties is—my relatives from Italy were in town, and the band was left to wire up the gear without me. With a stern, "You're going to learn this stuff!" on my return, I became the band's engineer.
What's probably more the truth that kept me behind the board was my background as a music teacher, a curiosity about the physics of sound, sympathy for performers and ability to speak musically to musicians.
In six months, with debt over our eyeballs, we opened up to the public, and OTR Studios was born. We were short on names so we honored our band "Out There Orchestra". The associated audio engineering became "Out There Recording," which in turn became "OTR" over the years. It was much easier to not try to explain! We are now the oldest owner founded studio still operating within 100 miles of San Francisco.
I've now been a recording engineer, commercial studio owner, and producer for more than 25 years. During that time, I composed commercials for Nissan and AT&T, worked in A&R for Windham Hill Records, pioneered digital download delivery with Liquid Audio in the 90's, engineered more than 400 releases, received 5 Grammy nominations, recorded an Academy Award winning documentary and earned a couple of Gold Records. The band has still never made the demo tape!
Labels, Marketing, and Chaos…
Working with major record labels is chaos. At Windham Hill, we had a quality control fellow on our staff whose sole job was to protect the integrity of the delivered masters. I wrongly assumed most record labels had someone like that whose only job was to take care of the masters. Sad to say that is not the case. Later, when brokering CD and vinyl manufacturing, we became exposed to ugly situations dealing with manufacturing. It takes an iron will to get a product to market and not have problems. Quality control is very difficult once it leaves the hands of the artist.
The other dilemma most great acoustic artists face is the lack of support from marketing at a label. For the most part, the number of albums shipped on the first day was the end of the marketing budget. It was then on to next month's release. Once every ten years you'll get a "Norah Jones" who builds a following the label can't deny, or a George Winston who had 4 albums on Billboard's top 200 for 10 years without a new release.
Frustrated by the industry changes, five years ago I started Blue Coast Records, a record label for acoustic music and small ensembles similar to the "unplugged" series on MTV, but with high resolution recording techniques. Starting Blue Coast Records gave us control over the performance choice, sound, delivery, and marketing. My co-producer, Jean Claude Reynaud, is the son of Jean Marie Reynaud who many of you know about. We started Blue Coast as a challenge to create a label with passionate performances combined with great sonics.
Jean Claude introduced me to the world of audiophiles. Until we met, I had not been aware that so many people actually cared about the recording quality of music. The artists rarely cared or had the listening environment at home to hear the differences. They spent their money on incredible instruments, which is understandable. I had always felt it my job to capture the sound of that great instrument and their performance as best i could. But could I sell the recordings?
After 20 years assembling the studio weapons I needed to record to my satisfaction, digital multi-track recording had all but taken over the pro audio scene. More artists began to record at home and were obsessed by fixing every nuance in the music. The more I recorded digitally, the less I enjoyed my work. Quite by accident I met Jean Claude. I fired myself from my own studio, left it in the hands of my assistants, and began to explore an alternative career as a music label.
Jean Claude and I met when we were both dissatisfied with the direction of studio recording. He was also an engineer. There were too many digital "fix-it" tools and not enough passionate performances, and these were taking over the industry. He and I decided to challenge ourselves with creating the ultimate acoustic recording experience in surround sound. Not just left, right, front and back, but holographic. We came up with a technique called Extended Sound Environment (E.S.E.) that resulted in the first recordings for Blue Coast Records. The SACD has the resulting surround sound experiment. You can audition the stereo version here: http://bluecoastrecords.downloadsnow.net/blue-coast-collection
At a time when the music industry was disintegrating to mp3 sound, we took recording to a higher level. It seemed crazy at the time. To my surprise, the audiophile community embraced the recordings we were creating. Goodbye ProTools, hello 2" tape machine!
Jean Claude eventually returned to France to work with his father in the family speaker business. I continued making recordings for Blue Coast Records, returned to work at OTR Studios, rebuilt the crew, and brought "audiophiles" to the attention of the artists I was recording.
With the Internet, the rules of distribution changed. Not just with digital delivery, but with physical products sold direct to customer around the world. The feedback for more music from Blue Coast was powerful, but creating physical discs fast enough was an issue. We had hundreds of hours of DSD mixdown audio available, and decided to explore the Internet as our means of distribution.
Our General Manager at Blue Coast Records, Patrick O'Connor, is a musician, graphic artist, web designer, and computer geek. After several unsuccessful attempts to work with other companies, I asked Patrick to find a way to deliver our large files. And he did.
In 2008, we began delivering CD Quality, full-size .wav audio, and a year later our first 96/24 full-size .wav files were released. This gave us the ability to release music on the same day it was completed, and at the quality we wanted. No waiting 3 months for distribution and CDs to ship. In 2010, our first DSD audio was made available to listeners worldwide despite the lack of devices to play DSD. To our surprise, people purchased these DSD files anyway, using Sony PS3 stations, Foobar, and Korg devices to play them back.
Now, in 2011, DSD is our largest selling format, and no less than 5 manufacturers are creating new products for it.
It is truly amazing to be delivering the master quality audio that we hear in the studio to music lovers' enjoyment worldwide. We now manage the delivery of thousands of songs in CD Quality or higher, and hundreds in pure DSD format.
I'm looking forward to regular contributions to Positive Feedback Online where I'll discuss music, artists, industry and innovative developments. I'll be less likely to talk about specs or equipment reviews, and more inclined to discuss how the music is made, delivered, and heard. All thoughts in response are welcomed!
Thanks again for reading,
Cookie Marenco
BlueCoastRecords.com