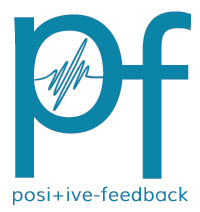 You are reading the older HTML site
Positive Feedback ISSUE 59
january/february 2012
Great Handel
by Stephen Francis Vasta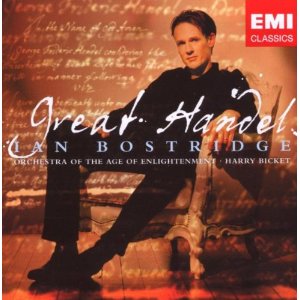 Ian Bostridge, tenor; Orchestra of the Age of Enlightenment/Harry Bicket. EMI Classics 0 946 3 82243 2 7. TT: 65.54
MP3 downloads available: 128 Kbps from itunes; VBR (average 221 Kbps) from Amazon.com; 320 Kbps from mp3mixxx.com
Semele: Where'er you walk. Messiah: Comfort ye...Ev'ry valley. Serse: Frondi tenere...Ombra mai fu. La Resurrezione: Così la tortorella. Acis and Galatea: Love sounds th'alarm; Love in her eyes sits playing; Happy we! (with Kate Royal, soprano). Ariodante: Scherza infida; Dopo notte. Samson: Total eclipse! L'Allegro, il Penseroso, ed il Moderato: As steals the morn (with Kate Royal, soprano). Jephtha: Hide thou thy hated beams... Waft her, angels.
All right, so I've finally heard Ian Bostridge. (There just isn't always time to get to everything...!) So now I have, and I want to know: what's all the fuss about?
I mean that in the opposite way from what you might think. Based on some of the intensely negative commentary I'd seen—more in online discussion groups than in the "legit" musical press—I'd come to imagine Bostridge as a freak artist of some sort, and expected a watery sound generously overlaid with interpretive affectations. (Some of the online vitriol might be considered excessive for the Antichrist.) So I wasn't prepared for the intelligent, technically skilled, and, yes, pleasing singing that I heard here.
The voice is rather strongly balanced towards the head register. Bostridge slips in and out of it easily, as in the upward curve of the final phrase of Scherzo infida. The upward melismas of Waft her angels also elide smoothly, with an elegant diminuendo—though the final one, in the return of the "A" section, nearly evanesces out of hearing.
Bostridge here plays with enunciation as a means of coloring the text, as he does in art song. In Where'er you walk, he closes the words "fan" and "crowd" almost immediately to the final consonant each time they appear; so, too, with "grace" in Love in her eyes sits playing. He also proffers some strange vowels, seemingly at random: the repeated "glade" in Where'er you walk is slightly spread, while the same sound in "blame" in Total eclipse! is too closed. The "accomplished" in Messiah is overly open; the "oo" of "beautiful" in Love sounds th'alarm is exaggerated. The fast shakes on a shallow Italian "e" vowel in Dopo notte approach a bleat.
The combination of fussy enunciation and heady vocal balance can make Bostridge's singing sound precious -- perhaps this is what has provoked such rancor. At times, I was reminded of that quintessential English oratorio tenor, Richard Lewis; the older singer had more metal, and mettle, in his timbre, but Bostridge compensates with a smoother line and, despite the vowel distortions, readier intelligibility. His impulses are musical and his manner poised. While his soft-edged "default" sound can suggest a croon, the tone acquires color and depth when he brings in some more energy—in Scherza infida, and in the two duets with a lively and warm-toned Kate Royal. I particularly enjoyed those duets and the Italian arias, as well as the dignified Where'er you walk and Ev'ry valley: I was so caught up in Bostridge's shapely rendering of that last—with an active organ continuo, by the way—that I was actually disappointed that the oratorio wasn't continuing! (A new EMI studio Messiah is unlikely under current conditions, alas.)
Harry Bicket and the Orchestra of the Age of Enlightenment realize the fused bustle and pomp of Love sounds th'alarm, the vigorous, gigue-like exuberance of Love in her eyes sits playing, the gentle rocking motion of As steals the morn—though the Siciliana rhythms of Così la tortorella could use more point. But, in the postlude of Where'er you walk, the gut-stringed, straight-toned violins can't realize that magical spot where their melody note is suspended into a general pause. It's odd to hear the chords of Comfort ye so underarticulated from a "period" ensemble. And the driving introduction to Dopo notte would have worked better with more players, "authenticity" be damned.