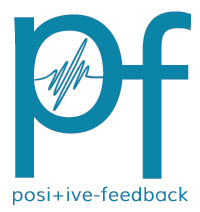 You are reading the older HTML site
Positive Feedback ISSUE 59
january/february 2012
CES 2012 Day 1 - Part 2
by Pete Davey
Kevro Int'l, Inc. / Monitor Audio USA
Cool in-wall speakers with magnet grilles so they're super easy to install.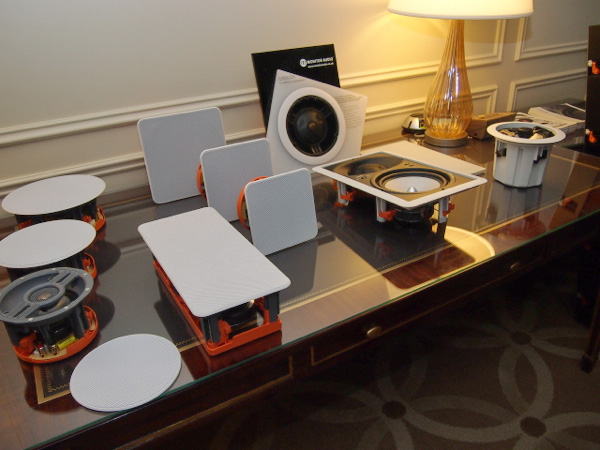 Monitor Audio speakers.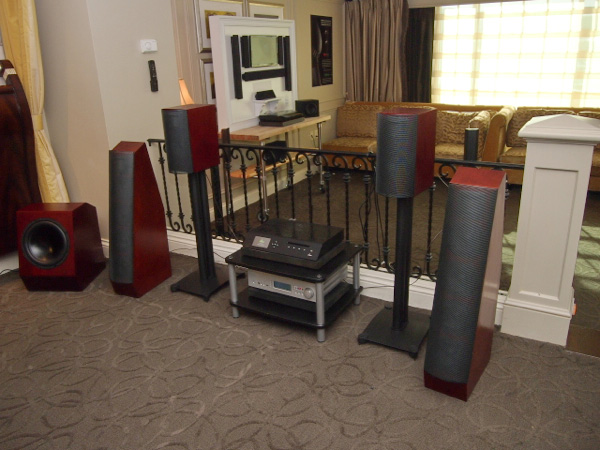 WS Distributing / Pangea Audio / Thorens / Vincent Audio
Vincent integrated tube amplifier.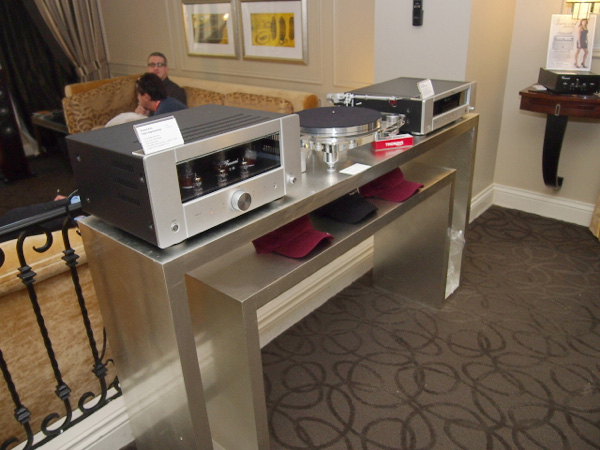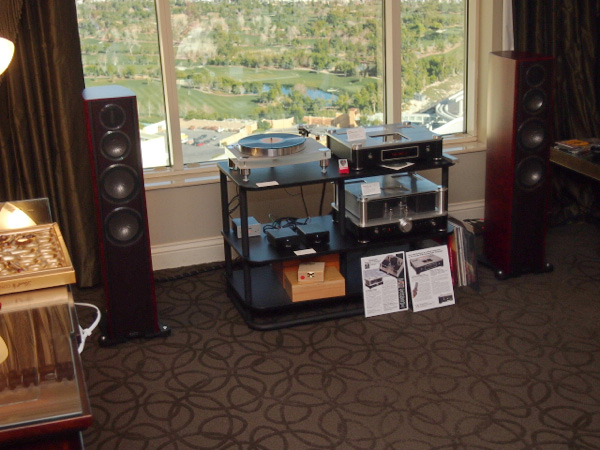 New Thorens turntables (beautiful stuff).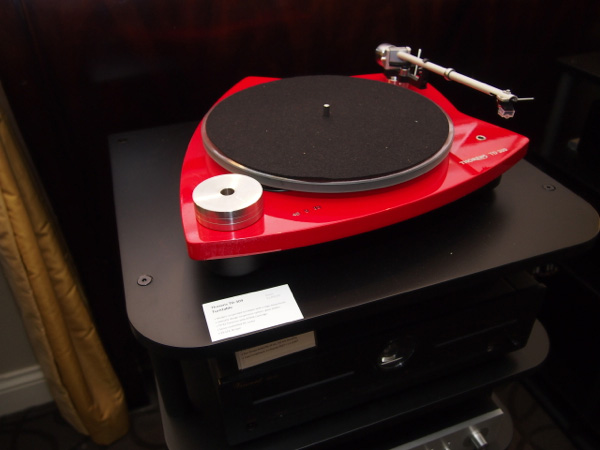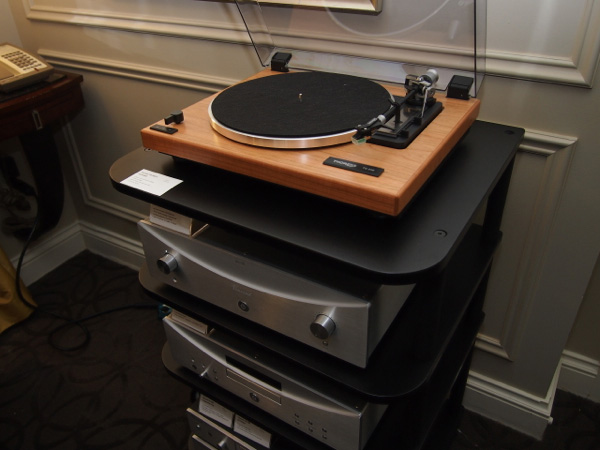 Gamut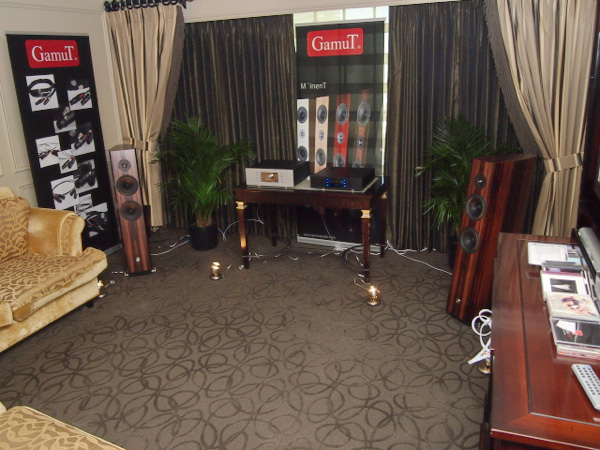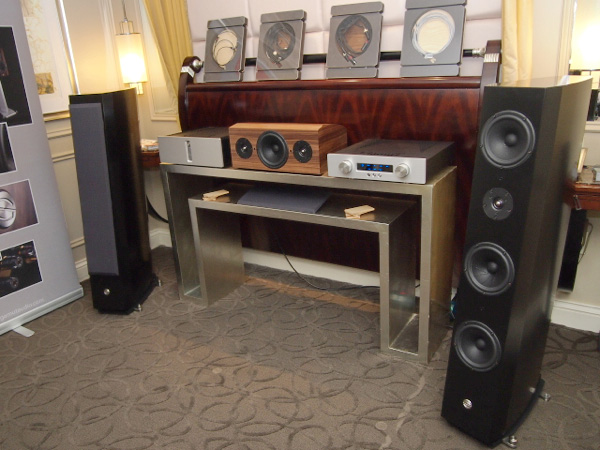 Robert Lighton, Inc.
Prototype speakers, these sounded nice.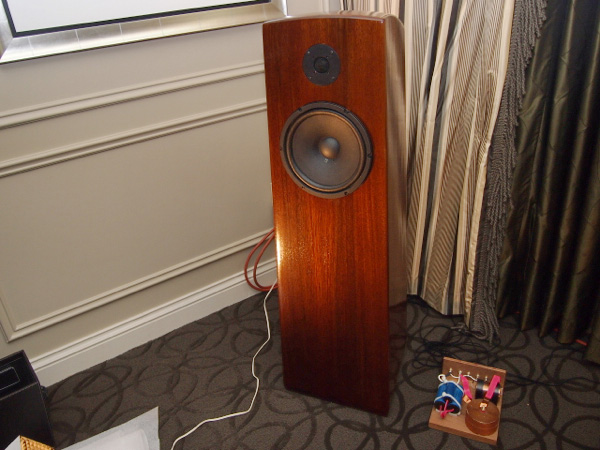 Resolution Audio
For the past few years, I've kept my eye on these guys… Not only are the electronics done right, but the aesthetics are really one of a kind. Every time I visit this room I spend some time talking to the designer (which happened to have a Puscifer CD sticking out of one of his players, double points for that!) and he really knows his stuff. The only thing that's changed this year is that it now supports (surprise) high resolution. We agreed though that "hi-res" is a bit of a waste at the moment, no decent music really out there.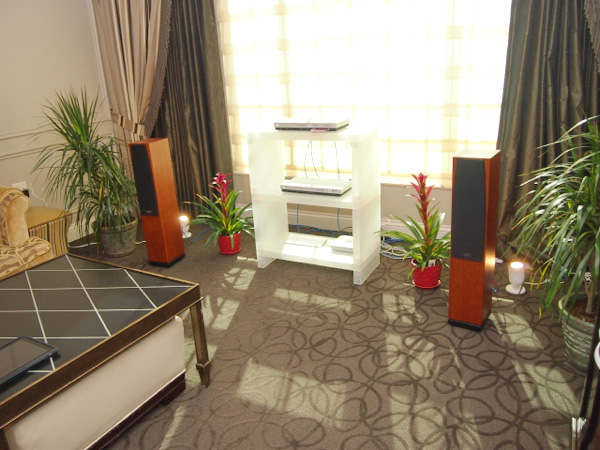 I've always loved how the display is integrated behind the chassis. Very "apple-like".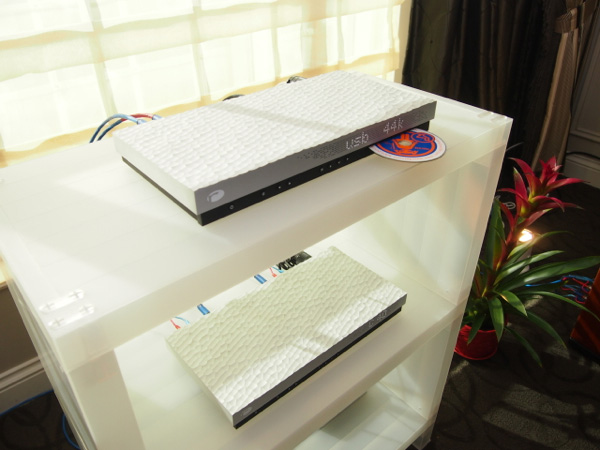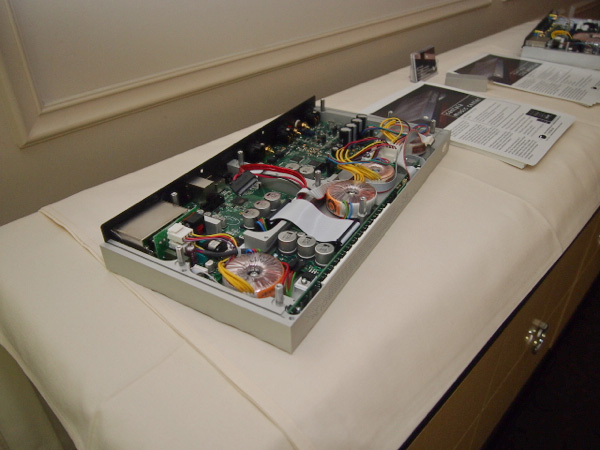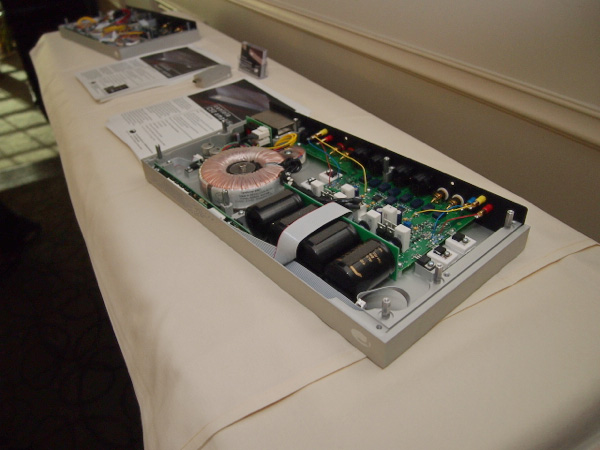 Acoustic Signature Distribution / Astin Trew / Blumenhofer Acoustics / CAMMINO di Claudio Trevisanello / Grandinote
Tons of stuff in this room…
Acoustic Signature Thunder Turntable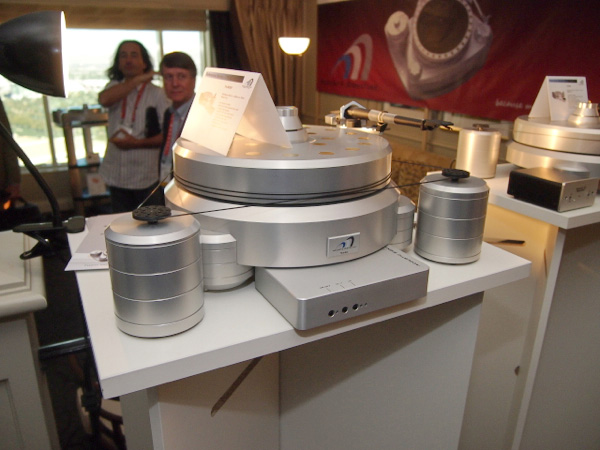 Astin Trew Amplifiers / Preamplifiers & Grandinote Amplifiers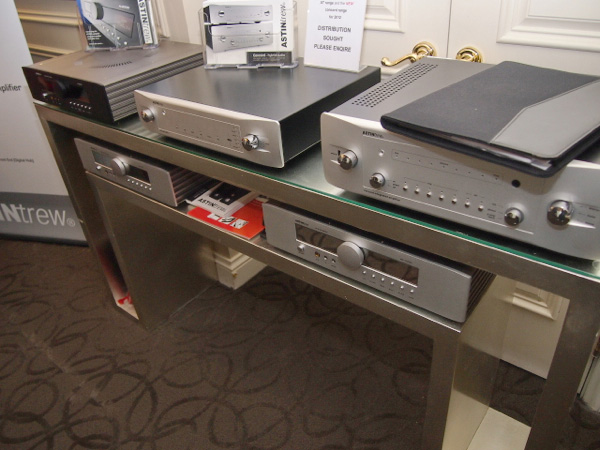 Blumenhofer Genuin FS 2 Speakers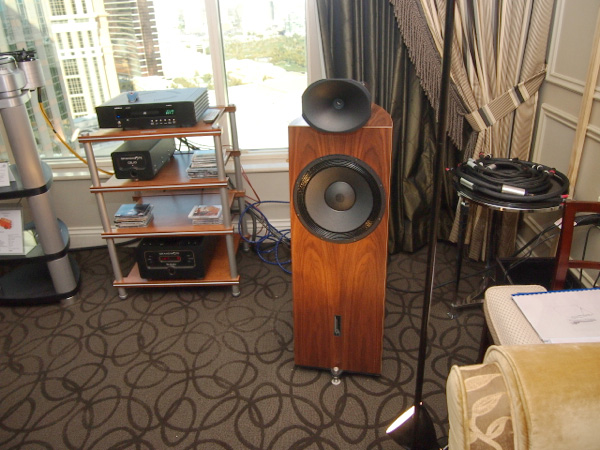 Music Hall Studio / Creek / Epos / Euro Audio Team / Aktimate / Goldring
Music Hall MMF-11 - $3995 Sweet turntable, dual motor flywheel driven…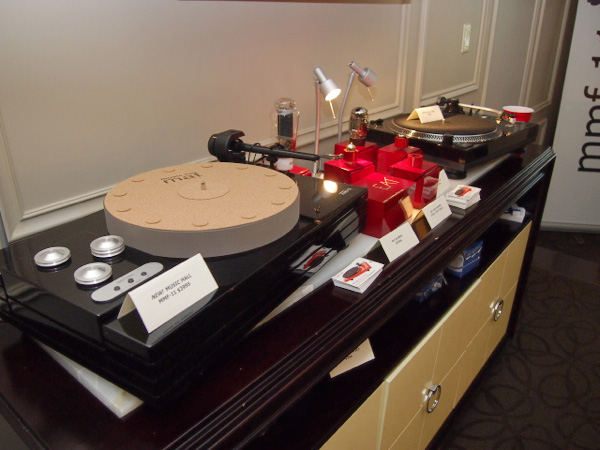 More turntables (Music Hall is known for their huge line of affordable tables)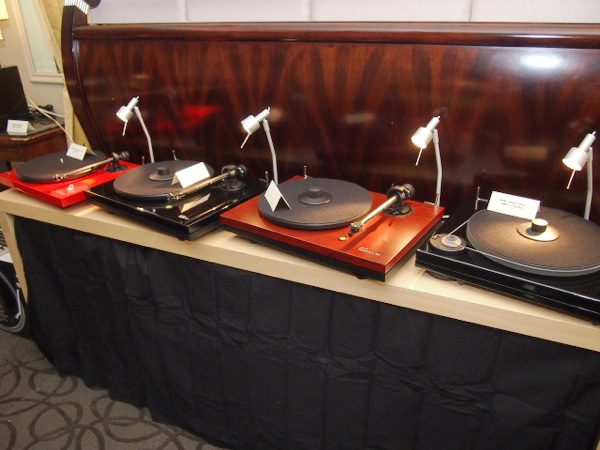 May Audio Marketing Inc. / Gutwire Audio Cables / Target Hi Fi
Cables!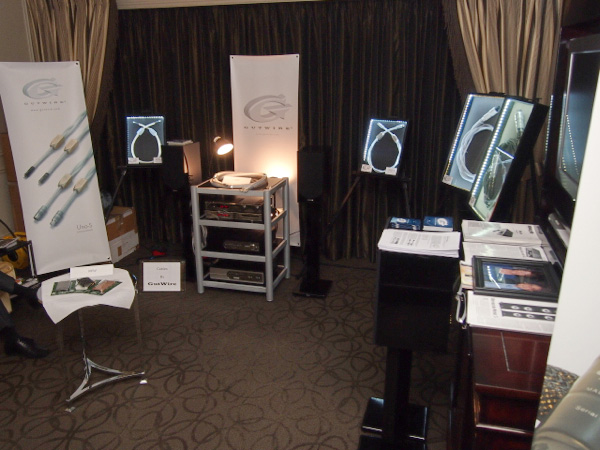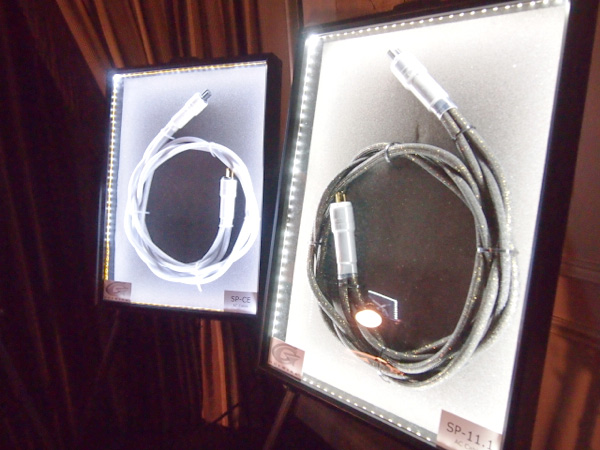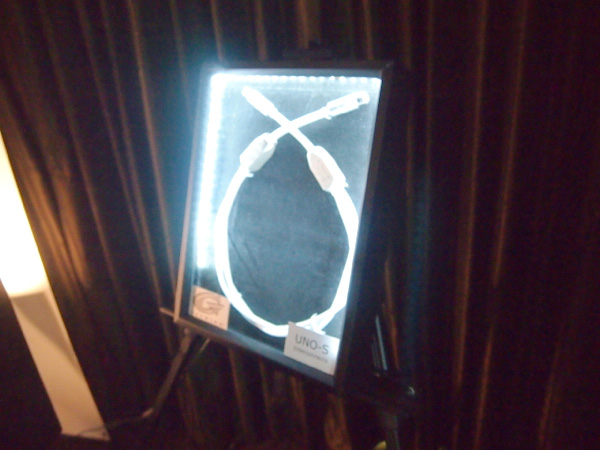 Convergent Audio Technology / Stealth Audio Cables
Harmonious Haven
This was an interesting room… Most everyone I know says that MBL speakers only work with MBL amps… well, technically I know that isn't true but I can tell these speakers aren't very efficient and require some good ol' current to get moving. I think this was a nice match and the room sounded great. I popped in some massive attack and went away on a little journey. I say if you can afford it, do it!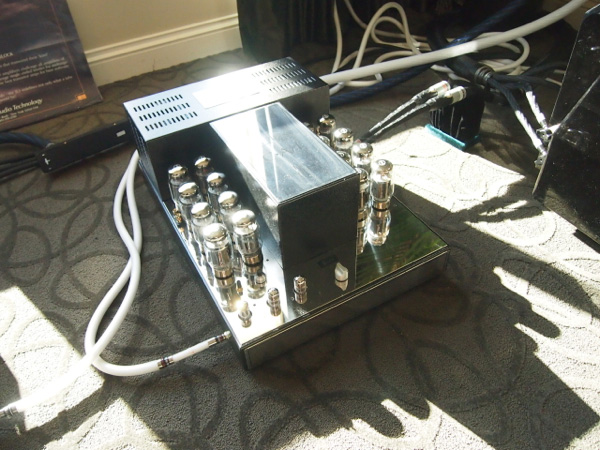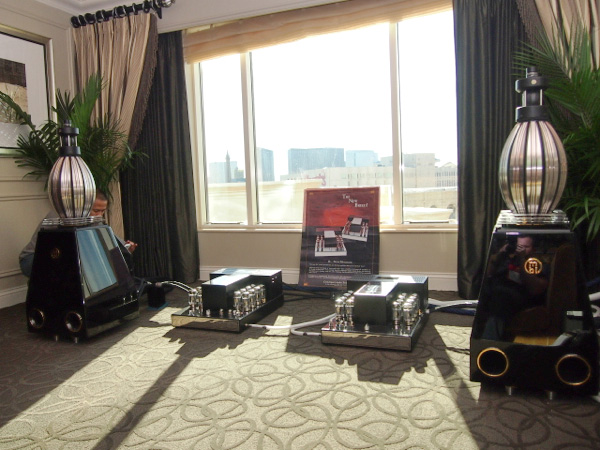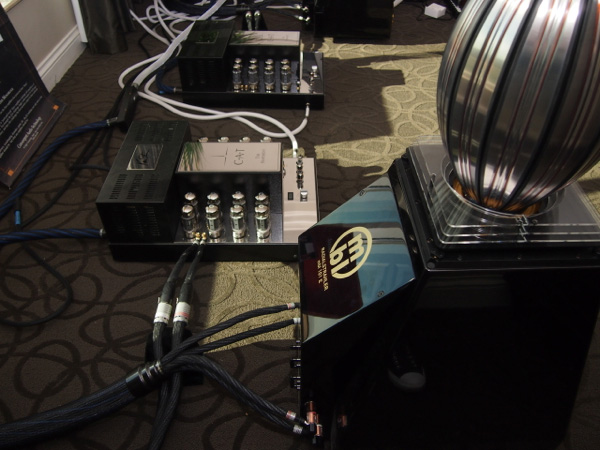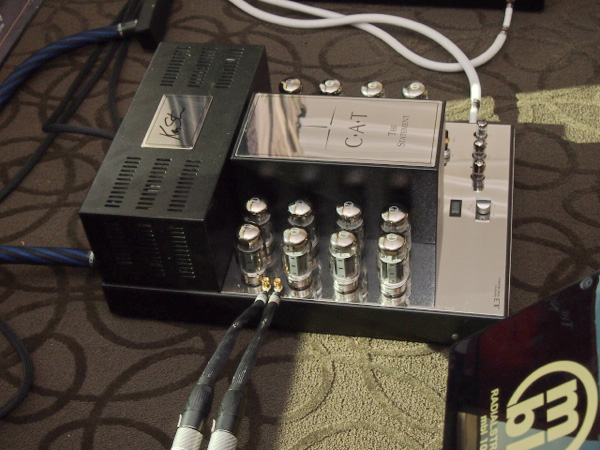 Electrocompaniet Inc.
Now this is a company that's been around forever, well for as long as I can remember. They too are getting into the music server business. Their multi-format player "EMP 2" does video, too.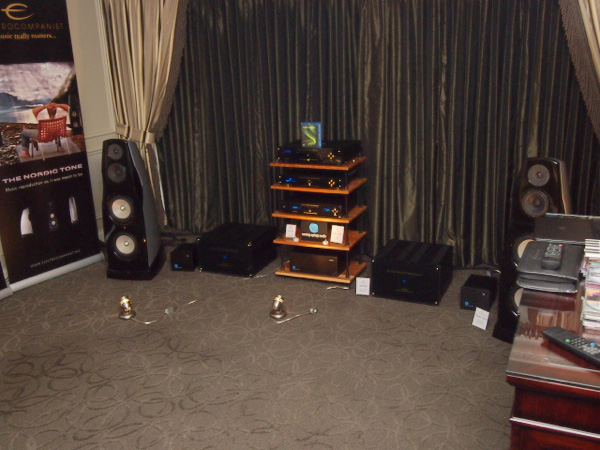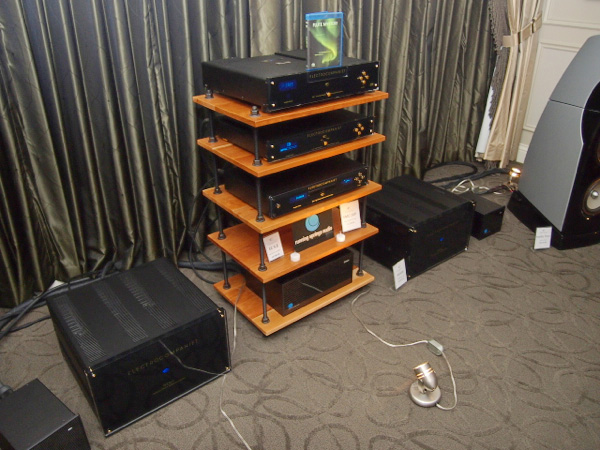 Focus Audio, Inc.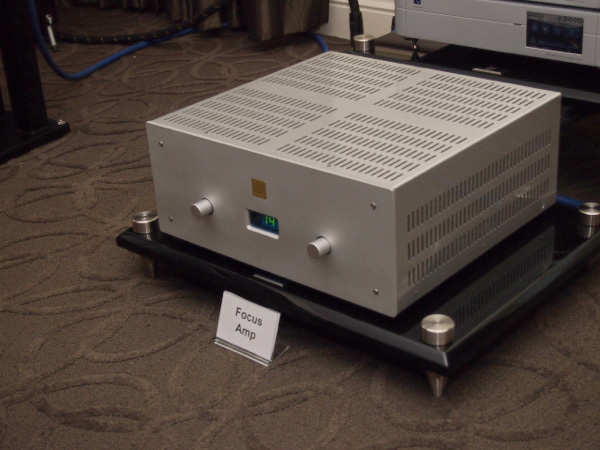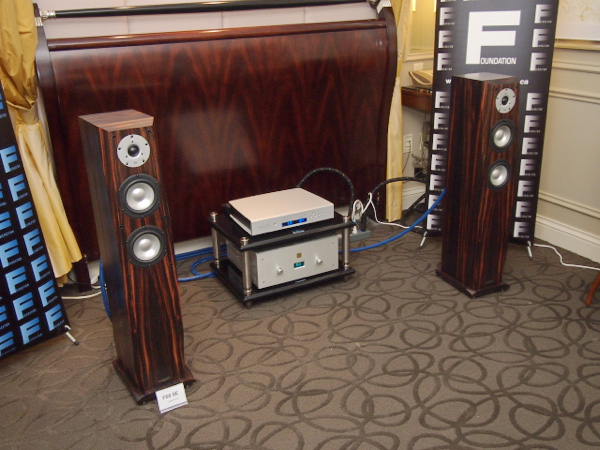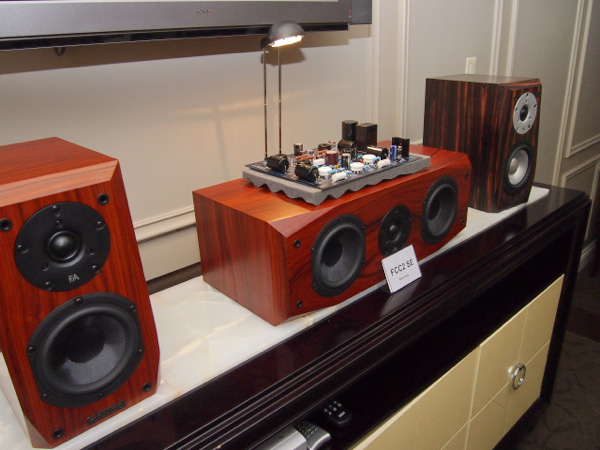 May Audio Marketing Inc. / Audes Speakers / MasterSoundsas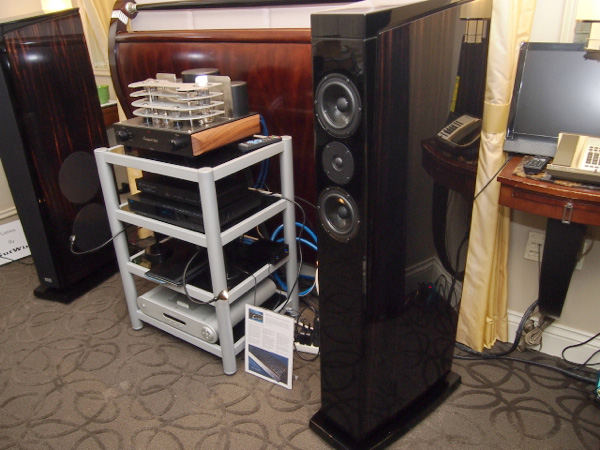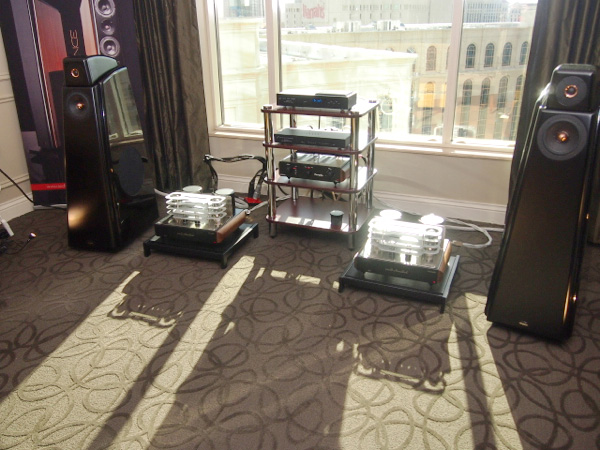 Cardas Audio Ltd. / Conrad-Johnson Design / High Fidelity Services / Neat Acoustics / Running Springs Audio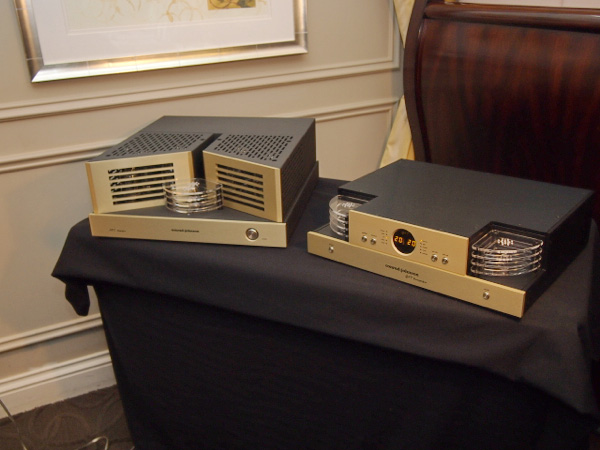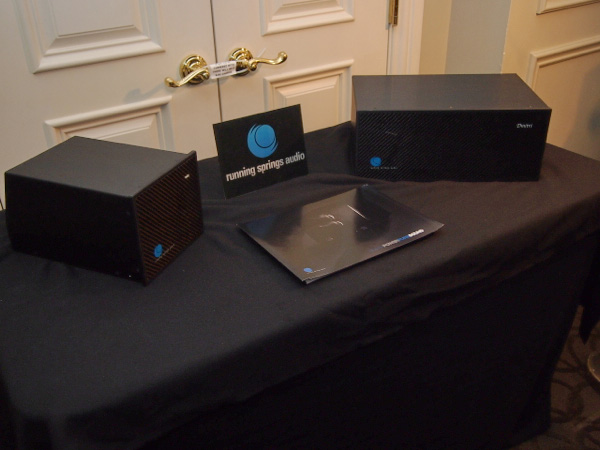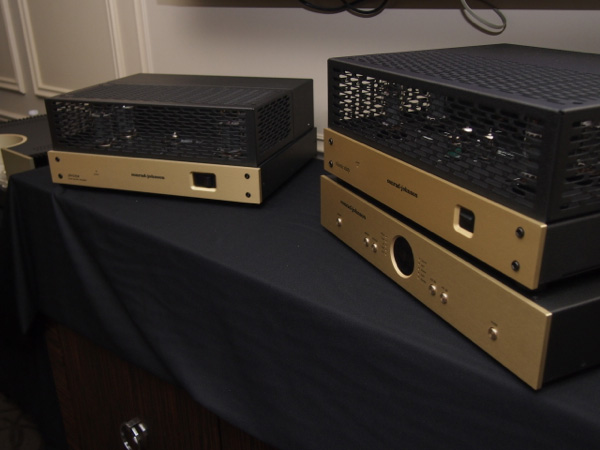 Neat Acoustics XL10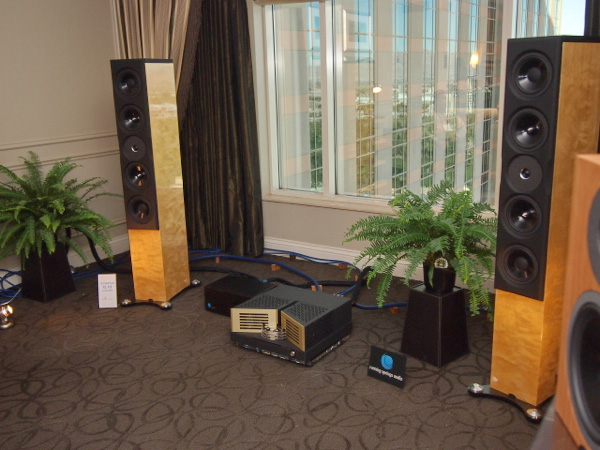 Amphion / Nuforce Inc.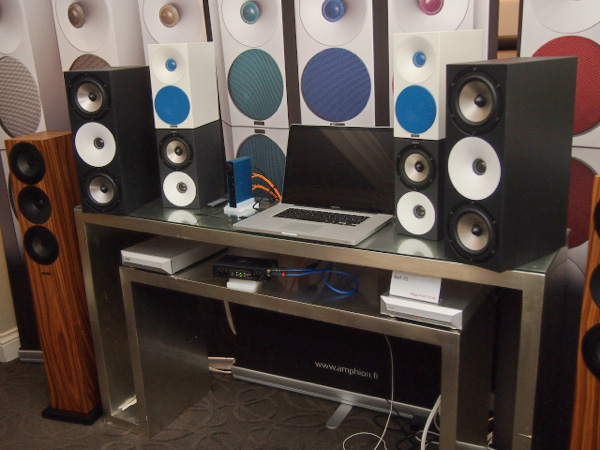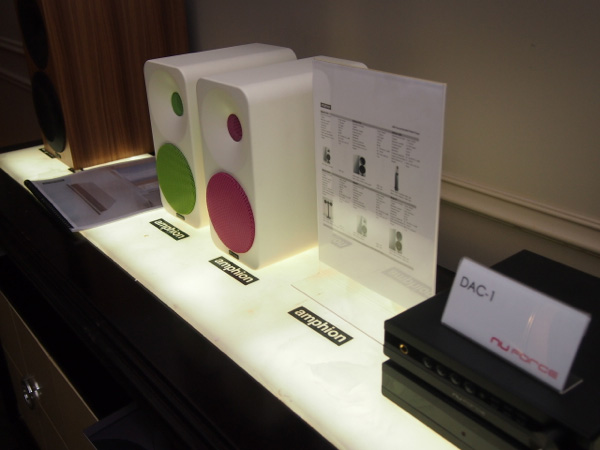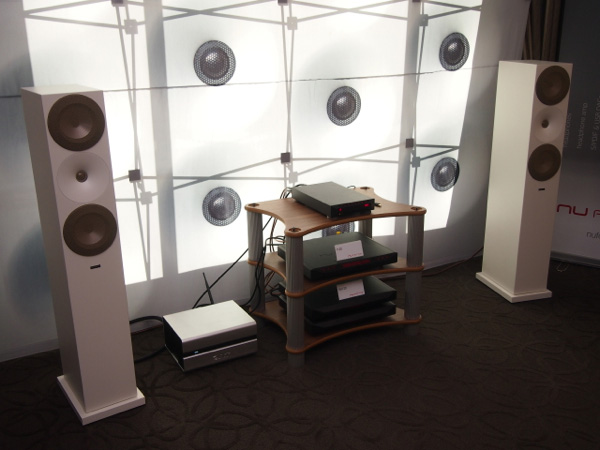 I remember playing with Nuforce gear several years ago, some of the first class D amps. They now have the DAC-9 available for $1850.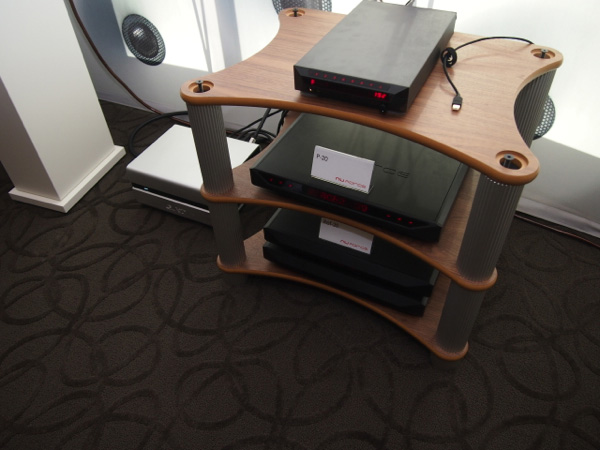 Manley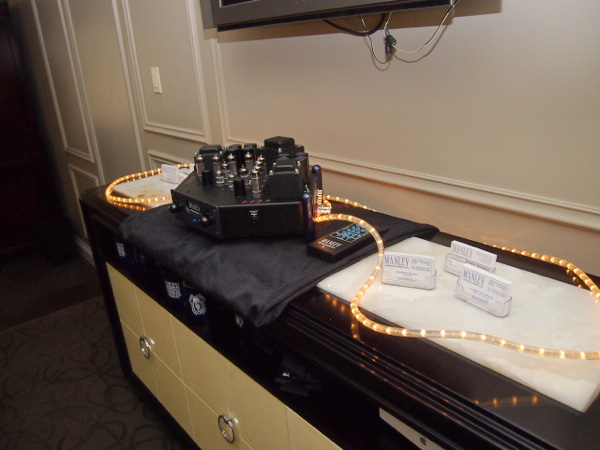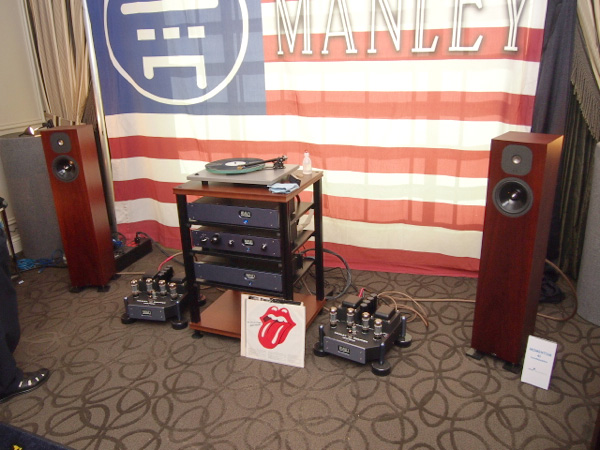 Introducing the new Chinook phono stage – a slimmed down version of the Steelhead with the same internals but less options / buttons / knobs. Retails for much less at $2250.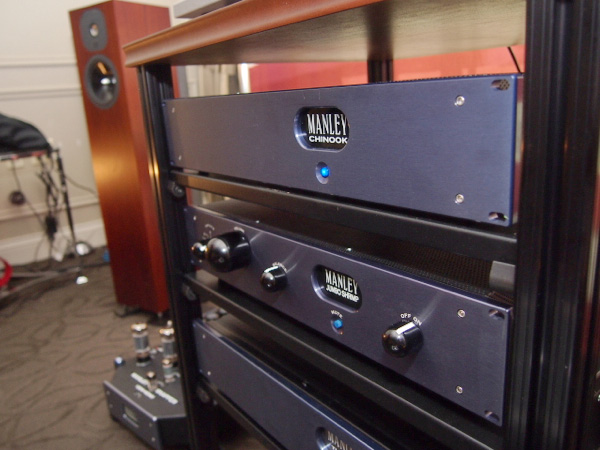 Morel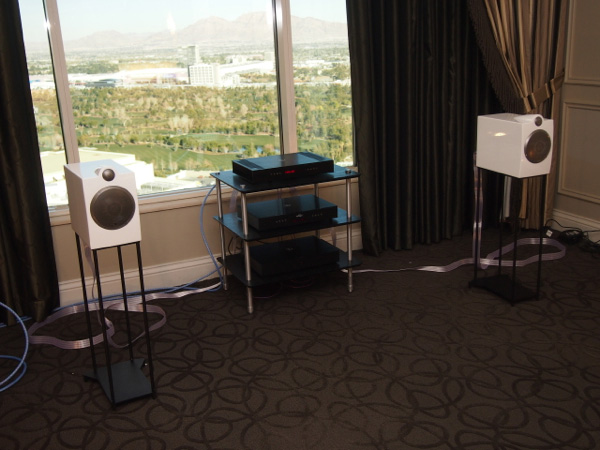 Silverline Audio Technology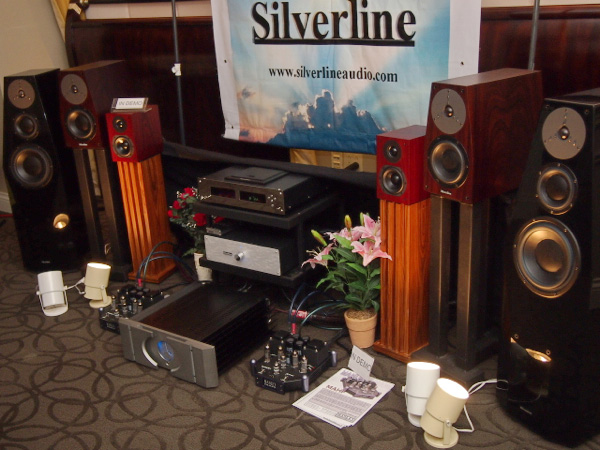 Silverline has been known for their lower priced speakers and for their great sound. Alan Yun has amazing energy and loves what he does.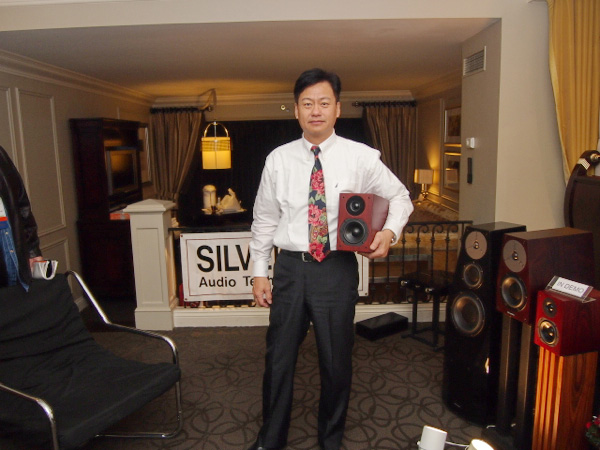 These are the minuet supreme plus speakers, all for $699. They were connected to a tiny Chinese made amplifier and they really excelled.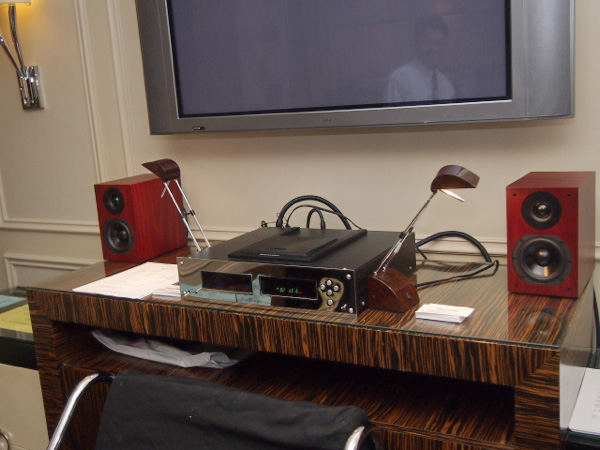 If you put them together, you can see that the wood grains match each other so each pair is an exact match.