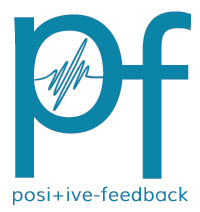 You are reading the older HTML site
Positive Feedback ISSUE 59
january/february 2012
CES 2012 Show Report, Part 1
by Myles B. Astor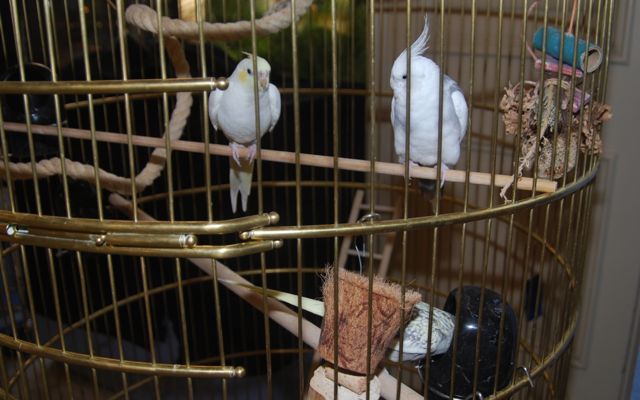 I don't know if it's age catching up with me, the three hour time difference between coasts or as usual trying to do to much, but this wizened veteran of many a CES Show found himself totally overwhelmed at this year's show. It would have required a Herculean-like effort to cover all the rooms—not to mention spending more than five minutes—in each room at the Flamingo, Mirage, Venetian and Golden Nugget. So I apologize in advance to any exhibitor who may feel slighted or overlooked.
For me, the biggest change at this year's CES show wasn't any piece of audio gear or new digital format but the addition of an iPad. No longer was it necessary to write everything down that I saw and heard and later type up the scribbles that pass for notes. With the iPad, it was no fuss, no muss. Listen, type and then directly edit. Hopefully the iPad will result in less factual errors.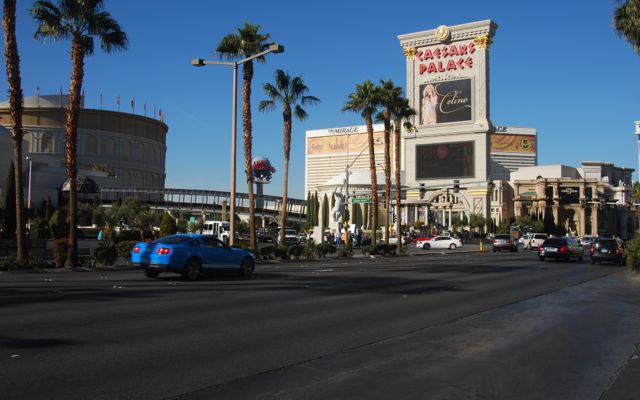 But before getting to the meat of the show report, permit me to digress for a moment to discuss several issues impacting the sound at CES and shows in general.
Sitting alone atop the list were those accursed blue current limiters that the powers to be once again shoved down exhibitors throats (some manufacturers used them, others didn't; those who didn't faced hefty fines and the "death penalty" on the third "violation."). Yes, the current limiters were in place last year at the Venetian but for some reason, no one thought it important enough to mention in their show reports. The limiter's effects, namely dynamic compression (even outright amplifier clipping in a few lower wattage amplifiers) and a washed out, boring quality, were evident in every room using these monstrosities. I'm sure there must be another first class hotel in Vegas that would host the specialty audio division of CES without forcing manufacturers to install these limiters!
Next was the talking and total lack of courtesy and consideration for those individuals who actually wanted to listen to the equipment. C'mon, do we really need to periodically flash no talking signs like at the movie theaters? People, show some consideration and take your conversations out into the hall.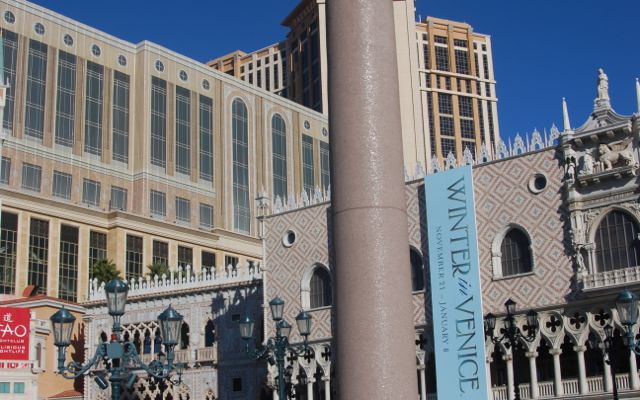 Third, as usual, the sound of most rooms improved over the course of the show. In some instances, this was due in part to new gear breaking-in. In other cases, exhibitors were still fine tuning the system's sound and room acoustics. So attendees and/or reviewers reaction to the sound of any given room at CES (or for that matter any show) absolutely depends upon which day they heard the given system. Normally, I try and listen to each room several times over the course of a show; sadly, that's a near impossible task at shows of this size.
Fourth, one's reaction to the sound of any given audio system really depended upon the front-end source e.g.. 15/30 ips, 2-track, reel-to-reel, turntable, music server, CD player, etc. In fact, in some rooms using digital sources, I would have, had I not heard analog playback, walked away with a totally different opinion.
Lastly, is the thankless and near impossible task of shoe horning those "ne plus ultra speakers" speakers into a small hotel room or suite. Truth be told, hotel rooms were never designed for audio purposes. I don't care how much room treatment is stuffed into a hotel room (note I'm not a fan of DSP), you're not going to make a silk purse out of a sow's ear. These "ne plus ultra speakers" will excite every problem in the room. In fact, experience has taught me that small speakers, with less bass extension, etc., often fare better under show conditions than their bigger brethren.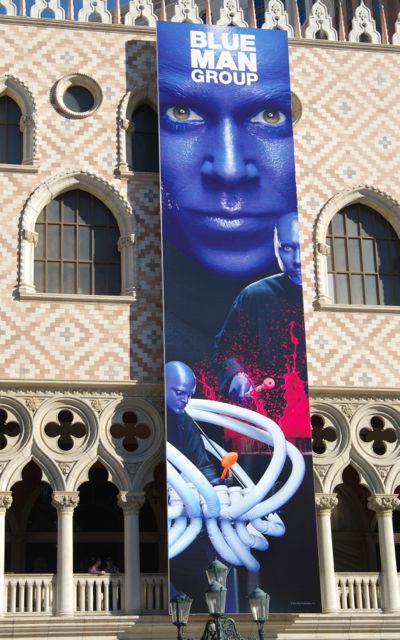 So with that said (and considering the 50K+ price of these superspeakers), I nevertheless expect these "ne plus ultra speakers" to knock my socks off. These "ne plus ultra speakers." should make me want to max out all my credit cards, mortgage my house and take out a loan to purchase them. Sadly, that's an experience rarely encountered at audio shows with these "ne plus ultra speakers." This year with the possible exception of perhaps of somewhat more modestly priced $40,000 Vivid G3GIYA speakers, none of these "ne plus ultra systems" left me running for the bank. In fact, I experienced a far better musical connection with some of the "less" expensive speaker systems at CES from companies such as Devore Fidelity (Gibbon X), Vienna Acoustics (The Musik), Vandersteen Audio (Treos and Quatros) and Von Schweikert (VR33).
Show Highlights
Audio Research/Sonus Faber Aida speakers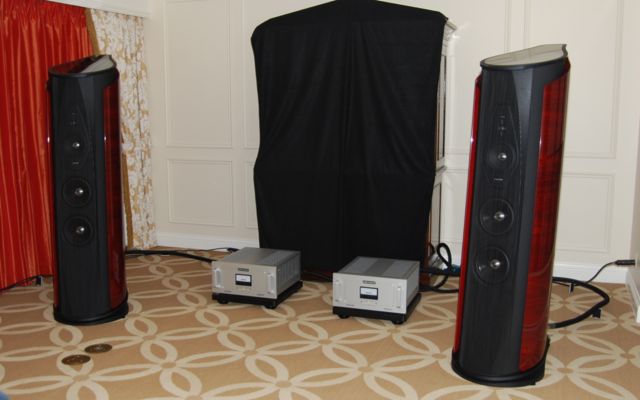 For the first time at CES, the trio of Audio Research, Wadia and Sonus Faber showed together under one roof. Undoubtedly, the hottest new and highly anticipated product in the room was Sonus Faber's new Aida speakers ($120,000). Cut from the same cloth as their bigger brother, the Aida is visually stunning speaker and would undoubtedly grace any audio eye candy survey.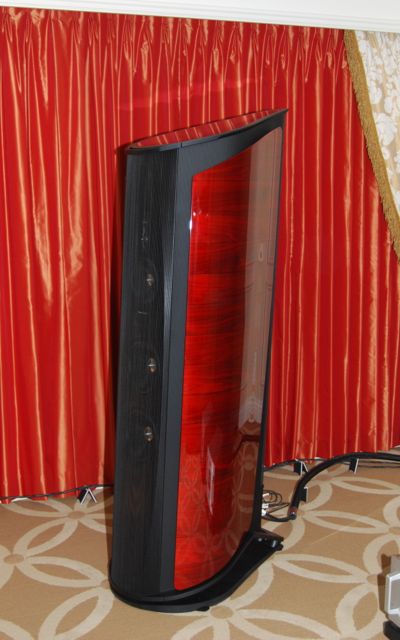 The Aidas were powered by Audio Research's new and highly touted 250 wpc Reference 250 monoblock amplifiers ($25,000). Audio Research's Reference 250 features the "hot" Russian KT-120 tubes, new Teflon coupled caps and a redesigned driver stage. Paired with Ref. 250s was Audio Research's newly released Reference 5SE line stage ($12,995) and Reference Phono 2SE ($12,995) phono preamplifier. The analog front-end (the only source that I listened to) consisted of the venerable SME Model 20/3 turntable and series V tonearm ($17,000) and Sumiko's Palo Santos Presentation cartridge ($3995). From what I've heard, and I was never able to connect with Sumiko to get a sample for review, the Palos Santos is one of the unsung cartridges out there in analogland. Wiring consisted of Shunyata Research's latest Anaconda Series IC and speaker cables and Z-Tron power cords.
Overall, the system was very neutral, excelling at capturing the chestiness of singers as well as great contrast in voices. Like their bigger brothers, the Aida throws an enormous stage. If I was going to single out one fault here, the Aidas in this setup exhibited a little leaness, especially in the lower midrange.
The biggest news on the ARC front was the impending release of Audio Research's Reference DAC Digital Media bridge (est. price between $14,000-$15,000). This unit is capable of using a multitude of input sources ranging from Wireless, USB, memory stick, S/PDIF, etc., and can upsample any redbook source to 176.4 and 192kHz playback.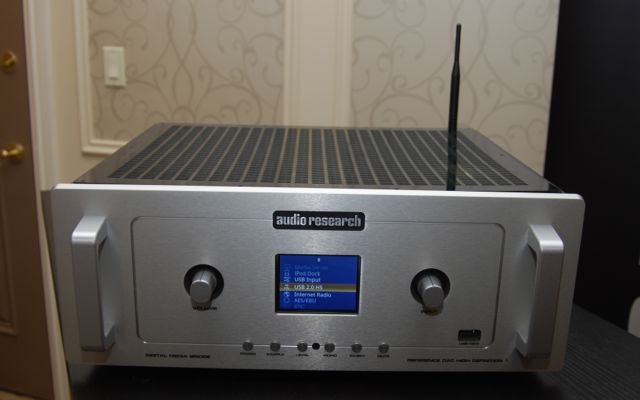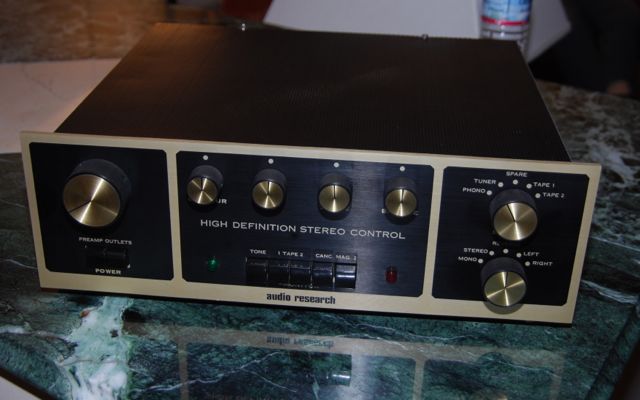 AudioQuest
Analog lovers flocked to the AudioQuest room to catch a glimpse of Lyra's newest $9500 flagship moving coil cartridge. (For those out of the loop, Immedia Sound recently discontinued their long time distribution of Lyra products in the US and AudioQuest, with a long time relationship with Lyra, has assumed the duties.)
And hopefully it will be worth the wait! According to designer Jonathan Carr, the Atlas is world's first asymmetric MC phono cartridge. Asymmetrical refers to in this case the shape and position of the front magnet carrier and as a result, markedly reduces standing waves and vibrations in the cartridge. The Atlas also incorporates Lyra's new "angle" technology and for the first time, utilizes a X, instead of square shaped, coil former. Carr has even managed to increase the Atlas' output to 0.56 mV while at the same time reducing the amount of wire (and ergo mass) used in the coils by 22%, thus effectively increasing the cartridge's resolution.
One word of warning to anyone contemplating purchasing an Atlas. Lyra's new "angle" technology and the need to optimize the coil/magnet alignment may result in the Atlas being one of the most VTA/SRA cartridges yet.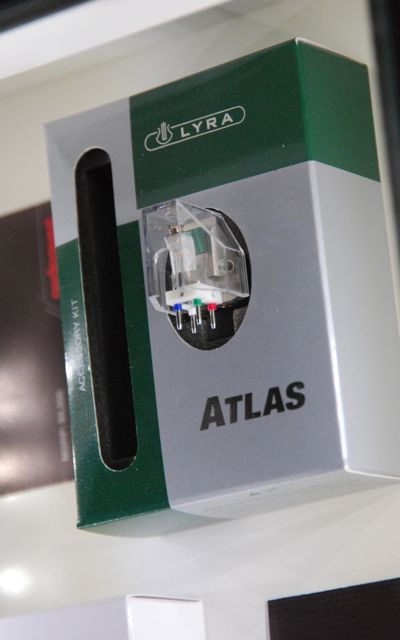 AXISS
AXISS Audio aka Art Manzano, always has some new toys at shows and this year was no exception. At the top of the list were Franco Serblin's, formerly of Sonus Faber, new $13,000 Accordo bookshelf speaker and crossover built into stands and $39,995 Ktemi "possession forever" loudspeaker. A pair of Ktemis Art shared, "had been next to impossible to wrangle from Franco for the show" and arrived, brand new at the last minute. Both speakers were being driven by Air Tight's new 200 wpc 6550 based ATM 3011 ($50,000). Art was spinning vinyl on the impressive Transrotor Fat Bob S turntable, Audiocraft AC3300 tonearm and Air Tight PC1 Supreme cartridge.
Despite the speaker being new out of the box, the system's quietness, smoothness and very low distortion, great midrange and three dimensionality really came to the forefront on ORG's sensation new 45 rpm release of Gerry Mulligan What is There to Say? Even though the system was smooth, it still reproduced the bite of Art Farmer's trumpet. While the speakers were lacking in dynamics—and I would have liked to hear the Ktemi after a couple of days of playing—show circumstances just didn't allow for a return visit.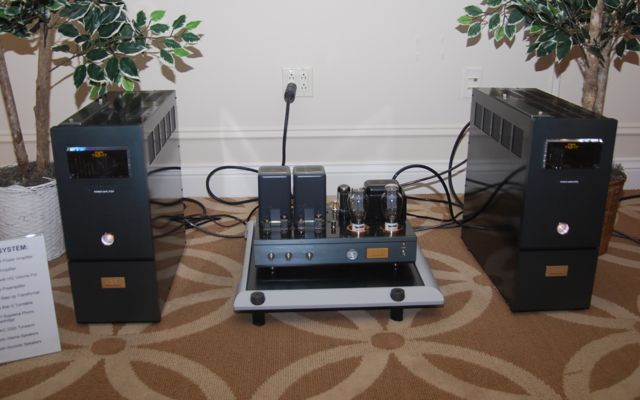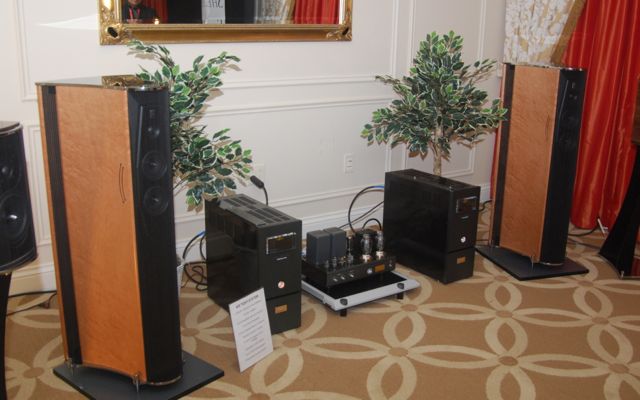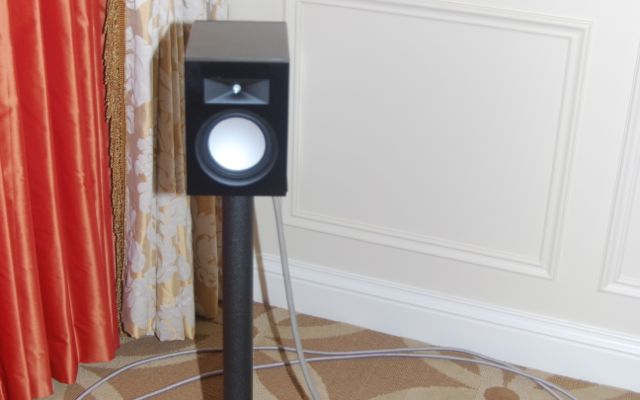 Basis Audio
A.J. Conti introduced Basis Audio's new Signal Science cable line at this year's CES Show. A copper-based cable line, the Signal Science Labs interconnects and speaker cables most notable feature is their very, very large gauges. Estimated price for the top-of-the-line SS speaker cable is $20,000 for an eight foot pair and $12,000 for an eight foot pair for the second line. A.J. expects to begin shipping his new cable line end of January. In this photo: Audio buddies A.J. Conti and Joe Samut (Pass Labs) let down their hair after a long day at the show!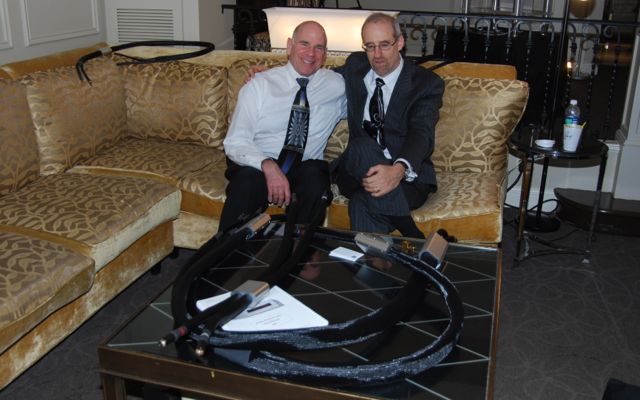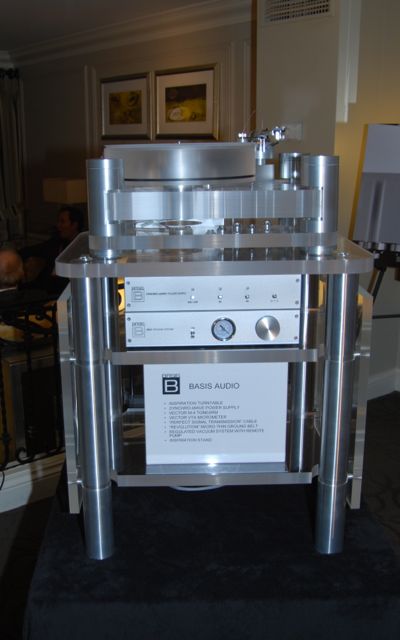 Bully Sound Company
As previewed in the pages of Positive-Feedback, Bret D'Agostino unveiled his newest Bully Sound Lab BSC-100m amplifiers driving the TAD Reference 1 speakers. And according to Bret, he's made a few minor changes to the design that has resulted in even better transparency.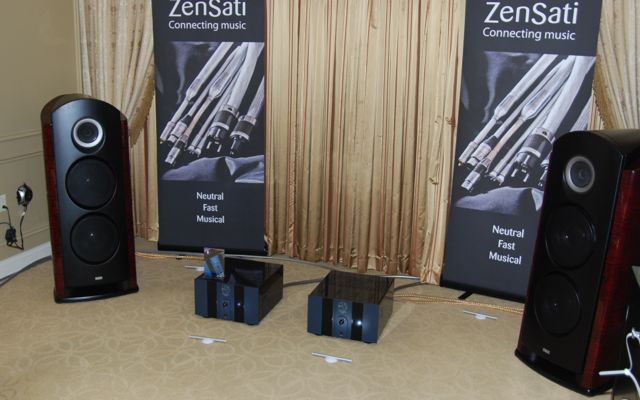 Carver/Purity Audio Design/King II Full Range Electrostatic Speakers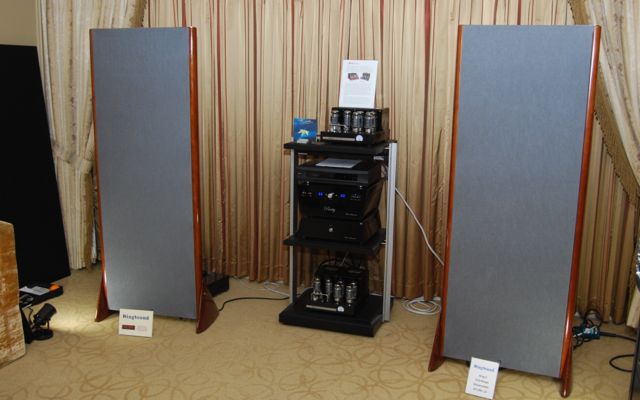 Back again in the audio game along with co-designer Robert Farinelli (you may have recently seen these amplifier listed on eBay), Bob Carver showed two new tube amplifiers, the Cherry 180 ($7400) rated at 200 wpc and its bigger brother, the Black Beauty ($12,900) rated at 305 wpc. Both amplifiers feature adjustable feedback, ultra-wide bandwidth output transformers and automatic bias adjustment.
The Carver amplifiers were hooked up to the recently flagship King II electrostatic speakers. The newest Kings IIs now sport both outboard electronic as well as newly redesigned panels resulting in extended frequency response at both ends of the spectrum with a claimed response of 28Hz to 42mHz. The system conveyed a nice sense of space and ability to see into vocals but there was quite a bit of soundstage constriction.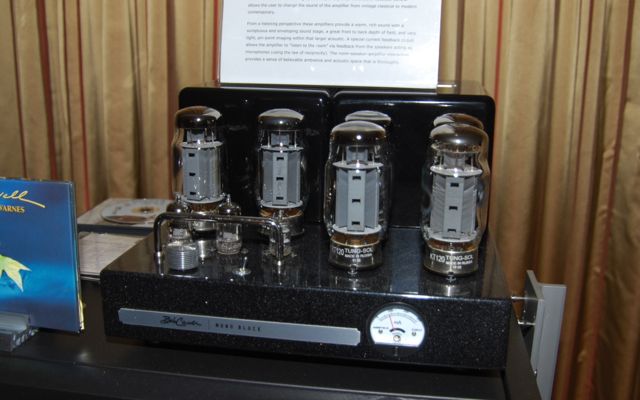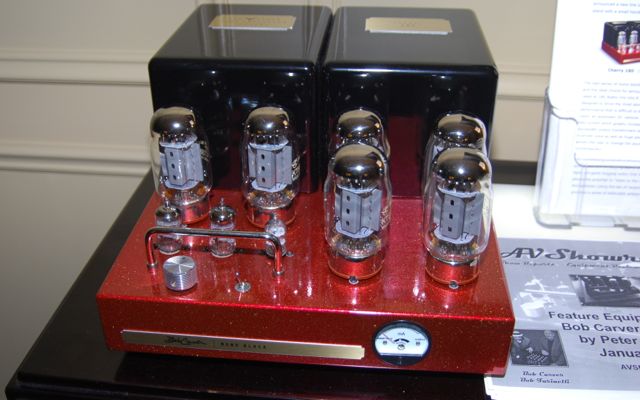 Clearaudio/Musical Surroundings
Clearaudio CEO Robert Suchy treated me the grand tour of their newest analog products including the $27,500 Master Innovation turntable, the $3000 Performance DC turntable/Verify carbon fiber arm and a new line of Ebony wood bodied MM cartridges ranging in price from $400 to $1200. The Master Innovation features the Everest stand and a drive unit based upon Clearaudio's all out Statement table. Current Innovation owners can for $15,000 upgrade their tables to the Master version. The new line of cartridges feature better magnets, a stiffer cantilever and improved RFI shielding for better dynamics and resonance control.
Another product to look out for is the soon to be released $2500 Accu Drive battery power supply for the Innovation series turntables.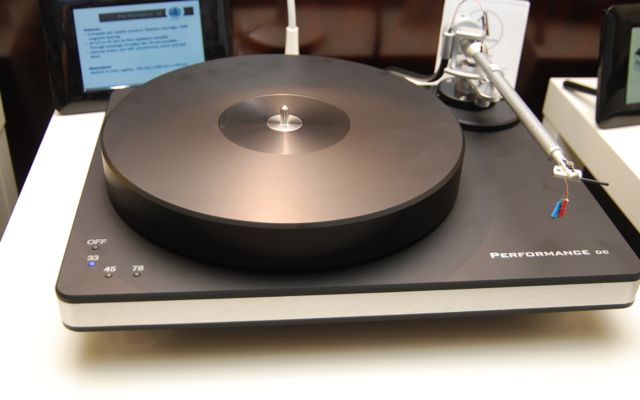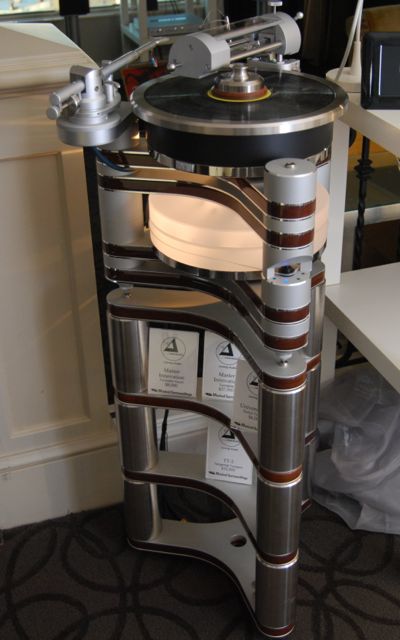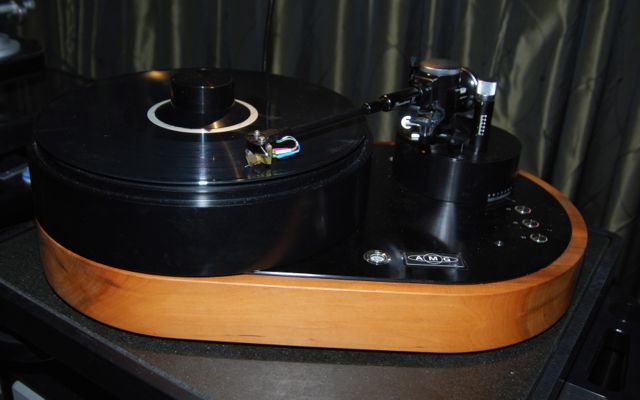 Covenant Audio Consulting/Lotus Group
While it took a day or two for Joe Cohen and company to get the system hitting on all cylinders, it was well worth the wait. Show attendees were rewarded with some of the sweetest sounds at the show. At the heart of the system were the $75,000 three-way Granada G2 speakers run in fully tri-amped mode. The Granada's driver complement consists of 2 x 12-inch bass run in dipolar mode, a 1 x 4-inch Scan Speak midrange and 2 1 inch dome Illuminator Tweeters—one front and one rear firing.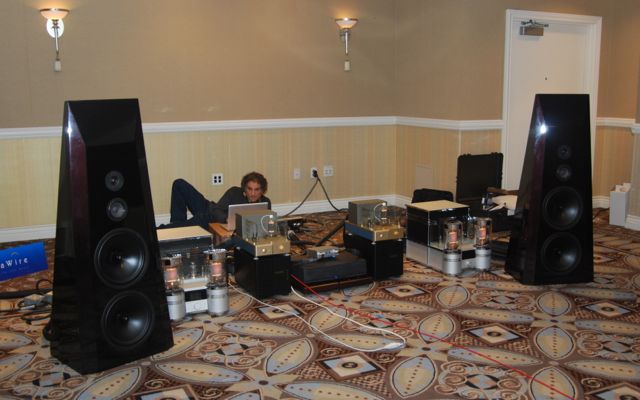 Driving the speakers were the team of the $59,000 Wavac 805 (55 wpc), the $175,000 Audio Power tube amplifier (200-wpc) along with an internal amplifier (500-wpc to drive the woofers). Steve McCormick latest remote controlled SMc Audio VRE-1C remote controlled preamplifier ably handled switching duties ($16,950). The analog front-end consisted of the striking Hanns T-60 BL turntable with a magnetically levitating ceramic bearing ($7000), the Durand Talea tonearm ($8500) and the ultra-rare Lyra Olympos ($11,000) (Joe actually planned to use the new Ortofon Anna but it turned out that something happened in shipping). In this relatively large room, the Granada G2 system not only excelled at capturing the sense of space on the great Decca recording of Bluebird's Castle, but also faithfully rendered male and female voices. The Granada's soundstage perspective is as is the case for some speakers (the NOLAs come to mind first), a little set back; this allows, however, for the speakers to totally disappear. Finally unlike many other systems, the Granadas and company, especially given show conditions, sounded exceptionally clean in the low end on my Steeplechase LP Double Bass.
Some other soon to be released products from Lotus's PranaWire Manufacturing include a new AC power line filter and phono cable (estimated price of $3800).
Pictured below is Steve McCormack's Interocitor which is a transformer based isolation device that allows for extremely flexible hookup of equipment, including XLR in RCA out and visa versa and elimination of ground loops.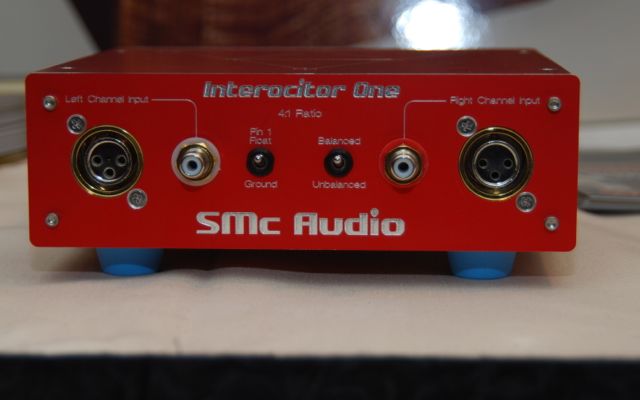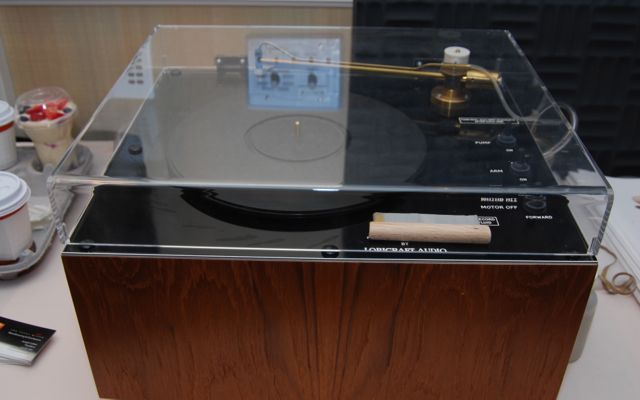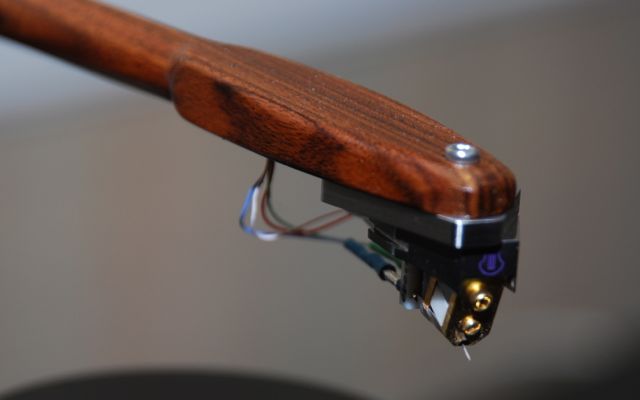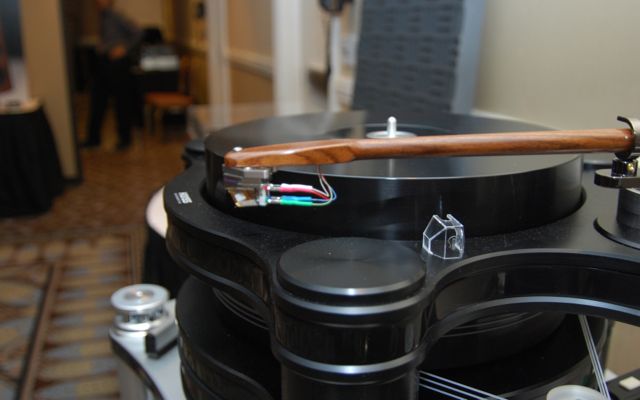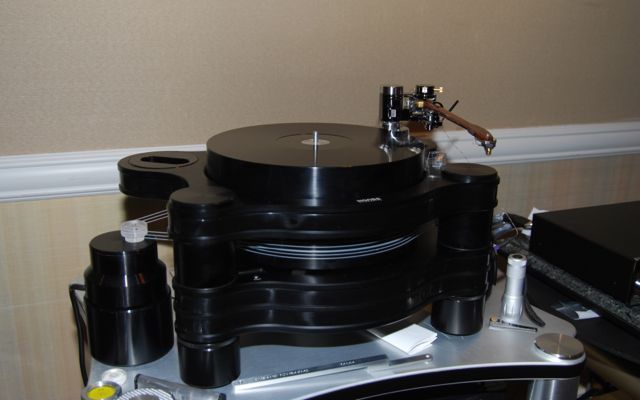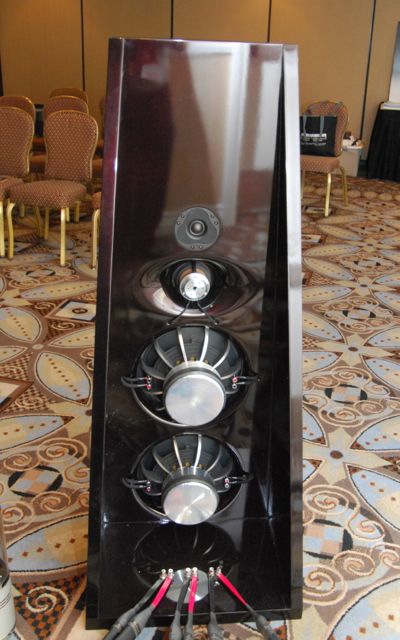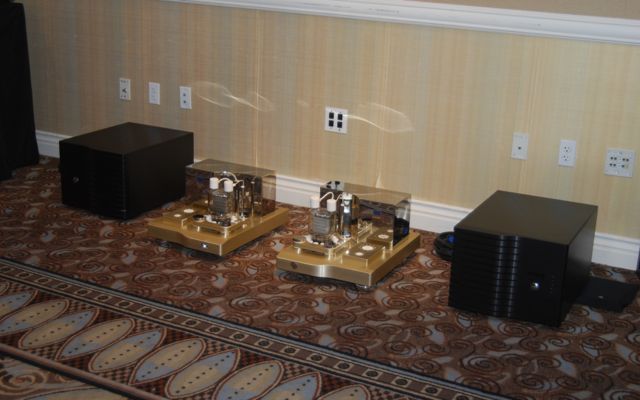 Convergent Audio Technology
Designer Ken Stevens shipped out to the show his newest $80,000 Convergent Audio Technology (CAT) 100 wpc Statement monoblock tube power amps driving a pair of MBL 101 speakers (and the sound here was far better than with the big X-tremes). Ken's amplifiers have always impressed me since day one and have been undergoing a constant evolution over the last 15 years or so. According to Ken, his German distributor was in the inspiration behind his newest Statement. Among the changes Ken's incorporated into the Statements include different power supply capacitors and transformers. According to Ken, he's sold 17 pairs so far.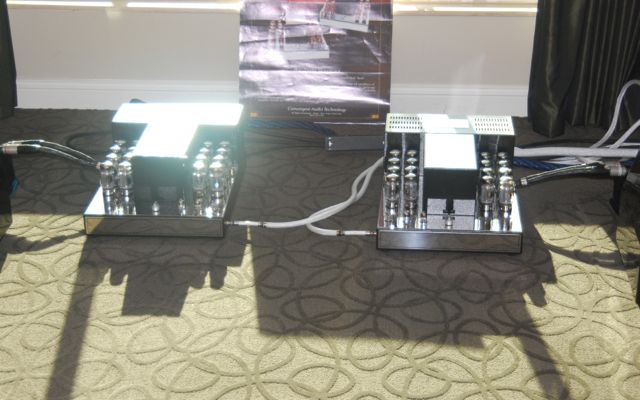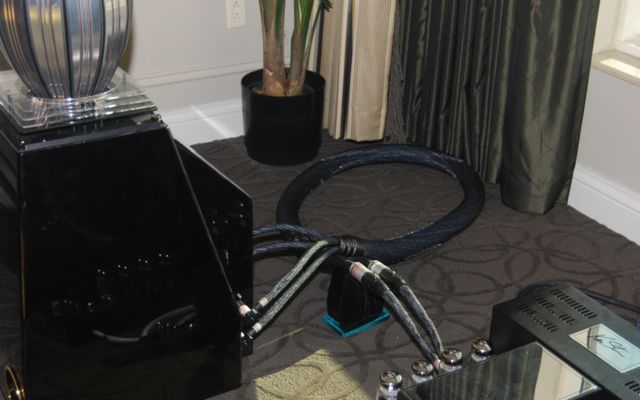 Dan D'Agostino Master Audio Systems
Hot on the heels of the debut of the Master Audio Systems' first product, the 300 wpc Momentum amplifier, Dan D'Agostino brought to CES his second product, a $25,000 200 wpc stereo amplifier. The new stereo amplifiers use the same topology as the monoblock Momentum amplifiers and can be converted down the line to monoblock operation.
The stereo amplifier of course required him to redesign and his Taiwan manufacturer to build, a new dual channel meter that works "backward," something that was easier said than done. Dan also showed a new, sleek sexy, black chassis finish of the Momentum amplifiers as well as a not quite finished version of a preamplifier (with another custom built meter!). Not going to sugar coat what I heard. The system with the Wilson Sashas could shine with good recordings but clearly wasn't as kind to lousy ones.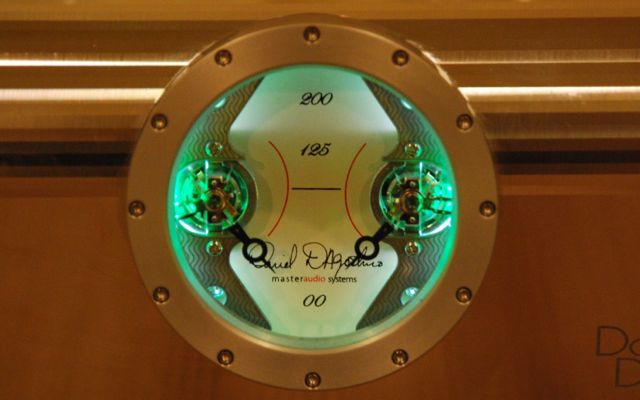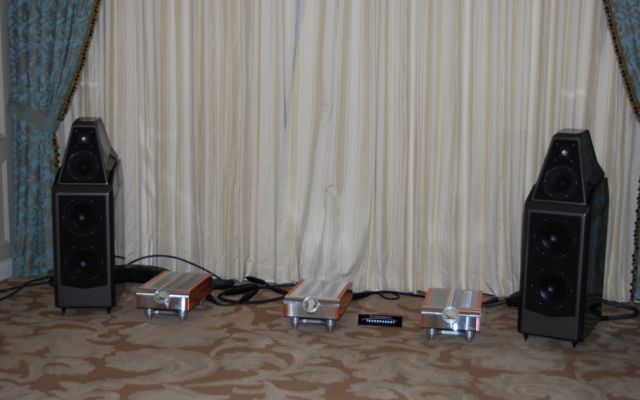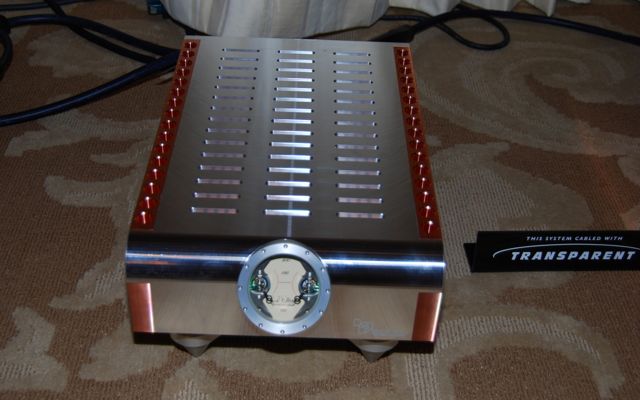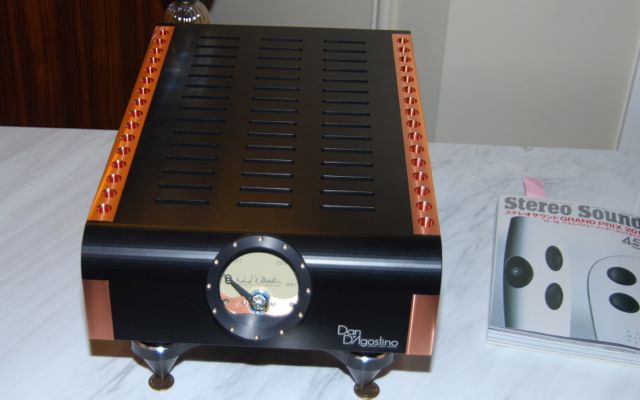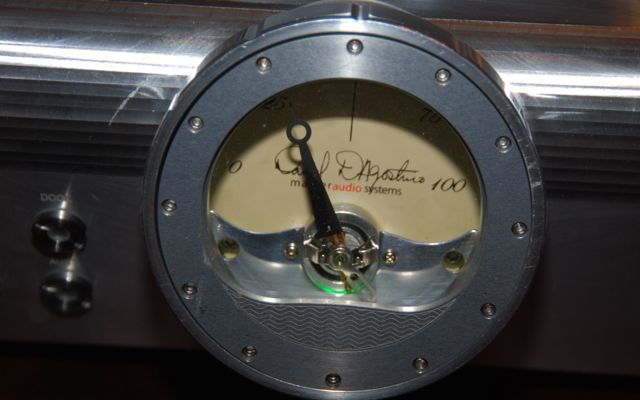 Devore Fidelity
My sincerest apologies go out to John Devore for having whiffed on his great sounding Orangutan speakers at last years CES. Impress me they did indeed. So let me make amends and state up front that John's latest effort, the $11,000 Gibbon X speaker, was clearly the best transducer, dollar-for-dollar, of any speaker at the show. The Gibbon Xs are a 3-way design with a 2 x 7-inch long-throw NewGen woofers, a 7-inch NewGen midrange and a 0.75-inch silk dome tweeter. Driven by the diminutive Audio Research VSi60 ($4950) tube integrated amplifier (and maybe the steal of the ARC line if one has efficient speakers) along with the ARC PH8 tube phono section ($6,996) and a front end consisting of the new Well Tempered Versalex table and LTD arm ($4,450) plus the EMT TSD-15 moving coil cartridge ($1,950), the system just exuded transparency, resolution, speed and tonality.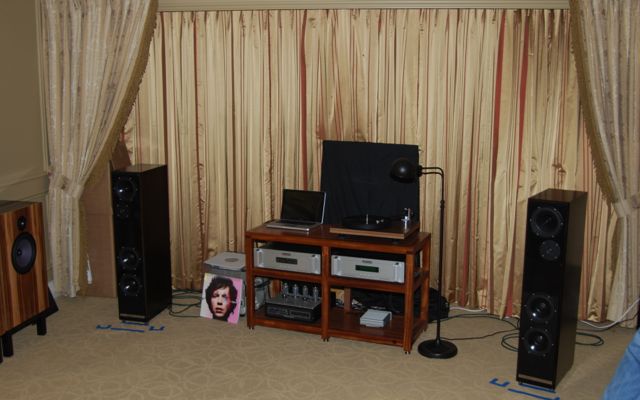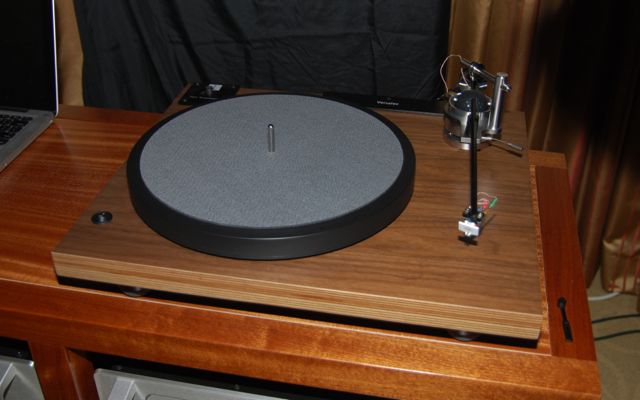 E.A.R.
The big news in the E.A.R. room was the first time showing of a prototype SACD from Tim de Paravicini along with the first showing of $15,000 Marten Django recently reviewed in the pages of Positive Feedback by our own Bob Levi.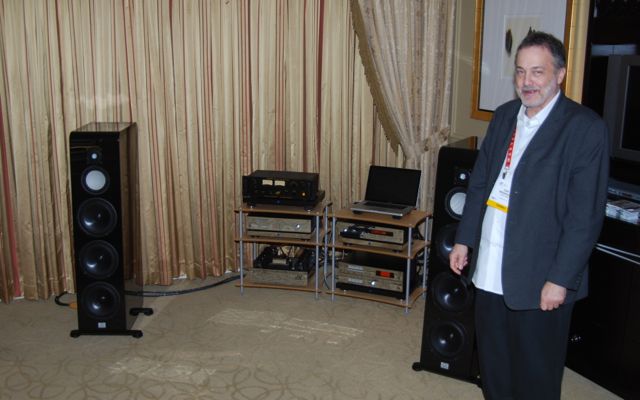 Enigma Finale Speakers
The "look" of these $50,000 speakers and their electrostatic tweeter (shades of the old Frank Dennessen speakers!) was the talk of the show but unfortunately their sound did not live up to expectations.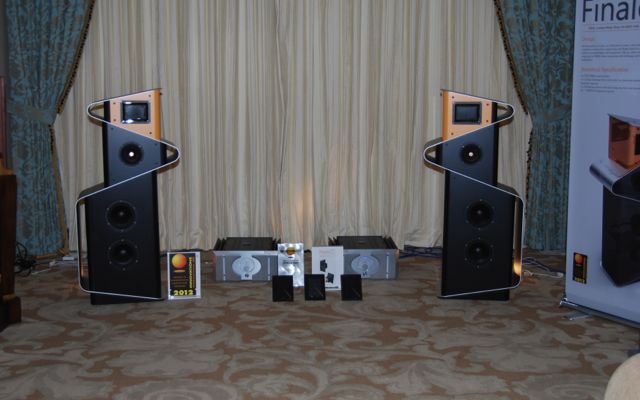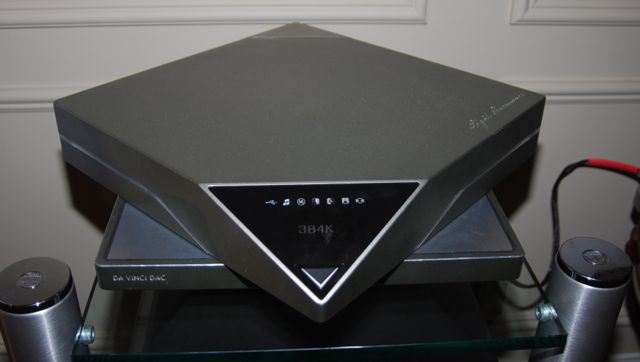 Evolution Acoustics
Show in and show out, Jonathan Tinn, Kevin Malmgren and Andreas Koch, manage to coax the most out of the gear that Blue Light Audio represents. The biggest news in their room was that Evolution Acoustics will begin shipping their new $2500 Micromini 1 speakers (with stands) in April. Proving that high price doesn't always mean the best sound, these little MM1s will compete with speakers costing many times their price. And there no room had better source material. Thanks to Bruce Brown of Puget Sound Studio, the source material consisted of both 15/30 ips tapes and DSD and 2XDSD files from Steely Dan and Count Basie.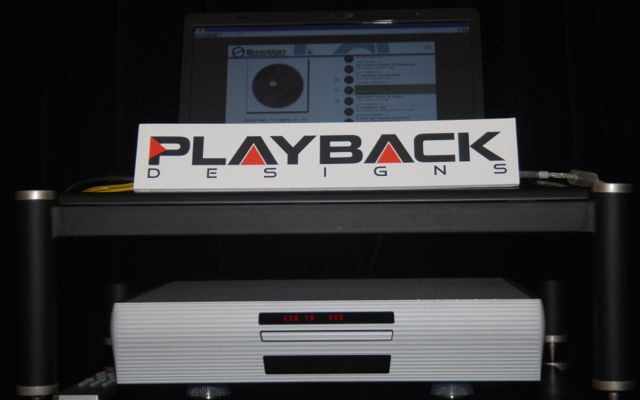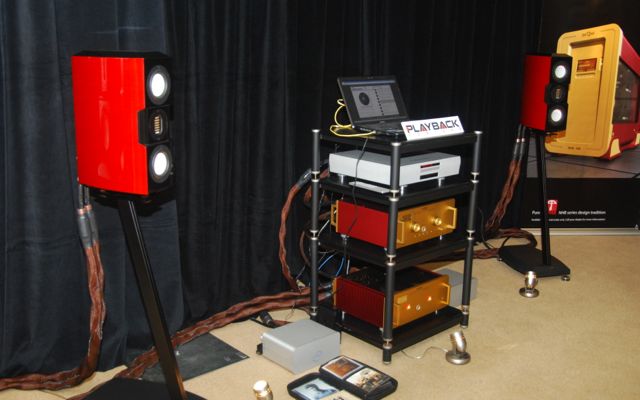 Genesis Technologies
Gary Koh's Genesis Technology room wins hands down the award for the most improved sound this year. The last time I heard Gary's set-up back in October at RMAF, I walked away sadly less than impressed. According to Gary, he's been working on refining the sound of both the $9000 Model 7.2f speakers and price to be determined 1400 wpc Class D Anniversary model 3 monoblock amplifiers. Gone was the hardness and brightness present at RMAF; that was replaced with a great sense of power and ease coupled with great transparency.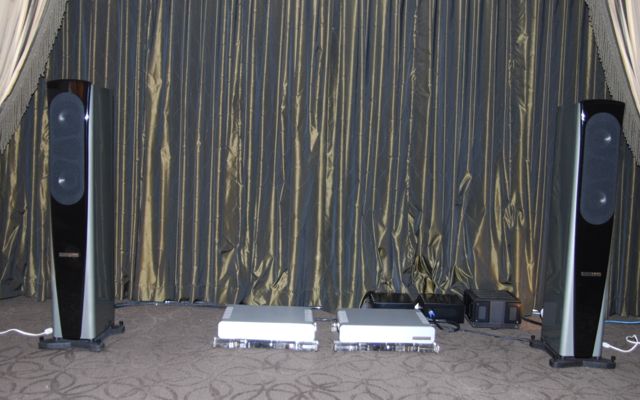 George Warren Turntable/Jolida/Von Schweikert
George's room, along with those of Devore Fidelity and Music-Hall, were among the pleasant surprises of the show. The system consisted of the new George Warren DC coupled motor turntable ($4495 in hardwood) outfitted with the Origin arm and ZYX Yatra cartridge ($1500), Jolida JD9 phono section ($650), preamplifier ($6500) and Fusion 211 based 200 wpc monoblocks ($2999) and electronics and Von Schweikert VR33 speakers ($3750). This was a system that both the serious audiophile and music lover could easily live with and the whole system could be had for a shade under $30,000. One could not help but be impressed by the vocals and sense of dimensionality on the 45rpm release of St. James Infirmary (Classic Records) on this system.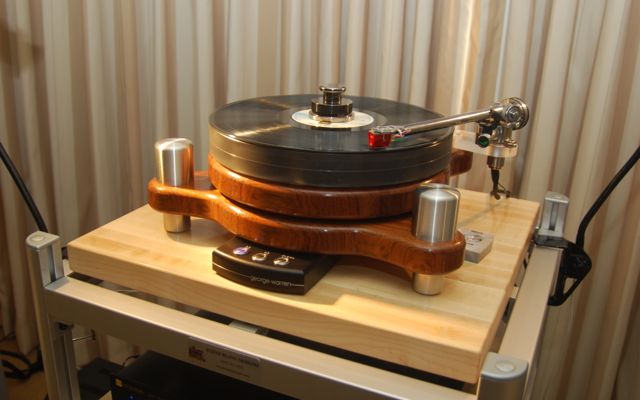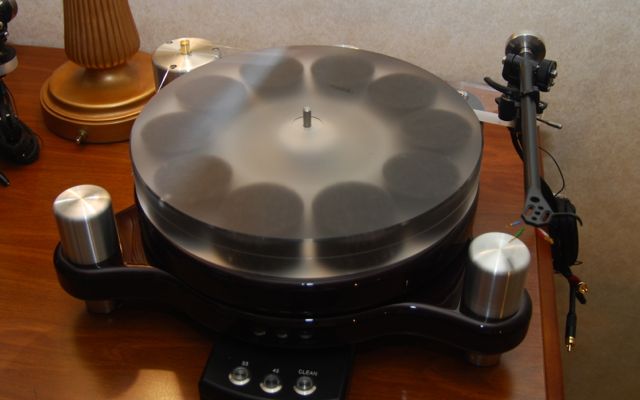 Hansen/Tenor Audio/Kubala-Sosna
In Vegas, Hansen showed off their new upscale, leather covered, Emperor loudspeakers ($68,000) being driven by the sweet sounding $100,000 (Cad) 350M Tenor monoblocks along with the $75,000 Tenor Audio Line1/Power 1 preamplifier and $50,000 phono1 phono stage. Rolling tape in the room was an Ampex ATR-102 spooled up with a sampler tape provided by the ever present folks from The Tape Project.
Hansen speakers have in my experience (true also for YG Acoustics) always sounded their show best coupled with Tenor electronics. This combo excels at many levels beginning with the knack of resolving both the echo and the dynamic shadings of the snare drums on Percussion Music to the ability to recreate the sense of the back and side walls of the Decca recording of Bartok's Bluebeard's Castle to capturing the bite of brass on Gerry Mulligan's What is there to say?. Dynamic shadings. If I was going to criticize one area of the Hansen speaker's performance—and this area has gotten better to my ears over the last two years—it's a small band of brightness that just takes away from being able to completely relax when listening to the music.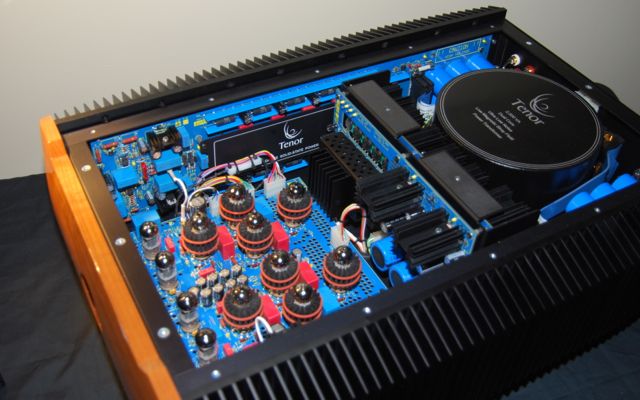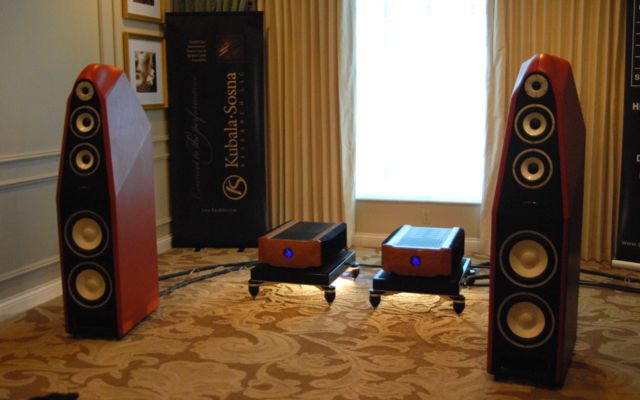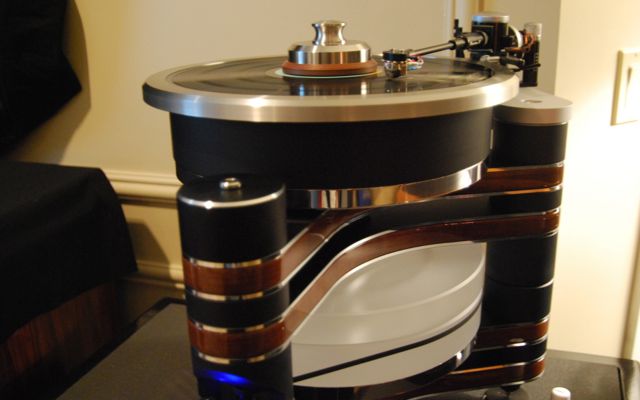 Hi-Fi Man
File this under M for the man who has everything!
HRS/Harmonic Resolution System Equipment Stands
HRS showed the new SXR Signature and RXR Frame Systems in Vegas. Similar in concept to the SXR, the main changes to the Siggie version incorporates some changes to the plinth to enhance the rack's rigidity (current SXR owners can upgrade to the Signature version). The RXR is a new, more affordable equipment rack slated to come in at about 40% of the price of the current SXR racks. Both racks support specially made isolation bases that can accommodate a range of different components. Prices run from $2800 for the three shelf or $3800 for the 4 shelf rack version (seen in the Vandersteen room). HRS's isolation bases come in three models; prices range begin at $1100 for the entry level, $1700 for the mid-priced and $2600 for the top-of-the-line base.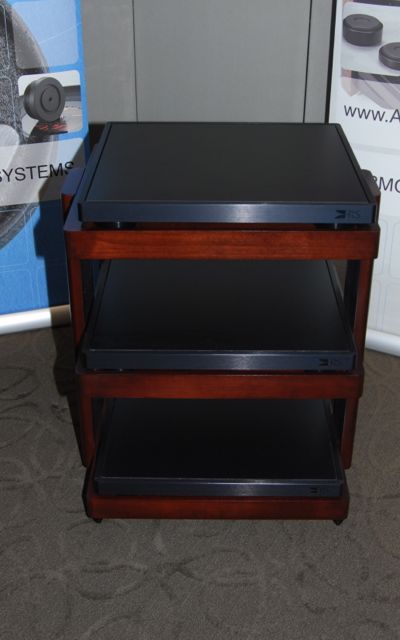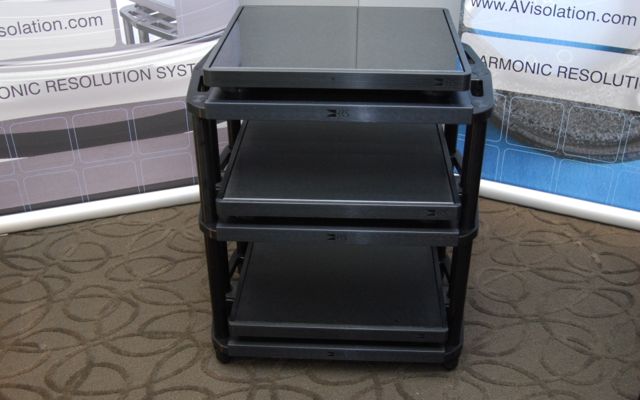 Jeff Joseph Audio/Bel Canto
Room to breath was the motto of Jeff Joseph's room. Never before had, according to Jeff, he shown in a room this large. On display were his flagship $28,500 Pearl 2s (or any of his speakers) mated to Bel Canto electronics and the $3995 Unison Audio Giro turntable fitted with Peter Lederman's latest, $7500 Soundsmith Hyperion southwestern style cartridge. [My note: it's great to see this new generation of more modestly priced tables like those from Unison, Luxman, Clearaudio, Warren and VPI that offer performance unheard of just a couple of years ago.] Like Jeff's smaller speakers, the Pearls just get out of the way of the music. In this room, the Pearl's really excelled at soundstaging and resolution and did a wonderful job of recreating that "ethereal" feeling of Alan Parson's I Robot (Classic Records).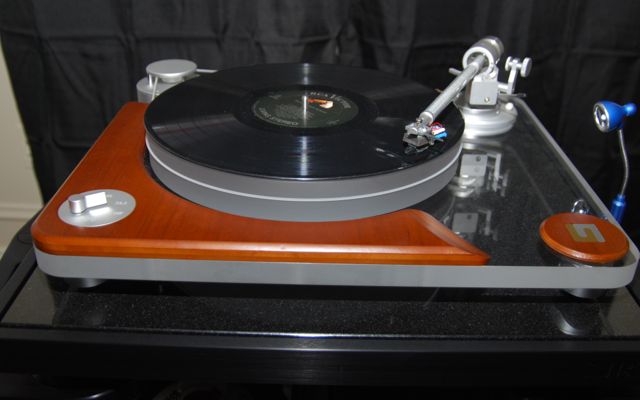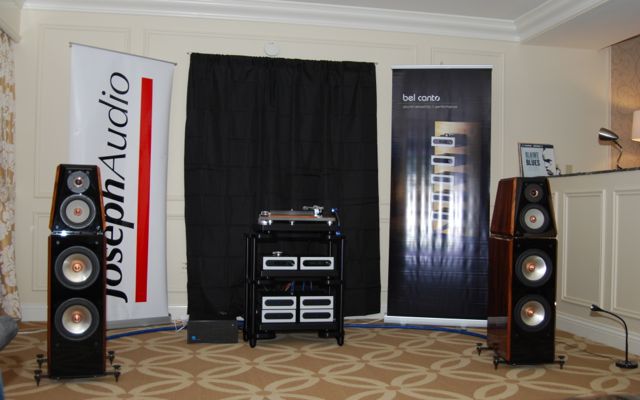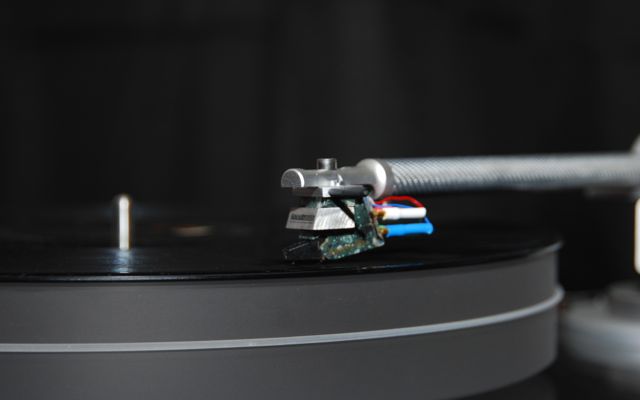 Jeff Rowland
Some of the sweetest sounds at the show were coming out of Jeff Rowland's room featuring the new $28,000 per pair, 330 wpc Model 725 monoblock amplifiers and Salon 2 speakers (as well as the Vienna Acoustics room using the Model 625). Amplifiers 725 are Jeff shared, "an embellished version of his 625 stereo amplifier," replete with ceramic circuit boards (low energy storage), premium caps in power supply, and larger input transformer. While Jeff wasn't using any analog, I was able to listen to some familiar digital track such as the theme from The Pink Panther. The 725 were the absolute antithesis of solid-state "sound" and their rich tonality, resolution and lack of distortion came though in spades.
Stay tuned also for Jeff's new battery power storage unit designed for use with his preamplifier, phono section and DAC. This power source uses the new ultra capacitors used in electric cars and offers both a noise free power source and a lifetime of service. Price to be determined.