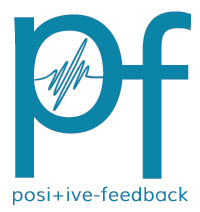 You are reading the older HTML site
Positive Feedback ISSUE 59
january/february 2012
CES 2012
by Gary Lea
Another year gone by and hopes of a better one to come in 2012. With all of the focus on the bad economy, coming elections, unemployment etc., it has been hard to find bright spots in 2011. So I venture to my 15th CES filled with hope and merriment at the opportunity to escape reality for a few days, to see new and exciting toys and most importantly to visit with old friends and perhaps make some new ones. As has been the case the last few years, my CES visit was hampered by the need to work at my day job so I was only able to attend approximately a half CES is year.
I was able to enjoy a fine evening with my audio bud and editor extraordinaire Greg Weaver who came over to the house for an evening of camaraderie and music. He was kind enough to bring along a little surprise, the bottle in the photo. It is a Crown Royal (yeah, yeah, hold your critique for a moment) Cask 16! Not your dad's Crown royal! This was some of the tastiest and smoothest whisky I have ever sampled. Completely changed my view of the brand. At $160 a bottle it had better change something. Somewhere between fine single malt and a properly aged extra Anejo the experience was sublime and stellar and Greg's company wasn't bad either.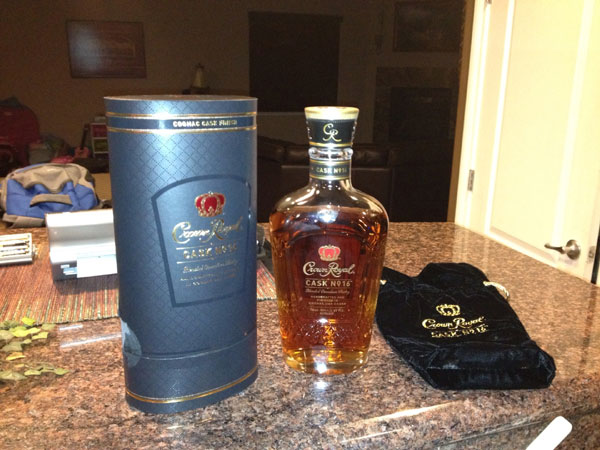 My first day at CES is always a scouting expedition and nothing more. I like to get the lay of the land as it were, visit friends first and map out the rest of the experience. Some folks call it being retentive. For me it is just being as efficient as I can be.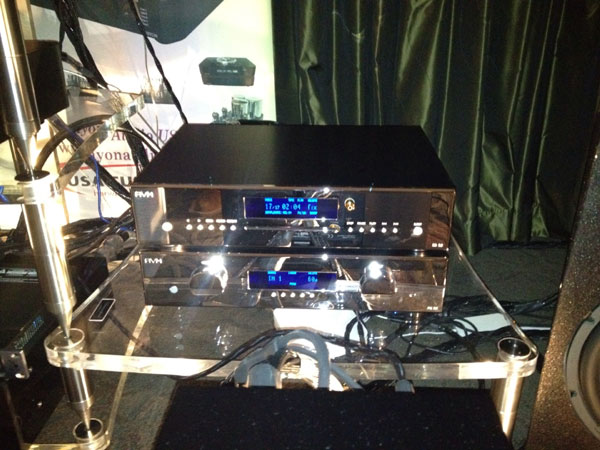 My first visit was to see Charlie Harrison and the Ayon audio room. Exciting news coming from Charlie is the addition of a very nice entry level group of components made by Block. A German company who engineers all aspects of their components in house and then have them produced in China under heavy scrutiny. The products I saw were very impressive. One really notable component was their turntable. High quality, very well made and only $1200 complete with arm and an Ortofon cartridge. $1000 without cartridge. They now have the Ayon products at the top of the tier, AVM in the middle and Block as an entry level. Vertical integration at it's finest.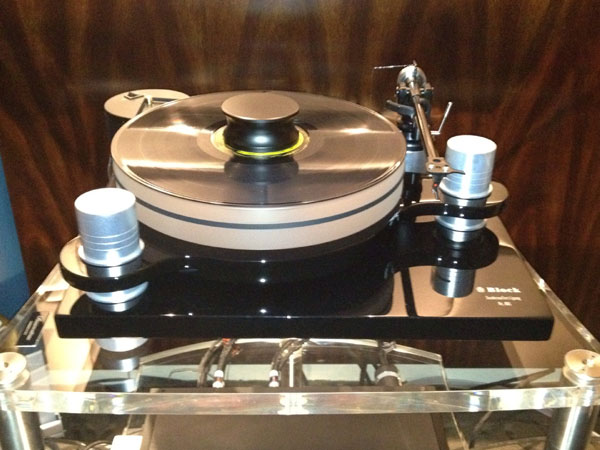 My next stop was to see Albert Von Schweikert. He was displaying his VSR5 Anniversary speakers with Audio Power Labs 50 TNT 50 watt per channel, liquid cooled, tube monoblocks. Talk about interesting take on tube amps. The TNT50s use the liquid cooling for the transformer cooling where the companies top line amps use the liquid cooling for the tubes themselves. I saw these amps for the very first time last year as Greg Weaver and I wandered into their room. If I am not mistaken my esteemed colleague and good buddy is slated to review these amps in short order. I am beyond green with envy as the room really sounded great. I have yet to hear a speaker designed and built by Albert that was not at the top of its game. I wish he would bring the VSR9s to a show as they may well be the most engaging speakers I have ever encountered. Then again at $90,000 you would expect an eargasm and that is exactly what they deliver.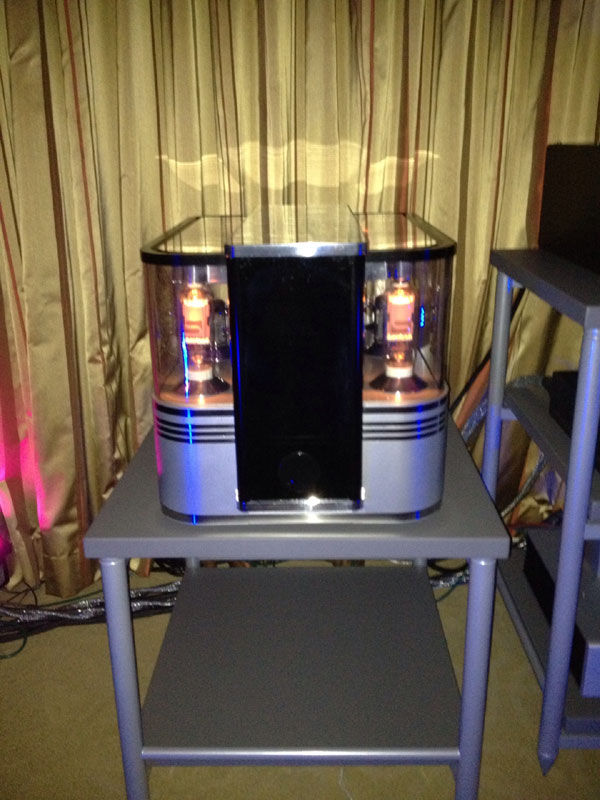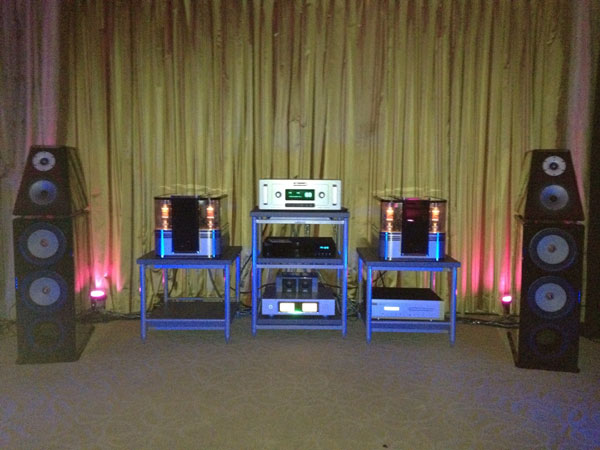 The Musical Surroundings room was alive and kicking and debuting the new AMG turntable line. AMG has built tables for other manufacturers, most notably, Brinkman. They decided to take their own ideas and wealth of production knowledge and skill to debut their own table. The Viella 12 table retails for $16,500 and is machined entirely of aluminum. It is both simplistic in looks, clean lines and compact footprint. When broken down there are some very innovative and technical complexities. The bearing in and of itself is incredibly impressive. Look for this table to gain a lot of attention from vinyl fans, self included!
Off to visit the folks at Lawrence Audio. I recently reviewed their US debut speaker the $7500 stand mount Violin and I will be following up with a review of the $19,000 Cielo soon. As I expected, the room sounded lush and inviting and the speakers were being driven by Lawrence's electronics, which I hope we get a chance to review at some point. Angela and Lawrence are very gracious and engaging. Their enthusiasm for the American market and the opportunities for the products here is infectious and refreshing.
In a previous life, writing for another magazine, my colleague Doug Schroeder turned me and a lot of other people on to the Kingsound Electrostatic speakers. Doug was impressed enough to buy them and use them as his reference. When I stopped by the Kingsound room I was pleased to find out they were teamed up with Purity Audio and Bob Carver. The new and improved Kingsound IIs sounded fluid and provide some great detail and a very realistic soundstage. No wonder Doug sings their praises. The new speakers have completely redesigned panes and the electronics have been moved outboard to make them lighter and easier to move plus it gives the advantage should they need repair to send the small box to be bench worked as opposed to the entire speaker. Brilliant! Bob Carver was demoing his new amps. The Cherry 180 and Black Beauty monoblock amps promise a lot of performance for relatively small dollars. The Black Cherry rated at 180 watts per side and the Black Beauties at 350 watts per side are $7400 and $122,500 respectively per pair.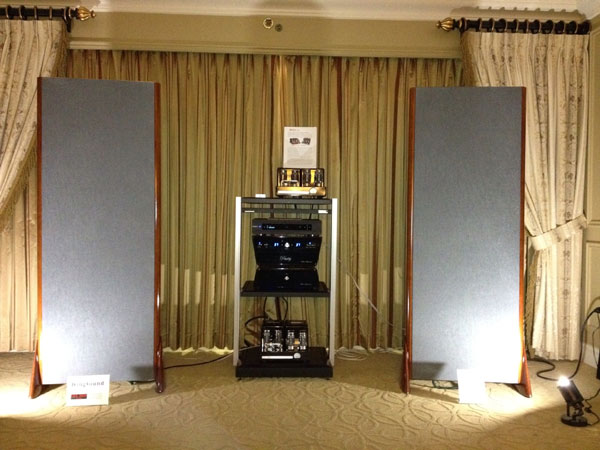 As I continued my scouting I had no trouble finding other places to check out on Day 2. There are plenty of toys to see and touch. As is always the case there is a plethora of unobtanium and cantaffordium items on hand. Those items tend to inspire all of us with the thrill of seeing and hearing what can be done with unlimited budgets and limitless imagination. While the bulk of these items will see residence in a small handful of the rich and famous, it is good to see how the trickle down impacts components at the more realistic and attainable price points.
A new name on the horizon is Napa Acoustics. I met Chris Field and struck up a conversation about his new products. Small, affordable and with a sound that belies the price point. Tube Integrated amps, CD drives and even speakers. This is a line of products that models the KISS principle like no other. We are setting up a review on a system comprised of only NAPA Components. Small enough to set up in another room so that I can have two systems going at one time. I am really looking forward to auditioning these products in my home.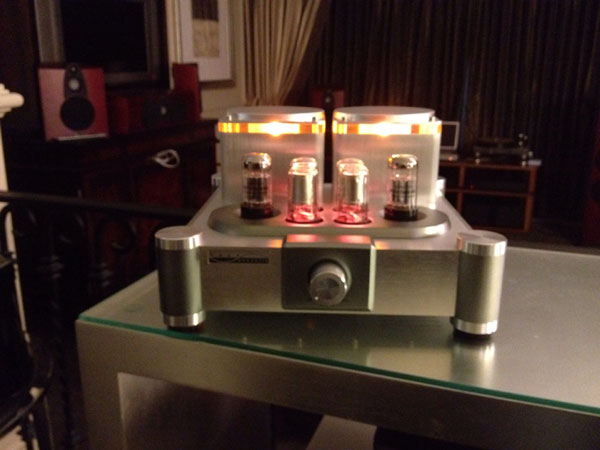 I never fail to hit the ProAc room and as is always the case the room was simple, devoid of frivolous amenities and full or rich detailed and intimately presented music. The Response D40/R was delivering exceptional sound quality. The focus, sound staging and depth were exquisite. Stewart Tyler continues to find ways to evolve his speaker designs. I still aspire to own a pair of Response 2s and perhaps one day I will be able to do just that. For now I always enjoy spending time in the ProAc room.
Without a doubt one of the best rooms at this year's CES Hi End was the Hansen, Kabala, Tenor, Scarlotti, Critical Mass, Clearaudio room! This particular combination was nothing short of magical. The music was vibrant, transparent and so natural you could see the performers in the room. Listening to the Nashville Bluegrass Band's rendition of Roll Jordon roll was definitely one of the highlights of the show for me. You could literally place each band member in their respective place and the fidelity was stunning. Lars Hansen was showing his latest speaker with a new leather finish that guarantees a WAF of epic proportions. The Tenor amplification along with Scarlotti and Clearaudio front ends was just breathtaking. Clearaudio was running a Master Solution turntable with the new Clearaudio Goldfinger Statement complete with imbedded diamond in the front of the cartridge body. Nice and classy touch. One would expect perfection at these price levels. I dare say the average run of the mill audiophile might spend $25,000 or less on an entire system. The Clearaudio cartridge and table combination run a smooth $40,000 plus! $15,000 of that just in the cartridge! Mind you I own a couple of Koetsus so I am not knocking any of it but we are talking very rarified air. The only way gear like this makes it to my listening room is for as review period. Just long enough to ruin me for life and then, POOF, it's gone!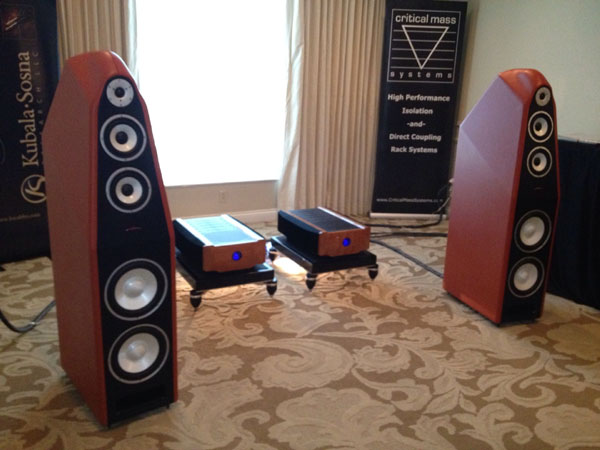 I ventured in to Mark Levinson's room and the master was there showcasing some new amps. The most remarkable thing about the visit was the way we were completely snubbed by both Mark and his minions. Every time we tried to ask someone a question, even whispering, we were shushed by his highness. Needless to say I was less than impressed. Can't really tell you much about the gear because we could not inquire about it. Let's just say it was somewhat surreal.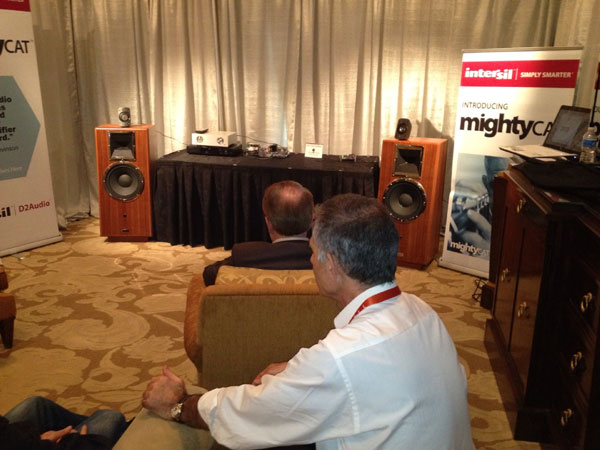 I will never stop enjoying looking at MBL gear. I have to admit that it is some of the best looking, most visually stimulating gear on the planet. That however does not always translate into the best sounding and this gear appeals to a very specific and very loyal group of audiophiles. The Radiostrahler speakers are some of the most innovative on the planet and for sheer size and spellbinding visual effect there are none better.
We wandered into the room to the sounds of Bon Jovi's "Wanted Dead or Alive".
I have to say that this was a rather enjoyable session. The MBL 101X-Treme speakers being pushed by a plethora of MBL Reference electronics certainly gave the level of pressure and size and scope of a live Bon Jovi concert. They were also pushing along the newer white finish of the components. No doubt these will receive a =very high and positive WAF. The entire system was easily $500,000!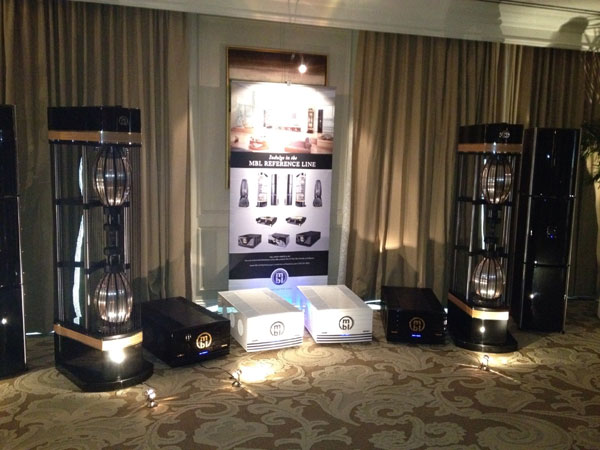 As is always the case a visit with Master Statesman, Roy Hall, was one of the most pleasant times at the show. Ever the gracious host and always bringing new and exciting toys he was debuting the new EAT turntable, E-Flat with a very interesting looking cartridge, the Yosegi. It was playing through the Creek Wyndsor integrated and pushing a pair EPOS Élan 30s. It was very enjoyable, laid back and relaxed listening to an old Donavan LP. Shades of my Flower Child days. The system sounded great when you considered that all total you were looking at less than $15,000 and half of that was the table and cartridge!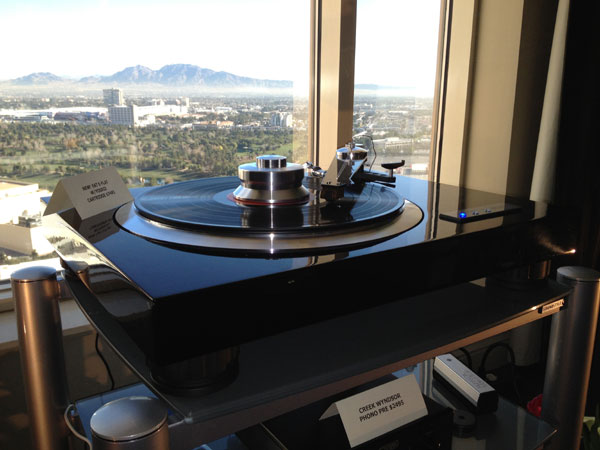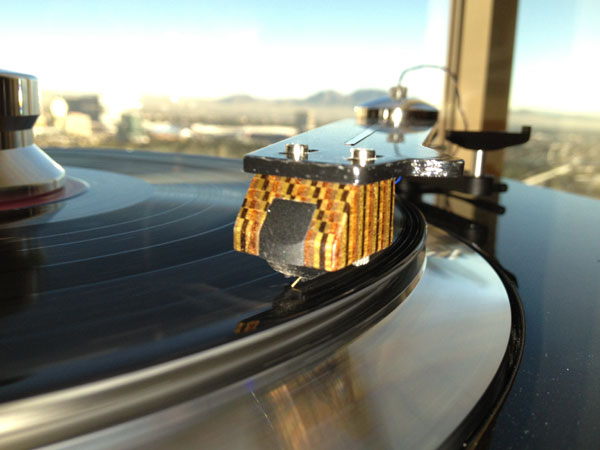 I also enjoyed a rather pleasant visit to the Sumiko room. Lots of interesting little goodies but the new Extension 10 and Statement turntables caught my fancy. At $3000 and $12,000 respectively they looked to provide a lot of bang for the buck. The signature table was especially captivating.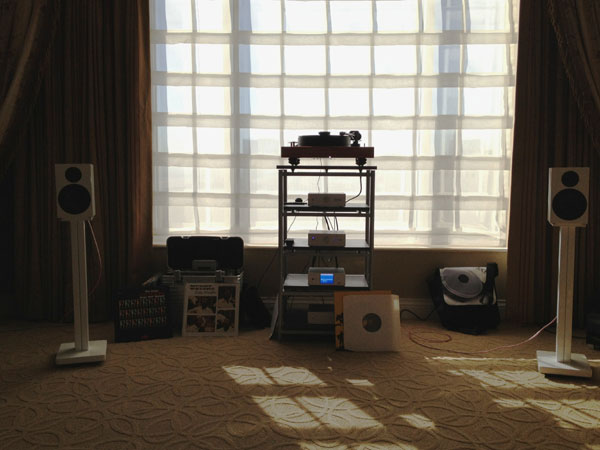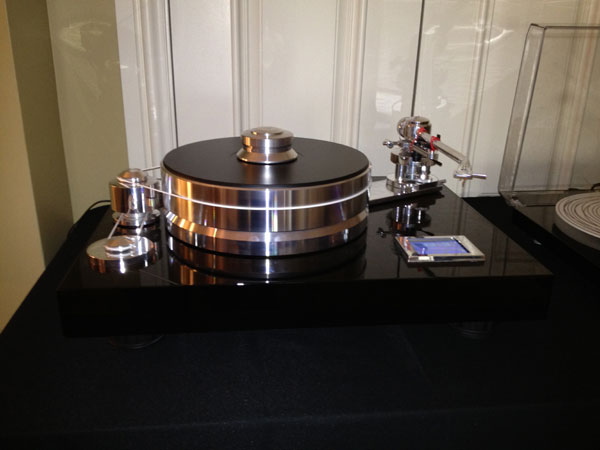 I got sucked into the YG room. As always I find the speakers interesting and depending on the electronics driving them they either sound very inviting to me or strident. Paired with a pair of Tenor amps I found them on this visit very inviting and sounding somewhat better than I have heard them at a show in years.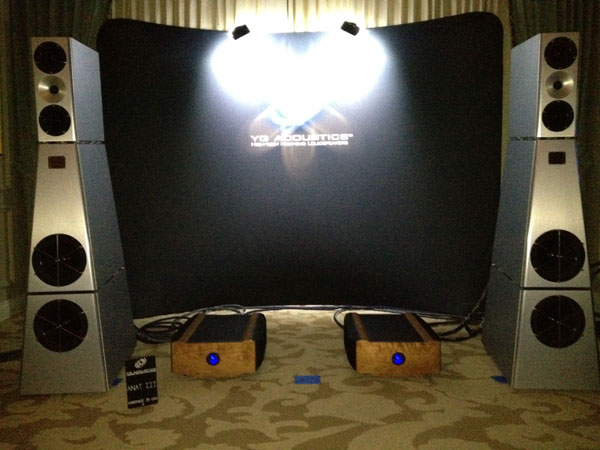 I also checked into the Lamm, Wilson room. Wow that really shocked me. I have never been a big fan of the Wilson speakers, finding them a bit too strident and analytical for my tastes. The Wilson Audio Maxx3 speakers paired with Lamm's statement ML Signature amps, LL1 Signature line level pre-amp, LP2 phono stage and the Onedof turntable sporting the Benz Micro LP S cartridge I finally had an experience that I found both enjoyable and fully engaging. Of course at $599,000 for the system one has the right to expect a perception altering experience. One of the more enjoyable rooms I was in and coming from me that says quite a bit about how natural the music was sounding.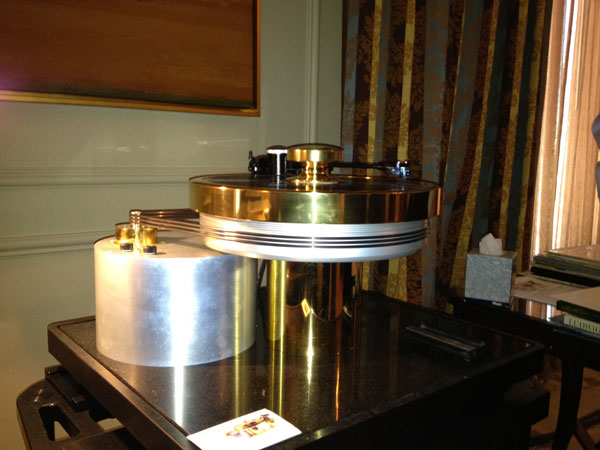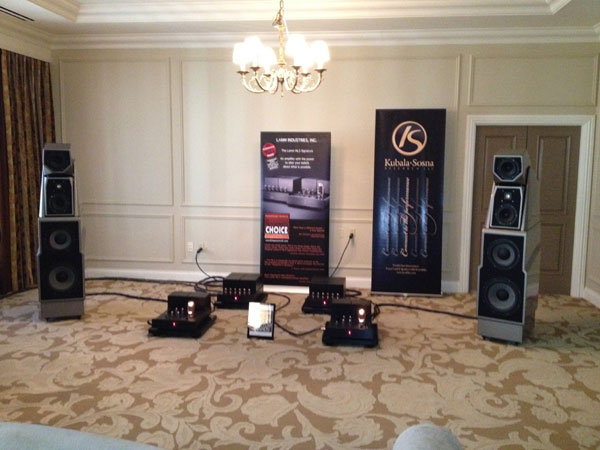 The Scaena speakers are generally an interesting time. I actually like these speakers and have always enjoyed hearing them. I am always fascinated by multi array towers and so far these are some of the best I have heard of this genre'.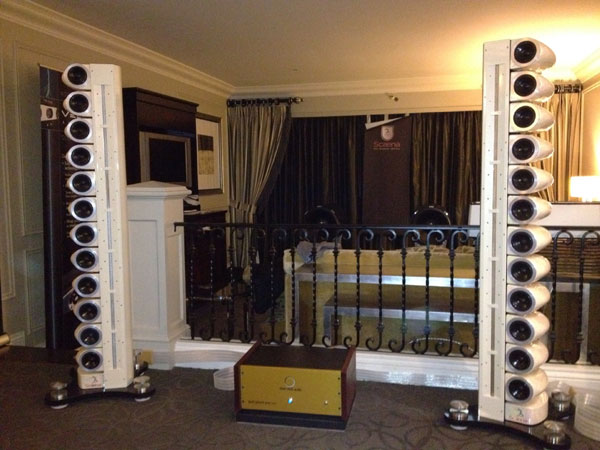 On the side of fanciful was there Guangzhou Hauxing Instruments Company with their iViolin speaker. Unlike the Lawrence Violin speaker that I reviewed last year, the speakers shape emulating a violin, this speaker actually IS a violin! That is correct an actual violin. They also make a cello and upright bass speaker. No prices as of yet, the company was just testing public reaction to the speaker. They were located in one of the ballrooms so the sound was not representative of how they might sound in a listening room but I have to say they were not horrible even in that environment. Keep an eye out for this one. It is just strange and quirky enough to get some traction.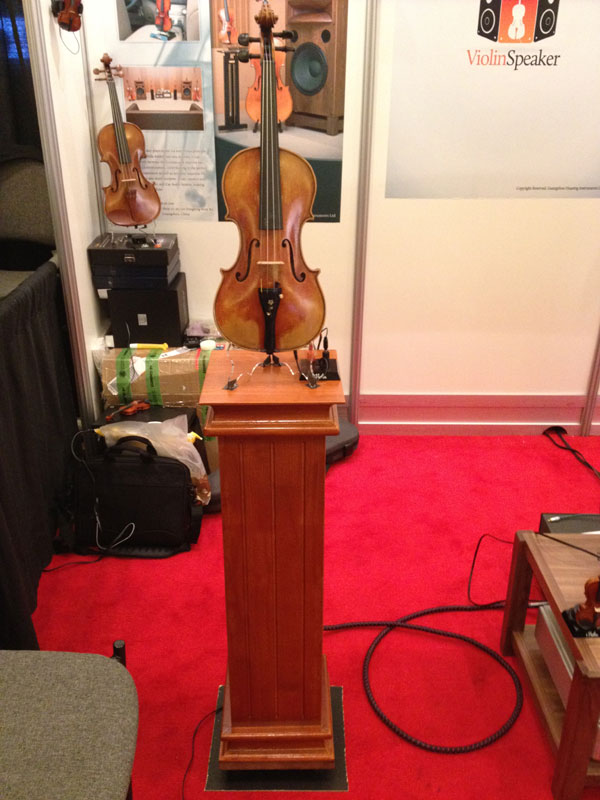 While I am at it and speaking of things not directly related to High End audio was the i'm Watch (yes that is correct spelling and capitalization).
The watch is a Bluetooth watch that receives all data from your smart phone and simply is a screen extension of your smart phone. At $350 it is on my list of practical accessories to my phone. While it has no processors or capabilities of its own it will move all functionality of your smart phone to your wrist and that is pretty well as convenient as you can get. Sign me up!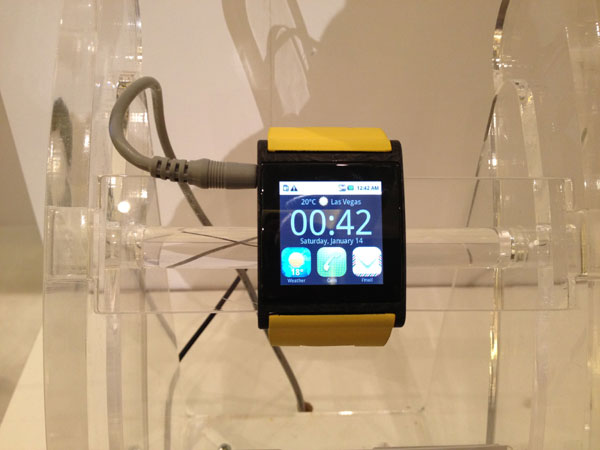 Without a doubt the one room that could actually give the Hansen/Kabala room a run for the money was the Magico room where they were playing the new Q7. All I can say is that the setup they were using may have been the best sounding system I have ever heard. Period! Many others I spoke to gave this the thumbs up as the best sounding room at the show and I can honestly say I cannot argue that sentiment. Using a set of super, top secret, cantaffordium/unobtanium electronics to drive the system this is the closest I have ever been to being able to not only hear every nuance of the performance but could literally walk around the performer in a 360 way. It was quite simply astonishing realism and palpability to the music.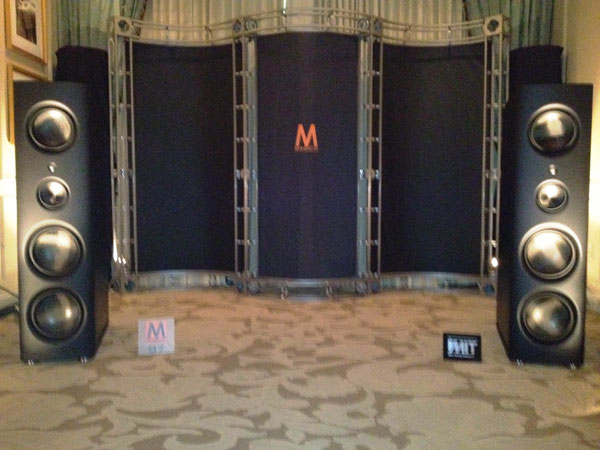 Well there you have it. Those were the rooms that really stuck out to me. Perhaps next year I will get the full 3-4 days to examine it all as I used to. This year was very similar to last year and yet it seemed there were noticeable absences. Koetsu, Grant Fidelity, Blue Circle and a few more that have now abandoned CES for more cost effective shows like Rocky Mountain Audio Fest, Newport and AKFest. My one big regret was that I did not make it to T.H.E. Show. Greg did however so look to his report for news from that venue.
Until the next show – Keep your ears focused on the sweet spot!