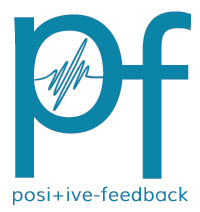 You are reading the older HTML site
Positive Feedback ISSUE 59
january/february 2012
Trío Arbós, Play It Again SACD
by Teresa Goodwin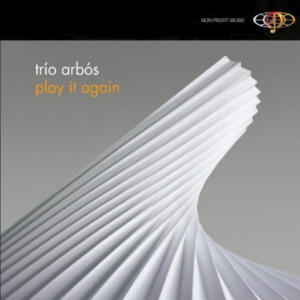 Kenji Bunch: Slow Dance
Marjan Mozetich: Scales of Joy and Sorrow
Jorge Grundman: A Walk across Adolescence
Elena Kats-Cherning: Calliope Dreaming
Paul Schoenfield: Cafe Music
Chick Corea: Addendum
Miguel Borrego (Violin) José Miguel Gómez (Cello) Juan Carlos Garvayo (Piano). Stereo/Multichannel Hybrid SACD. Non Profit Music NPM 1012
This is not your parent's chamber music but a new breed. The Non Profit Music Foundation provides many innovative and unusual compositions that otherwise would likely go unrecorded. These six classical chamber works are from contemporary composers, many with jazz influences and mostly in tonal structures. This is modern music that is very approachable.
This was not an easy review for me to write as I've never been a fan of small ensemble chamber music, especially sans percussion. Although a piano is often considered a tuned percussion instrument as the strings are struck by felt covered hammers, I don't consider them so. This SACD has me rethinking this bias and I may explore this new to me territory that ventures off of the tradition chamber music path in more detail in the future.
The content of this SACD arises as a genuine recital conceived as a progression from a very slow to very fast tempo, where all the intermediate stages are present. This is a studio rather than a live performance, it presented as Trío Arbós would in a live setting including an encore at the end.
The recording starts with "Slow Dance" which is a really cool sounding beginning to a must unusual program, it was composed in 1996 by Kenji Bunch who was born in 1973 in Portland, Oregon.
Next up is "Scales of Joy and Sorrow", the final movement really stands out as it has a really good rhythmic drive with a beautiful melody. It was composed by Marjan Mozetich who was born in Gorizia, Italy in 1948 to a Slovenian family and has lived in Canada since he was four years old.
"A Walk Across Adolescence" a nostalgic evocation of adolescence is very jazzy with lots of pizzicato plucking and even scraping of the strings, not to fear there is argo bowing of the strings as well. It was composed in by Jorge Grundman who was born in Madrid, Spain in 1941. It is dedicated to Nikolai Kapustin as a token of gratitude for his collaboration with the Non Profit Music Foundation.
"Caliope Dreaming" is a peculiar homage to Haydn composed by Elena Katz-Chernin who was born in Kaskant, Uzbek in 1957, now living in Australia. Haydn wished to have the third movement of his Symphony No. 44 "Morning" performed at his funeral. This musical fantasy is based the entire symphony, however quotes from the third movement are the basic material of the entire piece.
"Cafe Music" has very interesting melodies with bouncy rhythms sort of like the soundtrack to an old silent movie. It starts as a ragtime with vibrating jazz rhythms. The second movement is much slower, bluesy and I hear influences of George Gershwin. The vibrating jazz rhythms return for the finale. It was written by Paul Schoenfeld born in Detroit, Michigan in 1947. It was premiered in 1987.
That ends the actual program, but just like in real life there is an encore. "Addendum" is that encore, written by Chick Corea, born in Chelsea, Massachusetts in 1941. Chick Corea is a world famous jazz musician, however I found his composition to be the least jazziest of all the works on this SACD and almost like traditional classical chamber music, isn't that odd? Sort of a melancholy encore. It is slightly just over 5 minutes long so it does not distract from the overall enjoyment of this program.
The sound quality is excellent, although not exceptional. It seems to be somewhat on the dry side of neutral although what hall ambiance it has is very natural sounding. All three instruments are very realistic sounding and the tonal qualities are pleasing, even the violin. Violin tone in a dry acoustic such as this on a standard resolution CD can be quite painful to endure, this SACD reveals yet another benefit of high resolution digital, one can enjoy music recorded in drier acoustics without any sonic penalties.
Since this music is so new and unusual for me I have played this SACD six times all the way through and I will definitely be "playing it again".
About Trío Arbós
Founded in 1996 by violinist Miguel Borrego, cellist José Miguel Gómez and pianist Juan Carlos Garvayo. Named after the Spanish violinist, conductor and composer Enrique Fernádez Arbós (1863-1939). The Trío Arbós has established itself as one of Spain's leading chamber music ensembles.
Elegant long-lasting packaging
As many disc collectors have come to realize most disc packaging is not so good. Jewel cases get scuffed and scratched, digipak cardboard covers get worn, damaged and the irreplaceable hinges can break. However Non Profit Music's SACDs come housed in a beautiful hardcover laminated miniature book which should retain its full beauty for a lifetime. This mini-book is 32 pages with text in both English and Spanish. It offers very complete information of the musical compositions, their history and style as well as the biographies of the performers with lots of full color pictures. The SACD fits in a pocket bound to the back of the book. The look and feel of the book is elegant and must have been expensive to produce. I wished all my SACDs were in books such as this.
About Non Profit Music
Non Profit Music as a record company, has born with the aim of bringing the lesser known artists' and musical compositions to the music buying public and at the same time to gather funds for humanitarian reasons.
The Foundation Non Profit Music arises as a response to the current incidence that classical music has in the world, the progressive decrease of top degree students in the music conservatoires, the lack of motivation of the of the public to assist representations of classical music, an example could be the "chamber music", and the loss of sensibility towards the social and humanitarian action.
The Foundation Non Profit Music believes that it is possible to create initiatives that will help solve these deficiencies in our society, and even that those initiatives could act in a combined manner. This way, the activities of the Foundation Non Profit Music will be directed to the promotion and broadcasting of the musical culture and, simultaneously, sensibilizating the population towards the solidarity and the collection of funds for social and humanitarian purposes.
You can read more about Non Profit Music's foundation and record label at the website: http://www.nonprofitmusic.org/
This SACD was auditioned in high resolution two channel stereo for us two channel diehards, as reviews of the multichannel mix seldom give an indication of how the high resolution program sounds in Stereo.