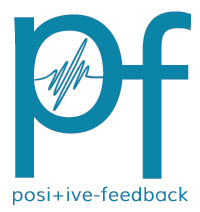 You are reading the older HTML site
Positive Feedback ISSUE 59
january/february 2012
Notes of an Amateur: Bruckner and Shostakovich
by Bob Neill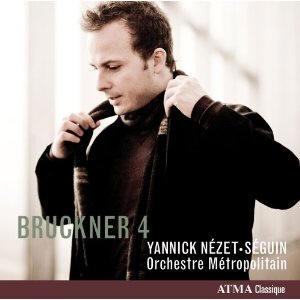 Bruckner 4. Yannick Nézet-Séguin. Orchestra Metropolitaine. ATMA Classique ACD2 2667.
This is my third trip to Quebecois conductor Nézet-Séguin's Bruckner, which caught my attention a few years back with his Symphony No. 7. He has now released Nos. 8 and 9 in addition to this one, so I'm still one back.
I was led to his first album, now I seek him out. Nézet-Séguin brings beauty, clarity, and fresh energy to Bruckner, along with the usual sweeping sonic power. Bruckner needs the clarity in particular to rise above the moody, dark, nineteenth century sound many associate him with. And not just clarity of brass, clarity of low strings too. This kind of clarity really makes his orchestral power mightier and quite frankly, raises the stature of the music. Boulez, in his characteristic way, brought this kind of clarity to the Symphony No. 8 but Nézet-Séguin seems to feel the music more. It is as if he hears Bruckner back through Mahler: he gets the latter's clarity and beauty (the strings of Montreal's Orchestre Metropolitaine are conspicuously smooth and rich sounding) along with Bruckner's more straightforward, less equivocal, emotional vision. The musical landscape is magnificent and entirely visible.
To my ears, Nézet-Séguin enables Bruckner to truly fill the hole in music history he has long been reputed to occupy between Brahms and Mahler. Bruckner lovers will call this condescension, I'm sure. But this is more exciting, less indulgent Bruckner, which will perhaps be especially attractive to modern ears who have lost the faith. If you've lost Bruckner (or never found him), Nézet-Séguin may well be the way back. The rest of the world has now discovered this extraordinary young conductor, who has recently been named music director designate of the Philadelphia Orchestra. I think we can look forward to a rebirth of that once major ensemble under his leadership.
Not so incidentally, the sound engineering here is appropriately spectacular.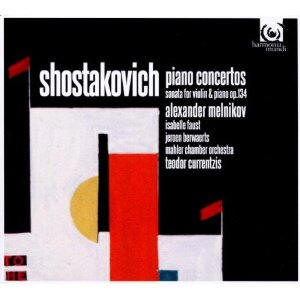 Shostakovich, Piano Concertos Nos. 1 and 2; Violin Sonata. Alexander Melnikov, Piano; Isabelle Faust, violin; Jeroen Berwaerts, trumpet; Mahler Chamber Orchestra, Teodor Currentzis, director. Harmonia Mundi HMC 902104.
This is a great album and what makes it great is Faust's and Melnikov's version of the Opus 134 Violin Sonata. What you get for a bonus but presented as the main event, is Melnikov playing the very popular, high spirited Piano Concerto No. 2; and the interesting, less well known (at least by me) Piano Concerto No. 1.
Isabelle Faust seems to get better every time out: from Bartok to Beethoven to Bach, and now Shostakovich. Melnikov was born to play Shostakovich. His performance of 24 Preludes and Fugues is the definitive one, no matter how fond we are of Nikolaeva's. If there were nothing on this CD but the sonata, it would be a bargain: a cheap ticket to a brilliant recital. But thirty-one and a half minutes would make penny pinchers scream, of course.
So enjoy the jolly carnival that is Piano No. Concerto No. 2 (1966), it's free! And to be fair, Melnikov plays the living bejesus out of it, perhaps trying to take it places it wasn't designed to go. I loved this work as a kid in college and its ability to entertain is intact. The William Tell Overture of the twentieth century. Interestingly, Melnikov is most convincing in the slow passages where his sheer virtuosity floats through the room. Both Melnikov and director Currentzis agree to play the outer allegro moments as fast as they can go to keep any hints of sentiment from creeping in. This makes the middle movement andante feel like another work altogether. It is played like an adagio, making it feel like Rachmaninoff. Melnikov's informative album notes make it clear he feels this radical disjunction is entirely intentional, feeding the myth of the composer's mysterious emotions writing inside Stalin's Russia. The third movement is absolutely kickass, reminding us that when major composers play, they don't waste the effort.
And then enjoy the marriage of Stravinksy and Rachmaninoff that is Piano Concerto No. 1 (1933), which features a trumpet along with the piano. Overall, it is a far more reflective and exploratory, far less coherent and flamboyant work, though its final movement does herald the later concerto.
And finally, the appetizers consumed, sit back for the main course. The Opus 134 Violin Sonata (1968) is among Shostakovich's major works. Stark, beautiful in its starkness like the string quartets, it has, as does much of Bach, a sense of momentum, of steady forward movement: of necessity. Both violin and piano have extraordinary presence in this stunningly accurate recording, augmenting the work's power. The bottom end of the piano in particular is all there, if your system can retrieve it. This sonata seems to bring together all of the composer's virtues: an acute feel for the expressive resources of rhythm; an understanding of dissonance as both weapon and conjurer of strong conflicted emotion; the ability to draw on all of the sonic and expressive possibilities of instruments. Both Faust and Melnikov outdo themselves in this performance, which is most obvious in the final movement largo when, as their voices drop in volume and emotion moves inside, intensity is maintained, the aura of necessity even more in force. In the middle of the movement, while the tempo remains deliberate, voices rise again, bringing emotions back to the surface, then retreat again back into a final reflective conclusion, interrupted only by a couple of eerie chills.
Nothing more to say. Great music making by two relatively new stars, belying the popular opinion that this is not a great age for music performance.
System used for this audition: Audio Note CDT 4 transport; Blue Circle BC501ob LOC dac, Crimson CS710 preamplifier and CS640E mono-block amplifier; JM Reynaud Orféos speakers. Crimson cable. Blue Circle BC6020 line conditioner.
Bob Neill, in addition to being an occasional equipment and regular music reviewer for Positive- Feedback Online, is also proprietor of Amherst Audio in Amherst, Massachusetts, which sells equipment from Audio Note, Blue Circle, JM Reynaud, and Crimson Audio.