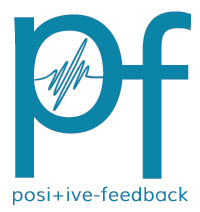 You are reading the older HTML site
Positive Feedback ISSUE 59
january/february 2012
Notes of an Amateur: Chiaroscuro Quartet Play Mozart and Schubert; Rachel Podger and Jane Rogers Play Mozart and Michael Haydn; Talich Quartet's Mozart Remastered and Re-released; Avison Ensemble Play Handel's Opus 6.
by Bob Neill
Chiaroscuro Quartet. Mozart and Schubert. Aparte. APO22.
Early instrument ensembles playing string quartets have come a long way since the astringent Solomans of a generation ago. The extremely popular Mosaiques Quartet showed us that period instruments could do grace and subtlety, then the Festetics demonstrated that bold and passionate could also be attractively classical.
I came to the Chiaroscuros because of their first violinist, Alina Ibragimova, whose Beethoven and Ravel violin sonata albums seduced me with one of the loveliest instrumental sounds I've yet to hear. Here she plays on a period instrument with three of her fellow students at the Royal Academy of Music in London, all of them dedicated to taking period quartet playing further. What they set out to create as a group, Ibragimova tells us, is a freer, more rounded, and somewhat more "raw" (her word) sound. This last aim works because all of the musicians and especially Ibragimova have conspicuously refined touch to begin with. Going for "raw" in their case adds up to a more intimate, resonant, warmer sound that is remarkable for freshness and sense of immediacy. Both the Mozart and Schubert performances have an amateur (in the best sense) quality that gives this very well known music new appeal. The group favor slower tempos which give the music an unexpected sensual quality. These quartets almost literally wrap themselves around us. Ibragimova tells us that the group's approach is "more about creating a rich sound world rather than being historically correct." And this is exactly what we hear from them.
One of the most delightfully idiosyncratic qualities in their playing here is how quiet it is. There is no effort to impress us with the clarity and edginess of period instruments but rather a gentle eagerness to show us what wonderful different things the instruments and this way of playing them can show us in the music.
They've been playing together since 2005 but this is their first recording. It is a truly revelatory CD, one of the very best of 2011.
W.A. Mozart. M. Haydn. Duo Sonatas. Rachel Podger, violin. Jane Rogers, viola. Channel Classics CCS SA 32411. CD/SACD.
This is even more of a string purist's recital than a violin/cello program would be. The two voices are sufficiently close that contrast is not really the subject here. It is more like light and shadow, early and later afternoon. Of course it's also about Mozart and Haydn (Franz Joseph's brother, Michael). Violin star Rachel Podger and less well known (though not among fellow musicians) violist Jane Rogers both play period instruments, so the purism here includes the particular bittersweet colors of baroque strings.
I love stringed instruments and I would listen to Rachel Podger play nursery songs on a dime-store violin, so I come to this recording with my critical guard down. But both the musicianship and music here are well beyond whatever inflated praise I could offer. Simply, direct, eloquent, pure musical statements. And Michael Haydn does not take much of a backseat to his more famous contemporary. He is less imaginative and clever but no less satisfying for all that.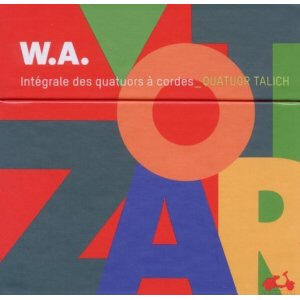 Mozart, Complete Quartets. Talich Quartet. La Dolce Volta (7 CD's)
The remastering and re-release of the Calliope recordings of the Talich Quartet's 1983-85 complete edition of Mozart's string quartets was one of the highlights of late 2011. I own the Talich's late Beethoven quartets on vinyl and these remastered CD's of Mozart give away nothing to them in sound quality. More important, the Talich's Mozart is as good as anyone's on record, better than all but a precious few. The Talich's demonstrate, quartet after quartet, that playing Mozart without a special agenda, historic or otherwise; playing him on modern instruments he never heard; and playing him with ease, a directness softened by suavity, and without forced drama is the best way to let the beauty come out. And the Talichs have a fine feel for tempo that keeps the beauty from cloying.
I'd like to find something to object to here for credibility's sake, but I keep getting swept up in the music. There are some who find the Talichs' Beethoven too civilized, a bit too Mozartian. If there is any truth to this, perhaps it tells us where the Talich's heart is! That's the best I can do.
This is the kind of performance that reminds us what the world 'definitive' means. It will be harder to listen to anyone else's Mozart after spending two weeks with this. Do not miss the opportunity to get this album: masterful performances, great recorded sound, and a fine bargain—$37 and change for seven CD's.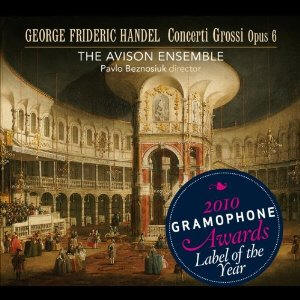 George Frideric Handel, Concerti Grossi Opus 6. The Avison Ensemble, Pavlo Beznosiuk, director. Linn CKD 362. CD/SACD (3 CD's)
One of the most beloved works of baroque music is Handel's Opus 6. Every baroque ensemble takes a crack at it—even William Christie's Les Ars Florissants, though sadly for some reason they only got through the first six concertos. Possibly a label change from Harmonia Mundi was going on at the time. Among the most successful traversals of the music, besides Christie's which is wonderfully smooth and French, have been Christopher Hogwood's spirited, dance-like version on Decca's Oiseau Lyre label with Boston's Handel & Haydn Society, which Hogwood led for a few years in the early nineties (their version of Handel's Opus 3 is king of that particular work), and Andrew Manze's fleet and flying elegant version with the Academy of Ancient Music on Harmonia Mundi. I don't know Trevor Pinnock's much admired outing with the English Concert on Deutsche Gramophone's Archiv label, though I would guess it's commendably unaffected, which is the Pinnock norm. Next on the stage will likely be Richard Egarr with the current Academy of Ancient Music, whose Opus 3 won its fair share of praise.
All of this to set the stage for the latest version, by Pavlo Beznosiuk and the Avison Ensemble on Linn Records. Beznosiuk's Handel features freshness, crispness, and brio in lieu of refinement. It feels more rustic than courtly. It is not crude or coarse - no one can make Handel sound crude. But Beznosiuk clearly wants to take the polish off this music, distinguish it from its baroque brother, Vivaldi's Opus 6, and bring out its natural energy. Once I adapted to it, I realized that no beauty is lost in this approach, it us just sturdier beauty than many of us Handel lovers are accustomed to. There is definitely a place for Beznosiuk's Handel among the favorites. Sound is transparent and well balanced.
System used for this audition: Audio Note CDT 4 transport; Blue Circle BC501ob LOC dac and FtTH 2 integrated amplifier; JM Reynaud Bliss Silver speakers on JMR Magic Stands; and Crimson cable.
Bob Neill, in addition to being an occasional equipment and regular music reviewer for Positive- Feedback Online, is also proprietor of Amherst Audio in Amherst, Massachusetts, which sells equipment from Audio Note, Blue Circle, JM Reynaud, and Crimson Audio.