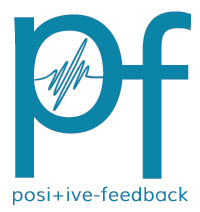 You are reading the older HTML site
Positive Feedback ISSUE 59
january/february 2012
Sonic Satori - 50/50's Soundtrack Strikes an Emotional Chord, and the Film is Damn Good as Well
by Michael Mercer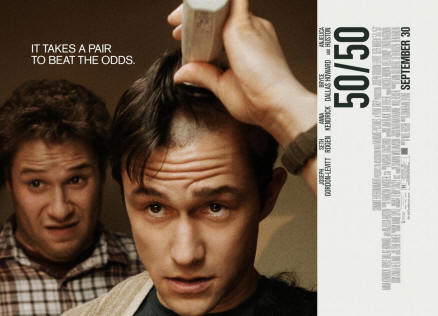 I was typing feverishly on my laptop, trying to complete my CES 2012 report, when my wife thought I needed a break, so she picked out this film on Redbox (if you don't already know about Redbox, check it out—a killer source of $1.00 a night Blu Ray rentals). The film is entitled 50/50. The cast sounded great (Joseph Gordon-Levitt, Seth Rogen and Anna Kendrick) and when I found out the movie was directed by the same genius behind the film The Wackness and HBO series How to Make it in America, I said let's go for it. Usually I don't stop when inspiration hits (remember, I was bangin' away on my laptop, attempting to finish my upcoming CES article) and I had been experiencing a serious case of writers block beforehand (many people think it's an excuse, but I assure you that is not the case with this writer unfortunately). Despite my desire to finish the CES piece I chose to step away from it for a bit and I am thankful I did. I'm even more thankful for the never-failing, excellent intuition of Alexandra, my wonderful wifey!
The plot seemed interesting: A twenty-six year old (who happens to be an old school radio enthusiast) is in good health and living a dream life in Seattle with his seemingly perfect, artistic girlfriend, while working for NPR. It seems he's got everything together when he receives the shocking news that he has cancer of the spine. That blueprint, coupled with a great cast and an utterly engaging and appropriate soundtrack, made for an excellent film experience. I haven't felt this connected to a movie with regard to its cinematic and sonic experience since we saw Once (the film that introduced The Swell Season to the world, subsequently granting Glen Hansard and Marketa Irglova their first Grammy Award).
To be clear: I graduated from high school in 1994, so when Anna Kendrick, playing the therapist attempting to help Joseph Gordon-Levitt's character, missed a Doogie Howser reference (she plays a twenty-four year old in the film) we knew we were watching a movie made by, (for lack of a better classification) fellow Gen-Xers. Now, to give you an idea of how much we enjoy communicating with other people who understand our collective angst and jaded thoughts: My wife and I, when meeting people younger than us, often ask if they are born 'post E.T The Extra Terrestrial or 'pre E.T. The Extra Terrestrial' in order to establish a baseline of their personal historical references! Call us crazy, but there is just something about being able to relate to a complete stranger on a level that is almost beyond description. The movies allowed us to experience this sensation through an artist's expression, and sometimes that expression manifests as film, which often combines both the visual and auditory elements so well it becomes the kind of art that truly separates great from the mediocre. It's when you experience this that a film is truly able to not only capture, but express the societal temperament of an era. Think about it: When you're watching an old film, one that you relate to strongly, what you're experiencing is one era speaking to another.
50/50 conjured up these feelings in Alexandra and me. All of the characters exhibited behaviors that reminded us of somebody we knew (or of situations in our lives) and the music played throughout was a brilliant combination of new and classic tunes, some pulled from the soul of great, early-nineties music (the birth and death of both new wave and grunge). We'd later classify most of the music on this soundtrack as alternative, but only because it was truly that at the time—until 'alternative' became just another homogenized term abused by commercial interests. Here you have Radiohead's 'High and Dry' from The Bends, and Pearl Jam's 'Yellow Ledbetter' off their quintessential Vitalogy record. Peppered throughout the film are also classics like the Bee Gees 'To Love Somebody' and Roy Orbison's 'Crying'. The music (and the crew behind the programming and selections thereof) did a tremendous job of capturing the emotional energy behind the intense moments of 50/50.
The performances of the actors also play a key role in striking the emotional chords of the audience, and everybody stepped up to the plate. Seth Rogen even flexed his dramatic muscles here (yes, the man does indeed have skills). Here he absorbed the role, and when you're acting alongside Joseph Gordon-Levitt you better have chops. Angelica Huston also played a refreshing role outside her typical range of overtly eccentric characters (no fault of her own I'm sure, that's what's you get when you play such a convincing member of The Addams Family). Frankly, I don't want to get too caught up in explaining the actual plot of the movie. I'm no film critic, and often I think they give away too much of the story anyway, so I stuck to the music, and its impact on us while we laughed and cried throughout this flick. Check it out if any of this sounds like something you can relate to. I give it my highest recommendation.
I also have to express my sincere thanks to the author of the Reelsoundtrack Blog. I searched on the internet for a way to purchase the 50/50 soundtrack, and apparently it isn't available yet (or I missed it). Reelsoundtrack Blog posts links (Youtube and others) to songs off soundtracks they enjoy (I think this is their mission anyway). The site looks like an honest labor of love (and there's nothing illicit about it, everything just streams, and the links are from other websites). HERE's a link to their list of tracks from this soundtrack.
Please get it in gear producers of 50/50! There's plenty of us jaded Gen-Xers waiting to get our hands on a physical copy of your soundtrack!