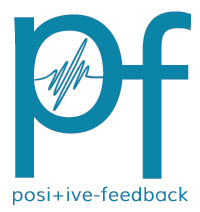 You are reading the older HTML site
Positive Feedback ISSUE 58
november/december 2011
Affordable Silver Interconnect Cables: An Overview
by Andre Marc
A couple of years ago I auditioned a large group of interconnect cables with a variety of conductor types, including copper, silver, hybrid, and alloys. After extensive, and sometime laborious listening sessions, I decided I really liked the sound of pure silver as a conductor. I found it offered top end delicacy, deep bass, and excellent midrange resolution. I was hooked.
What follows below is an overview of six cable manufacturers that have managed to make great sounding cables that are incredibly reasonable in cost, yet in my opinion, offer high end performance. There is a misconception that cables using silver conductors are only for well heeled audiophiles, and are out of reach of those on a budget. Nothing could be further from the truth. With a little digging, you can find cables offered at very sane prices, that perform beautifully.
Stager Silver Solids
Marc Stager has been making his Stager Silver Solids interconnects for over a decade. He sells direct from his simple, yet nicely laid out and informative website. Stager has a distinguished background in professional sound systems, and is based in New York City. The premise behind the cables is as basic as it gets. We get a twisted pair of .999 pure solid core silver unshielded conductors, with Teflon used as an insulator. Lastly, Canare F-10 RCA or Neutrik XLR connectors are used as well as lead free silver solder. The Stager interconnects start at $100 for a half meter pair.
The Stager Silver Solids have an extremely open, detailed, and delicate top end, and deep, articulate bass. The midrange is as pure as I have heard from a cable, regardless of price. The Stager cables have all the qualities that got me hooked on silver interconnects. For those seeking detail, musicality and delicacy, the Stager Silver Solids are a great place to start. If you are looking for fancy jackets, the hot connector of the month, or cables named after Greek or Roman gods, this may not be your thing. Otherwise, a no brainer.
Element Cable Silver Serenade
The Silver Serenade by Element Cable, out of Lewisville, TX, also features solid core pure silver conductors in a cross spiral geometry, with a Teflon dielectric. Prices start at $130 for the standard (and excellent) that uses Cardas SLVR connectors and with WBT silver solder. For additional cost you can use choose the Eichmann Bullet Plug. The cable is housed in a light gray jacket. The Silver Serenade is also low mass and easy to maneuver.
I found the Silver Serenade to be exceptionally smooth, with a warm midrange, and deep, extended bass. Music flows organically through the Silver Serenade, and sounds lush, natural, and life sized. Element Cable also offers a Signature Series of cables at higher price points, even making one cable with gold conductors. The Silver Serenade is a wonderful silver cable and is highly recommended.
Decware Silver Reference
Decware is best known for their hand made low powered tube components and speakers. They also make a few cables. The Decware Silver Reference starts at $129 for a meter pair. According to Decware, "what makes this cable different than most are the conductors themselves. They are a rope lay grouping of flat silver ribbons wound around a bees wax impregnated cotton fiber core. This unique conductor was designed to be flexible and completely non-resonant. Unlike solid or stranded conductors, this amazing stuff can be bent repeatably and continuously for years without fatiguing and is immune to vibration and resonance."
The Silver Reference IC is flexible, and light weight. The cable comes with "standard silver RCA plugs", but you can upgrade to Silver Xhadow Precision connectors. I found the Decware Silver Reference to be the warmest in the midrange of all the cables featured in this article, with a wonderful delicacy in the treble, and pretty even handed across the board. This one of the more unique cable designs featured here, and it is beautifully made.
www.decware.com/newsite/newdsr.htm
DH Labs Silver Sonic Revelation
The DH Labs silver Revelation has been around a while now, is one of the more expensive cable featured here, yet it still is priced at only $349 per half meter. This is their "flagship" interconnect. For most other "high end" cable manufacturers, this is their entry level pricing.
According to DH Labs, "Six Pure Silver conductors in an interleaved helical array. Each conductor is individually insulated in an air-spaced, tape wrapped version of our exclusive Air Matrix dielectric."
The Revelation comes standard with custom machined RCA plugs, and an aqua blue patterned outer jacket. The cable is a bit on the stiff side, and not as flexible as some of the others. The Revelation is smooth, detailed, and offers a liquid, and beautifully transparent midrange. The Revelation is somewhat of a giant killer and is what I have come to expect from DH Labs as I own several of their cables. This is a great interconnect.
http://silversonic.com/docs/products/Revelation.html
Kimber Silver Streak
The Kimber SIlver Streak has been in continuous production for about 15 years.
According to Kimber, "this analog interconnect incorporates separately insulated silver and copper conductors into the proven tri-braid geometry. The signal is carried via the same Hyper-pure, VariStrand™ silver found in the world renowned KCAG. The ground plane is comprised of Hyper-pure, VariStrand copper. This cable offers exceptional speed, clarity and spaciousness at a very reasonable cost. Silver Streak single-ended features precision machined WBT® RCA type connectors." The Silver Streak starts at $345.
I own several pairs of Silver Streak and they indeed offer speed and clarity. The Silver Streaks offer tremendous dynamics and accentuate leading edge transients. The high quality German made WBT-0147 connectors offer a secure fit and good looks to boot. You can also order a Silver Streak with more expensive connectors if you wish. Overall, a stellar sounding cable.
www.kimber.com/products/interconnects/analog/silverstreak
Pear Cable Comice
The Pear Cable Comice is the only cable in the survey I have not personally heard, but I thought to include it as it has been favorably reviewed, is priced reasonably, and has garnered somewhat of a loyal following. The Comice offers a twisted pair of pure silver conductors, shielding, Teflon tube insulation, and WBT connectors.
The Comice comes in a unusual, but attractive green and yellow color scheme. A half meter pair goes for $158. I hope to get a review sample of the Comice at some point in the future. Pear also says each cable comes with a unique serial number and goes through a rigid quality control process.
www.pearcable.com/sub_products_comice.htm
Conclusion
So there you have it, six silver cables that clearly show that you do not have to get a second mortgage to enjoy silver interconnect cables in your system. I might also add, that all the cable in this overview are made in the USA. Some of these vendors also offer trial periods, which means zero risk. If silver is your thing, then you can jump in without spending a bundle. Happy hunting.
Reference Systems
CD Transport: Bel Canto CD3t
Server: Squeezebox Touch with CIA VDC-SB power supply
DAC: Bryston BDA-1
Preamplifier: Audio Research SP16
Amplifier: Audio Research VS55
Integrated Amplifier: McIntosh MA6600
Speaker: Thiel CS2.4
Cables: Stager Silver Solids, DH Labs Revelation (IC), Kimber KCTG (IC), Transparent MM2 Super (IC), Transparent Plus (Speaker), Acoustic Zen Tsunami II (AC), Transparent (AC), Element Cable Element Cord (AC), Shunyata Venom (AC), Pangea AC-9 (AC), and Audience powerChord'e' (AC).
Accessories: Symposium Rollerblocks, Shakti Stone, Sound Anchors stands, Audience Adept Response aR6 power conditioner, Cable Pro Noisetrapper, Salamander rack.

CD Player: Marantz 5003
Music Server: Squeezebox Touch and a Marantz NA7004
DAC: CIA VDA-2 with VAC-1 Power Supply, Lindemann 192kHz, and a Musical Fidelity V-DAC II.
Computer: Dell Netbook running Windows XP
Tape Deck: Revox A77
Integrated Amplifier: Marantz PM6004
Speaker: Harbeth Compact 7ES3
Cables: Kimber, QED, Transparent, Shunyata (AC), PS Audio, Pangea Audio (AC), and DH Labs (digital)