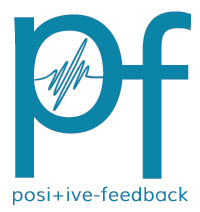 You are reading the older HTML site
Positive Feedback ISSUE 58
november/december 2011
Radiohead, TKOL RMX 1234567 (Dual-disc set)
by Michael Mercer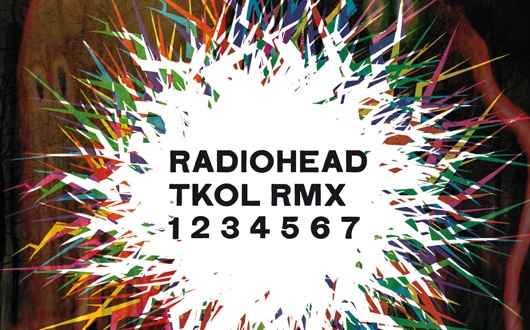 Ticker Tape Ltd. Exclusively licensed to tbd Records
Sometimes the music that hits you hardest leaves you transfixed; bobbing your head, closing your eyes, completely lost in the sound. This presents a problem (and a good one to have) for those of us engaged in the act of describing music to an audience. But that same problem (this is, like all art, ultimately in the eye of the beholder) remains the primary mission in musical discovery: To lose your self; leaving congested thought processes behind while being transported elsewhere by noise assaulting the senses. It seems like a paradox: trying to critique something that simply floors you (allowing the experience to shine through). This duality adds a bit of fun to the mental exercise of dissecting music in order to paint a literal image of what we hear. Poetic musings aside... Radiohead TKOL RMX 1234567 is a killer album with two discs full of remixes of songs from the band's most recent album: King of Limbs (my original review HERE in PFO). Now, the emotional and mental bliss I was describing above, where a piece of music leaves your mouth wide open, eyes glossed over? Well, King of Limbs affected me that way upon first listen. So getting to hear some underground dance (a genre I call home) interpretations of that record, well that's a marriage made in heaven for this reviewer!
These remixes (musical re-interpretations of material as seen through the eyes of different artists) range from deep, drivy house music to tripped-out broken beats and club bangers. Each track presents its own rhythmic journey using building blocks from the original material. This re-arranging and re-imagining of someone else's music is not an easy task. The trick: keeping the soul of the song intact while constructing your own arrangement, and doing so without losing the magic of the original artistic intent. There are plenty of remix artists out there who take consistent compositional short-cuts, which gives all their mixes a distinct sonic signature. The goal should be creating something entirely new using familiar sounds, crafted by exploration with differing musical styles. While I realize there's no right or wrong way in creating any piece of art, originality should always play a vital role here.
Many versions on this album could live happily in a late night DJ set or an early-morning chill-out session (with the sun coming up). Track #1, disc 1: "Little By Little" (Caribou RMX) is a stomper, with a touch of funk by way of a wavy, heavy bassline that keeps you movin' in your seat. This sets the tone for the rest of the record. Jacques Greene continues the nasty, funked out flavor with a remix of "Lotus Flower" (perhaps the most well-known song off the original album—as the video featured Thom Yorke doing all sorts of silly dance moves while showcasing some of his most blank and downright odd facial expressions). It was a memorable music video moment for sure. They made a killer decision, bringing producer Nathan Fake into this mix (literally). His re-working of "Morning Mr. Magpie" is broken and dubby, complete with wobbly, fast-paced, start and stop 808-like bass and a pounding kick. This'll wake you up in the morning! Pearson Sound has been on a role lately (garnering remix work on many albums) and their Scavenger remix of the same track ("Morning Mr. Magpie") brings an ambient flavor to the party at first, then pulls a 180; tossing out some hard-hitting percussive pads and stabs. This is a sweet sonic departure from the rest of the clubby mixes here. Just be sure your subwoofer (or subwoofers) are tuned properly and your windows and doors are shut for this track—or the lower octaves will have you searching for that ever-elusive rattle that creeps up during loud passages (don't you hate that, when you end up trying to figure out what the hell is vibrating in your listening room). It's tracks like this that force you to batten down the hatches!
Disc 2 is also chock-full of midnight beats and swaying rhythms. The Thriller Houseghost remix of "Give Up the Ghost" will sound repetitive to those who can't close their eyes and imagine themselves in the club at 3:00AM, stomping their sorrows into the floor. For me, this is what I would drop in a tech house set right when the sun is cresting over the horizon, hands of the crowd raised in unison, welcoming the journey to come. This is our vibe, our rhythm, and if it doesn't speak to you, well, it's almost impossible for me to articulate the feeling you get when you're dancing next to your crew of close friends, watching the DJ take you on a trip that you pray never ends. Jamie XX (another favorite of mine, as well as my editor Dave Clark) lends his masterful touch to an unfortunately short Rework of "Bloom." The track is dreamy, hazy, spacey, and techy all at once (sounding like a snap shot of early Future Sound of London). The build is wide-open and airy, but ends up being a teaser. I was waiting for the meat to kick in when it faded away (oh well, you can't love everything).
If you're a fan of underground dance music (or tasteful commercial dance, what little there may be) you should be enraptured by Radiohead TKOL RMX 1234567 (yes, I know, I have no idea what the title refers to, then again more obvious things have escaped me). I've been thumping this album since I got it and haven't gotten sick of it yet. It's killer in the morning, when you need to get ready to face the day and you're half-asleep, and it's killer in the early-morning hours when you need a boost. As a matter of fact, I'm going to give it another spin—which should say it all. Happy listening...